Dirtybird Campout East Coast dropped its last round of lineup announcements today, finalizing the slate for February's event!
---
After weeks of speculation, frenzied pleas, and possibly even a few prayers, Dirtybird Campout East Coast has officially released the final three artists for its inaugural 2018 event- and if you're disappointed, you might've been abducted by Barclay Crenshaw, because these three heavy-hitters are just what the doctor ordered.
Birds of all feathers rejoice – attendees will be treated to the alienistic bass music-meets-hip-hop stylings of Barclay Crenshaw, the inimitable melodic tech house sounds of Justin Martin, and the booty-shaking, bass-fueled house madness brought by Shiba San. This adds three incredible artists to what is arguably already the best Dirtybird Campout lineup of all time.
Related: Check out the games & activities and Bunkhouse lineups!
Could we be in for another epic sunrise drum & bass set from The Martin Brothers at East Coast Campout? Only time will tell, so keep your eyes and ears peeled for those set times, and we'll be sure to keep you posted as more information on the schedule becomes available.
In addition to the artists added to the lineup, Dirtybird Campout has also announced its crew showcases for the East Coast addition! The showcases will feature full-on stage takeovers and unique b2b sets from some of your favorite artists! Crew showcases will include Green Velvet presents La La Land, This Ain't Bristol, Brazil Team, and more!
With just a few short weeks to go until the first-ever East Coast Campout, we're busy sewing our patches on, practicing our dance moves, and learning how to set up our tents. Will you be joining us in St. Cloud? Make sure to grab your tickets for what is sure to be the best possible kickoff to festival season, and we'll see you in Florida!
---
Dirtybird Campout East Coast 2018 – Full Lineup: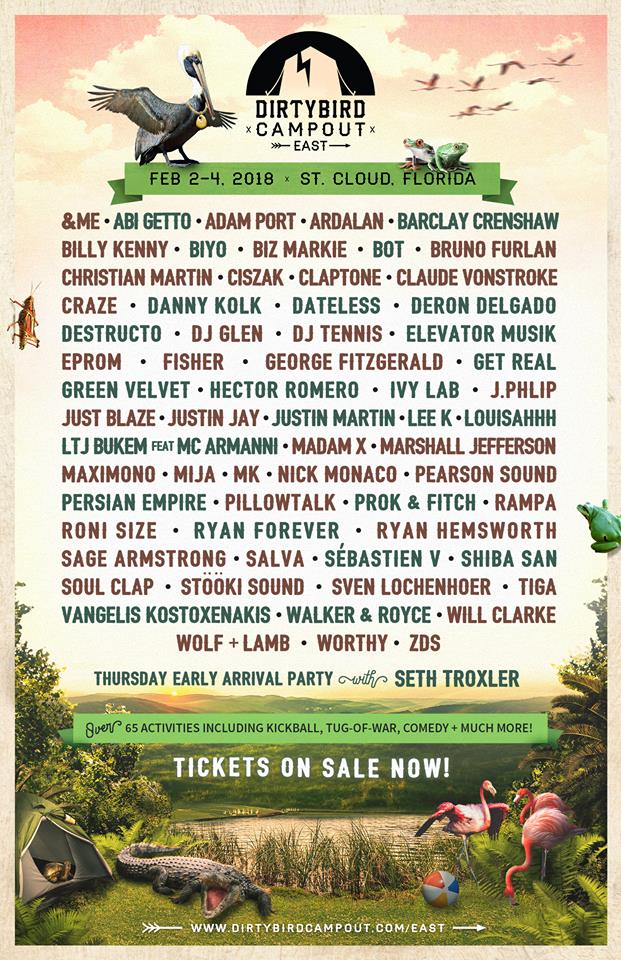 ---
Dirtybird Campout East Coast 2018 Full Lineup By Artist:
&Me
Abi Getto
Adam Port
Ardalan
Barclay Crenshaw*
Billy Kenny
Biyo
Biz Markie
Bot
Bruno Furlan
Christian Martin
Ciszak
Claptone
Claude VonStroke
Craze
Danny Kolk
Dateless
Deron Delgado
Destructo
DJ Glen
DJ Tennis
Elevator Musik
Eprom
Fisher
George Fitzgerald
Get Real
Green Velvet
Hector Romero
Ivy Lab
J.Phlip
Just Blaze
Justin Jay
Justin Martin*
Lee K
Louisahhh
LTJ Bukem feat MC Armanni
Madam X
Marshall Jefferson
Maximono
Mija
MK
Nick Monaco
Pearson Sound
Persian Empire
PillowTalk
Prok & Fitch
Rampa
Roni Size
Ryan Forever
Ryan Hemsworth
Sage Armstrong
Salva
Sébastien V
Seth Troxler
Shiba San*
Soul Clap
Stööki Sound
Sven Lochenhoer
Tiga
Vangelis Kostoxenakis
Walker & Royce
Will Clarke
Wolf+Lamb
Worthy
ZDS
* – Final Lineup addition
---
Dirtybird Campout East Coast 2018 Crew Showcases:
Dirtybird Campout East Coast 2018 Crew Showcases by Artist:
Brazil Team
Bruno Furlan
Ciszak
DJ Glen
Danny Kolk
Crew Love
Soul Clap
Wolf+Lamb
Pillowtalk
Nick Monaco
Keinmusik
Green Velvet presents La La Land
Green Velvet
Prok & Fitch
Walker & Royce
Get Real
This Ain't Bristol
---
Connect with Dirtybird Campout on Social Media:
Website | Facebook | Twitter | Instagram | SoundCloud