Move over Ultra Music Festival, because there is a new East Coast festival poised to ring the 2018 season in style – and it goes by the name of Dirtybird Campout East!
---
As the rest of the country is locking themselves up to escape the bitter cold, the Southeast prepares to set up camp for a weekend full of underground beats, a fantastic spread of interactive games and sports, and artistic inspiration that the Dirtybird Campout is famous for over on the West Coast! With the drive to spread the word of house from sea to shining sea, Claude VonStroke wasn't about to let Cali have all of the fun, so with the Dirtybird family in tow, he has gifted St. Cloud, Florida with the chance to experience Dirtybird Campout East, inevitably beginning the 2018 East Coast festival season earlier than ever, opening their gates on February 2 for a kickoff of epic proportions.
Now in full disclosure, it was on a total whim that I made the decision to grab my tickets for Dirtybird Campout East.
I guess I have been feeling the itch to explore genres outside of my comfy trance bubble and with all the hype surrounding Dirtybird Campout on the West Coast, I concluded that this would be the perfect event to open up my world to a whole new plethora of music and experiences.
An alternate journey in sound, if you will. With my first glance at the lineup, which included house and bass heavy hitters like Will Clarke, Claptone, Mija, Justin Jay, and of course Claude VonStroke, I was locked in. But this was only the beginning of a slew of incredible announcements that would shoot my anticipation to new heights.
Soon phase two would sweep in like a thief in the night with twenty new artists filling in the phase one gaps including fan favorites Get Real, Green Velvet, Seth Troxler, and Walker & Royce, just to name a few. Suddenly, I realized that this was going to be just the event I needed to bring a little groove and swag back into my life.
And do I even need to mention phase three with the crew showcase announcement and the addition of Shiba San, Justin Martin, and Barclay Crenshaw? Three beautiful cherries on top of an already epic artist lineup!
To prepare your mind for what's to come, check out Claude VonStroke at Dirtybird Campout West 2017 on YouTube:
Aside from the incredible lineup that most major festivals can boast, what is it about Dirtybird Campout East that makes me want to sing my excitement from the mountain tops?
After a little research and speaking with attendees of the West Coast edition, I began to realize that Dirtybird Campout has a character that is extremely unique. Enter the grounds and suddenly you are submerged into the world of the scouts, with camp counselors and activities very reminiscent of the camping experience that you would find attending Boy Scouts or Girl Scouts as a kid. Not only can you bust a move on the dancefloor, but you can get those endorphins raging as you immerse yourself in an interactive experience, different from anything else in the scene.
With a slew of activities to choose from including dodgeball, a pie eating contest, water balloon toss, three-legged race, arts and crafts, talent show, and so much more, there will not be a moment that goes by that you are not thoroughly entertained and invigorated. Add to that the fact that some of our favorite DJ's will be joining us in all of the shenanigans and it is without question that I am fully sold on this event! Seriously, if you ever wanted to play dodgeball with Claude VonStroke, well, here is your chance!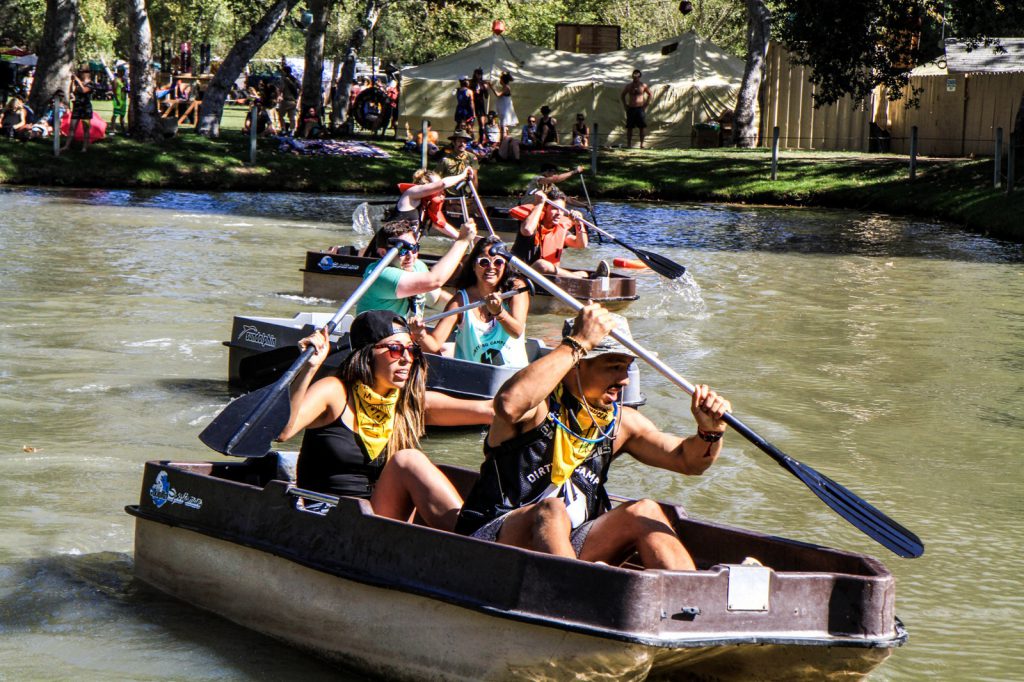 Dirtybird Campout East sets the bar high leaving other festivals wishing that they could have even an ounce of the character that Dirtybird will deliver.
As a proud member of the festival community, I have to admit that there have been moments this past year in which I began to feel a bit bored with the norm. Moving from one stage to another and immersing myself in the music that I adore will always make my soul shine but if you are like me then there comes a time in which we feel like we need something more from our adventure. Dirtybird Campout, in my opinion, is the true definition of more.
To sum it up the best way I can, we are looking at a full-fledged summer camp experience set among an underground rave backdrop in the middle of Florida's "winter." And with that, the 2018 festival season is looking mighty fine! So, will you join me as I embark on a brand new journey and soak in all of the controlled chaos that is Dirtybird Campout East? I hope to see you there!
Tickets are still on sale so make sure you pick yours up before it's too late! And don't forget your BBQ tickets! 
---
Connect with Dirtybird Campout on Social Media:
Website | Facebook | Twitter | Instagram | SoundCloud