There may have been a lack of snow, but SnowGlobe 2017 still brought the best winter vibes and some unforgettable sets!
---
This was my third consecutive year at SnowGlobe and it might even be my favorite one yet! The weekend excursion to Lake Tahoe has become a staple for my rave family, each year proving to be a festival filled with amazing music, infectious people, and an absolutely beautiful, natural venue. The crowd was mostly made up of college-aged kids who were spending their Christmas break with their friends which made for an extremely fun and high energy party at all times!
We got our fill of many genres of music that we love, whether it was raging to Spag Heddy, crying to Porter Robinson, or grooving to Shiba San, all the music was on point at SnowGlobe 2018. I left each night with a huge smile on my face which was a sign of a very well put together festival.
This year we stayed in a cabin walking distance to the venue, something I highly recommend.
Not having to deal with shuttles or Ubers after the festival made the entire experience much more enjoyable! On top of that, sharing the cabin with a huge group of friends made the weekend infinitely more fun – the people you are with truly define how special your experience is.
From preparties to afterparties to hours watching Rick & Morty while recovering from the previous day's shenanigans, the great times in the cabin added countless fond memories of my time at SnowGlobe 2018.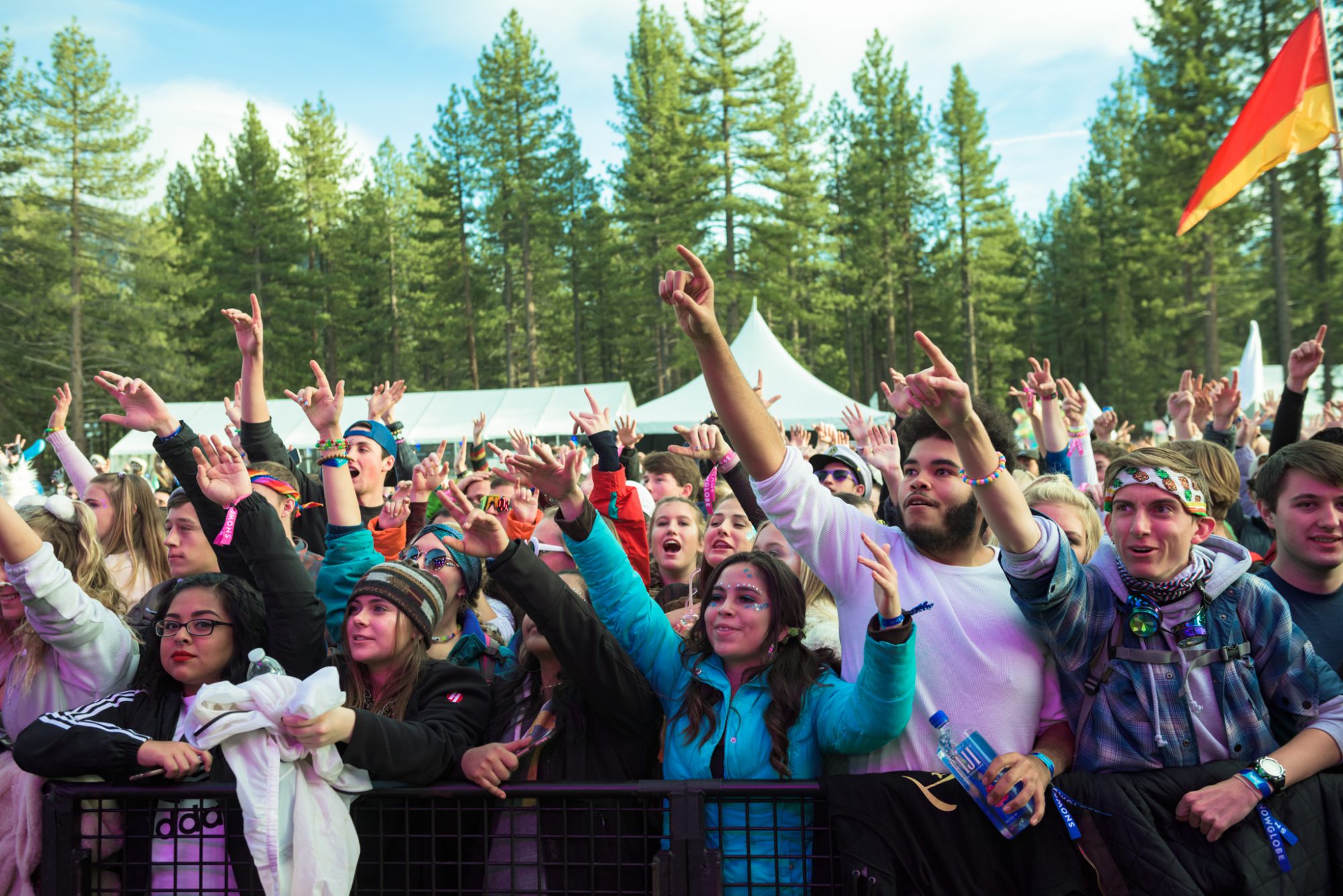 We headed to the festival around 3:30 PM each day, giving us enough time to get our day started early and to catch a few sets before the sun went down.
The first day was definitely the most lit with sets from Luca Lush, Spag Heddy, Zedd, TroyBoi, and Manila Killa. The crazier music of Luca Lush and Spag Heddy over at the Sierra stage was the perfect way to start off the weekend. We were ready to rage and rage we did!
The Sierra was very similar to the past year, hidden away in a pocket of trees with light up colored boxes, but this year also included LED screens on either side of the stage which created a much more engaging visual experience.
Luca Lush brought a wonderfully diverse set, dropping everything from heavy trap to house. He skillfully integrated his awesome tracks and remixes for a set that kept us on our toes start to finish.
Next up was Spag Heddy, the Spanish dubstep artist that my entire group was dying to see. As diehard bassheads, we were more than excited for the only heavy bass set of the weekend and Spag Heddy did not disappoint! His mixing was flawless and song selection impeccable – he had us mosh pitting and headbanging nonstop.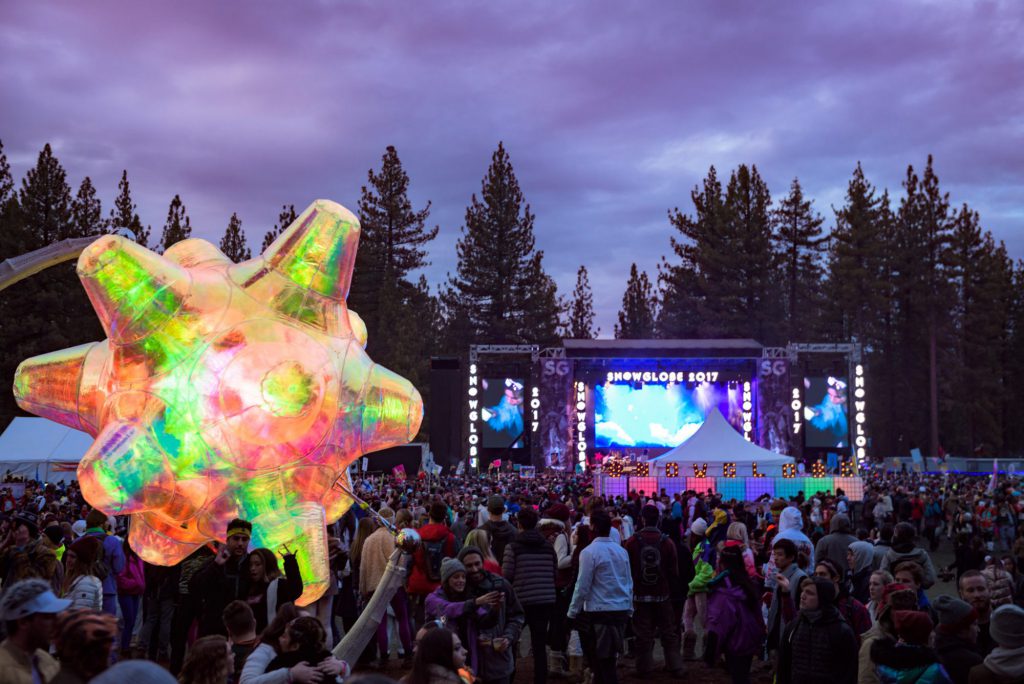 After some pleading on my part, we ran over to the Main Stage to catch the end of Zedd, who I had never seen before despite the dozens of festivals I've attended.
While very heavy on the mainstream EDM sounds, Zedd gave me some happy progressive house feels and closed things off with one of my all-time favorite tracks, "Clarity".
The Main Stage definitely had the most impressive production of the three stages with giant LED screens encompassing the entirety of the stage and huge side screens as well. Fireworks and sparklers accompanied the bigger sets later on in the night creating a spectacular experience.
Following Zedd we caught a little bit of Manila Killa, a SnowGlobe veteran who always brings a beautiful set that's perfect for the Tahoe vibes. Then, it was finally time for our most highly anticipated set of the night: TroyBoi. The artist out of London has created an unmatched artistic trap sound that bangs unlike anything else. He came out hot with his intro yelling with all of us in unison "T-R-O-Y-B-O-I", and he kept us raging throughout the entirety of the set.
After TroyBoi killed it closing the Sierra, we shuffled on over to the Igloo to hear the last thirty minutes of the absolute legend – Tycho. I was amazed by his grace and attention to detail in mixing, and I felt honored to be in the presence of such a musical genius.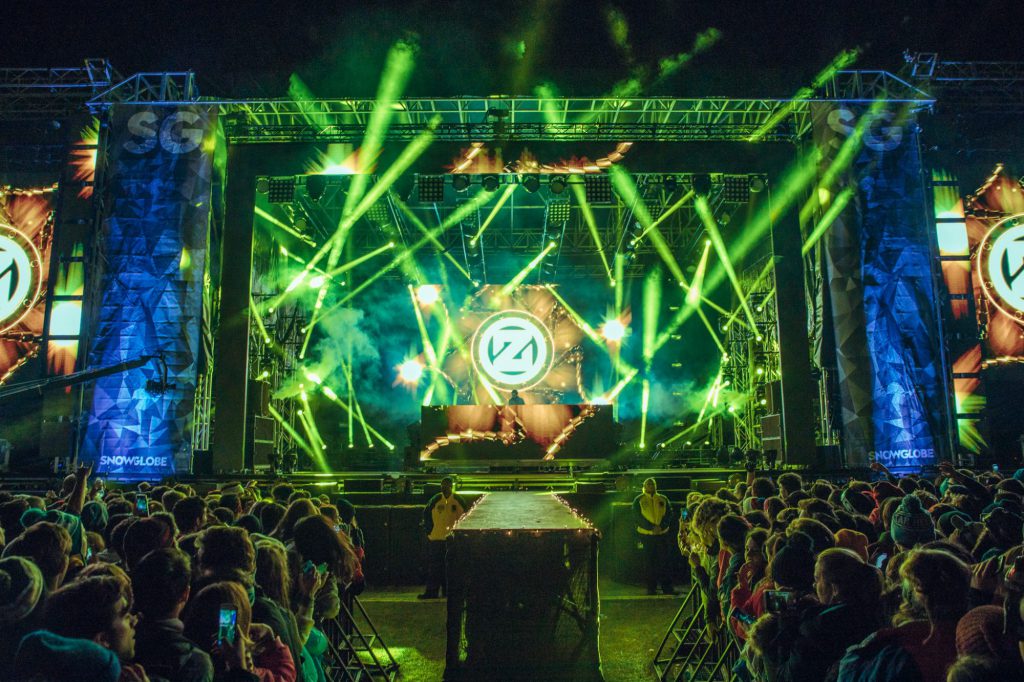 The second day was definitely my favorite – Porter Robinson, Madeon, Dillon Francis, and Lane 8 made for an unmatched lineup of music!
We kicked off the day with a killer set from k?d, full of all the industrial techno, bass, and psytrance you could ask for. Probably one of the dopest sets all weekend, k?d threw down some of the craziest sounds I've heard. He's definitely on my must-see list in the future. We sadly had to head out early, watching over our shoulders as k?d continued to slay the Sierra, as Porter Robinson overlapped by a few minutes and we needed to have a prime time spot.
We settled in at the Main Stage for our unanimous favorite, Porter Robinson, anxiously awaiting his set. Prior to SnowGlobe, I'd never seen a Porter DJ set, only his Worlds and Shelter tours, so I was extremely excited to see how this would compare. When he finally took the stage, he came out hard. The screen was flashing red and black as he dropped some heavy bass in rapid succession until finally the opening lines of "Easy" came blaring through!
Porter's set was invariably different considering the fact that it was a DJ set, but I enjoyed it just as much as a Worlds set.
Porter went harder than ever and just when you thought it was over the visuals displayed "I'm not done with you yet." We almost lost it! It was awesome to see Porter's personality come through both in his music choice and his visuals. I feel like he's finally completely come into his own and is doing whatever the heck he feels like.
From happy hardcore to experimental bass to his beloved tracks from the album Worlds, Porter's set contained many distinct styles yet was perfectly cohesive. Notably, he moved "Language" from the closing song to the middle of the set and instead finished off with "Sad Machine." Experiencing Porter's set at SnowGlobe was really something special. The magnificent pine trees surrounding the stage and winter air encompassing us as we all took in the beauty and emotion of Porter's music.
As Porter ended with many fireworks and bravado, we were left with a feeling of peace and happiness; our favorite artist had delivered once again, just as we expected.
Next up was another favorite, the biggest personality in the industry – Dillon Francis! While it wasn't my favorite Dillon set, he still dropped tons of bangers and brought his signature hilarious visuals making for a fun and crazy set that I thoroughly enjoyed.
The rest of the night was filled with impeccable sets from Madeon and Lane 8. Madeon's set was seriously impressive. He dropped a wild variety of tracks I'd never heard before and brought in a ton of cool genres very different from the electro-pop sound that characterizes his albums.
The night just kept on getting better and better, culminating in an unbelievable set from Lane 8 at the Sierra.
Without a doubt one of my top sets of the weekend, Lane 8 took us on a masterfully curated journey of deep house and atmospheric sounds. Flowing between his older wonderful tracks like "Midnight" and newer tracks like "Coming Back to You" from his upcoming album, he instilled a sense of peace and wonder within us through his music and brought a sensational day of music to the perfect close.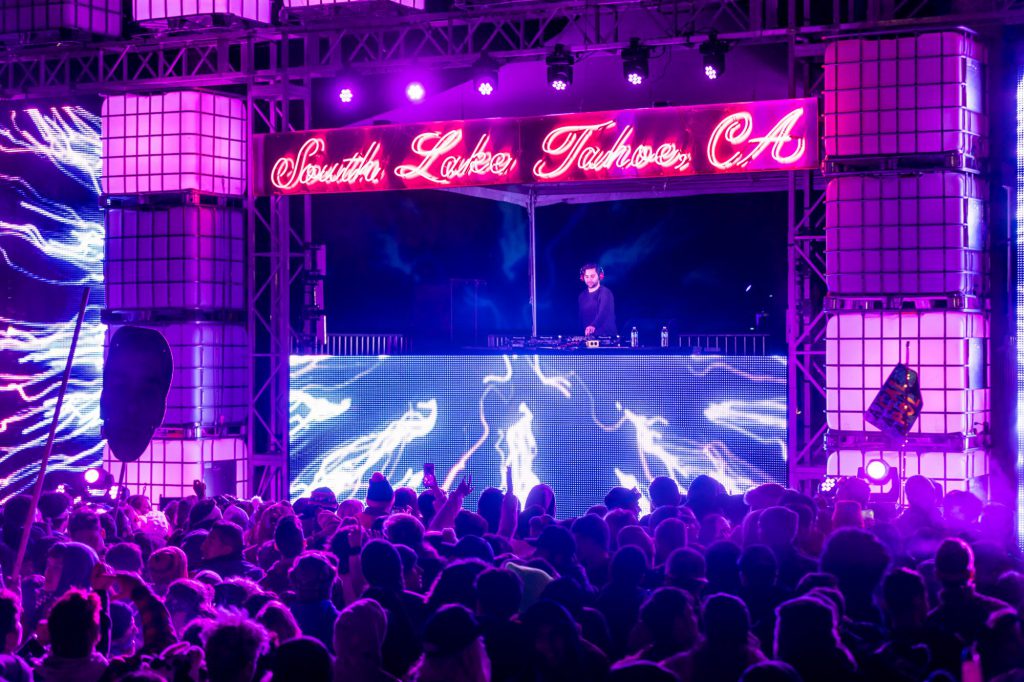 Day three, as usual, was riddled with exhaustion. However, we chugged some coffees and Red Bulls and made our way over to the festival.
Arriving a little later than usual, we made it just in time for Petit Biscuit at 5:15. Strangely, his set didn't start for almost another thirty minutes and was therefore cut pretty short.
While only about 45 minutes long if that, Petit Biscuit was absolutely beautiful, perfect for the feelsy vibes of Day 3 of SnowGlobe. If you've never heard of him, definitely give his tracks like "Sunset Lover" a listen. His new album Presence is a masterpiece as well. Petit Biscuit is definitely an artist to watch in 2018. He even brought a full live set, passionately playing the guitar and piano to accompany his ethereal electronic sound.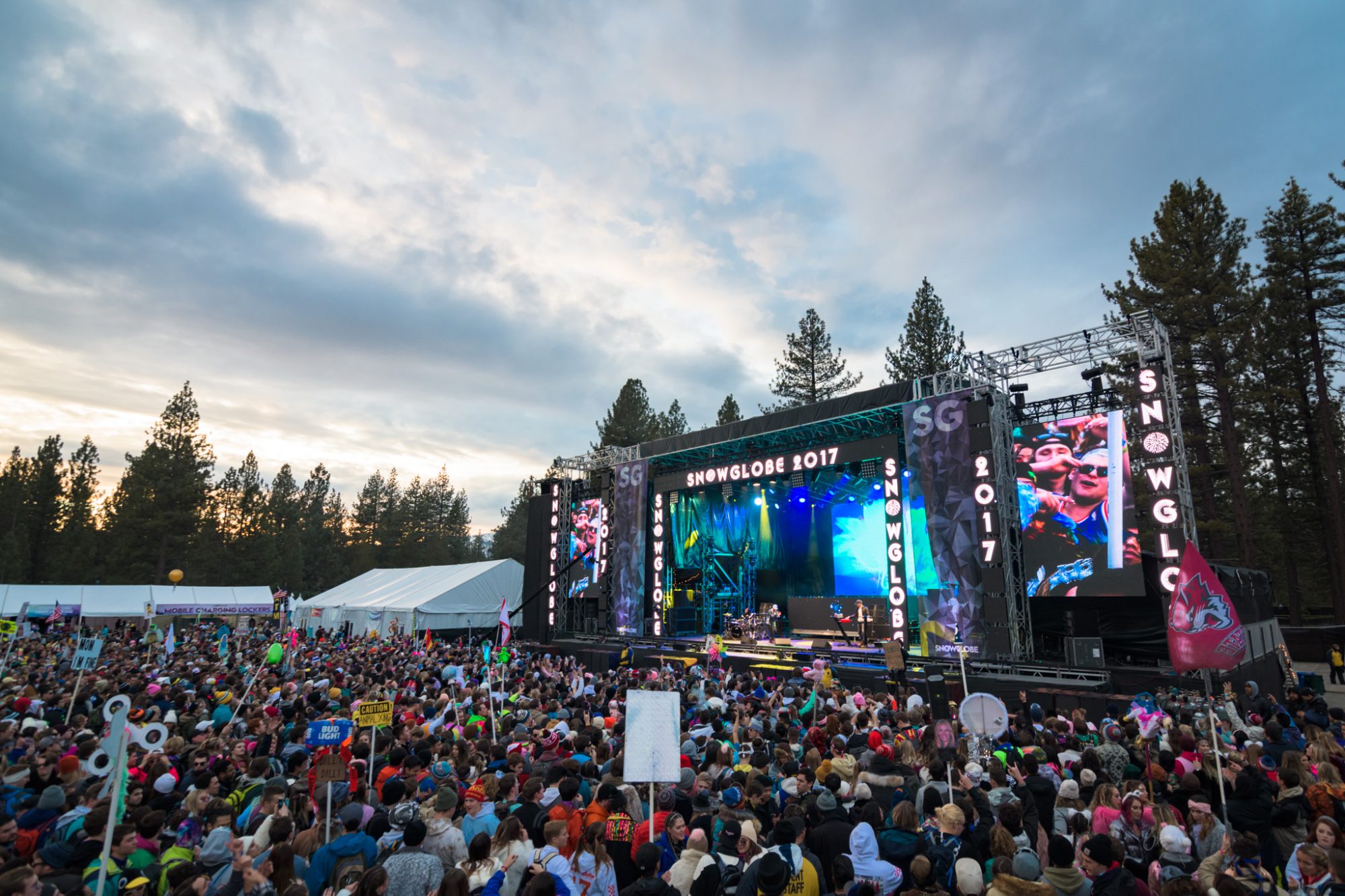 Needing some more hype music to get us out of our tired funk, we headed over to Graves at the Sierra which definitely did the trick.
Graves had us raging to his tasteful trap set start to finish. Next up was Brownies & Lemonade, the collective known for throwing insane parties in LA featuring B2B's with all the special guests you could possibly imagine. Unsure of who they'd bring to SnowGlobe but confident it would be someone dope, we stuck around to see who the surprise guests would be. To our excitement, Hotel Garuda took the stage and started slaying it with the funky house beats.
The rest of the night we bounced between Gryffin, San Holo, Justin Jay, and Jai Wolf, all who delivered spectacular sets. Jai Wolf's emotional tracks put us all in a great headspace just before midnight, helping us to reflect on the past year and be thankful for the friends and loved ones around us.
As Jai Wolf's set ended at 11:45, we scurried over to the Main Stage to witness Alison Wonderland ring in the New Year. Admittedly I wasn't too stoked for her performance seeing as I'd seen her play almost a dozen times prior, but she sure proved me wrong! She threw down some fire trap and bass tracks and dropped her hit song "U Don't Know" as the clock struck twelve and fireworks lit up the sky.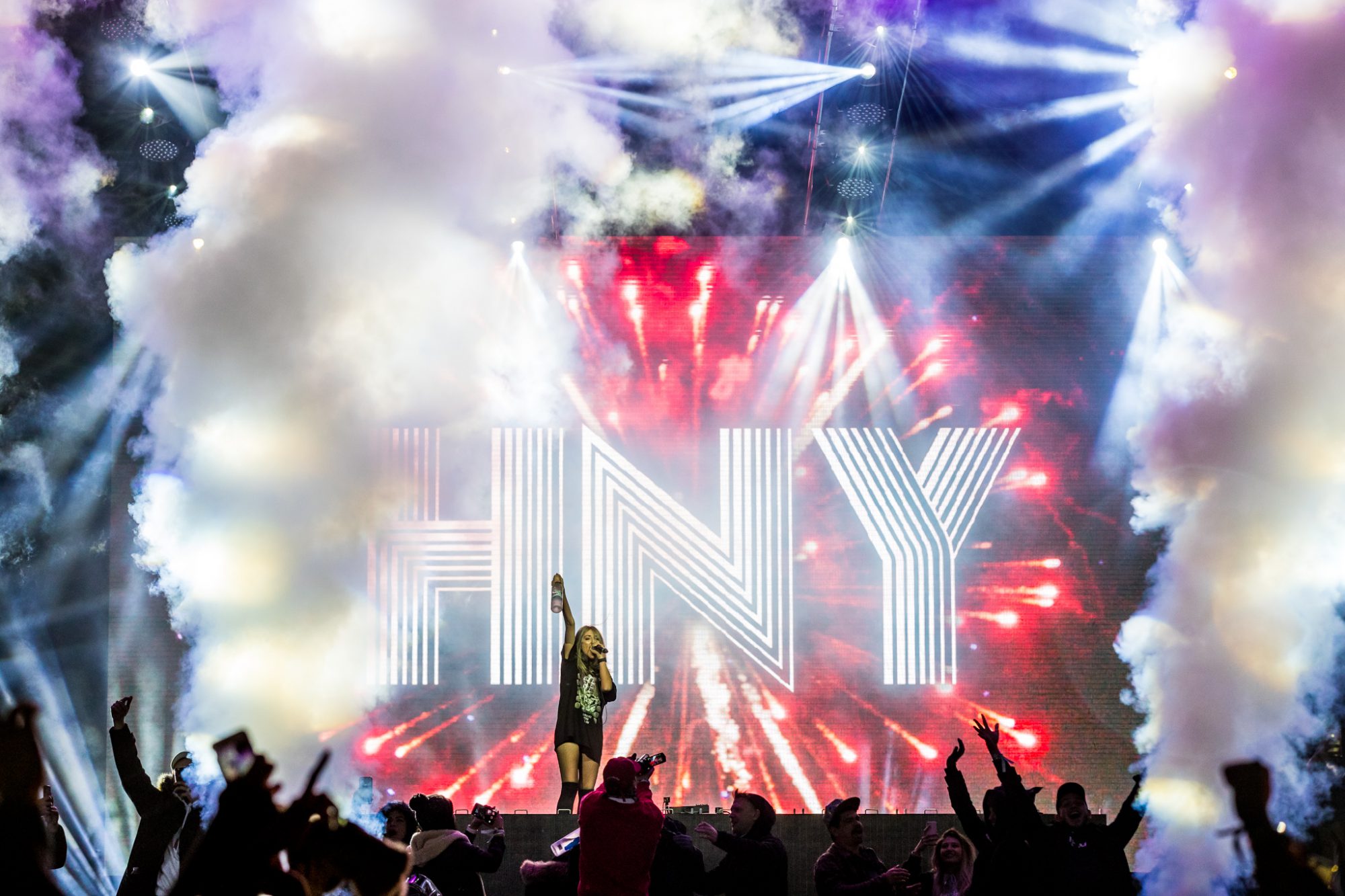 This year really reminded me how special of a festival SnowGlobe is… there's just something about it that makes it unlike any other event.
Maybe it's the beautiful natural setting. Maybe it's the fact that it lies on New Years. Maybe it's the awesome vibe they create within the festival. I really can't think of a better way to finish off 2017 and kick off 2018 than by raging with my best friends at such an amazing festival.
I was blown away by the consistent quality of the sets and the constant friendliness among attendees. I thought this was going to be my last year, but after how much fun we all had you might catch me be back in 2018!
---
Connect With SnowGlobe On Social Media:
Website | Facebook | Twitter | Instagram | SoundCloud