This winter, Lane 8 will release Little By Little, his second artist album and first via his This Never Happened imprint.
---
Today, Denver-based deep house artist Lane 8 announced that he will be releasing his second album, Little By Little, on January 19, 2018, via his own This Never Happened imprint.
Starting in January, he will also be embarking on a massive 35-date tour in support of the album, including stops in Chicago, Brooklyn, Los Angeles, and Denver, as well as international dates in Europe and Australia.
Tickets for the Little By Little Tour go on sale this Friday, October 27 at 9am local time.
Alongside the announcement, Lane 8 has also released "No Captain" featuring the vocals of Channy Leaneagh of Poliça. The track represents all the things that fans have come to love best about Lane 8 – complex, multi-layered chord progressions intermingled with a thoughtful, almost meditative mood softly enveloping Leaneagh's voice.
You can stream the album's lead single below, and pre-order the album via the This Never Happened website.
Stream "No Captain" feat. Poliça via Spotify:
Over the years, Lane 8 has made an indelible mark on the scene with his thoughtful, exceptionally constructed productions and well-crafted live performances. This summer, he put on a series of sold-out "This Never Happened" summer gatherings in Colorado, San Francisco, and New York which urged fans to put away their phones and truly immerse themselves in the musical experience.
If you've never had the pleasure of seeing Lane 8 on tour, make sure you don't miss him this time.
Further information about the tour and album pre-sales can be found by visiting the tour website.
Little By Little Album Tour Dates & Venues: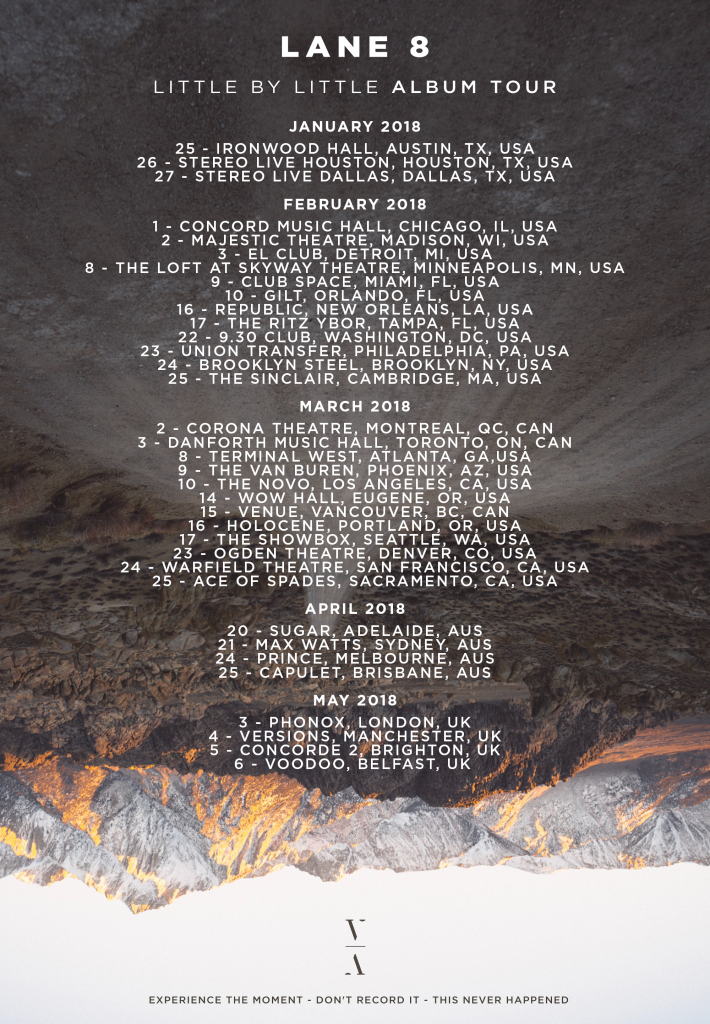 Lane 8 had this to say about Little By Little:
I think that writing and releasing my first album, Rise, so early in the Lane 8 project, was one of the best decisions I've ever made. But at the time, I felt like albums were really on the out. A lot of people within the music industry said albums were a waste of time and effort – nobody listened to them anymore. Especially not from relatively new, relatively low profile artists! Most artists within dance music were releasing single after single every few months – and having a lot of success with that formula.
Maybe it's because I grew up on albums, but I've always felt that a good album tells a story and creates an experience that is impossible to replicate with a run of single tracks alone – no matter how good they are.
When I listened to my favorite albums as a kid, one of the things I loved the most was entering the artist's world – even if just for an hour, it felt like I was being taken on a unique journey that could really be savored, a journey only the artist could take me on. The experience of listening to a great album gave me a connection to my favorite artists that I never would have had just listened to their hits.
With that somewhat romantic (or just outdated!) feeling toward albums in mind, I ignored a lot of the advice out there and pushed forward – and Rise came out soon after. When I toured that album, I had the surreal experience of hearing fans tell me what the album meant to them, and how much of a connection they felt to the journey of Rise – that familiar feeling I remember from my own youth.
Over the past two years, I've waited for a certain feeling to return – the feeling that I was ready and excited to do it all over again. As it happened, at the end of 2016, we finished an incredible first This Never Happened tour shortly before welcoming our daughter into the world. As 2017 began, I found myself really driven to create album #2. Throughout this year, I found a lot of joy in focusing on each little task achieved, each small accomplishment that pushed me one step closer to the goal of making another album – another experience – that I was really proud of. In a way, I think that's what this album is all about – taking the time to appreciate each small step in a larger journey.
I'm really happy to announce that the pieces have now come together to form my second album, Little By Little.
"No Captain", a song I made with Poliça, is the first piece of music I'm sharing from Little By Little – and it's available to stream and download now. Hope you enjoy it.
I will be touring Little By Little across North America, Europe, and Australia for the first half of next year. Tickets will go on sale this Friday at 9 am local time.
You can listen to "No Captain" and see tour dates here.
Love,
Daniel
---
Lane 8 Little By Little Tour Dates: 
January 25th – Ironwood Hall, Austin, TX

January 26th – Stereo Live Houston, Houston, TX

January 27th – Stereo Live Dallas, Dallas, TX

February 1st – Concord Music Hall, Chicago, IL

February 2nd – Majestic Theatre, Madison, WI

February 3rd – Magic Stick, Detroit, MI

February 8th – The Loft at Skyway Theatre, Minneapolis, MN

February 9th – Space, Miami, FL

February 10th – Gilt, Orlando, FL

February 16th – Republic New Orleans, New Orleans, LA

February 17th – The Ritz Ybor, Tampa, FL

February 22nd – 9:30 Club, Washington, DC

February 23rd – Union Transfer, Philadelphia, PA

February 24th – Brooklyn Steel, Brooklyn, NY

February 25th – The Sinclair, Cambridge, MA

March 2nd – Corona Theatre, Montreal, QC

March 3rd – Danforth Music Hall, Toronto, ON

March 8th – Terminal West, Atlanta, GA

March 9th – The Van Buren, Phoenix, AZ

March 10th – The Novo, Los Angeles, CA

March 14th – WOW Hall, Eugene, OR

March 15th – VENUE, Vancouver, BC

March 16th – Holocene, Portland, OR

March 17th – The Showbox, Seattle, WA

March 23rd – Ogden Theatre, Denver, CO

March 24th – Warfield Theatre, San Francisco, CA

March 25th – Ace of Spades, Sacramento, CA

April 20th – Sugar, Adelaide, AUS

April 21st – Max Watts, Sydney, AUS

April 24th – Prince Bandroom, Melbourne, AUS

April 25th – Capulet, Brisbane, AUS

May 3rd – Phonox, London, UK

May 4th – Versions, Manchester, UK

May 5th – Concorde 2, Brighton, UK

May 6th – Voodoo, Belfast, UK
---
Follow Lane 8 on Social Media:
Website | Facebook | Twitter | Instagram | SoundCloud | YouTube