Slushii talks about his debut album Out Of Light, providing the vocals for the tunes on the release, and his upcoming projects!
---
From escaping suburbia to playing the main stage of EDC Orlando, this year may be Slushii's most groundbreaking one yet. Only a year after signing with Red Light Management, he has released several singles, collaborations, and even his first album, Out Of Light.
The album is stocked with thirteen tracks that Slushii not only produced the music but added his own vocals to the songs as well. In the interview below, he reveals the story behind track "Out Of Light" showing a more personal side of his production process.
Outside of music, he looks forward to his next adventure with the publishing of his first manga series which is also named Out Of Light. Currently touring Australia on the Out Of Light Tour, here's what he had to say about making music, overcoming Asperger's, and more in our interview with him at EDC Orlando last month!
Stream Slushii's Out Of Light Album on SoundCloud:
---
How does it feel to be at EDC Orlando? Have you had the chance to check out the festival grounds this year?

Feels great to be back in Orlando. I've spent a lot of time here over the past few summers and listening to friends and stuff. It's kind of like a second home. As far as EDC, this is only like my third EDC, I think. I've done EDC NY, EDC Las Vegas, and this EDC Orlando. I haven't had time to explore yet because I didn't have time to scour and find a disguise.
It has been a big year for you in 2017 with the debut of your studio album, Out Of Light. What were some of your favorite tracks on the album?
I think "Someone Else", "My Senses", "Hold On", and "Forever"- the really sort of deep tracks because those took the longest to finish because I wrote them so long ago when I was still in high school. When I was finishing up the album, those were actually the last ones that ended getting added but those are like me revisiting old feelings. Sort of rekindling them again, it's almost powerful for me.
It's almost like "Dear Me" is a track of me speaking to my younger self and these are me editing my younger self in writing. Those are the original vocals from back then. Just touch them up and me editing my past work. I just grabbed the vocal and reproduced the whole song. The original version, maybe I will release someday, is totally different. It's house where the new one is like trap or whatever but it's crazy – these songs sound completely different from the demo/older versions compared to now.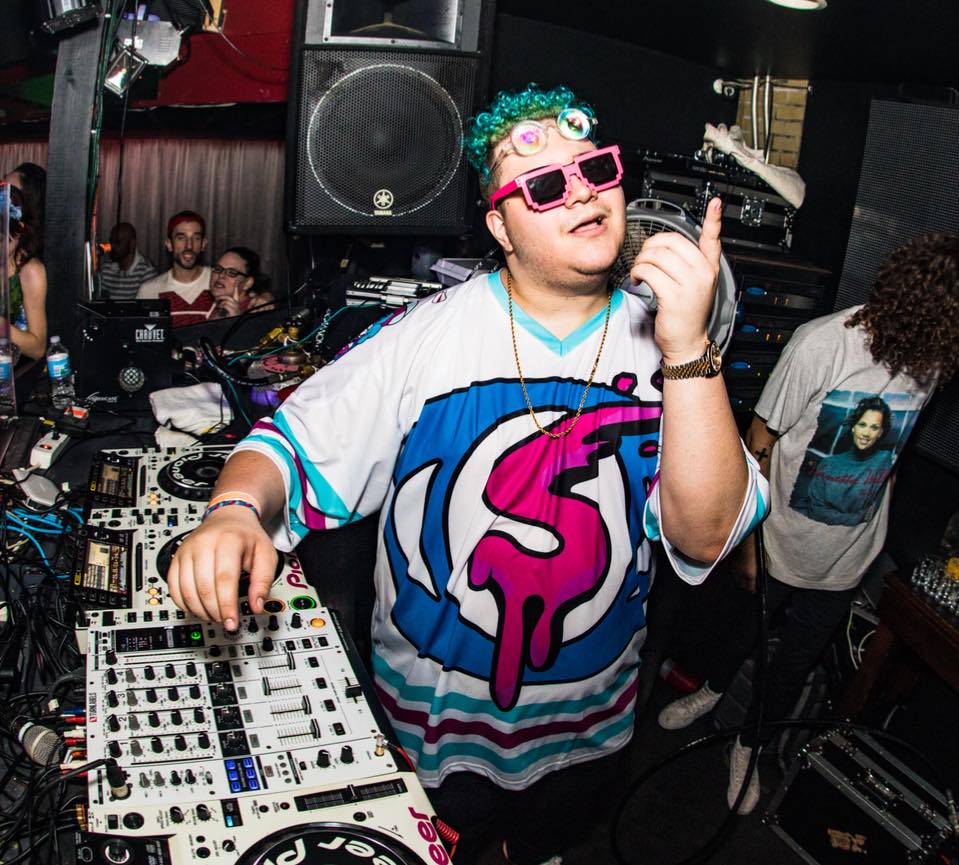 Is there a story behind the title of the album you can share with us?
So the first track produced is called "Into the Light", and the last track I produced was called "Out Of Light", dedicated to my sister, who has been going through some crazy pre-teen troubles that all of us go through, but I wrote that for her. I actually wrote that last out of all of the songs. At first, I was like wait, the first song is "Into the Light", how about "Out Of Light"?
It's almost like an album with a story. At first, you are going "Into the Light", and the last song, things aren't so bad, so you are coming "Out Of Light" now. Everything in between is like… it's a sandwich of an album.
How did your sister react to hearing "Out Of Light"?
The first time she heard it she got all, "I'm too cool to cry but is someone like cutting onions in the next room over because I'm tearing up a little." You know it was one of those moments.
You even added your own vocals the tracks on Out Of Light. Were you nervous about adding them on to your songs?
You know, not really. It was one of those things where I've been outward with my singing since high school. I've written songs for talent shows and things like that. I don't care how people perceive my voice or whatever. It's me expressing myself.
Did you have prior vocal training?
No, I was in choir in high school. We did exercises and minimal vocal training but I didn't have any professional training like a coach or anything. I just learned things naturally. I would really like to eventually go to a vocal coach because that would be so sick. I know my voice is whatever right now but it would be so sick to perfect it. I feel like I can always learn more about breath control and all that stuff.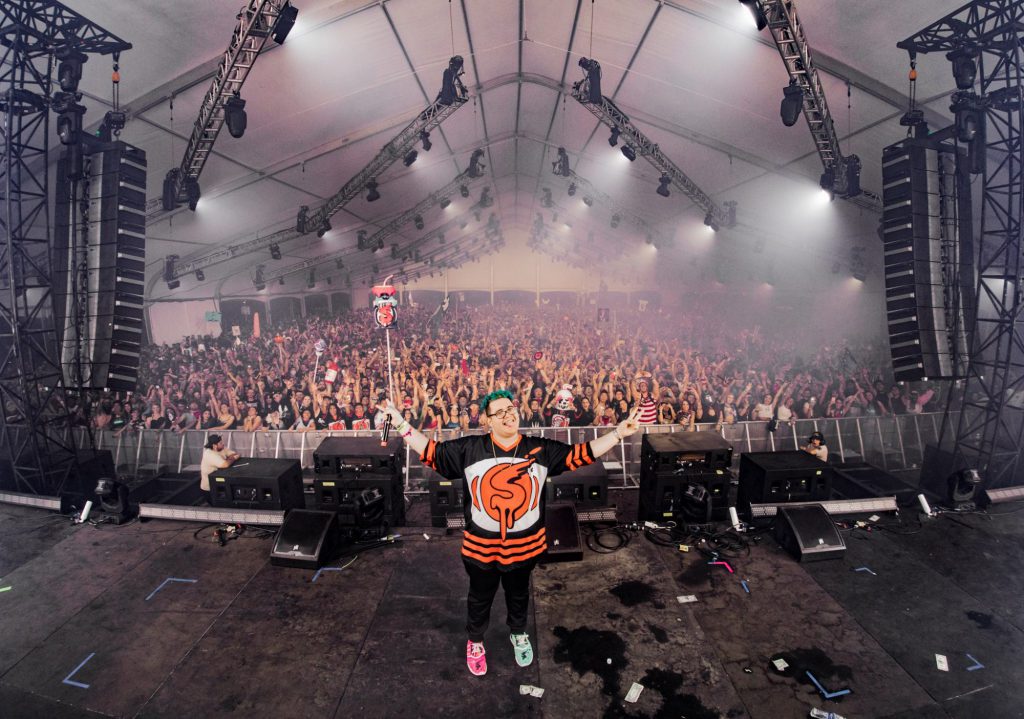 The album itself is a shift from your usual sound with more vocals – less dubstep and a more melodic feel. What contributed to this shift?
I could have easily added dubstep or harder genres to it but for me, I wanted to have a specific theme and not play it safe like radio pop stuff. I wanted it to have this feeling like there's no nonsense but I love making dubstep and other stuff. I wanted all the songs to have a particular weight to them. I didn't want one song to stick out like that song didn't fit because it was like too heavy or whatever.
So even "Dear Me", the first version is a dubstep breakdown the second half of the first drop. I took it out cause again it would have been weird for me and stick out. I wanted the album to have just one feel. Doesn't mean I won't make dubstep again.
Your phase one for the Out Of Light Tour is huge! Will phase two be even bigger and have some international dates?
For sure, we announced the Australian leg of the tour. We were in Australia earlier for Touch Base with Jauz & Snails. Super hyped to come back. They go SUPER SUPER HARD. Like crazy hard. Get ready Australia for Slushstralia.
You've said in previous interviews that having Asperger's affected the way you socialized with others and other kids weren't very kind about it. However, you also talked about a positive aspect as having Asperger's gave you a different view of the world and perspective of connecting with others through music. How has having Asperger's contributed to how you interacted with others and share your story through music?
I feel like I learned very early on that people can be mean. I don't know… It's like the golden rule: treat people with how you want to be treated and it's really as simple as that.
Really the whole Asperger's thing, my social skills were horrible, awful, like high school was a nightmare. I never took the time to reach out to anybody but at the same time it's like that time that I spent cooped up in my own hole. I learned everything I could about music so I could come out and let everyone know how I felt. I was not good with words at that time but I'll play you a song and you'll understand how I feel by the end of that song. So that's always been my mentality with that.
You may not know what I mean because I speak like riddles, but I'll play you a song and by then you'll know how I'm feeling. It's fun writing dubstep.
What advice would you give to other aspiring musicians with Asperger's or those who face difficulties socializing?
In light of everything that has been happening lately, with the shooting and everything, that all could have been prevented with positive outlets. Sometimes I think, what if I didn't have this album or what if I broke off the deep end if I wasn't able to say what I want to say because over time if you let something bubble up and bubble up… I am glad I have the outlet to say what I needed to say when I needed to say it. Find a positive outlet. Don't hurt anyone or yourself. It's so easy to say that, but it takes a lot to like something that makes communicating easier. It's not easy to communicate. Find your positive outlet and make the world better because just because you're hurt doesn't mean you have to hurt others.
It's one of those things – the most normal person ever put under extreme pressure will snap. Even with us touring and running on lack of sleep for so long, we're not even thinking rationally. So it's like positive outlets, man.
Everyone has a talent. I firmly believe that everyone has something that they are good at and talented in. Positive without being negative.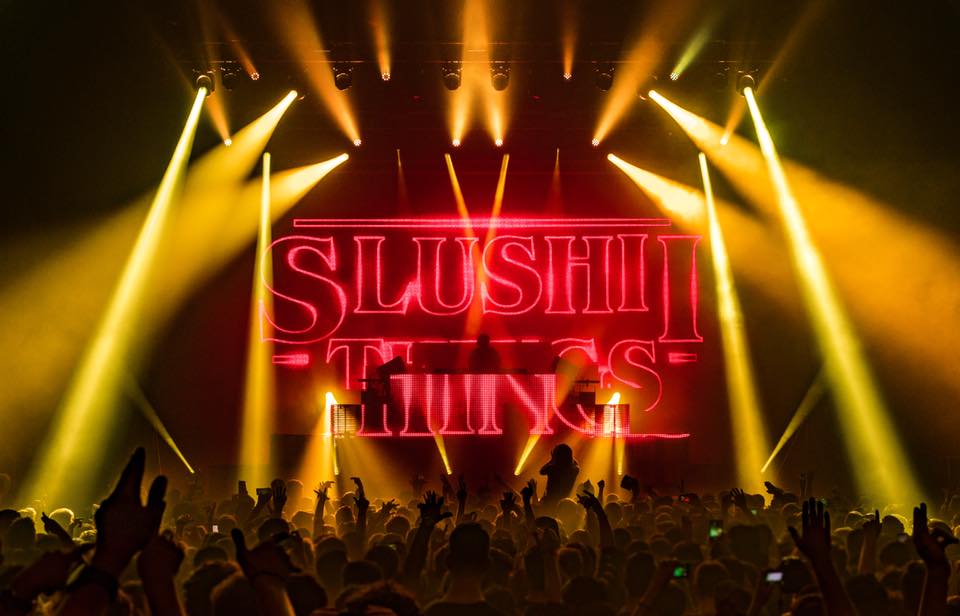 What are the chances you'll revive your old DJ moniker, DJ Swoon?
I think it's one of the things where it's like the DJ Hanzel/ Dillon Francis thing. Lowkey in the future it would be funny to have like a tour two years from now where DJ Swoon is the opener and I have on a snapback. I'm direct support for myself. I'm wearing a jacket and I take off and I'm like, "Biiiiitch, I'm playing a four-hour set, let's go!"
The end of the year is coming up quickly. What has been your favorite moment of 2017 memory so far?
So we were in Chengdu, China for my birthday. The promoter comes out and goes, "It's Slushii's birthday. Let's sing Happy Birthday." I'm like, "Hey, that's dope. I'm done."
Then, they finish Happy Birthday and I see him winding back and I'm like, "Oh no I'm about to get Steve Aoki Level 900 caked right now." And I was like, "Noooooooo!"
It was coming at me and I was like, "What do I do? What do I do? This is really close now. What do I do"
And it just hits me. My glasses were in the cake, ruined the jersey because the cake was chocolate. I was like, "DAMN IT!" It was cool. It was a birthday to remember in Chengdu, China.
What are you excited for in 2018?
We're writing a lot of new music and lots of collaborations. We're working on a manga which is a Japanese comic book. It's called Out Of Light, based on the album. Basically, the IMDB synopsis, Slushii crashes to Earth and tries to save Slushii's people from this overlord who is not named yet.
Finally, what Anime are you currently watching?
Well, I'm reading Boku No Hero Academia right now and season two just ended. My Hero is the only thing I have been keeping up lately…. oh and One Punch Man.
---
Follow Slushii on Social Media:
Facebook | Twitter | Instagram | SoundCloud | YouTube