Diplo and his friends at Mad Decent have returned for the holidays with the fifth installment of their annual Christmas album, A Very Decent Christmas 5!
---
Although our waistlines haven't even had a chance to recover from Thanksgiving yet, fret not, for Diplo has yet again compiled the perfect soundtrack for twerking off that extra slice of pumpkin pie with A Very Decent Christmas 5. Thomas Wesley Pentz may most often be associated with his prehistoric stage name and bromance with Dillon Francis, but at the end of the day Diplo is just like you and me – he evidently has a soft spot for the holidays.
Stream Mad Decent's A Very Decent Christmas 5 on SoundCloud:

This year's edition of the annual album welcomes old and new label members alike, offering up an impressive assemblage of artists to DJ your holiday festivities. Diplo himself, along with fellow Major Lazer members Jillionaire and Walsh, kick off the newest album with a special remix of "Know No Better" by 1/3rd of Walshy Fire and Megatone.
If that's not enough to get your sleigh bells jinglin', the mix is followed by Party Favor's version of "Jingle Bells". It's like the original, except fewer bells and more WAWA.
Also on the album, SpydaT.E.K and Rrotik compete for most original trap take on "Deck The Halls", the former of which is appropriately dubbed "Tekk The Halls Up". Foodman heats things up with his tropical "Island Christmas", Aquadrop cultures all of us with his own "Feliz Navidad", and more!
My personal favorite is Hoodboi and LIZ's "Tropical Holiday". The track strays from the album's otherwise aggressively trap theme and serves up smooth synths paired with an electro-R&B style that's sure to get that special someone under the mistletoe. The song is so good that it may even pose a serious threat to my otherwise unmatched Christmas favorite – Michael Bublé's "It's Beginning To Look A Lot Like Christmas". If that isn't the pinnacle of musical compliments, then I don't know what is.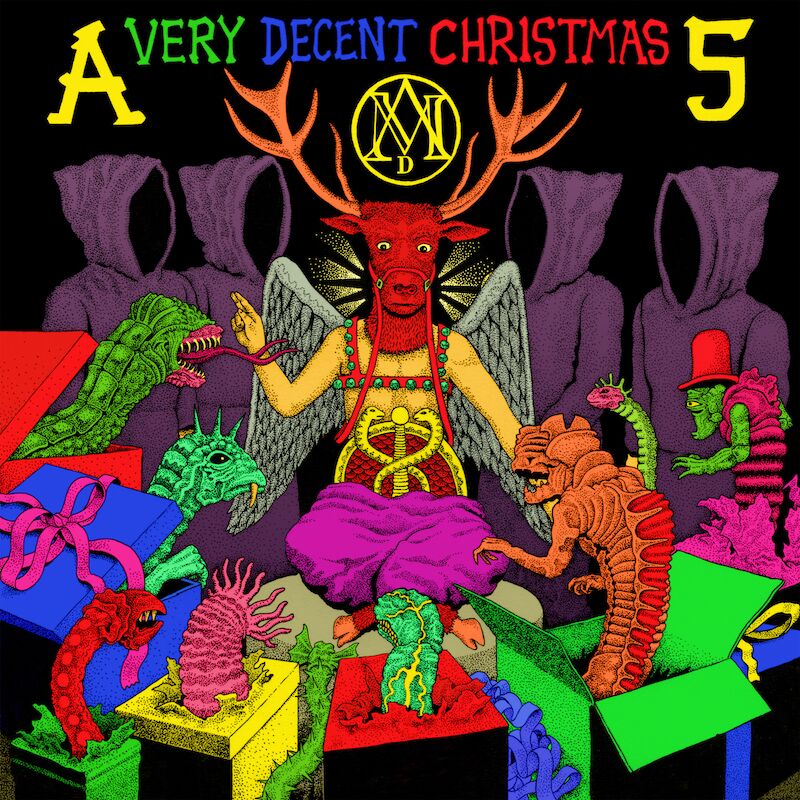 Since 2013, Mad Decent's A Very Decent Christmas has acted as the ultimate stocking stuffer for SoundCloud trap lovers desperate to escape the humdrum normalcy of traditional holiday anthems. The fifth is not only no exception, but might even be the richest album Santa, I mean Diplo, has offered up yet.
With its worldly array of beats from around the globe, A Very Decent Christmas 5 is a delicious cocktail of all your holiday favorites mixed with trap, hardstyle, Brazilian and Japanese beats. So wherever you're from – whether you're American, Australian, Japanese, Chinese, an elf, or a billionaire DJ with a dinosaur tattooed on his arm, grab some friends (or your dog) and get lit this holiday season with your friends at Mad Decent!
---
A Very Decent Christmas 5 Tracklist: 
1. Major Lazer – Know No Better (feat. Travis Scott, Camila Cabello & Quavo) [Walshy Fire X Megatone Remix]
2. Party Favor – WAWA (Xmas Edition)
3. LIZ & Hoodboi – Tropical Holiday
4. DJ Douggpound – We Three Bings
5. KiWi – What's In The Present Box?
6. SpydaT.E.K – TEKK The Halls Up
7. Tre Oh Fie – O Litty Night (feat. Big Mac 75)
8. Aquadrop – Feliz Navidad (feat. Francikario)
9. rrotik – Smash The House (Deck The Halls)
10. Foodman – Island Christmas
---
Follow Mad Decent on Social Media:
Website | Facebook | Twitter | Instagram | SoundCloud