Come celebrate the Christmas cheer with twelve days of music and charity put on by Detroit's favorite – GRiZ!
---
GRiZ is not only an incredible musician but also an incredible guy! For the fourth year running, GRiZ will be holding the 12 Days of GRiZMAS in his hometown of Detroit as a way of giving back to the city that raised him and cultivated his musical prowess. Comprised of everything from caroling to bar-hopping to roller disco, the 12 Days of GRiZMAS offers a bundle of fun events, all with a Christmas theme and a charitable cause.
The 12 Days culminate with three nights of shows – The Night Before GRiZMAS on December 14 and two GRiZMAS shows, December 15 with GRiZ's live band and December 16 a GRiZ solo show. Those who know GRiZ know that these shows will hold all the funk, bass, and great vibes you could possibly imagine!
More details of the GRiZMAS shows here! 
Growing up in Detroit, GRiZ was privy to an amazingly artistic, soulful culture that helped shape him into the musician he is today. Now, he wants to give back and is doing so by putting all GRiZMAS proceeds towards Little Kids Rock, a foundation that fosters music education and helps provide instruments for public schools across the nation. GRiZMAS has already raised over $80,000 for Little Kids Rock, let's see how much more we can raise this year!
I LOVE this time of the year…. 12 days of GRiZMAS is back!!! In the spirit of love and giving, let's all come together and spread the good vibes. 100% of proceeds going to Little Kids Rock.

– GRiZ
GRiZ has created a truly remarkable community here in Detroit. I have met some of my best friends in this area attending GRiZMAS events in the past, and can't wait to meet even more awesome people this year.
This year's 12 Days of GRiZMAS is shaping up to be the best year yet. Dance to some of the best funky bass music, donate to a deserving charity, and maybe even get a chance to hang with GRiZ himself! I know I won't miss it.
Some events require tickets, while others solely need an RSVP. For more info, tickets, RSVPs, and donations for the 12 Days of GRiZMAS, click here!  
---
Twelve Days of GRiZMAS Event Poster: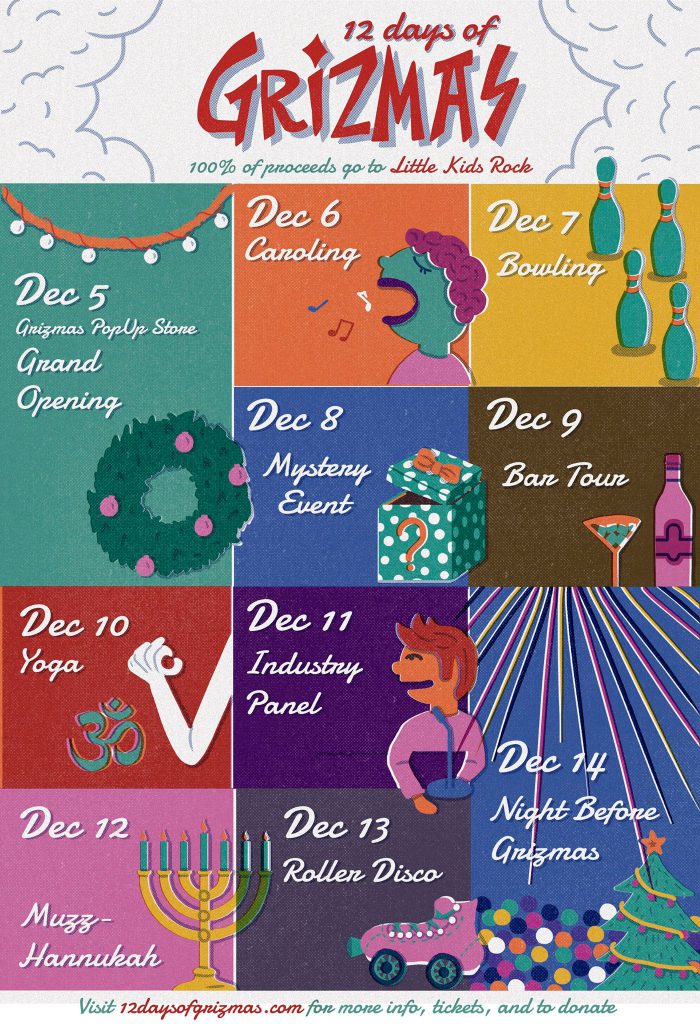 ---
GRiZMAS CHARITABLE EVENTS SCHEDULE
Dec 5 – GRiZMAS Pop Up Shop Grand Opening
Dec 6 – Caroling on The Q and Campus Martius
Dec 7 – Bowling Night
Dec 8 – Mystery TBD Event
Dec 9 – GRiZMACON Bar Tour
Dec 10 – Yoga @ The Fisher Building Lobby
Dec 11 – Industry Panel @ Assemble Sound
Dec 12 – Muzz-Hannukah @ The Masonic Temple
Dec 13 – Roller Disco Night
CONCERTS:
Dec 14 – Night Before GRiZMAS @ Royal Oak Music Theatre
Dec 15 – GRiZ Live Band @ Masonic Temple
Dec 16 – GRiZ @ Masonic Temple
---
About Little Kids Rock
Little Kids Rock is a national nonprofit dedicated to transforming lives by restoring, expanding, and innovating music education in our schools. As the leader in culturally-responsive, inclusive music education, the organization partners with public school districts to build music programs as diverse as the kids being served.
Little Kids Rock trains teachers to run its innovative Modern Band curriculum, and donates accompanying instruments and resources as necessary to teach popular music in a way that empowers students to experience instant achievement.
What began as a single after-school guitar class has since exploded into a national movement that brings free, weekly music lessons to over 320,000 public school children annually through the efforts of more than 2,000 teachers in 200 school districts nationwide.
More info at www.littlekidsrock.org.
---
Follow GRiZ on Social Media: 
Website | Facebook | Twitter | Instagram | SoundCloud