Get the lowdown on happy music artist nanobii!
---
Sweden might not be the first place that you think of when someone mentions Hard Dance music, Disney movies, or Japanese anime but that did not stop Nano from combining all of his passions into the nanobii project that we now know and love!
After releasing a few singles, nanobii gained notoriety in the Happy Hardcore community through his song "Rainbow Road" on niche powerhouse label Monstercat. This validated his sound and empowered him to dive deeper into other genres, both within the Hard Dance realm and otherwise.
By 2017, nanobii had amassed an impressive catalog of singles and was ready to release his first EP, Love Songs; mere months later, he released his second EP, Sunshine Express. Both were met with praise from fans of all types, as each included a variety of what Nano likes to call "happy music" genres and not just Hard Dance.
Fast-forward to the present and nanobii is working on his third EP as well as some fun side projects, including a re-make of popular Disney song that you might know (more on that in the interview below).
Last week, Nano took some time out of his busy schedule to chat with me and it was one of the most fun conversations that I've had in a while! Given that this is only his third interview EVER, I did my best to give him a platform to express his thoughts while still having fun with some silly questions. Enjoy!
Listen to nanobii || nanomix 4:
---
Tell me the about the style of music that you are currently working on and also about your decision to create your own label to launch your newest EP.
I have been doing a lot of Hard Dance music over the last four years and have gotten more and more into doing music that isn't based on drops, so like Synthpop and stuff like that. With this EP, I thought that I would embrace that side of me completely. The thought is to not have any kind of "drop" music and just do an EP with a cute sound through and through. So that was the idea.
In terms of the label, I have found that there isn't really a good place for all kinds of happy music; if I want my happy music to get on a label, it would need to be some kind of EDM music like Happy Hardcore. I have been missing a place where all happy music is accepted so that was the thought with the label.
Is it a difficult process to launch a label?
Actually, it's really simple nowadays because there is a distributor of music called DistroKid that automatically pays the people you release stuff with, so it's a really simple process. I just have to get contracts and all the art material sorted. It's easier than people think.
Awesome, well we are certainly looking forward to your new music! You are working on another Disney remix, as a follow-up to "Going the Distance" from Hercules; can you share some details about that?
Yeah, it's going to be "Part of Your World" from The Little Mermaid. It's another song featuring Lindsey Marie on the vocals and I've been thinking about releasing it very soon, maybe Friday of next week.
If you know the genre called Hands Up, it's going to be in that style: like my Happy Hardcore music but 20bpm slower, just basically a slower version of Happy Hardcore. Hands Up is around 140-150bpm whereas Happy Hardcore is around 170bpm. Hands Up also focuses on different things in terms of how you arrange the song but usually, I just see it as a tempo difference.
Well on that note… I know we have spent time on the subject, but for everyone else out there, could we talk about Kawaiicore, Happycore, and your views on genre fragmentation?
Basically, the term Kawaiicore came from the fact that I was really into Japanese culture when I started doing the nanobii alias. I kind of realized that the two or three songs were really not that different from the UK Hardcore and Happy Hardcore that everyone else was making and I wanted it to be easy for people who were into my music to find other similar music. By creating the term Kawaiicore, I felt like I made it harder for people to find other music like it.
The term Happycore is just shortening the term Happy Hardcore so I don't really see it as a separate thing, although some people seem to see it as a different thing entirely. To me, it's just another way of saying Happy Hardcore, which also leads to the difference between UK Hardcore and Happy Hardcore.
I would say that it started out as Happy Hardcore in the 1990's and then at some point people started calling it UK Hardcore because maybe the Happy Hardcore title wasn't cool enough; but, lately, people have gone back to calling it Happy Hardcore. People like Gammer and Darren Styles calling it Happy Hardcore again instead of UK Hardcore.
I kind of see them as different terms for the same type of music, although sometimes I guess Happy Hardcore doesn't make sense, like when you refer to the Electro Dubstep drop songs. So yeah, that's kind of one way to see it, but I call everything Happy Hardcore or just Happycore.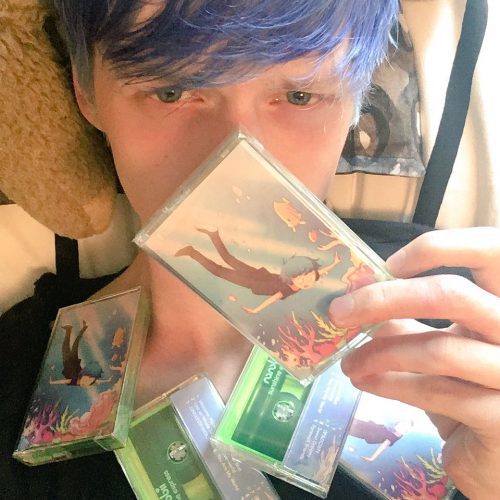 That makes sense! I am a big fan of your cassette-based EP releases; what gave you the idea to do this and do you plan to offer future EP releases in this manner?
That's a good question. I listen to a lot of Synthwave music and Chiptune music and there were more and more people who were releasing on cassette and vinyl. I wanted something that was easy to ship from my home in Sweden and that would look good on people's shelves so I decided on cassettes.
Vinyl is really cool and people may be more into vinyl but they are a big hassle to ship all over the world. That was the thought process behind that, and also they were really cute! I wanted something that people could collect; even though people may not be able to play the cassettes, I see it as more like memorabilia.
In the future, I am actually going with a different format, neither cassette or vinyl or CD. I think it is something that is very exciting!
That is exciting! A little cliffhanger there! You have your first show in Belgium this month; is there anything you want to mention about it?
Except me, it's just Chiptune artists so people are probably going to be playing with their Gameboys and stuff like that. I'll be using my MIDI keyboard, playing melodies on top of my own songs. I really like playing together with Chiptune people because it's less about the DJ'ing or partying and more about the musicality of things, which is quite fun for me.
I have always had a problem with just DJ'ing because I feel like I'm not really doing anything. It's the worst, especially if you haven't had any drinks before and you stand there during the breakdowns and everyone is looking at you and you are not really doing anything.
I am not the kind of person who would just stand there and make people clap their hands so it's easier for me to have a MIDI keyboard and play whenever I want. That's the reason that I've gotten more into playing stuff live instead of DJ'ing.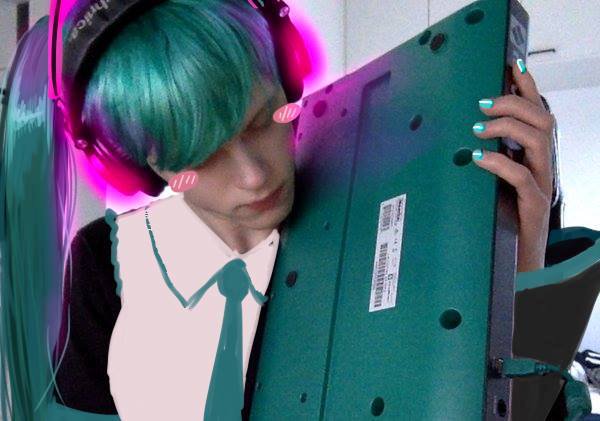 That's a great reason and I think it's kind of a beautiful thing because there are a lot of artists that are doing next to nothing, especially a lot of these mainstream, pop, EDM artists. What other countries have you performed in to-date and what were some of your favorite shows?
My favorite is definitely HTID USA in 2015, and also all of my gigs in Japan, which there have been five of on two different occasions. I just really love the crowds in the USA and Japan. It's especially fun when you get into small clubs like MOGRA [in Tokyo] and people are so into the music; I have played twice at MOGRA and it's insane.
I have also played in Finland, which wasn't a really big event, and also in the UK. The UK crowd at that particular event was more into the Gammer hard-type drops and it didn't really seem like my kind of fan base. I remember looking at the comments afterward and someone commented that I was playing Tetris music or something like that. It definitely wasn't my type of crowd so, yeah, USA and Japan seem like good crowds for me.
I did have a gig in the UK this year that was a Chiptune event and it was a much better crowd so I guess it matters where you end up and what crowd you play for.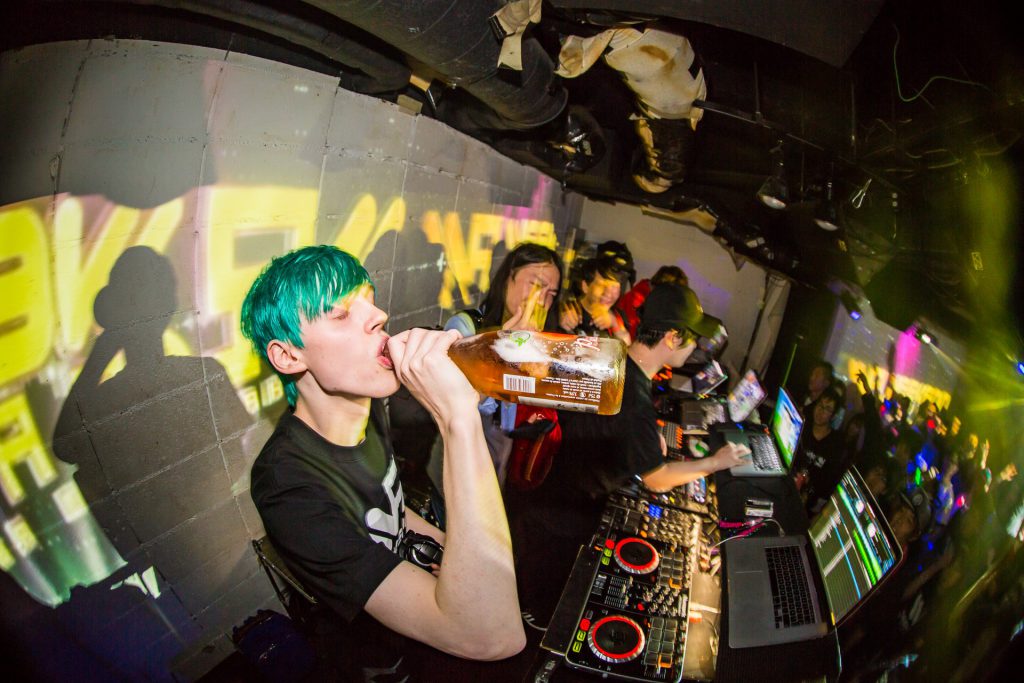 One hundred percent, it has to be a good fit. One of the big reasons that I wanted to do this interview with you is to help you get more exposure in the US in hopes of getting you some gigs over here; what is your dream gig here in the states?
I really want to play at another HTID USA event. Obviously, I would want to play at big festivals too but, I think to start with, my dream is to just have another event like that. It was the biggest crowd that I have played for and it would be really fun to play it again.
An anime or gaming convention in the USA would be really fun too. In America, it seems like Happy Hardcore is intertwined with the anime culture.
Yes, I would love that!  Okay, so you tweet in English and Japanese and are from Sweden… just how many languages do you speak fluently and semi-fluently?
I would say that I'm completely fluent in both Swedish and English. I studied Japanese for a while a few years ago and even went to Japan to study there for two months. I lost a lot of knowledge not practicing it the last two years but I actually got back into studying it like a week ago or something; that's what I'm actually doing today, studying Japanese because I want to get better at it, but I wouldn't say that I'm semi-fluent in it. I am better at writing Japanese than speaking it, so I'm semi-fluent in "Twitter" Japanese.
So years ago, when you first started studying Japanese, did you start studying Japanese and then get into the culture? Or were you into the culture and then wanted to learn the language?
I was interested in the J-Core scene, like DJ Shimamura, so I got into the music first and then got into anime and then I wanted to learn the language. I am actually going back to Japan around April of next year to work on my Japanese and new music and also just hang out and have fun.
Cool! Next, I want to talk about the succinctness of your bios on each of the various sites, specifically the one from SoundCloud: "A never-ending love story".
Yeah, there's not that much to it really. I don't really release concept albums with a certain path or story to follow and I just see my music as this never-ending, happy thing. "A never-ending love story" is just how I see my music. At least as nanobii, I won't ever release a song that isn't happy.
I started out only making Happy Hardcore as nanobii, and at some point, I tried making a calm song. It was called "Atlantis Love Story" and people were really supportive, which made me realize that I don't have to stick to only one genre and I could make happiness the defining thing of nanobii.
So that was a really great thing for me to realize because it changed the way that I look at my music and what I can define my music as. As long as it's happy, it's something that I can imagine releasing.
That's really cool, I'm kind of at a loss for words really… as a person who likes to believe that I'm an optimist, or I try my best to be an optimist at all times, that's really refreshing to me to hear someone say that the driving thing behind all of this is just happiness. I think that needs to be on a billboard or something! 
Last question… favorite anime of all-time and in recent years, go.
Ooh… right now, I am into anything from Studio Trigger, so like Kill la Kill, and Little Witch Academia was a really good one that just aired. I would say that a lot of things that they do is my favorite kind of anime.
I feel like they try to do their own thing and I really like their art style. They seem to have a lot of interesting plots in comparison to other anime where it's just the same plots over and over. In the case of Little Witch Academia, I love that one because it reminds me of Disney, which is my big interest. It just feels so magical!
---
Connect with nanobii on Social Media:
Website | Facebook | Twitter | Instagram | SoundCloud | YouTube