Get to know the hottest rising bass duo in the game – YOOKiE!
---
If you're looking for bass music that's breaking boundaries, YOOKiE has you covered. The duo composed of Anthony and Christopher Alfaro, has fired off new tracks left and right, proving that they are a force to be reckoned with in the bass music realm.
After a nonstop year of huge shows and festivals like Electric Forest and Decadence AZ, they recently graced the stage at Wicked Halloween with Zeds Dead as well as Escape: Psycho Circus in SoCal, playing awesome sets at both.
This year YOOKiE has released collaborations with SLANDER and Black Tiger Sex Machine in addition to some original tracks too. Their latest single "Voodoo" dropped on Firepower Records, just in time for Halloween!
https://soundcloud.com/sex-sex-and-more-sex/yookie-x-wooli-voodoo-firepower-records
On top of their musical genius, these two have quite the sense of humor, as you'll see in our chat! Read on for more on YOOKiE's fire new releases, favorite festival experiences, and exciting future endeavors.
---
We are huge fans of your collabs "One Life" and "After All" with Slander. It's awesome that both of you have a bass-heavy as well as a lighter side to your music. Do you guys enjoy making the melodic tunes or the heavy bangers more?
Anthony: I think it honestly just depends on our mood. Sometimes we'll be in a phase where we make more melodic or chill stuff, but sometimes I'll be in a different mood where the bangers come out from.
You've been on a roll with new releases lately, including your incredible new track "Lions" with Black Tiger Sex Machine. What was it like working with BTSM on that track?
Anthony: They were a pleasure to work with and our ideas just meshed together so well. We're looking forward to working together with them in the future.
This year you played some major festivals including Electric Forest and Camp Bisco. Which was your favorite crowd to play for?
Christopher: Each festival was insane in its own right. We really liked Decadence AZ.
Shoutout to Relentless Beats for sure.
Are there any festivals you're dying to play in the future?
Christopher: EDC Las Vegas and International EDCs, Electric Zoo, Shambhala, Middlelands, and Tomorrowland.
The This Kills It Live edit pack has some insane remixes of tracks from Skrillex and Phiso, can we expect more of these killer edits soon?
Anthony: You can expect some more crazy TKIL edits in the future. Constantly working on trying to deliver the best content that kills it live the most.
This Halloween you have been booked for Escape: Psycho Circus, are there any special preparations you'll be making to get that set extra spooky?
Both: Usually we make all the preparations the day before or day of. So who knows how spooky we're feeling, you'll just have to come to find out.
We love how each of your tracks has its own distinctive sound. Do you strive to attain this diversity in your music?
Anthony: I guess it just comes naturally, but it's definitely also something we strive for as
well because that's what we're all about, being different from everything else.
Who are your idols in the dance music scene or favorite musicians that you've grown up listening to? 
Christopher: Skrillex, Kill The Noise, Snails, Marcus Carlberg, and Tim Bonito.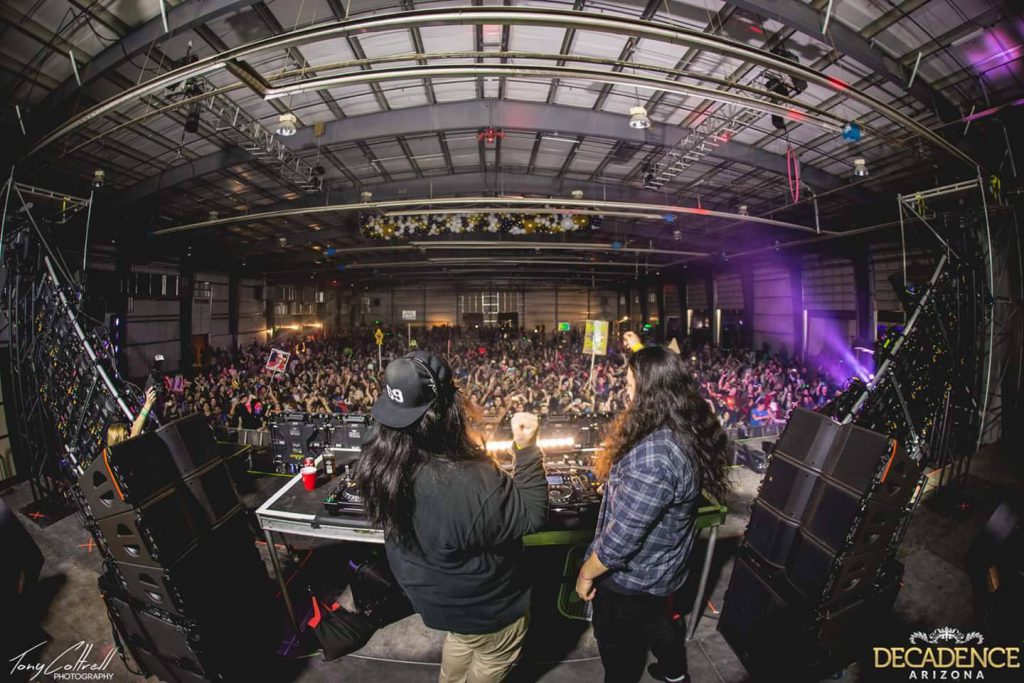 Is there any exciting YOOKiE news coming up that you can share with your fans? 
Anthony: I'm pregnant…with a food baby.
Christopher: You didn't hear it from us but in 2020 we're cloning ourselves 50 times and we're gonna be the first DJs to play in all 50 states at the same time.
Finally, do you plan on dressing up for Halloween this year, or are there any memorable costumes you've worn in the past? 
Christopher: I think we're gonna undress for this Halloween so we can try to get some
"exposure."
---
Connect with YOOKiE on Social Media: 
Website | Facebook | Twitter | Instagram | SoundCloud