Welcome to The Landing, EDM Identity's weekly post highlighting fresh tracks you may have missed!
---
Since the introduction of streaming sites and mediums like Bandcamp available for artists to release on, new music is hitting us faster than ever and the abundance of releases can almost be overwhelming. We know that it is a difficult task to keep up with every artist, so we're here to assist you with some gems that "land" in our inboxes. In every edition of The Landing, we intend to highlight some tracks that you may have missed, or perhaps shine a light on new music for you to fall in love with.
This week's edition of The Landing features fresh tracks from Au5, Blasterjaxx, Boogie T, 4AM, Nonsens, Malaa & Tchami, Lione, Loud Luxury, TWO OWLS, & FANGS!
The Landing || October 29 – November 4, 2017
---

The whimsical soundscapes of two cerebral bass artists fuse together in an intergalactic remix of Psy Fi's "Ecotone" by Au5
Au5 – Facebook | Twitter | SoundCloud
Melodic dubstep artist Psy Fi has just released a remix compilation of his new album Totality. Au5's remix of "Ecotone" possesses his distinctly emotive feel atop the grandiose ambiance of Psy Fi's original.
Like Au5's others works, this song whisks you on an epic journey through a captivating whirlwind of kinetic synths, resonant leads, and intricate composition. The countless complexities move in symphonic chaos, like the atoms of a molecule. As always, I feel Au5's heavy, sophisticated style leaves a wondrous trail of introspection and resolution. 
---

Blasterjaxx lift off the Runway on edit of "Flight 49"
Blasterjaxx – Facebook | Twitter | SoundCloud
"Flight 49" is cleared for takeoff on Maxximize Records after a split decision in which Italian producer Wasback and Argentinian dance music taste-maker D3FAI would send the track to Blasterjaxx, who instantly realized its grand potential.
Blasterjaxx first aired "Flight 49" during Amsterdam Dance Event at the SLAM! MixMarathon at Amsterdam's massive Ziggo Dome as well as at Don't Let Daddy Know in Manchester, garnering a resounding reaction and solidifying its crown as a tried and true dance floor banger!
Grab your copy of Wasback & D3FAI "Flight 49" (Blasterjaxx Edit) right here!
---

Boogie T pokes fun at the music scene by highlighting its clichés in one grimy, bass-driven tune, "Raven Master"
Boogie T – Facebook | Website | SoundCloud
Boogie T is a bass artist rising up in the riddim craze. The track "Raven Master", released on his new Soul'd Out EP, is a self-aware, satirical reflection of laughable tropes within the music realm.
It starts off by riffing on the formulaic nature that the song itself follows. The track continues on mocking clichés amongst music's fanbase, like the generic response some give when asked what kind of music they enjoy.
Boogie T also draws attention to riddim itself, a subgenre of dubstep that has amassed a huge following in recent years. Some of its proponents believe it to be brand new when in reality it's very similar, if not identical, to dubstep's original style. The confusion over this controversy is itself comical, and "Raven Master" uses its less than subtle narrations to showcase that point, atop a swinging bed of bouncy grime.
---

4AM remixed "EON BREAK", the first single from Porter Robinson's new project VIRTUAL SELF, and Porterfam around the world(s) are freaking out.
4AM – Facebook | Twitter | SoundCloud
A little over a week ago, Porter Robinson finally gifted the world with new music through his newest project, VIRTUAL SELF.  While most of his fans have enjoyed it, there is no doubt that "EON BREAK" is a significant deviation from the style of his first album, Worlds.
Enter 4AM, a trio of producers from New York City; these guys are a very small name in the scene (for now) but had previously gained some notoriety through their recent remix of Jai Wolf's "Starlight".
Within days of its release, 4AM had already re-engineered "EON BREAK" to give it a Worlds-y feel that have left Porterfam drooling at the mouth for more while still maintaining the feel of the VIRTUAL SELF-project.  Personally, I loved the original "EON BREAK" but 4AM's remix is not to be overlooked!
---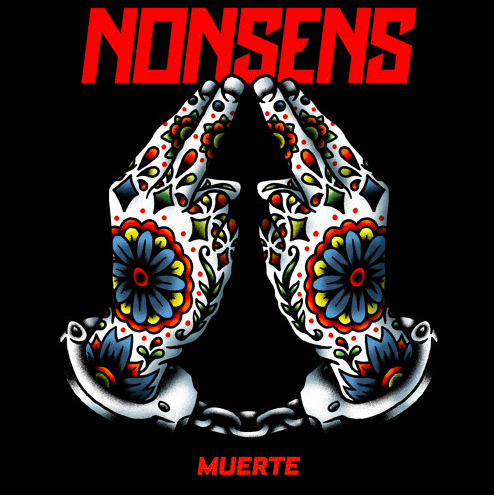 NONSENS Releases Spooky Themed Track, "Muerte."
NONSENS – Facebook | Twitter | SoundCloud
The Danish trio, NONSENS, is back again with a surefire hit. Their newest track, "Muerte," plays on the recent Day of the Dead. It features a spooky Spanish vocal along with a sinister bass line.
Further, the track also showcases NONSENS' stellar production and trademark sound. These guys have already garnered the attention of Diplo himself and "Muerte" establishes them as a must-watch group for 2018!
---

Malaa and Tchami crank out a new collaboration while on the No Redemption tour!
Malaa – Facebook | Twitter | SoundCloud || Tchami –  Facebook | Twitter | SoundCloud
The French DJ and producers have been on the No Redemption tour, but that's not stopping them from putting out new music. "The Sermon" blends both house artists unique styles to create a bouncey and vibey track.
The tour makes a few more stops around North America so be sure to grab tickets to an upcoming show! While Tchami takes you to church Malaa's dark and grungy sound will have you busting out dance moves you didn't even know you had!
---

We absolutely "Adore" Lione's latest release!
Lione – Facebook | Twitter | SoundCloud
This beautiful track has all the great makings of an empowering anthem. Taking full advantage of synthetic instruments, it will have you swaying along in no time. The smooth lyrics and bright melody blend together perfectly. While the words remind us that if you're not in love, they aren't worth your tears even if you adored them.
---

Loud Luxury teams up with brando on "Body"
Loud Luxury – Facebook | Twitter | SoundCloud
House duo Loud Luxury has been taking over 2017 with tracks like "Show Me" and "Fill Me In" while playing sets that get crowds dancing from the first beat to the last. Now they have teamed up with brando on fresh tune "Body"!
Blending elements of genres they love with brando's vocals make an unforgettable track that is sure to bring back memories made over the summer season.
"'Body' is one of our favorite songs we've ever written. For us, it represents mixing the R&B and hip-hop that we listened to growing up in Toronto with a classic Loud Luxury Sound. We made it just for the late-night drives and getting into trouble in the city."
– Loud Luxury
---

TWO OWLS signs to Circus Records with track "Sacrifice"
TWO OWLS – Facebook | Twitter | SoundCloud
If you're a dubstep fan and haven't tuned into TWO OWLS yet, you've been missing out! The duo has made a serious mark on the bass music scene in all the right ways and is coming in hot off a performance at Escape: Psycho Circus over Halloween Weekend.
Their latest track "Sacrifice" was signed to Circus Records, solidifying the notion that TWO OWLS is at the forefront of fresh dubstep talent. A heavy bass tune that evokes memories of dubstep from days gone by, teaming up with AWAL on the tune was a match made in heaven.
---

FANGS brings the Halloween vibes with "Murder"
FANGS – Facebook | Twitter | SoundCloud
Blending tech house and future house vibes for a unique feel, FANGS has absolutely murdered us with his latest tune. Released just in time for Halloween, "Murder" the track pays homage to Ini Kamoze's "World A Music" as the sample comes in and out of the track to give it some extra eerieness.
The track release was paired with a music video, so make sure to watch it below!