EUFØENI just dropped his debut EP, Circuitarium, a solid addition to your chillout playlists this fall.
---
Backed by twelve years of music production experience, EUFØENI dug deep into his own history to put together the 8 track EP, Circuitarium. Featuring music that varies in age shows that while he has explored new styles his signature sound has remained true.
From start to finish, this EP is one of my favorite musical journeys that I have experienced this year. I found myself absolutely blown away by the sound design of his productions, and was fully captivated as the seconds ticked away on each track.
Favorites of mine off the EP include "Study Buddy" and "Introverted Extrovert", and I would say that the lead track "Rosé" which features vocals by Sherry W has generated the most plays by me overall.
Stream EUFØENI – Circuitarium EP on SoundCloud:
---
Already discovering his passion for video games in our recent chat, when asked about the influence on the Circuitarium EP he said:
"The beauty of that is that most songs in a video game are complemented by a story.  Whatever I create starts with a story, not always complete with dialogue, but with a vision or scenario for it to follow. I connect with geometric patterns and wanted to utilize those shapes with my artwork for the Circuitarium EP.  I thought terrariums lead by example and I wanted to incorporate that with microchip wiring because I envisioned it in my head of those intertwining."
The music isn't the only aspect of artistry that EUFØENI has shown us, as the illustrations inspired by his history with video games leave a lasting impression.
Intending to tell a story during his live shows through the graphics displayed on stage he plans on making his conceptual sound pop for everyone in the crowd with his unique visualizations.
Check out the cover art for the Circuitarium EP for a taste of his imagination as an artist: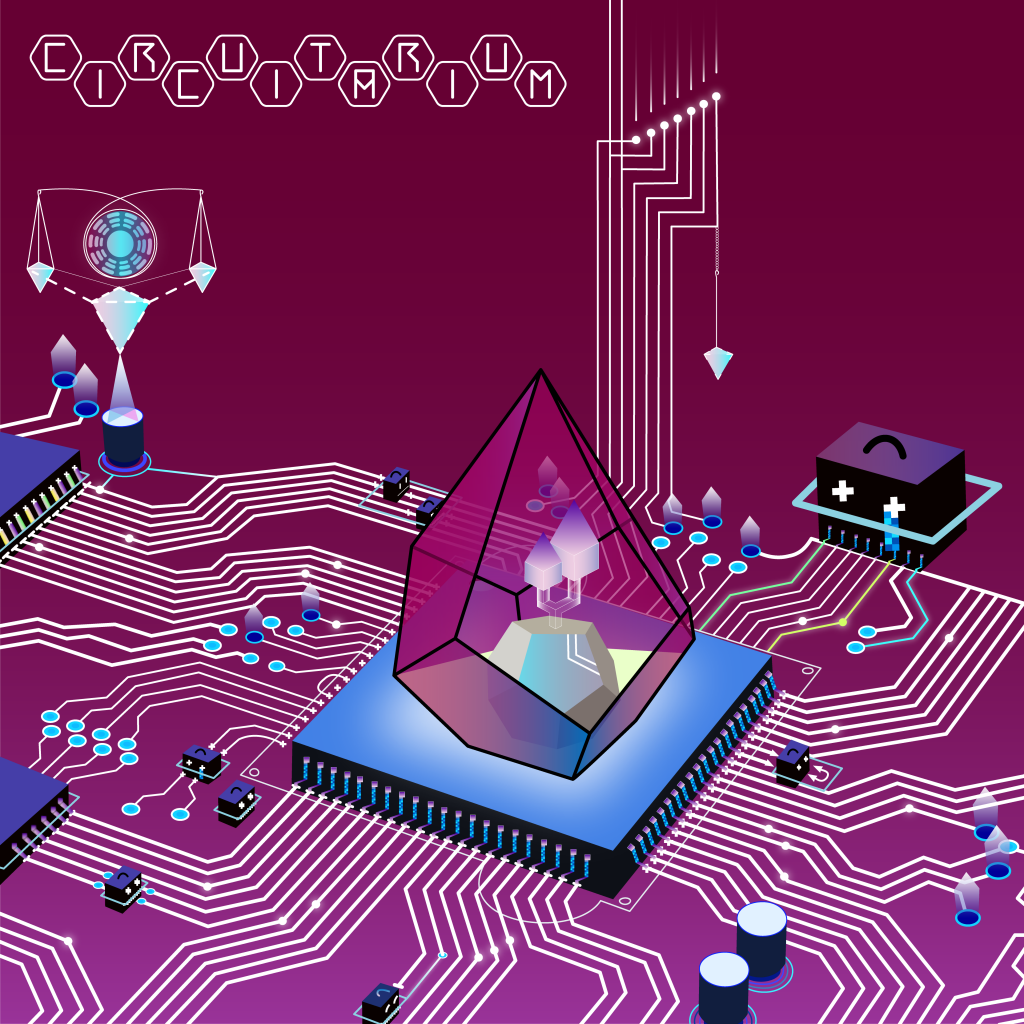 ---
EUFØENI – Circuitarium EP – Tracklist:
Rosé Ft. Sherry W
Photosphere
For You
Introverted Extrovert
Study Buddy
I'm So High Ft. Kate Stewart
Young Meadows
Amphibian
---
Follow EUFØENI on Social Media:
Website | Facebook | Twitter | Instagram | SoundCloud