Suwannee Hulaween 2017 Set Times, Festival Map, & More!
---
With less than a week until we are back in beautiful Spirit of Suwannee Music Park for the fifth installment of Suwannee Hulaween, and we here at EDM Identity couldn't be more excited.
To get you ready for Suwannee Hulaween we have some gathered some essential info below so you can get yourself into the park and be on your way to an amazing weekend.
Suwannee is one of the most accommodating venues, which is one of the reasons why so many call it Home. However, there are some guidelines in place that'll help the weekend go a bit smoother for all us Wildlings.
Be sure to check out the map, set times and read up on the do's and dont's. This sold out event is shaping up to be one of the falls best, and we hope to see you there!
Check out some of our top picks at Suwannee Hulaween!
---
Suwannee Hulaween 2017 Essential Info:
Dates: October 27 – 29, 2017
Hours: Gates open at 8am on October 27.
Venue Address: 3076 95th Dr, Live Oak, FL 32060
Ages: All Ages
Acceptable Forms of Identification for Entry:
Drivers License
Passport
Military ID
---
Suwannee Hulaween 2017 Set Times: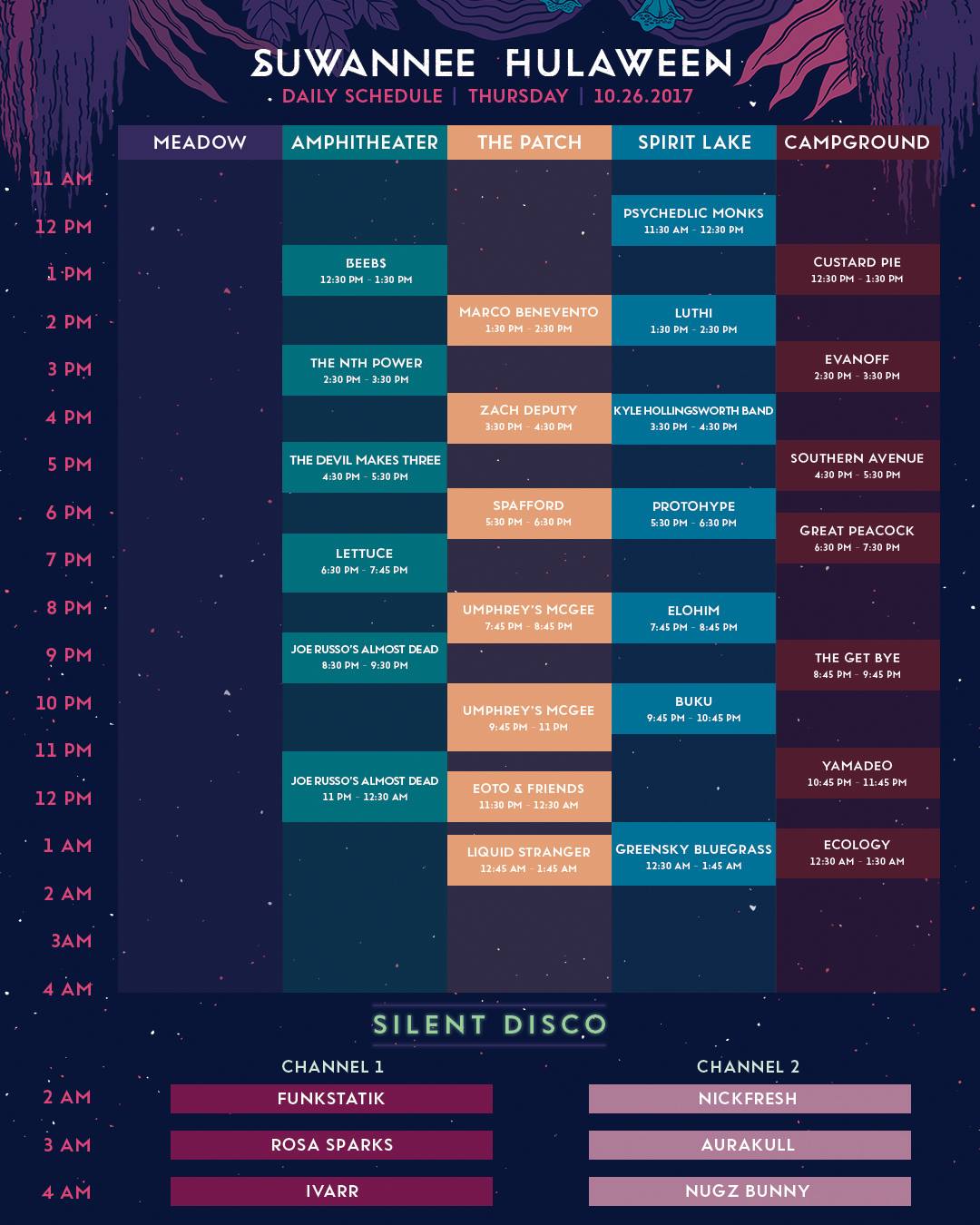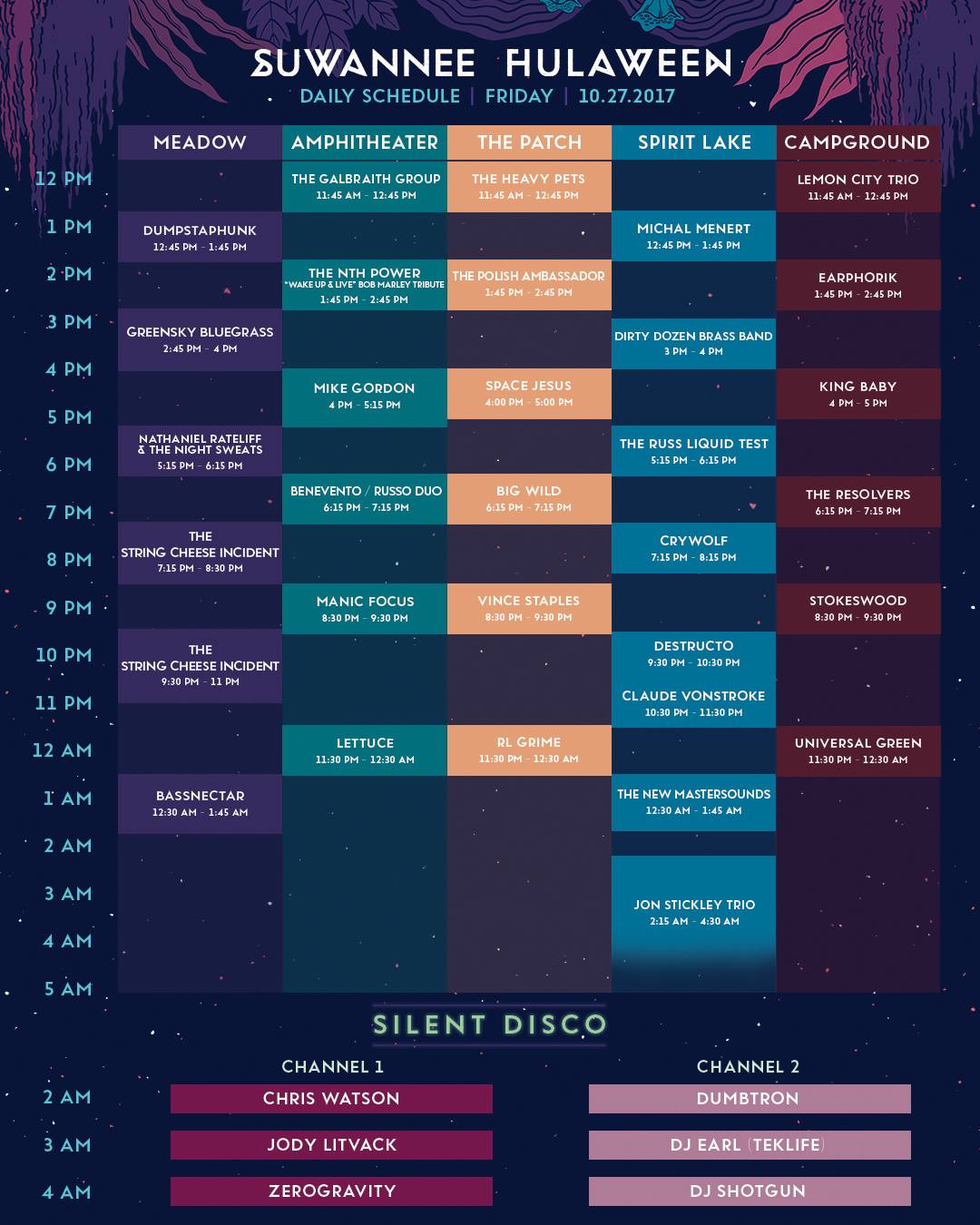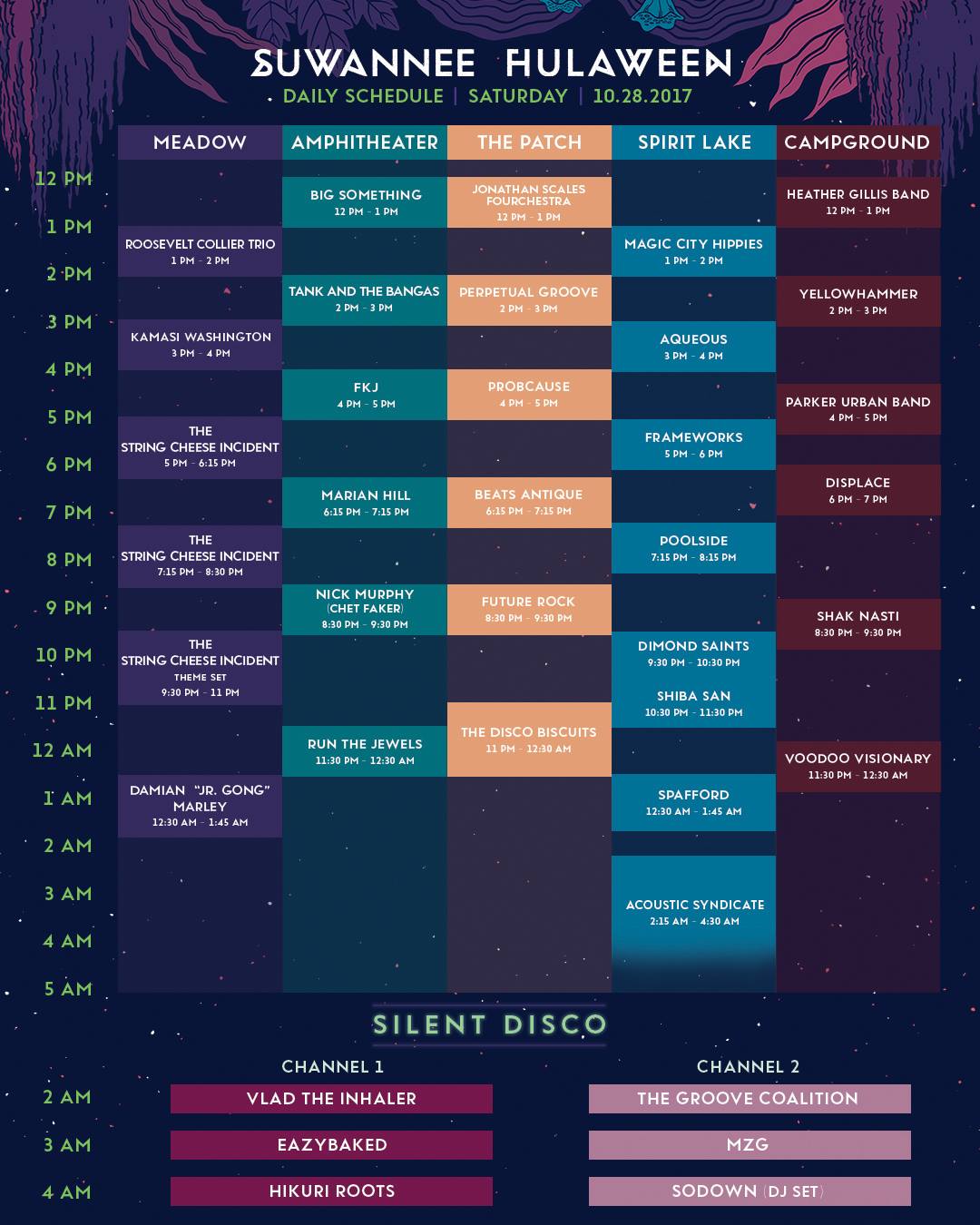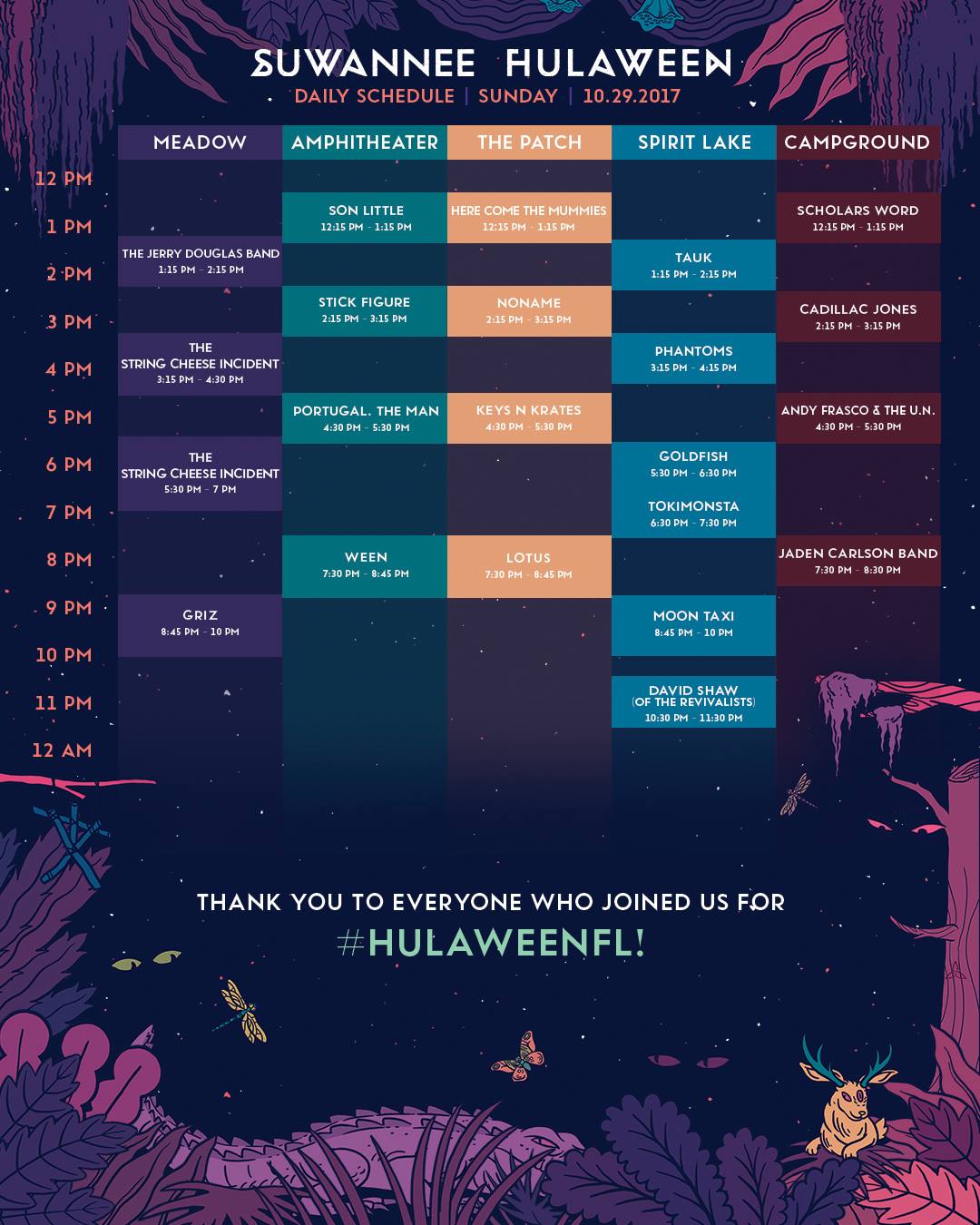 ---
Suwannee Hulaween 2017 Festival Map: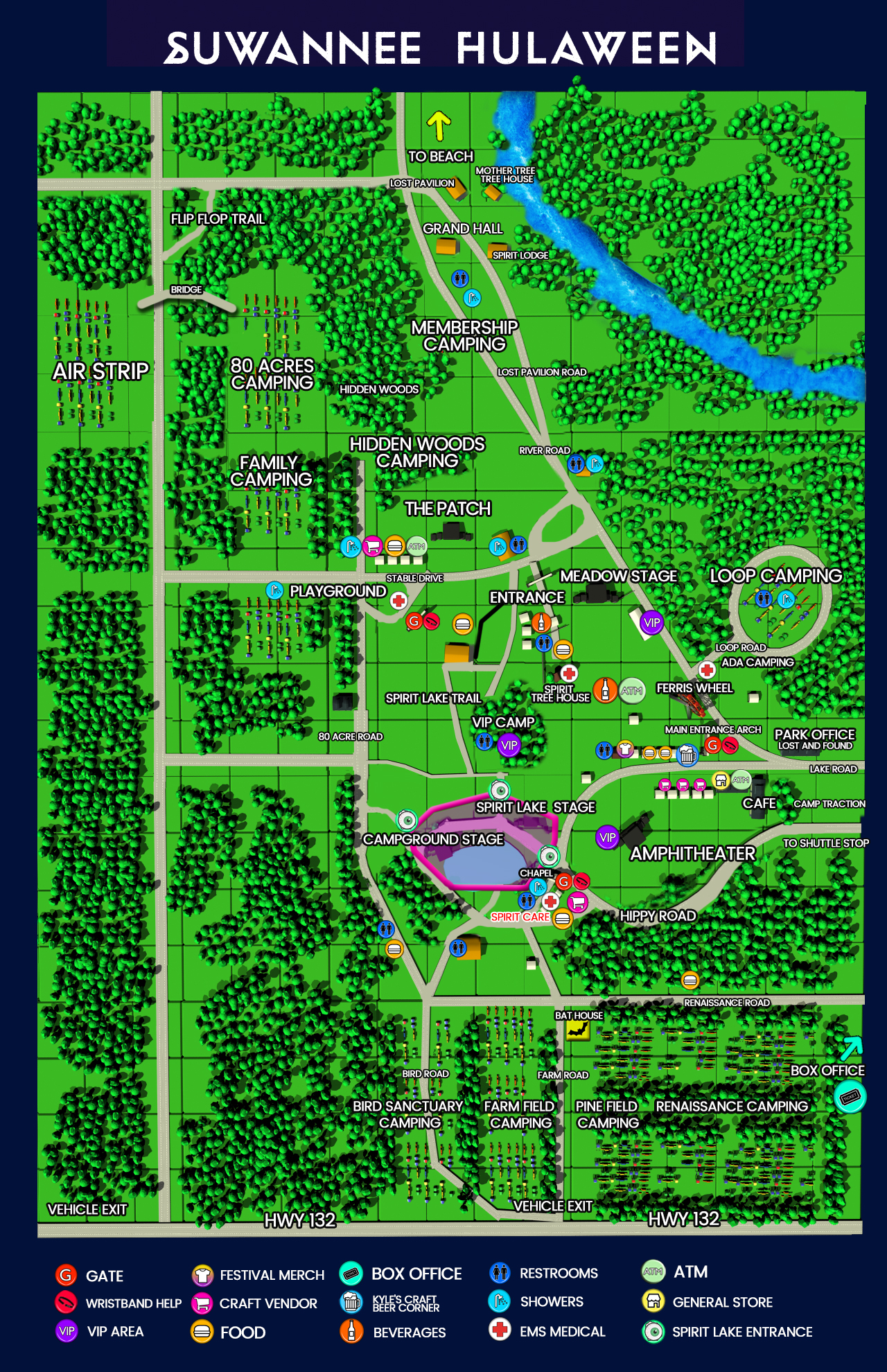 ---
Reminder To Mind Your Belongings:
Unfortunately, many people have reported pickpockets, bag slashings, and theft of wallets, smartphones, purses and other valuables during this festival season. While this small number of bad apples in the bunch doesn't define an entire crowd, there are opportunistic people who come to these events to take advantage of unsuspecting partygoers and it's important to be mindful of your valuables while at Suwannee Hulaween.
Pay attention to who's around you and what's going on around you. Keep your wallet and phone in your front pocket(s) if you can. Treat your phone the same way you would treat cash; don't set it down on a table or bar and look away. If a friend isn't standing behind you in a crowd, be careful of your backpack or purse, and don't put valuables in a pocket that could easily be unzipped by someone behind in a crowded spot without you realizing.
Festivals, in general, are very densely populated places and are a well-known spot where pick-pocketing of unsuspecting people occurs. It's easy to find yourself in a crowded environment in a line, at a stage in the festival, elevator, or even out on the street where someone could slip your wallet or phone out of your pocket or bag in a matter of seconds. Stay alert, be careful, and make sure to not carry more than what you need!
---
Suwannee Hulaween 2017 Do's & Don'ts
DO NOT BRING
No pets of any kind; service dogs are allowed with proof of current rabies vaccination
No weapons
No laser devices or pointers
No fireworks, luminaries (sky lanterns) or explosives
No illegal items
No unauthorized merchandise
No threatening signs or apparel
No drones, kites, or radio-controlled devices
No professional grade cameras with detachable lenses. Point and shoot only
No audio recording equipment/pro cameras/video equipment
No glass containers or outside food or beverages in the concert areas. Empty non-glass water bottles may be brought into the concert area (free tap water is available).

You are allowed to bring in ONE sealed water bottle per person. If you have special dietary or medical needs, please go to the Park Office.
Are costumes & totems allowed for Suwannee Hulaween?
Yes, get creative, express your own personal epic vibes!
Rules For The Park:
No refund will be given for lost or stolen tickets or wristbands or of unused tickets. NO EXCEPTIONS!
Tickets that are lost, stolen, counterfeit or obtained from sources other than Park or any of its ticket outlets will not be honored.
All tickets are non-refundable and do not bear any cash value.
It is unlawful to obtain/attempt to obtain admission by fraud. Any such admissions/attempted admissions will be prosecuted to the fullest extent allowed by law.
Wristbands are nontransferable and must be worn by the same person for the entire event.
Vendor, Promoter and Park-issued staff and complimentary tickets are non-transferable when issued.
Cornett's Spirit of the Suwannee, Inc. reserves the right to refuse admission and/or revoke any ticketed admission without refund.
All guests under age 18 must always be accompanied by a parent or legal guardian.
No food or beverages may be brought into the venue areas; however, please check the Festival brochure to see whether or not you may bring in a new, unopened plastic bottle of water or an empty water container. NO GLASS CONTAINERS are allowed in the venue areas.
No weapons, laser devices of any kind, drones, model airplanes, fireworks, luminaries, megaphones, or any other items determined dangerous by Cornett's Spirit of the Suwannee, Inc. may be brought into the Park, or in a motor vehicle within the Park.
Management will be allowed into all venue areas and campsites.
All artists and times of performances are subject to change and/or cancellation without notice.
No unauthorized commercial video or audio recording or live streaming allowed in venue areas.
Management reserves the right to at its sole discretion to refuse admission to or to eject any person from the premises whose conduct is deemed to be disorderly, vulgar or abusive, and/or who fails to comply with park policies and procedures. Failure to comply will terminate any rights of ticketholder and will be removed from premises.
Ticketholder agrees to comply with all State, local and Park rules that prohibit and limit alcoholic beverages, illegal drugs, weapons, controlled substances, recording devices, cameras, pets, and containers being brought into the Parkor venue area.
The Park reserves the right to search all persons and vehicles anywhere at any time.
Cancellation of the event by Act of God, strikes, riots, or any other act/order of any public authority beyond the control of Cornett's Spirit of the Suwannee, Inc. does not obligate Management to offer ticket refunds or substitute performance(s).
All outdoor performances are "rain or shine."
Cornett's Spirit of the Suwannee, Inc. and/or any of its management, officers, directors is not held liable for any personal loss, injury, death, property damage, or any other harm suffered by participants, vendors, lessors, artists, guests, or spectators at any special event.
No advertising signs, posters, banners, balloons or flyers of any kind may be posted or distributed anywhere in the park.
No goods or services may be offered or sold except by Park-authorized vendors.
No fire spinning, twirling, koi or other use of performance fire is allowed.
No selfie sticks, flagpoles, wookie sticks, totems or other rigid decorations are allowed in venue areas.
No spray paint or paint markers are allowed in the Park.
No flammable gases such as nitrous oxide are allowed in the Park.
No water guns or other simulated or toy weapons are allowed in the Park.
Bicycles and scooters must be parked outside of the venue areas.
No segways or other motorized devices are allowed in the venue areas.
Smoking and vaping only allowed behind soundboard in venue areas.
If hammocks are allowed in venue areas, they must not block pathways or be double stacked.tied to suitably strong trees and all ropes, straps and ties must be removed after use.
If chairs are allowed in venue areas, they must be removed at the close of performances each day.
Only disabled guests and a companion may use designated ADA viewing areas.
Additional restrictions may be imposed by posted signs, Festival brochures, or verbal order of Park staff.
---
Connect with Suwannee Hulaween on Social Media: