Trying to decide what to see at the 2017 edition of Suwannee Hulaween? Look no further!
---
Hulaween's fifth addition is rapidly approaching and the anticipation sends chills up my spine (prepare for some killer Halloween puns). The lineup has continued to grow in potential and diversity, including jam bands, bluegrass, bass, electronic, hip-hop, and alternative. This lineup has it all. So the question is, who do we see?
I myself enjoy music just a wee bit more off the beaten path. Hulaween, unlike many festivals, provides a cool opportunity to see some of the best jamtronica, jam band, and bluegrass music you could ever see.
Bearlosophy's Top Picks at Suwannee Hulaween 2017
---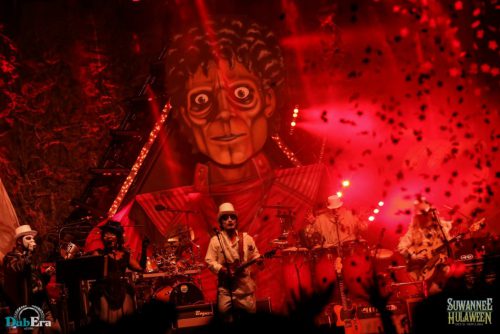 The String Cheese Incident
Website | Facebook | SoundCloud
So obviously we need to start with the ones who started it all: The String Cheese Incident. The String Cheese Incident have been gracing us with ooey-gooey cheesetronic sound since 1993. They have put this festival on for five years now and have always been a Suwannee Family favorite.
They will be putting on six sets throughout the weekend, but my personal favorite is their yearly two-hour Halloween set. In the past years, they have covered the best music from decades past, including beloved artists like Michael Jackson, David Bowe, and A-Ha. I have met many first-timers who end up leaving big String Cheese Fans. The effort, production, and heart this group displays is simply awe-inspiring.
---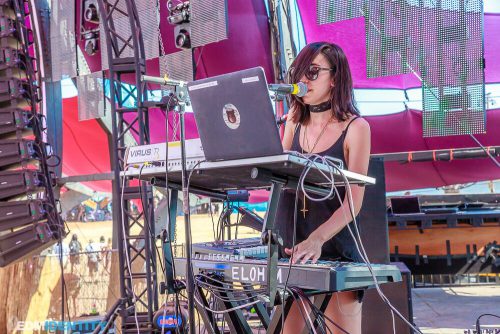 Elohim
Facebook | Twitter | SoundCloud  
This was an artist I did not expect to be in the lineup – not because I do not believe in the talent, just because it felt too good to be true. I saw Elohim for the first time at my first Lightning in A Bottle. I was walking around with some friends people watching as we make our way over to the Woogie Stage when the sound of 808 kicks tickled my fancy.
I wandered toward the sound, and there before me stood this white jacket-clad trap artist going in on a keyboard. Elohim has one of the best stage presences I have seen. In my opinion, her ability to cover so many musical styles complemented by her diverse voice make her stand out in an industry that is seeing a lot of strong woman DJs and performers. This also makes her a must-see for me and should be for you at this year's Hulaween Pre-Party.
---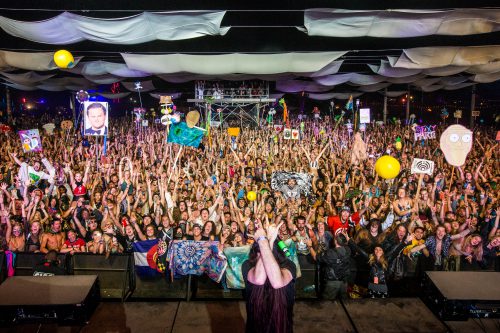 Bassnectar
Facebook | Twitter | SoundCloud
Well, I'll be a monkey's uncle – it finally happened. The prophecy that's been whispered in the Suwannee since I began going there in 2011 has come to fruition. Feelings are mixed, forums have been commented upon, press releases issued: Bassnectar is coming to Suwannee.
I for one take no sides; there is always duality within a situation. As a matter of fact, that is one thing I truly respect about Lorin Ashton: he is very conscious. After this announcement came and was received, some people expressed concern about such a big name coming to such a beloved place as the Suwannee. Bassnectar and his team immediately released a statement, acknowledging concerns and in many cases putting them to rest, though you cannot please them all. That itself is something to admire about a person and his devotion to his fans.
Musically speaking, bring it on! His Lightning in a Bottle Set was nothing short of legendary and with this being a new festival for Nectar, he will bring the bass. His performance will undoubtedly be a must-see for the weekend.
---
Phantoms
Facebook | Twitter | SoundCloud
One of the best things that have come out of social media and other sharing platforms has been our ability to send friends music on a whim. Recently a friend referred me to the duo Phantoms. Members Vinnie and Kyle from Los Angelos combine nu-disco sounding beats with some of the best vocals and vocalists I have ever heard.
Their self-titled album Phantoms dropped earlier this year and is definitely worth a listen. The first song I heard from them was "Just a Feeling" featuring vocalist VÉRITÉ, and I swore I was listening to a Stevie Nicks collaboration with Disclosure.
---
Big Wild
Facebook | Twitter | SoundCloud
Jackson Stell, better known as Big Wild, will be bringing his special live trap music sound to Suwannee's fifth edition of Hulaween. His story is simple:
"Stemming from a relentless desire to create something new, Big Wild's sound taps into the natural curiosity we all share by exploring beyond conventional boundaries in music. Oh yea, he also likes to make you dance…"
Jackson definitely brings the heavy trap sound when he performs and he had me dancing the first and only time I saw him. He has an amazing stage presence and seems to orchestrate his set to the vibe the crowd is giving off. He performed on the Main Stage of Lightning in a Bottle and seeing the masses he commanded was really cool. As I shot photos in the pit, getting a front row seat to his fans and sound, I kept telling myself, "This dude would be rad to see in the Suwannee." I got my wish.
---
Connect with Suwannee Hulaween on Social Media:
Website | Facebook | Twitter | Instagram
Featured Video Credit: Dubera.com