Electric Forest will return to Rothbury for two unreal weekends of music and memories, but with a new twist too!
---
Forest Fam rejoice! Today marks the announcement that Electric Forest will be returning for its 8th annual edition next summer. Hosted on two weekends once again at The Double JJ Ranch in Rothbury, Michigan, Electric Forest 2018 is slated for June 21-24 and June 28-July 1.
Check out our take on Electric Forest 2017!
While we patiently wait for the announcement of the exact date tickets go on sale, and of course those amazing lineups full of artists who will be taking the stage next year, Electric Forest had another announcement in the works that will be debuting in 2018. Dubbed the EF Wish Machine, the project intends to not just spread positivity but also make dreams come true.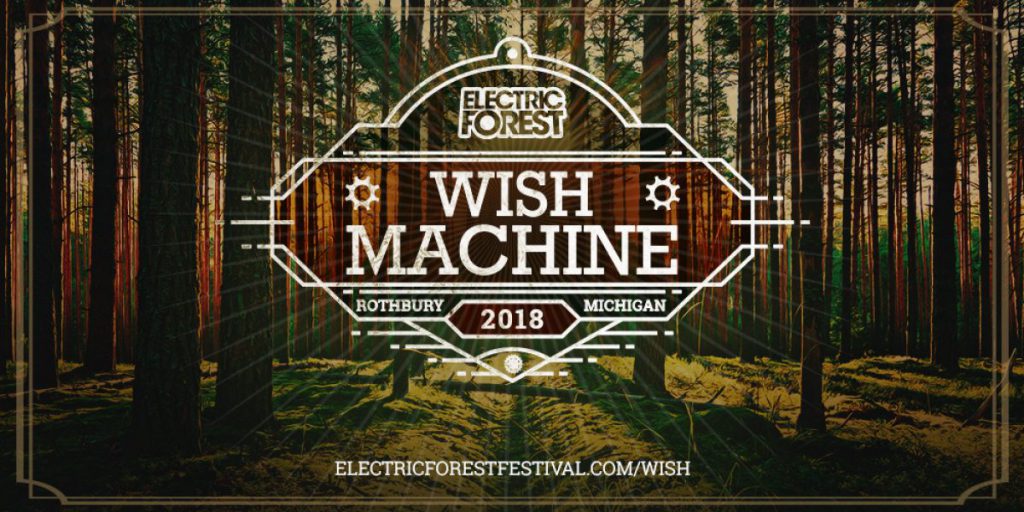 From the Electric Forest Website, the mission stated for the EF Wish Machine is as follows:
So many of us wish for change in the world today.

When the Forest Family thinks globally, we find a place that needs kindness.

Kindness, radical acceptance, and good deeds are why The Forest is special. These values create freedom to discover ourselves, celebrate our beautiful differences and our unique gifts.

Goodness starts as a seed. Do you have an idea for a good deed or an inspiration for an act of human kindness?
How can you participate in the EF Wish Machine?
It's easy, all you need to do is submit your Forest Dream along with what you're willing to do in efforts of having that wish granted. With a huge focus on spreading goodness and love to communities all over, the EF Team intends on making wishes come true this year. The wishes are anything you can think up, but just remember to spread those positive vibes!
Submit your wish, and check out other wishes that have been made over on the Electric Forest Wish Machine website. Electric Forest will grant wishes by April of 2018, so stay tuned for more stories from this project!
As a whole, EF has always been committed to the community that has fallen in love with it over the years. Whether it is through their "Plug In" Program, the Art Installation Sponsorships which grant up to $3,000 per winner, the Brainery Workshop, or the Wish Machine, it is clear that this festival cares about their biggest fans and supporters.
What is your wish for EF 2018? Let us know in the comments below!
---
Connect with Electric Forest on Social Media:
Website | Facebook | Twitter | Instagram | YouTube
Featured Photo Credit: Electric Forest