A disposable camera experiment captured an irreplaceable moment for one Shambhala family, and sparked a profound connection amongst the broader community.
---
This post is dedicated to Marissa who tragically lost her life on the ride home from Shambhala 2017.
This story is a testament to the boundless compassion and dedication of the Shambhala Festival community. It has deeply enriched my belief in the unparalleled love that this space ignites. At the festival itself, this energy is electric. But there is something more that completely transcends the default realm. The connection of the Shambhala community is still very much intact even long after the event is over. To share in love, or in loss. 
An idea occurred to me at Burning Man 2016 when a friend advised me to bring a disposable camera to the event.
I didn't really use the disposable camera myself, so I instead thought it might be neat to pass around to random people, and have it somehow return to me with other peoples' memories on it. Though, I was unsure how this might be done.
The idea literally landed in my lap when someone suddenly tossed me a disposable camera attached to a pre-postaged mailing envelope. I was then determined to execute it properly the following year. Which of course I completely forgot about it until the morning I was preparing to leave for Shambhala.
I made a second, last-minute run back to the supermarket, bought three disposable cameras, then bolted to the post office for stamps and mailing envelopes.
Once I bought the stamps, however, I realized the very high likelihood that the cameras would end up in Canadian hands, obviously… which made the whole thing much more tricky. I wanted to make the process as simple as possible, to ensure that the cameras might actually return to me. So I asked my amazing friend Brandon if I could use his Vancouver mailing address so no one would have to fill out customs forms to send the cameras across the border.
But, since it was too late to go to a Canadian post office once we'd crossed the border, I had to roughly ballpark the postage conversion, which made it even more of a toss-up whether or not I would ever see these cameras again.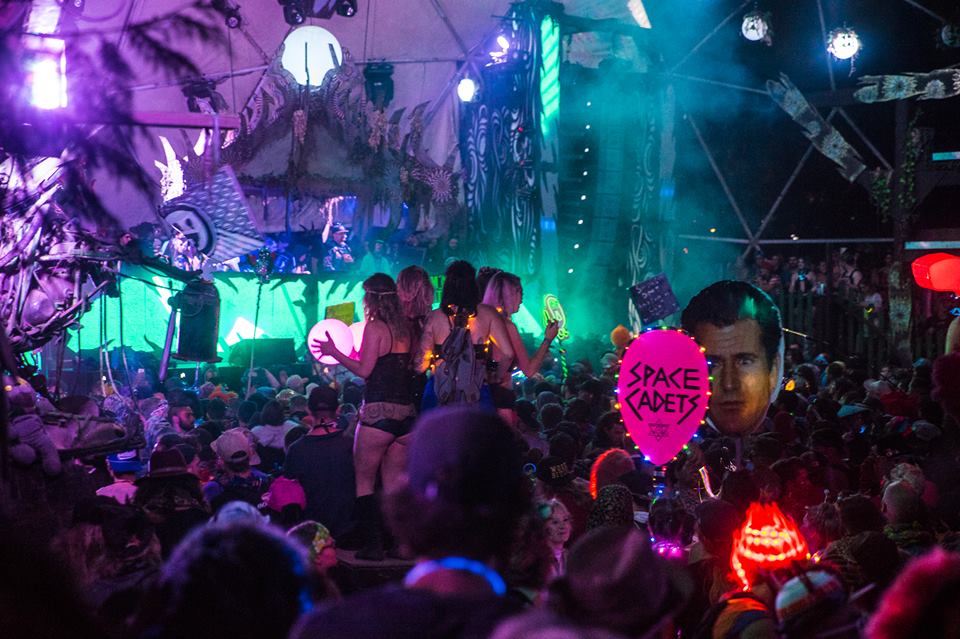 Once at Shambhala, my plan was to release one camera each night of the festival. Everything went according to plan on Friday, but once chaos descended amidst the Sunday cancellation, I completely forgot about the other two cameras. I realized my mistake about midway through Saturday night, but didn't want to waste any precious time on the dance floor to retrieve them. Disappointed, I'd resolved to send them off next year.
Then Sunday was gifted back to us. I was given a second chance to send off the other two cameras. Still, I knew full well that I would likely never see them again.
Two days after my return from Shambhala, I received a message from Brandon linking me to a post on the Shambhala Facebook page.

  
It read that a group was handed a disposable camera at the Fractal Forest on Sunday night. They used it to take a group photo, then kindly passed it along. On the drive back from the festival, they were in a serious car accident and tragically lost one of the members of their Shambha-family. They were now looking for whomever might be in possession of the camera to retrieve their photo from it, in order to cherish as many memories with her as possible.
The response to this post was breathtaking. People shared their love and condolences, tagging those who they thought might know the whereabouts of the camera.

 

So many individuals genuinely cared about the outcome of the situation.
And in the process, all three cameras were located. 
After returning to Seattle from Motion Notion, I came home to a package housing the original envelope I'd sent out with one of the cameras. Across the front of the original envelope, was a label reading "Bappy Shamblahbla" (a silly take on "Happy Shambhala", a sentiment that everyone shares with one another at the event), which still gives me a laugh every time I see it. 
Inside of the envelope was not only the camera, but a smaller envelope with a panda button, two ginger chews, a small gift card, and a lovely note expressing the joy the camera brought he and his crew, even though the camera was spent by the time it reached them. I couldn't believe that one of the cameras had actually made it back! And with such a thoughtful, quirky touch included alongside.
Only one of the cameras had been returned, and I deeply hoped it held the photo we were looking for…
Once the camera was developed, I compared its photos to the one the group had sent me to help identify their crew. Sure enough, their photo was on it. And it was the by far best one in the batch, since many people had neglected to turn on the flash. Before I knew which one of the group had passed, it was her sparkly makeup and a gigantic smile that stood out to me most. And which had helped me distinguish their crew. She was easily the most bright and distinctive presence.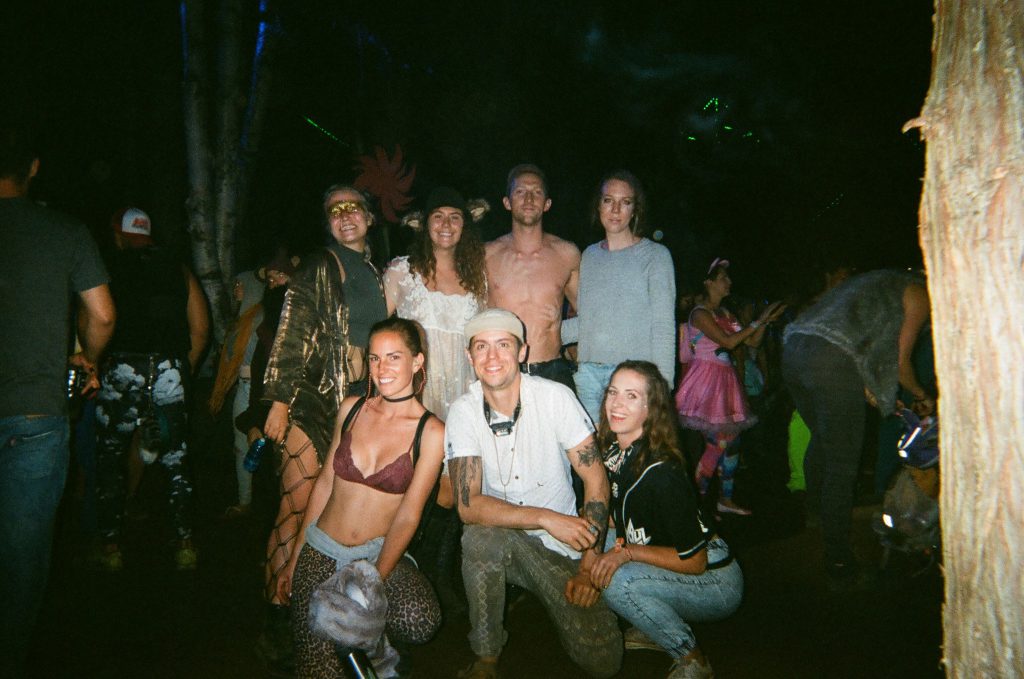 I've been personally grieving in my own way for this group and their loss. I've shed many, many tears through this process. I know that pain well, from the death of my sister years ago. In no small way I've felt like my own pain has finally become a retributive platform through which I could help this group process their own. What was originally a silly, poorly-executed idea has empowered me to channel that pain, and connected me so intimately with a group of strangers in the process. 
I've never met this beautiful group of people, and I will unfortunately never know their vibrant friend Marissa, However, I feel deeply connected to them in a bizarre and unique way. I wanted to tell this story as a tribute to the deep-rooted connections that the entire Shambha-community shares. Most importantly though, I want this to be a space where Marissa can be memorialized. Although many of us perhaps didn't know her, we have all still lost her.
Included below are some heartfelt words and priceless memories that Marissa's best friend Rachel has chosen to share.
"This Shambhala was Marissa's first year at the festival, and she could not have been more in her element. It was like she was a seasoned vet the moment she stepped onto the farm. Wearing the biggest smile and her signature glitter mask, which she established at Tall Tree earlier in the year, she was always ready for the dance floor. A born dancer, the moment she saw Pagoda she leaned over to me and said, "this is going to be my happy place for the weekend". Her love affair with house music blossomed that weekend, with DJ Soup's late afternoon set being the pinnacle. Festivalgoers storming the front of the stage with bowls of soup brought about a fit of giggles ending in happy tears across her face.

Known for being the giggliest pair, my most memorable moment of the weekend with her was Saturday afternoon hanging out at camp. Our group was drinking apple juice out of a bag, and she got absolutely covered in juice by accident, to which I burst out laughing. We were both a mess for the next ten minutes. As one would stop laughing to catch a breath, they'd look over at the other, which would start a whole new fit. By the end of it we weren't even laughing about anything, just at each other. My stomach has never hurt so much from laughing that hard. Bouts of stomach cramping laughter were common around Marissa, who had the most infectious laugh. Most of our crew at Shambhala were new friends who had been captivated by her contagious energy. Her sass and quick wit made a memorable impression, but her warmth and compassion toward others was what fostered lasting friendships. She was the quirky queen in our festival family who was taken too soon."