We saw the pictures. We heard the rumors. It's time to get to the bottom of the Booty Sundae Camp Competition at Lost Lands 2017!
---
After hearing the ridiculous and amusing stories coming out of Lost Lands, this one in particular caught my eye. Meet Brett Fabina, one of the masterminds behind the much talked about afterparty campsite that featured the hilariously named "booty sundaes" competition.
What initially appeared to be simply adolescent behavior, I quickly learned to appreciated the vibes the campsite spread to festival goers over the weekend. Get a can of whipped cream and read on to learn how much deeper and complex the campsite went to providing Lost Lands attendees a safe place for their fellow headbangers.
---
Where did "booty sundaes" originate from and what was the contest all about?
I'll admit, Booty Sundaes were my idea. It was not meant to be sexual in any way. It was all in good fun and was intended purely for laughs. I love to have a good time and I try to make things as unique and memorable as possible. I've been doing this for years and each time I try to make it different. We go bigger and better every time. We made trophies for the contest and we handed them out to the competitors. It was all pre-planned and had nothing to do with the fundraiser.
P.S. all participants showered prior to the contest.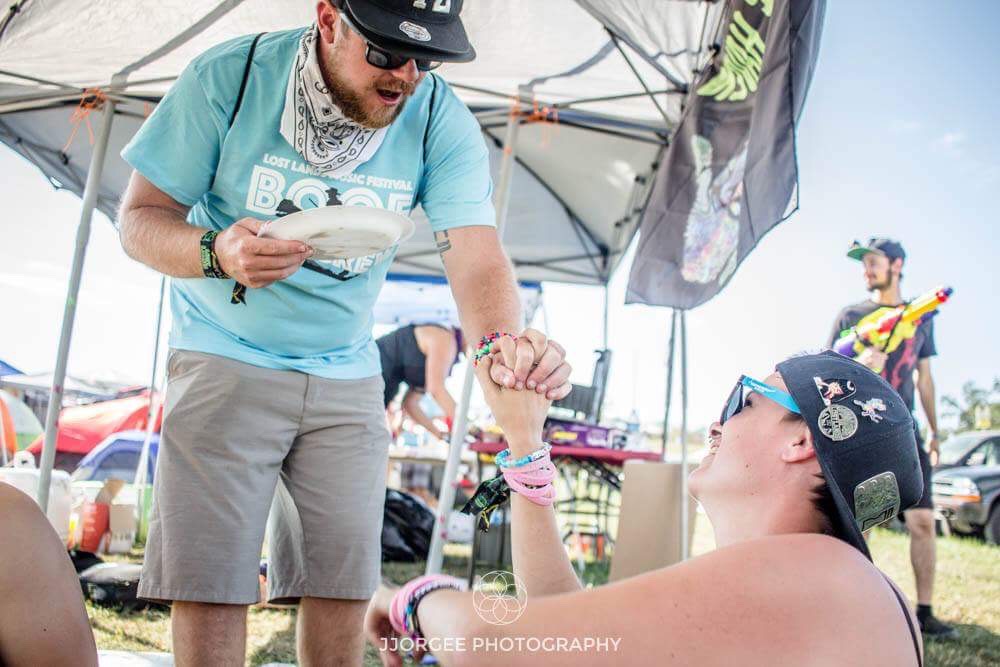 You were part of a festival group that created a judgement-free zone in the camp providing a safe place for those who didn't want to sleep after Lost Lands ended each night. What were the highlights of hosting the campsite?
Yes we did! Our group all pitched in to buy extra camping space so we would have room for whoever wanted to use it. We told everyone that our space was theirs. We didn't even have to be there for them to use it. We also had water for anyone who needed it. The best part about hosting the campsite was the appreciation and the vibes.
I can't tell you how many times people came up to me saying how incredible our vibes were. That alone made it all worth it. Just seeing everyone comfortable in their own element and everyone coming together to have an amazing time. We enforced respect at our campsite not only for the ones camping there, but for those who stop by as well. Of course you're always going to have some people who get out of line. It's human nature, but we did the absolute best we could to maintain our camp as a safe, judgment free zone for all.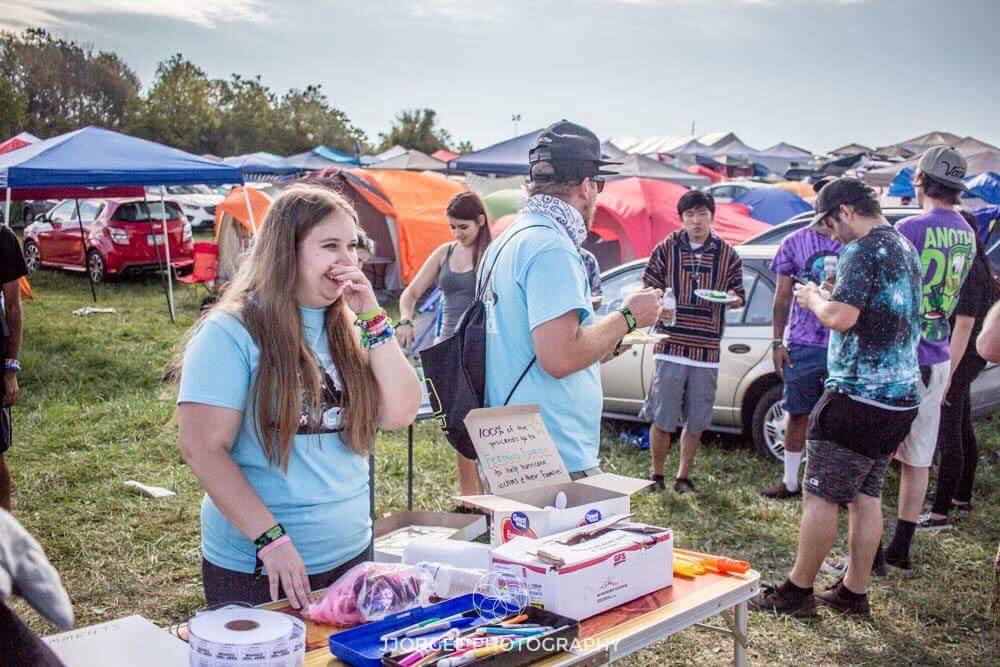 The campsite was able to raise $2,255.80 for hurricane relief during Lost Lands and has been working with Feeding Florida even before the festival. How did the idea to raise money for charity arise?
After the destruction from Irma, Charlie Bales and Eliot Myers from my team came to me with the idea of raising money for hurricane relief. I loved the idea and immediately started looking into different charities with Susan Quick (another member from our team). Susie made initial contact with Lindsay Fountain with Feeding Florida and told her what we were doing. I talked to Lindsay the next day and we have all been in touch ever since.
It has been a pleasure working with Feeding Florida and we look forward to the future. This will not be the last time we do this. We plan to continue fundraising at festivals and change the festival world for the better. We want to make a difference and get help to those who need it. That is after all what EDM is all about. Peace, Love, Unity and Respect. If you don't live by that, then what is the point of going to festivals in the first place?
We have brothers and sisters within our group who were affected by Irma. They almost were unable to make it to the festival because of it. We hope what we accomplished here encourages others to do the same in the future. I do want to give a shout out to those who went out of their way to make this fundraiser a success. They deserve it.
Charlie Bales, Claire Koellhoffer, Susan Quick, Brandon Smith, Aaron Stemple, Shane Garrett, Gabriella Giancola, Amanda Lawrence, Nathan Meyer, Lindsey Prochaska, Eliot Myers, Oscar Lopez, Andrew Wilcox, Taylor Montgomery, Steve Vance, Devon Dougherty, and of course Brett Fabina (That's me). I also want to give a very special shout out to our video and camera crew (we will have an aftermovie for the afterparty campsite. I'm hoping to have it done by Christmas). Thank you Alan Joseph, Travis Barron, Jorge Hinojosa, and Jeff Van Fox. These guys did a phenomenal job!

What were the reactions of other campers of the weekend activities at the camp?
Honestly, I did not hear one complaint personally. Everyone I talked to was happy to be camped near us. We didn't only look out for our camp, but for those around us as well. Anything that was found lost, we returned to the rightful owner. We respected everyone and were there to help anyone in need. The brunch on Friday and Saturday was a huge success and the food was phenomenal. We had games set up at all times for those who wanted to play. We hand made a gigantic jenga game and a 15×19 foot twister board. We had tables set up for beer pong as well.
Oh yeah.. . We had a ball pit cuddle puddle. A lot of people slept in the ball pit throughout the weekend, myself included. Every night we had music until dawn. 2 of the 3 nights, we had live music. Special thank you to our DJs for killing it every night. I'm sure there is someone out there who didn't appreciate us, but I've learned that it's impossible to please everyone. We did the best we could and next year we will be back again to do it bigger and better. We will learn from any mistakes, whether big or small, and make sure they don't happen again.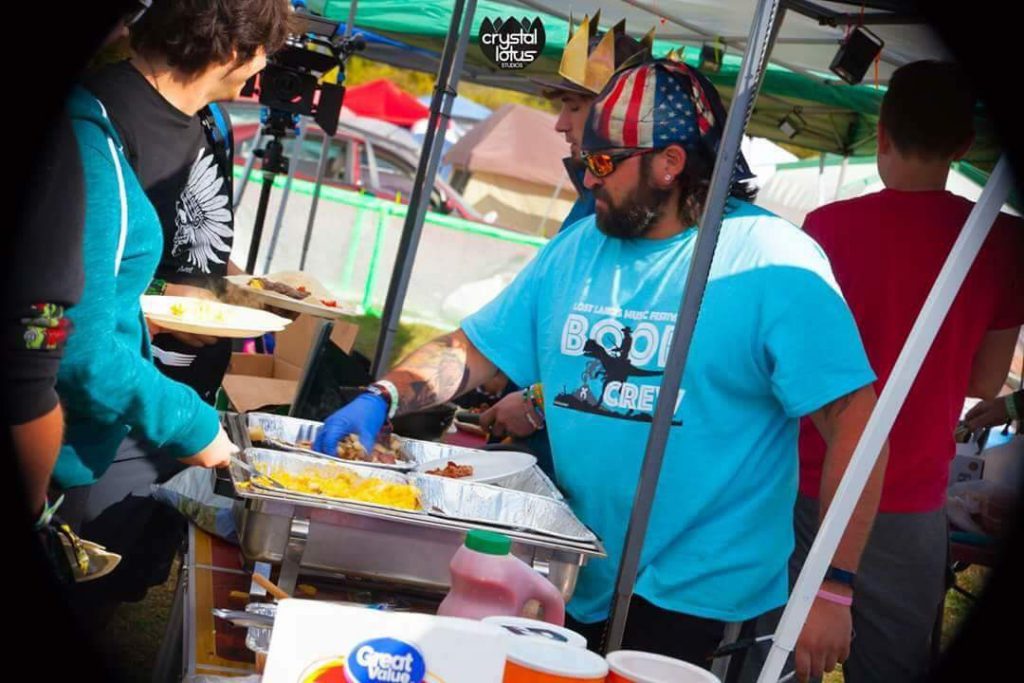 What were your impressions from the first Lost Lands Music Festival?
Jeff outdid himself entirely. I was blown away. I expected it to be incredible, but not life changing. Lost Lands changed the festival world for sure. I've truly never seen anything else like it. Jeff went out of his way to make sure every single attendant had the absolute best experience. I heard he personally fired security for being rude to attendees and breaking their belongings. This is why everyone loves him. Jeff is an incredible human being and he actually gives a damn.
The last thing he did at the end of the festival was tell everyone to make sure they cleaned their campsite before they left. He thanked the owner of the land which I've never seen done before either. He listens to his fans and gives them exactly what they want and what they need. It's because of him that this festival was so phenomenal and we all need to thank him for it. When I walked through those gates on Friday, I was speechless. The production that went into this festival? Unreal. Bravo to Jeff and everything he has done for the EDM community. We all need to thank him for throwing this. I can't wait to go back in 2018 and hopefully many years to come.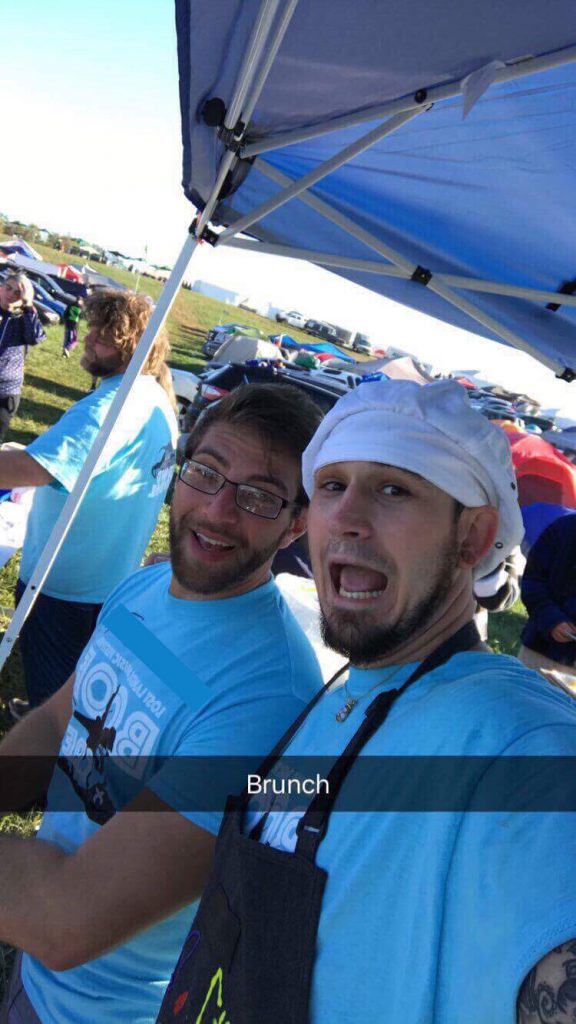 Will you be attending Lost Lands next year and hosting another afterparty campsite?
ABSOLUTELY!!! We will be back in 2018 and we will make our campsite even bigger and better. We will continue to have a safe, judgment free place for those who don't want to sleep during non festival hours, so please come join us. Even if we are not there, our camp is your camp. Enjoy it. This is why we do what we do. For all of you!
Just look for the panty flag. It will be back next year. We have a page on Facebook where you can keep up to date on everything we are doing. The page is under "Family Orgy Afterparty". I know the name is ridiculous, but I wanted it to stand out and be something people wouldn't forget. No.. it is not an actual orgy. I just want to clear that up ahead of time, haha.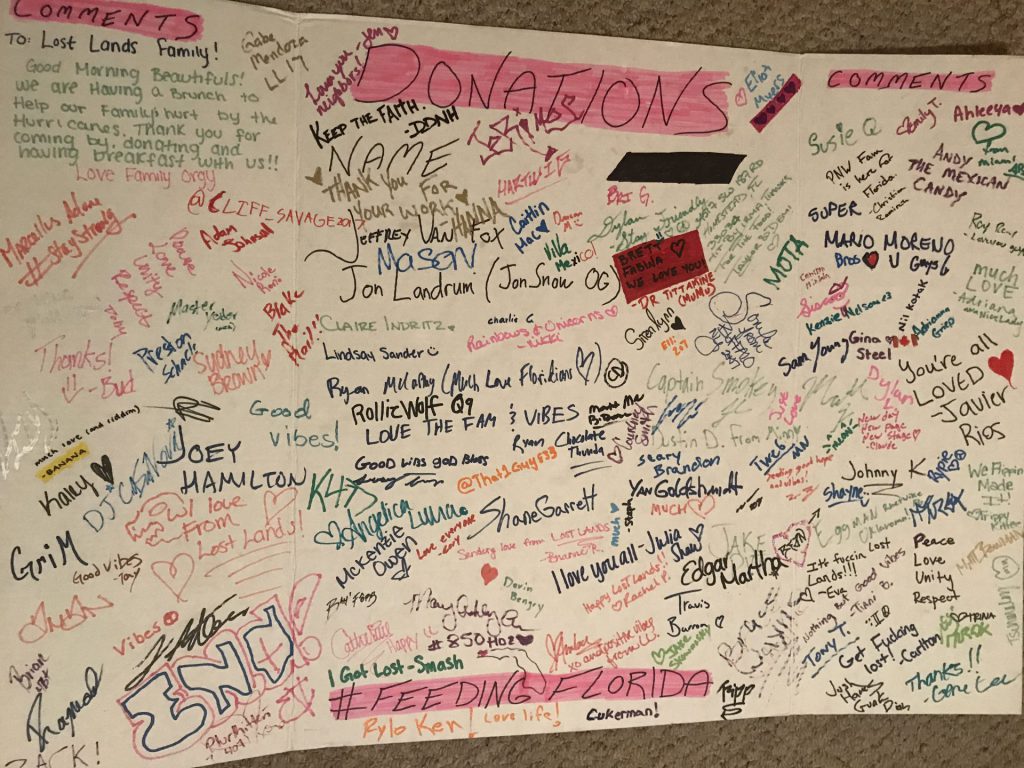 What other events or festivals are you looking forward to this fall and next year?
We plan on doing Electric Forest next. There are rumors of TomorrowWorld coming back and if that happens, I will 100% be there. Obviously we will all be at Lost Lands 2018! Every festival we go to, we will fundraise and have the festival afterparty campsite set up. All are welcome to come with us! Just please bring good vibes and understand that you will receive a lot of hugs if you come.
We're huggers, so be ready. Love all. Respect the women. Respect EVERYONE. Look out for each other. If you find something that isn't yours, return it. If you see someone who needs help, put them before yourself and get them what they need. Whether it be water, food, or medical attention. We have to take care of each other. Together anything is possible. You never have to be alone. We accept all colors, shapes and sizes. You are never alone. We are one!
How did you originally get involved with the electronic music scene?
I've been listening to Electronic music all my life. I remember listening to Benny Benassi and Basshunter back in grade school. Believe it or not, my very first show was an Excision show. I think that's part of the reason why Lost Lands was so important to me. To watch Jeff come all this way has been incredible. The first time I saw him he didn't have the Paradox. He had a small X on the stage that he stood behind and it was still amazing. He gets bigger and better every year. I can't wait to see what he does for Lost Lands 2018. I'm ready to have my mind blown all over again! Who is coming with me?!!
---
Follow Lost Lands Music Festival on Social Media: