L.S.G.'s Double Vision is a modern electronic journey in a sea of mediocrity!
---
When L.S.G. (the artist behind the alias is Oliver Lieb) announced a return, the industry took note.  If you are unfamiliar with this particular alias, don't fret – Oliver's L.S.G. was a driving influence on the Trance market of the 1990's and early 2000's.  His track "Netherworld" was a major success in the UK in 1997, having charted at #63 on the singles chart and respawned new remixes earlier this year. He's been in the music world since the late 1980's and resurrected the L.S.G. alias after over a decade of rest.  Then came the shocking news that he was releasing an album under the alias again.  What would Oliver bring to the table under this guise in the modern market?  Let's dive and find out where we will head with Double Vision.
Stream L.S.G. – Double Vision on Spotify:
Purchase or Download Double Vision here! Beatport/US iTunes/Amazon Music/Google Play Music

---
First – drop all pretense of genres. 
Oliver's style lies in a blending of classic Trance and Techno sounds.  Is this a modern Trance album? No.  Is it a Techno album? No.  In a loose sense, if you had to fit it into a sales category, maybe Beatport would call it a Techno album (Note: They actually catalog most of it as Electronica/Downtempo with a mixture of Progressive House tracks, surprisingly).
You'll find the album blissfully stripped back – no major hooks to dance to, no bombastic drops, and no main-stage sensibility.  That should not make you afraid of the experience.  Instead, embrace the raw beauty of an artist in his craft.  This is an experience similar to Richie Hawtin – just without the super heavy dark beat patterns.
Check out snippets of Disc 1 here:
Second – realize the focus of this sonic experience is the experience itself. 
Taking the first album mix of eight tracks you'll find an average track length of 8:31!  That's notably different than a number of albums out – including Trance albums.  So, why would you produce to tracks at that duration? To capture the ear into an experience, and to guide the mind through each mental image.  The second selection of tracks averages to 6:18 over eleven tracks.  Again, the point to illustrate is the journey.
If it's about the journey – where are we going?
That's a very valid question.  The album's title, Double Vision, provides some reference points.  Throughout the first disc , you'll find simplicity – dark but moving.  In a way, there's the early stages of a restful night's sleep in what's heard in the productions.
By the second disc though, you'll feel the depths of dreamy sleep.  There's a heightened sense of the unknown and a mystical mood in a track like "Little Wing" for example.  Ironically, it is one of the shorter tracks on the album.  It works best though with the setup and ramp down of the two tracks that surround it on the disc.
Check out snippets of Disc 2 here:
Third – remember that this is an album for listening.
If there's one thing to take away from the album, it is that it is produced to be a start-to-finish listen.  With the market the way it has been over the last decade – dominated by the single where the art of an album gets often lost – it took a few listens to realize what I was hearing.
As stated, the album lacks a true genre; it lacks the typical expectations of a radio-focused tune.  This is like a Hans Zimmer or John Williams film score – designed to be heard as a collective piece that envelops the ears.  Think of it this way – it's the opposite of the throwaway nature of music.  The sole design is to be picked up, heard, and then heard again for the sake of the collection of productions pulled together.  It is not meant for skipping throughout tracks, nor is it designed for one track to be skipped over the next.
---
So – what is this Double Vision?
In truth, Double Vision marks both a look behind and a look forward.  The album offers a solid, though not a stunning, listening experience.  It is captivating in many ways, but it also does not leave a solid impact on the listener – making you pick it up time and again to perhaps, to use an older term, wear it out.
It's great to see L.S.G. back in the electronic medium, mixing up the sounds in the electronic sphere in ways that almost felt lost.  The album also represents a look to the future – and it's a trend this reviewer has started to notice – one where albums return as a listener's journey.  So close your eyes, open your ears, and just roll with the music as presented!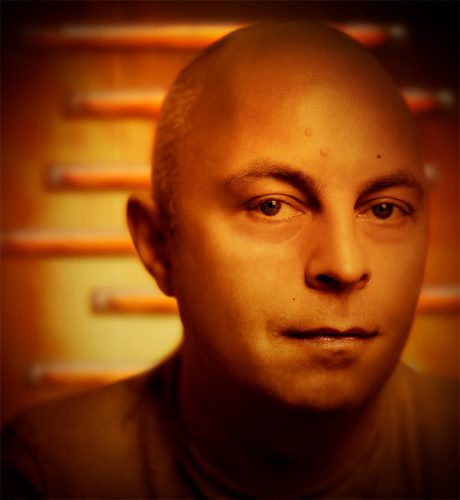 ---
Keen for a bit more of Oliver Lieb?
Click here to check out our weekly "The Landing" segment and take a turn to understand a bit more of his production style.  Thomas Datt also mentioned the influence of Oliver in his interview with us!
---
Follow Oliver Lieb (aka L.S.G.) on Social Media:
Website | Facebook | Twitter | SoundCloud |  YouTube | Mixcloud | Spotify | Bandcamp