After already booking a trip to Tokyo, I discovered that Ultra Japan fell within my date range. How could I not go?
---
True story: I went to Japan for the first time in April 2017 and had so much fun that booked a trip back in September. Shortly after reserving my flight, I happened to see a tweet from Ultra Japan with the festival dates and initial artists.
I was dumbfounded: the festival was going to run during my trip and Porter Robinson was headlining the LIVE Stage, which meant he would be doing his Worlds live performance. If you know me, you know I like Porter Robinson, probably a little too much. Besides that, this was a particularly intriguing opportunity for me because I was going to Japan by myself this time.
In April, I traveled to Japan with my amazing cousin-slash-bff Courtney for almost two weeks but my latest trip was going to be solo for a week. I have done out-of-state domestic festivals by myself before so I wasn't too worried, however, at the same time, I was aware that there would be language and culture barriers to deal with at Ultra Japan.
Nonetheless, I am going to agree with the comments of my colleague Zachary Lefevre, who just had a blast attending Nocturnal Wonderland 2017 by himself, and add that solo festivals can be an amazing opportunity to connect with yourself and with others!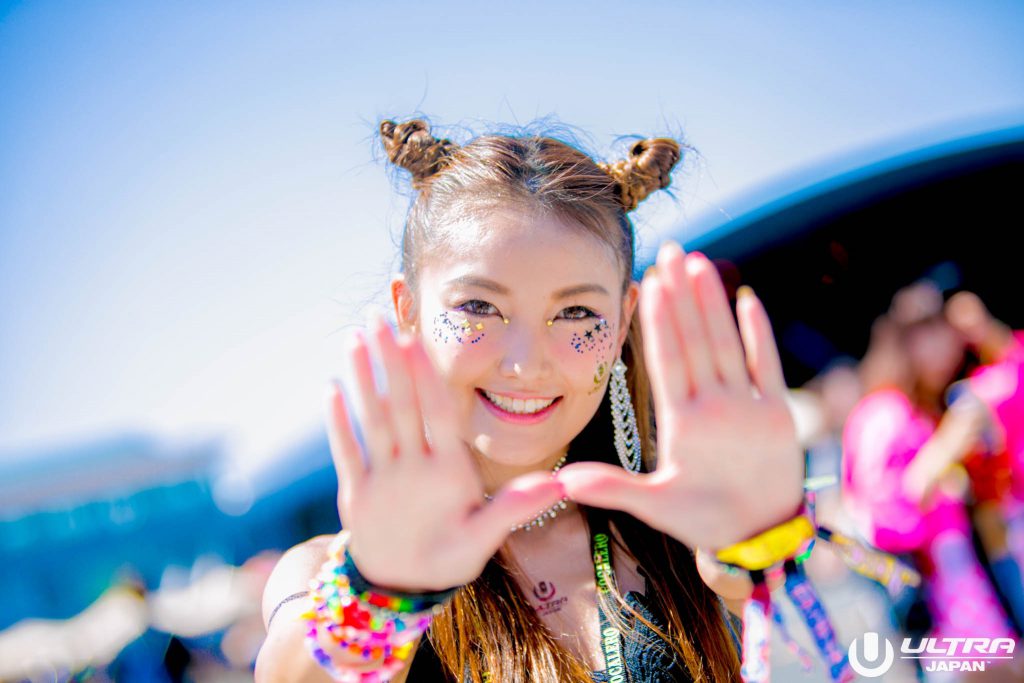 This year was the fourth edition of Ultra Japan and I had heard from some industry folk that this event was considered to be one of the rising stars of the Ultra Worldwide family.
Having attended Ultra Music Festival in Miami from 2013 to 2015, I knew that the festival would be well-produced and have a certain VIP feel to it, consistent with the Ultra Worldwide brand. The lineup was huge with names like Hardwell, Tiesto, Porter Robinson, Kygo, Carl Cox, and many more.
Before I get into my review, I wanted to provide some key pieces of info about Ultra Japan, just in case I convince you to want to go: 20+ (which is the drinking age in Japan), historically Saturday to Monday (Monday is a holiday), and music runs from roughly 11am to 9pm. It is worth noting that tons of Japanese cultural influences can be seen at the festival, but I'll get to those later.

I arrived in Tokyo on Wednesday night and immediately started exploring the boroughs of the city that I missed in April. I also had plans on Friday to check out Kayzo and DJ Shimamura at Womb, one of the Japanese mega clubs.
I'll try to keep this section light but I wanted to give you a feel for the city of Tokyo itself since it would be silly to travel to Ultra Japan from a faraway land and not explore the largest city in the world while you are there. Fair warning: Tokyo, and Japan as a whole, are like a second home to me so I may be a little biased.
Let me start by talking about jet lag: it sucks but it doesn't have to ruin your trip. Tokyo is a city of 38 MILLION people, so with a little planning, you can be entertained literally 24 hours a day. Despite going twice, I have never really gotten on a great sleep schedule in Japan; I typically slept for 3-6 hours at a time but did so whenever I got tired, so it worked!
The public transit systems in Tokyo are amazing but you'll still get tired from doing a fair bit of walking from the stations to your end destinations, whether they be pachinko arcades, restaurants, maid cafes, or tattoo parlors (wink wink).
I also want to point out that the trains and subways stop running from roughly 12:30am to 4:30am, so most bars and clubs stay open til 5am or later. This means you have to commit to staying out all night because cabs and Ubers are expensive in Japan (think triple to quadruple the prices in the United States), or you can pick your hotels wisely and walk home whenever you want.
I elected to go the "party all night" route and booked a boutique hotel in Shinjuku as my home base called the International Hotel Kabukicho, which I would highly recommend looking at if you are going to Tokyo. I then spent the first few days training all over the city and doing random things that interested me: donuts and coffee during morning rush hour in Shinjuku, Re:Zero-themed UFO arcades in Akihabara, brunch in Akasaka, sushi in Kamata, kandi-making with new Japanese friends in Shibuya, and much more. Oh, and I decided to get a Porter Robinson kaomoji tattoo! 【=◈︿◈=】
Fast forward to Friday night and the party with Kayzo and DJ Shimamura at Womb was in Shibuya, which meant that I was going to be dancing until the morning trains because I wasn't paying $50 for an Uber back to my hotel in Shinjuku.
I slept for a bit, got ready, had a bite to eat, and caught the midnight train to meet up with my new friend Miki, who was taking me. Womb is split into three rooms across three different floors and Miki knew Gohlem, one of the DJs performing in the third-floor lounge, so we skipped the line and caught his set at roughly 1:00am. He played a great little set to warm us up for DJ Shimamura, who was on the first floor and headlined the happy hardcore room. I love DJ Shimamura so Miki was laughing at me and joked that he is the crazy raver of Tokyo (and she's not wrong).
Kayzo finished off the night for us in the main room of Womb, which has two huge screens and amazing light rigs. I really enjoyed Kayzo's track selection, as he played quite a bit of heavy dub for headbanging and finished his set with the Darren Styles / DJ Gammer remix of Porter's "Sad Machine" into his edit with DJ Gammer of Porter's "Language". After that, it was time to try to get some sleep because Saturday was the first day of Ultra Japan and also Porter Day!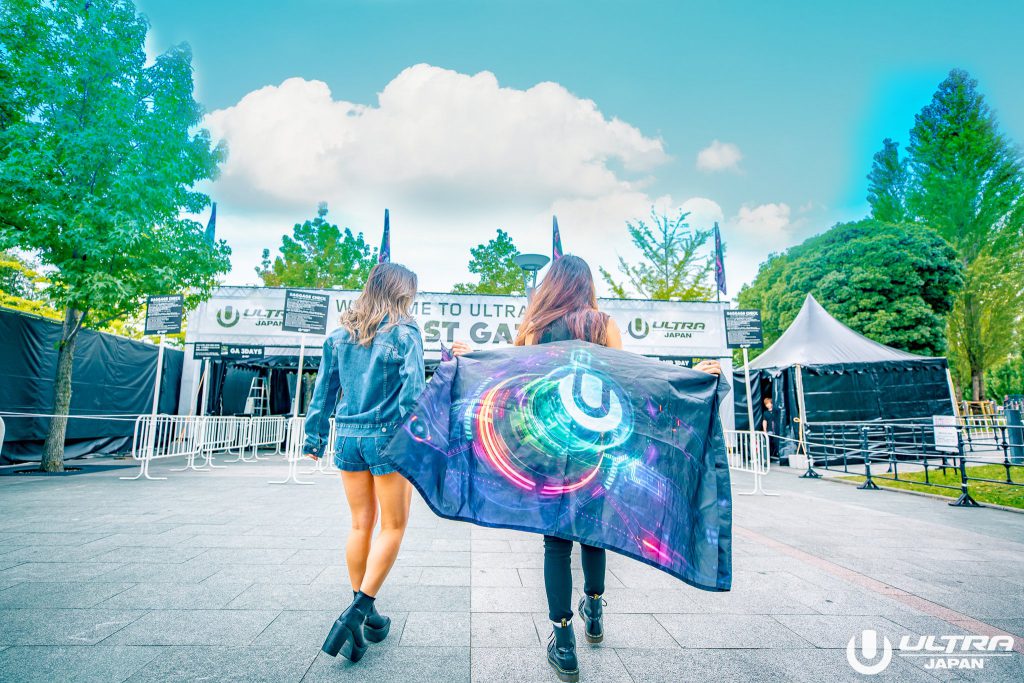 It is very evident that Ultra Japan is part of the Ultra Worldwide family but the festival doesn't ignore the cultural nuances of Japan.
Ultra Japan takes place in Tokyo Odaiba ULTRA Park, which is near Tokyo Bay in the southeastern part of the city. The festival grounds are very nice and quite large considering that there were only four stages; they also include a lot of permanent infrastructures, which helps give the festival a higher-class feel.
The MAIN Stage was by far the biggest and was easily outsized all three other stages combined. They spared no expense and did a good job because there were times when I felt like I was at Ultra Miami (especially on Monday when it was like 95 degrees). The LIVE Stage was the second largest but probably the simplest; it had solid lights and good sound and was just the right size for the crowds that were drawn there.
The RESISTANCE Stage was probably my favorite stage; it was small but the only covered stage and it had great lights, lasers, screens, and overall production in general. Similar to an art car, the Ultra Park stage greeted you just inside the gates and had a lot of fun art installations around it to relax and recover.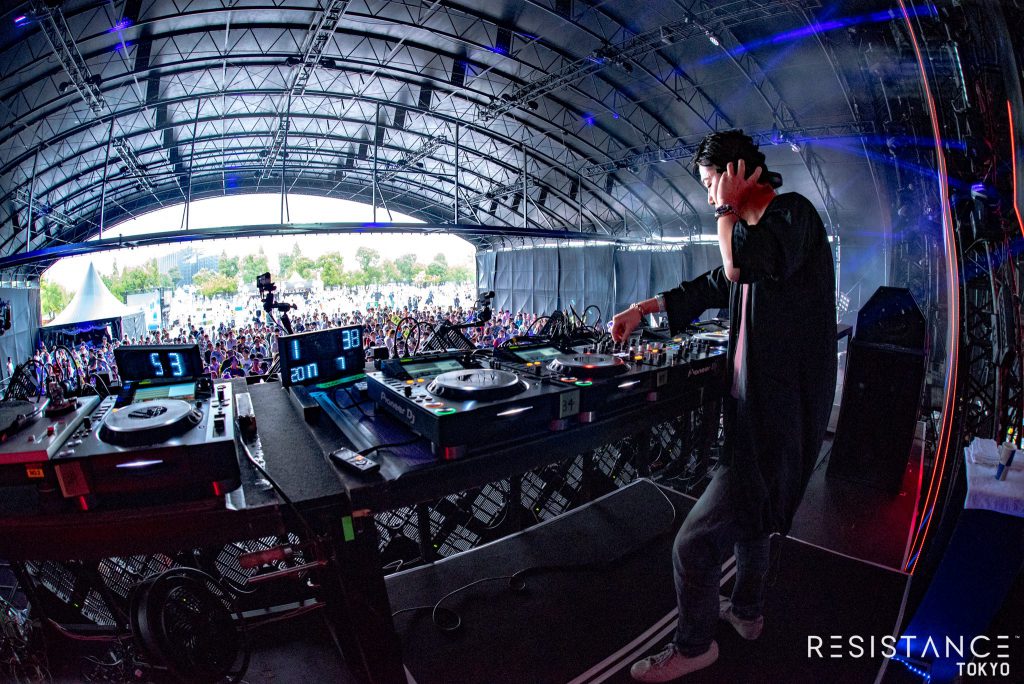 One of my favorite things about the festival was how organized it was (but what would you expect from the Japanese).
Lines to enter the festival were minimal-to-none. Inside, there were tons of staff everywhere to assist you and everyone was so nice. Each of the three biggest stages had the crowd barricaded into sections; this meant less milling around (hooray!), more places to safely put your stuff, and thus more dancing! The crowd also respected the rules and each other – people smoked their cigarettes in the designated areas, and no one threw trash on the ground, for example.
The bathrooms, in my opinion, were amazing. They were the traditional Japanese style (meaning nothing to sit on) but they were really big, super clean, and well-ventilated. The sink areas had running water, real antibacterial soap, and huge mirrors. All of this combined made me not dread having to break the seal!
I don't really drink much alcohol these days but the Japanese love to! Accordingly, there were plenty of bars (with zero lines) as well as booths sponsored by Red Bull, Smirnoff, Jagermeister, Hennessy, Jose Cuervo, and more. Prices were more than fair with alcohol ranging from 500-900 yen ($5-9), water for 200 yen ($2), and Red Bull for 300 yen ($3). That's almost half the price of festivals in the United States! Sugoi!
The one area that I think they could improve would be the food options.
You cannot bring in any outside food or drink so your options are limited to what is offered. In theory, the options were decent and included a lot of Japanese items as well as pizza from Dominos and different types of sweets and treats. However, most of my food purchases ended up being fairly cold or bland so by the final day I was preloading with a big lunch to avoid having to eat a proper meal at the fest.
I also am a fan of how festivals in the United States have started using food trucks and other local vendors, which was not the case at Ultra Japan. A small drawback in the grand scheme of things so no biggie!
Now, let's get to the music!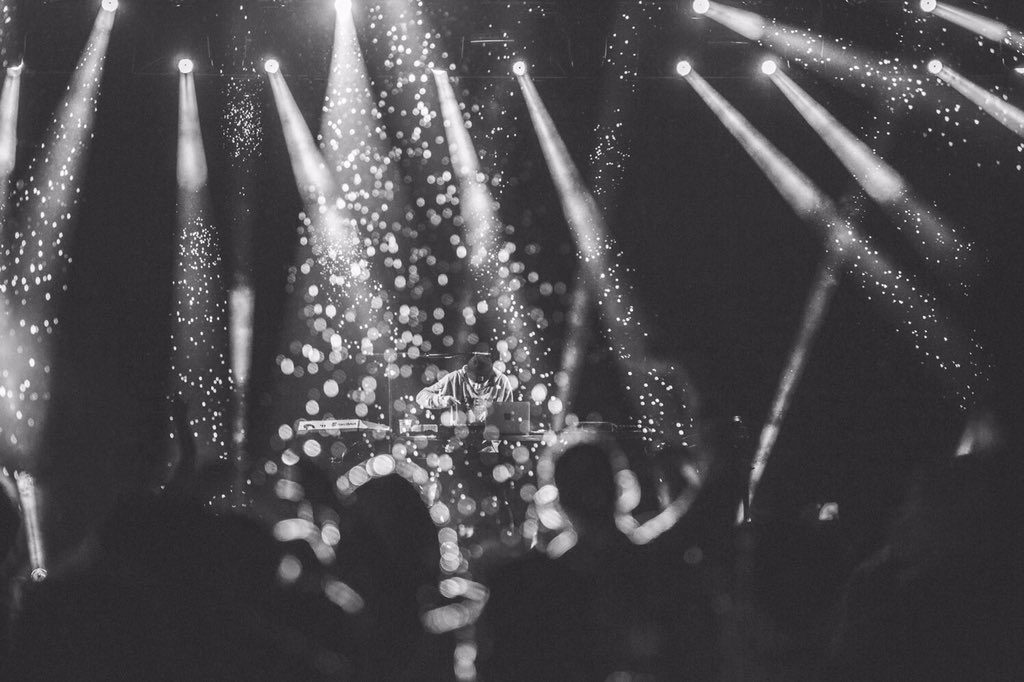 Saturday, Day One: Porter Robinson, Wednesday Campanella, Sugiurumn, and Seth Troxler
I'm going to try to dial down the fanboy in me and will just say that Porter Robinson stole the show, as I knew he would. With a typhoon set to hit Sunday night, we got the Worlds live performance in the rain and it couldn't have been more special! Porter was clearly having a blast and so did all of his loyal fans, which turned out in droves at the LIVE Stage hours before he was set to perform. He played all the usual suspects including new live edits of "Fresh Static Snow", "She Heals Everything / Shepherdess", and his remix of "The Thrill" as well as interpolating Kanye West's "The Glory" during "Flicker" (one of my favorites).
My second favorite act from Saturday and one of my favorite acts of the weekend was Wednesday Campanella, a Japanese electronica singer. To be honest, I don't know much about her and only saw her set because she was right before Porter on the LIVE Stage but she killed it. The best way that I can think of to describe her is a Japanese version of a flow artist at Electric Forest (think hippie fairy hooper vibes).
She used lights and screens to create a secretive vibe at first and then, out of nowhere, she was on a ladder in the middle of the crowd. She went from singing and dancing on the ladder to walking through the crowd to the stage and eventually got into a giant inflatable ball to crowd surf. It was an all-around great performance and she is the definition of kawaii.
Honorable mentions on Saturday deservedly go to Sugiurumn and Seth Troxler, who both played on the RESISTANCE Stage. Sugiurumn is a Japanese techno artist and ended up playing for almost four hours after two RESISTANCE artists had to cancel at the last minute. He was amazing and I saw almost three hours of his extended set. Seth Troxler closed down the stage so I stopped by after Porter since it was still raining. Seth isn't a top artist for me but I really enjoyed bouncing around the crowd to his funky beats for a while.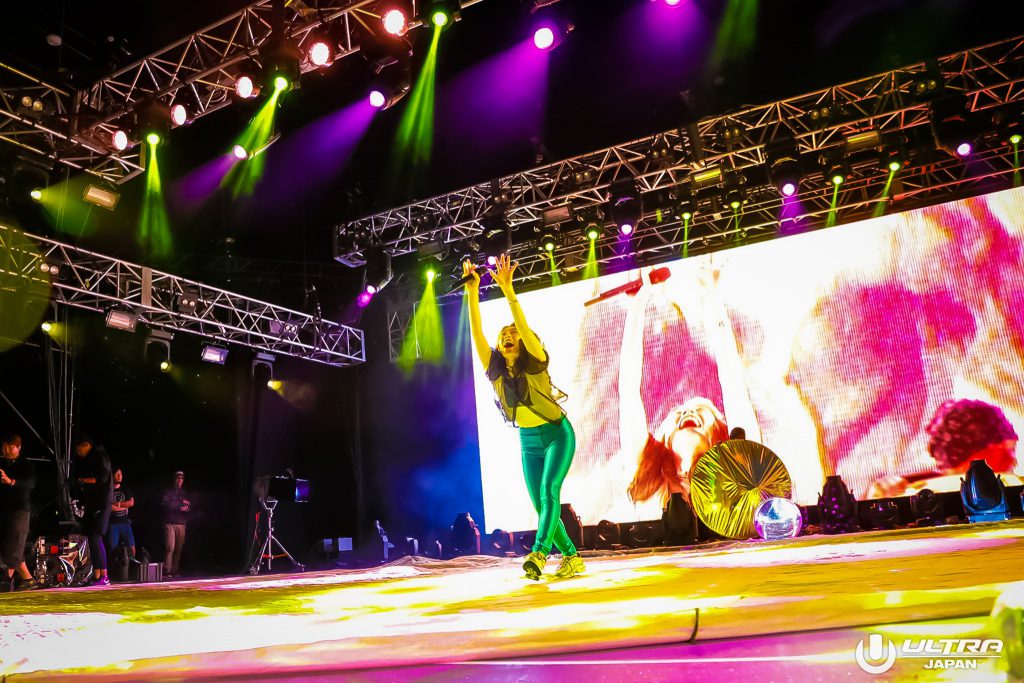 Sunday, Day Two: Nic Fanciulli, Sasha b2b John Digweed, Stephan Bodzin, and Osamu M
Sunday was the slowest day for me at the fest so this might be a little brief. A typhoon had been inbound for a couple of days and the rain really kicked up on Sunday. However, there was no lightning and the winds were moderate during festival hours so the show went on! I stopped by the nearest 7-Eleven convenience store to grab another poncho and headed to the festival during a lull in the rain showers.
I managed to get in and under the cover of the RESISTANCE Stage without getting *too* wet so I set up camp on a barricade near the front right and stayed there for the entire day. My day of music started with Osamu M, who played a nice variety of tracks including some Dirtybird booty house and Maceo Plex dark techno. Next up was Stephan Bodzin, who played a live techno set; he was equally as good and I'm pretty sure there is evidence of how much I enjoyed his set on the interwebs thanks to the UMF TV live stream.
My favorite act of the day was Nic Fanciulli but I must qualify that by saying that I only saw 15-20 minutes of Sasha b2b John Digweed since it was getting colder and wetter by the minute. I decided to bail early to get ready for my final day at the fest and in Japan.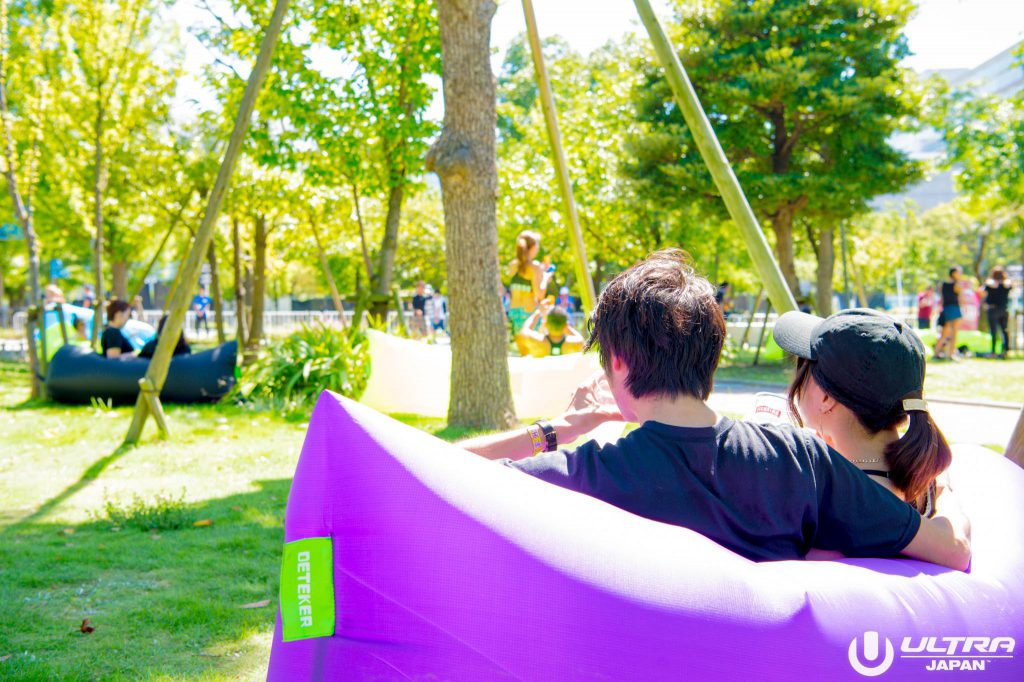 Monday, Day Three: Carl Cox, Joseph Capriati, REZZ, Getter, and Kygo
Waking up on Monday, I couldn't believe the shift in the weather: the typhoon had finally passed, the skies were clear, and it was HOT! Like, holy moly was it hot! I'm talking about 90-95 degrees for most of the day until the sun went down. No one was complaining though after two days of rain.
I arrived at the festival early since this was my last day before heading back to Indiana on Tuesday and I'm glad that I did. I explored some of the park areas and art installations that had been too damp to use and also spent more time at the MAIN Stage, which was a decent walk from the other stages.
I got to do some headbanging at Kayzo on Friday but otherwise, bass music was few and far between so I was looking forward to Getter and REZZ, who both played on the MAIN Stage. It was hot but I was going wild since some of my favorite artists include the likes of Bassnectar, RL Grime, and Ganja White Night. The Japanese (and Asian dance music fans in general) are not really into the bass music scene like we are in America but I think they enjoyed watching me go crazy. Oh, and I want to give a shout out to the two REZZ fans from Japan that I met during her set!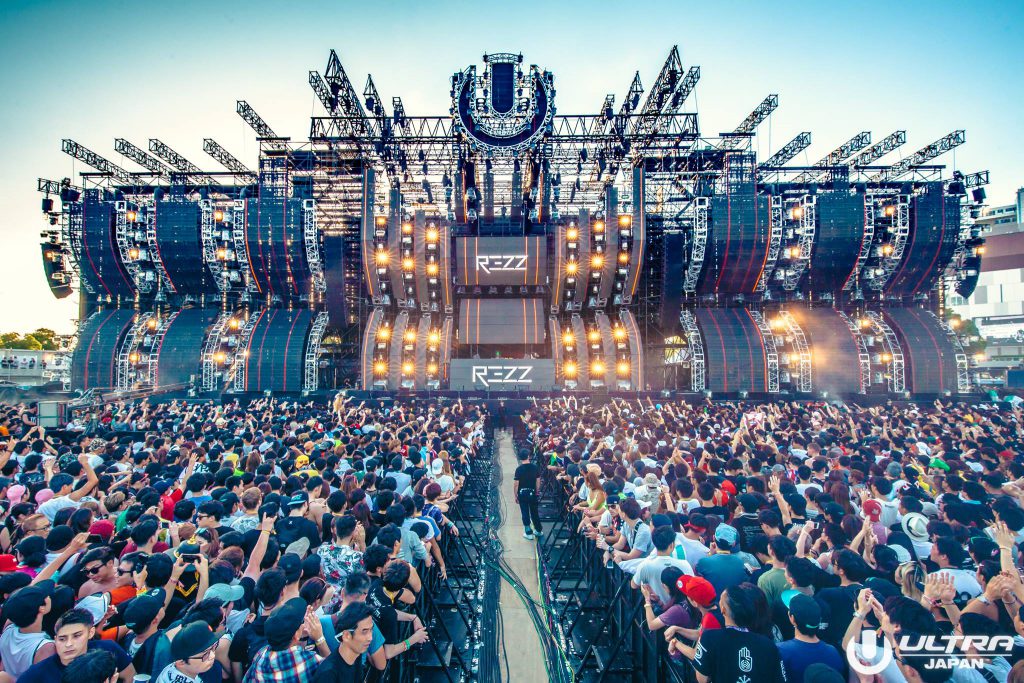 REZZ finished her set and it was still crazy hot but I wanted to at least give Kygo a chance; he was actually one of the most popular artists there besides Hardwell so I moved back a bit and just observed the crowd while listening to the first 15-20 minutes. It was good and uplifting but not my cup of tea so I danced my way over to the RESISTANCE Stage to close things down with Joey Caps (Joseph Capriati) and Daddy Cox (Carl Cox).
Joseph Capriati hit the decks for his two-hour slot and eased us into some heavy but fun techno. It was pure bliss. By the end of his set, he had the place worked into a frenzy for his good friend, Carl Cox. Honestly, the ten-minute transition between Joseph and Carl was one of the highlights for me; these two guys have such respect for one another and you can hear their excitement for each other in their voices. Carl officially took over the decks and you could feel the energy in the room; it was ready to explode. He started dropping heater after heater and the RESISTANCE Stage turned into absolute anarchy for two full hours. What a finale!
Ultra Japan is a very special festival that is attended by a very special type of people. I will no doubt be back in the future and I strongly recommend that you consider going on this adventure for yourself! Arigato Ultra Japan!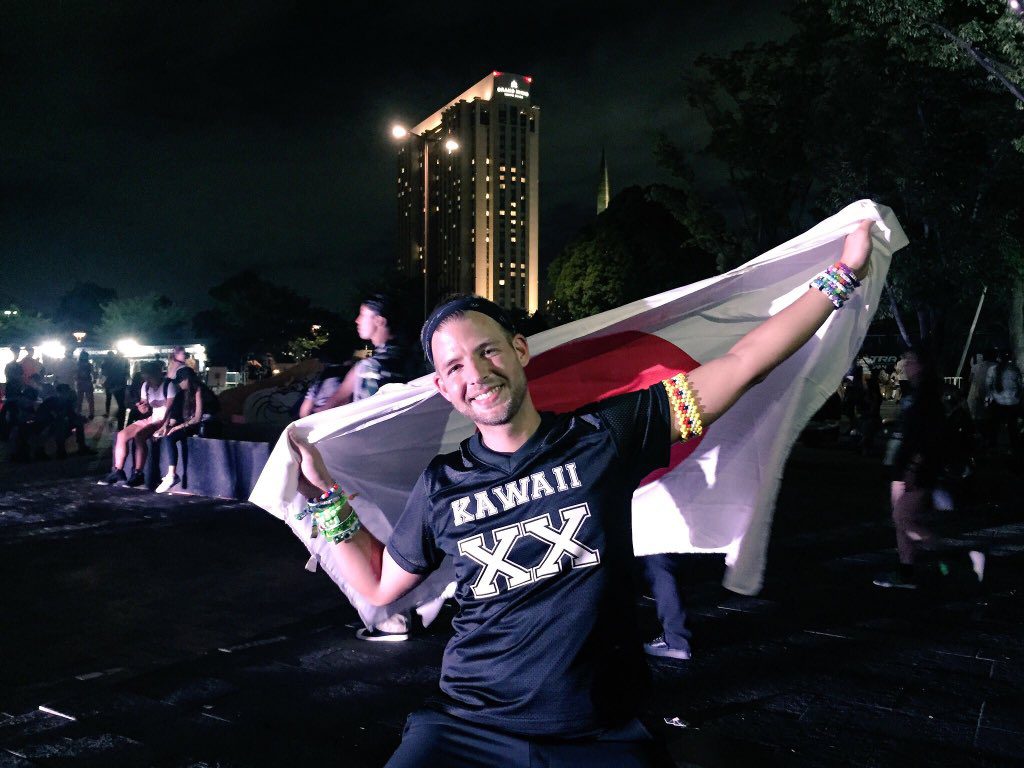 ---
Follow Ultra Japan on Social Media:
Website | Facebook | Twitter | Instagram | YouTube
Featured Photo Credit: Ultra Japan