Ultra Japan 2017 Set Times, Access Map, & More!
---
Boys and girls, Japanese and foreigners, ravers and rockers – the time has come! Ultra Japan is less than two days away and we will soon be gathering together in Tokyo Odaiba Ultra Park to celebrate together with good music and amazing friends! To help you maximize your fun and minimize your problems, we've compiled some of the most important information from the festival organizers themselves. This information will help you get to the venue, get through security, and navigate the stages like a pro!
Check out my top picks spinning at Ultra Japan 2017! Also, check out five of my favorite things to do while in Tokyo for Ultra Japan 2017!
---
Ultra Japan 2017 – Essential Info:
Dates: September 16-18, 2017
Show times: Opens at 10:00am (10:00), music starts at 11:00am (11:00), music ends at 9pm (21:00)
Venue Address: Tokyo Odaiba Ultra Park – 1 Chome-1-20 Aomi, Koto-ku, Tokyo 135-0064
Ages: 20+ to dance and to drink
Acceptable Forms of Identification for Entry
You must present a valid photo ID at the Main Entrance in order to enter.
A valid photo ID can be one of the following: drivers license, passport, social security card, basic resident register card, alien registration certificate, certificate of the intellectually Disabled, or the residence card issued by public institution.
If you don't present your Valid PHOTO ID, please note that entry will be denied and no refunds or no date transfer for the tickets will be available.
Please be advised that anyone under the age of 20 on the day of the festival (Sept. 17, 18, 19 2016) could not enter the venue.
Restricted Admissions to Stages
If the number of the audience reach to the prescribed number in each stage, admissions will may restricted following to the administrative guidance in order to keep safe.
---
Ultra Japan 2017 Set Times: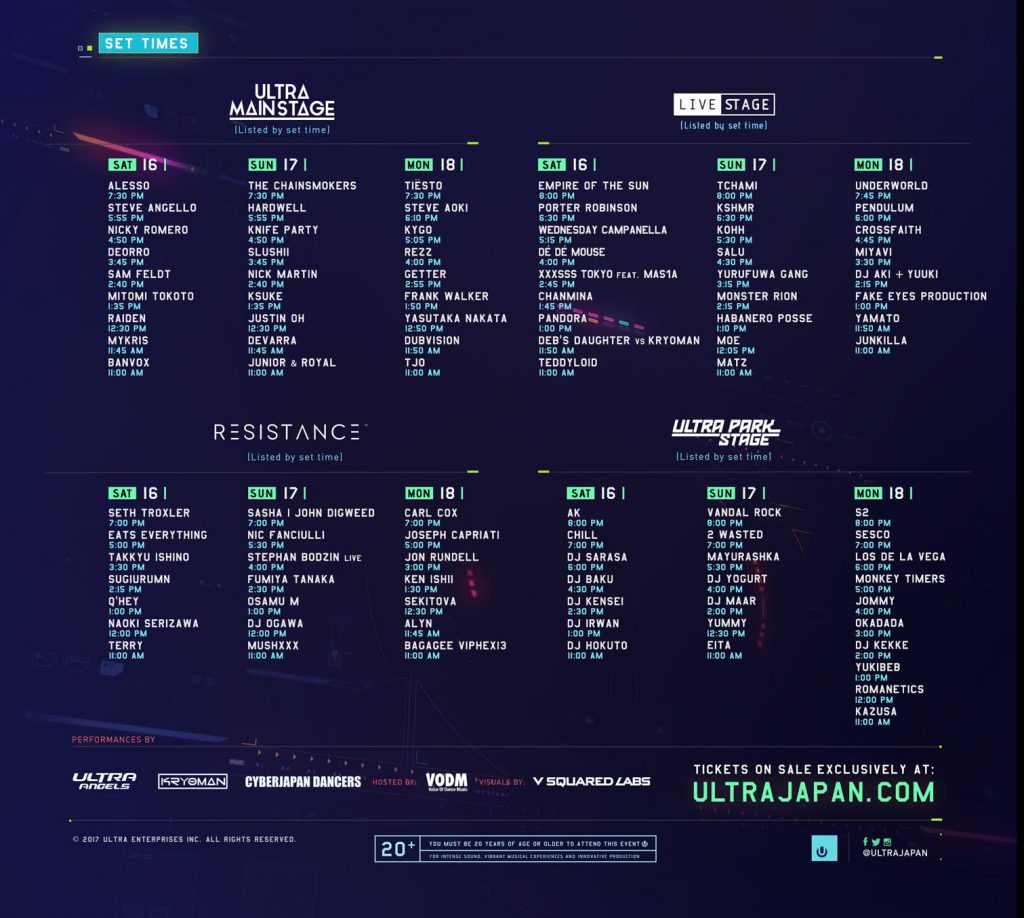 ---
Ultra Japan 2017 Access Map: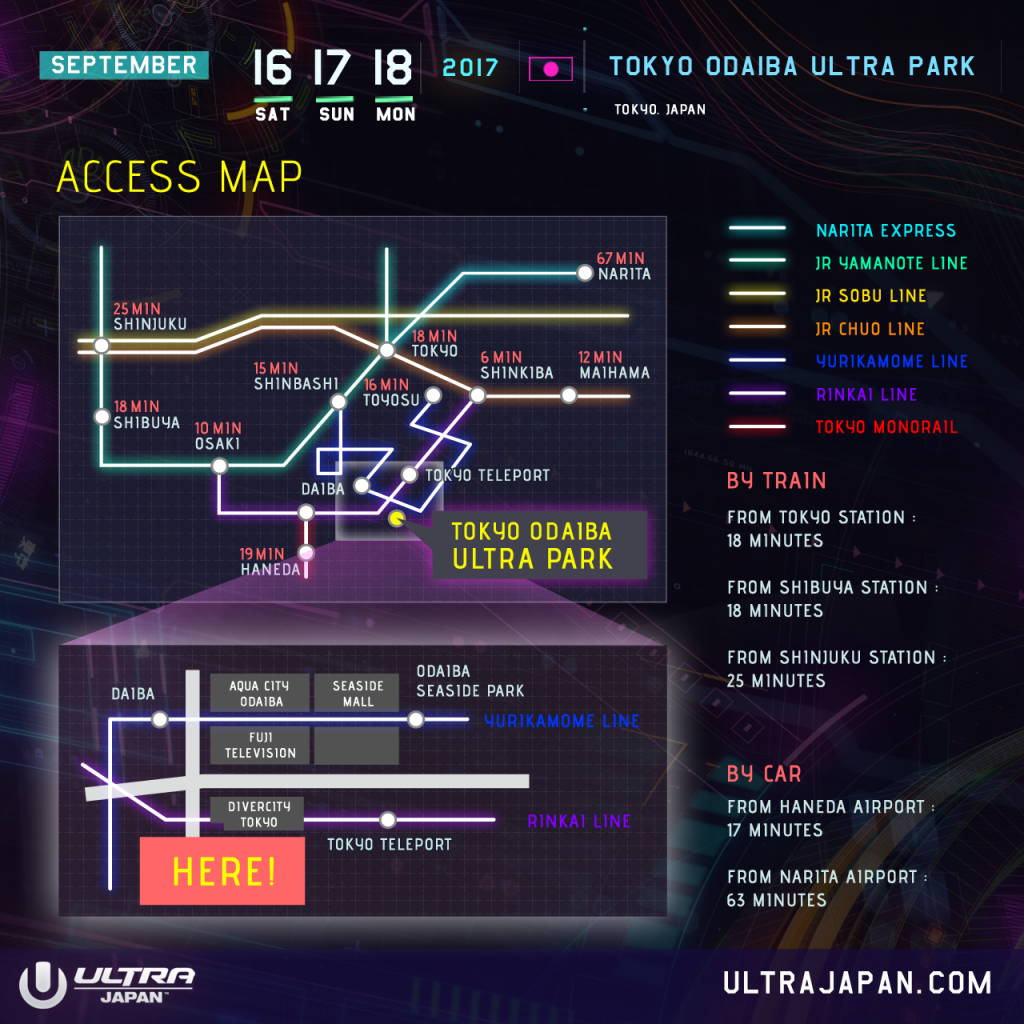 ---
Reminder To Mind Your Belongings
Unfortunately, many people have reported pickpockets, bag slashings, and theft of wallets, smartphones, purses and other valuables during this festival season. While this small number of bad apples in the bunch doesn't define an entire crowd, there are opportunistic people who come to these events to take advantage of unsuspecting party goers and it's important to be mindful of your valuables while at Ultra Japan.
Pay attention to who's around you and what's going on around you. Keep your wallet and phone in your front pocket(s) if you can. Treat your phone the same way you would treat cash; don't set it down on a table or bar and look away. If a friend isn't standing behind you in a crowd, be careful of your backpack or purse, and don't put valuables in a pocket that could easily be unzipped by someone behind in a crowded spot without you realizing.
Festivals, in general, are a very densely populated place, and are a well-known place where pick-pocketing of unsuspecting people occurs. It's easy to find yourself in a crowded environment in a line, at a stage in the festival, elevator, or even out on the street where someone could slip your wallet or phone our of your pocket or bag in a matter of seconds. Stay alert, be careful, and make sure to not carry more than what you need!
---
Ultra Japan 2017 Do's & Don'ts:
Prohibited Items
Umbrellas
Whistles, vuvuzelas, and all other noisemakers
Any outside food or beverage
Alcohol, illegal substances, weapons, and other things prohibited by law
Single-lens reflex cameras and other cameras of similarly high performance
Selfie sticks and other similar items that may annoy other guests (including sticks and totems of any kind)
Trolley bags or bags with wheels (lockers are available to store large items prior to entering the festival grounds)
Other General Policies
Put your trash where it belongs. Throwing away garbage is not allowed. Please note to throw garbage away into a trash can or go to the eco station. Try keeping the venue clean!
Don't get carried away too much. Don't get too wild that you may get in trouble. The exciting event may turn uncomfortable when people get dead drunk, urinating outdoor, and smoking while walking. Please note not to behave bad or warn your friend to keep the rules for others to feel comfortable at the venue.
Trolley bags not allowed in the venue. Bags with wheels may cause danger to carry inside the venue. Lockers will be installed to storage large items next to the MAIN STAGE. Lockers can be used after attendees complete the application process at the locker booth reception counter.
The festival/event is intended to be a friendly and enjoyable event.
The reference number on the ticket does not indicate the order of entry. Priority will be given to guests with tickets purchased in advance.
Artists are subject to change or withdraw. In the event of such change, refunds will not be given.
In certain circumstances some areas within the venue may become restricted.
The organizers, promoters, and artists are not liable for any compensation and/or cancellation charges for travel expenses resulting from the festival/event being cancelled or postponed.
Any outside food or beverage is strictly prohibited inside the festival/event.
We will refuse entry to guests who are severely intoxicated, clearly affected by drugs or deemed unfit for entry. Any guests found to possess illegal substances, weapons and/or other prohibited items will also be refused entry. Anyone found carrying these items will be reported to the police immediately. No refunds will be given.
Guests who are behaving in a disorderly, offensive or inappropriate manner, and guests who refuse to obey instructions/warnings from festival/event staff will be removed from the festival/event immediately. No refunds will be given.
Any attempt to enter the festival/event without a valid ticket or valid credentials will result in the immediate removal from festival/event grounds. In certain cases we will contact police and press charges against the violators.
Guests must be responsible for the security of all of their personal belongings.
The festival/event venue operators, organizers, promoters, and artists cannot be held responsible for lost, stolen or damaged possessions or accidents resulting in injury occurring anywhere in the venue during the festival/event regardless of fault or reason.
The organizer will not use or disclose guests' personal information collected at the time of ticket purchase without consent.
---
Connect with Ultra Japan on Social Media:
Website | Facebook | Twitter | Instagram | YouTube
Featured Photo Credit: Ultra Japan