Fresh off a sensational label showcase at ABGT250, Anjunadeep has announced the lineup for their 15-date 2017 North American Tour.
---
North American fans of the deeper side of the Anjuna sound have much to look forward to this fall when Anjunadeep embarks on its fourth North American tour in November and December. Traversing the United States and Canada, notable label artists will make appearances at clubs in cities including Minneapolis, Chicago, Brooklyn, Denver, Los Angeles, and San Diego.
The tour will feature different artists at each stop, with label heavyweights Jody Wisternoff and 16 Bit Lolitas appearing alongside up-and-comers Joseph Ashworth, Luttrell, Dom Donnelly, and Gab Rhome. If the past years' tours are any indication, you absolutely will not want to sleep on this!
Tickets are already on sale for the event – snag yours for a chance to immerse yourself in the fantastic grooves that the Anjunadeep crew will be offering up in a city near you!
---
Anjunadeep North American Tour 2017 Flyer: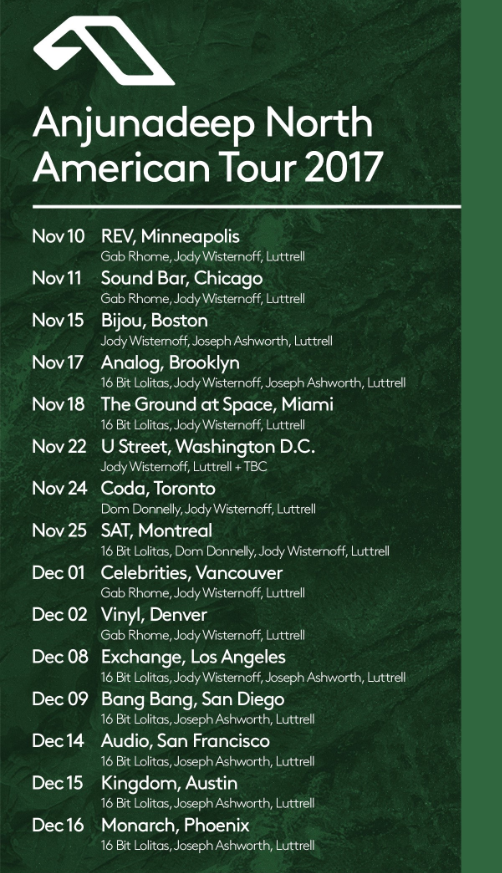 ---
Watch the Anjunadeep North American Tour 2017 Tour Announcement Video:
---
Anjunadeep North American Tour 2017 Dates & Lineup:
November 10 – REV, Minneapolis – Gab Rhome, Jody Wisternoff, Luttrell

November 11 – Sound Bar, Chicago – Gab Rhome, Jody Wisternoff, Luttrell
November 15 – Bijou, Boston – Jody Wisternoff, Joseph Ashworth, Luttrell
November 17 – Analog, Brooklyn – 16 Bit Lolitas, Jody Wisternoff, Joseph Ashworth, Luttrell
November 18 – The Ground at Space, Miami – 16 Bit Lolitas, Jody Wisternoff, Luttrell
November 22 – U Street, Washington, D.C. – Jody Wisternoff, Luttrell + TBC
November 24 – Coda, Toronto – Dom Donnelly, Jody Wisternoff, Luttrell
November 25 – SAT, Montreal – 16 Bit Lolitas, Dom Donnelly, Jody Wisternoff, Luttrell
December 1 – Celebrities, Vancouver – Gab Rhome, Jody Wisternoff, Luttrell
December 2 – Vinyl, Denver – Gab Rhome, Jody Wisternoff, Luttrell
December 8 – Exchange, Los Angeles – 16 Bit Lolitas, Jody Wisternoff, Joseph Ashworth, Luttrell
December 9 – Bang Bang, San Diego – 16 Bit Lolitas, Joseph Ashworth, Luttrell
December 14 – Audio, San Francisco – 16 Bit Lolitas, Joseph Ashworth, Luttrell
December 15 – Kingdom, Austin – 16 Bit Lolitas, Joseph Ashworth, Luttrell
December 16 – Monarch, Phoenix – 16 Bit Lolitas, Joseph Ashworth, Luttrell
---
Connect with Anjunadeep on Social Media:
Website | Facebook | Twitter | Instagram | SoundCloud | YouTube