Shambhala Music Festival remains on alert for possible evacuation after wildfires spread
---
According to the Shambhala Music Festival website, the Salmo River Ranch has been put under an evacuation alert after the McCormick Creek wildfire jumped the Salmo River moving towards the festival.
An evacuation alert is NOT an order to leave, but attendees should plan ahead in case conditions worsen. Attendees should prepare for an evacuation by determining a well-rested designated driver and plan how to exit the festival grounds.
Festival organizers are also installing a temporary footbridge over the Salmo River as a second way to egress the festival in case of changing conditions.
Due to the fire spreading in the Metalline/Nelway area, the border has been closed until further notice. Alternative routes include Eastport/Kingsgate, Boundry/Waneta, Frontier/Paterson, and Oroville/Osoyoos.
The festival will continue providing updates on their Facebook, Twitter, and app. More information from the festival will be available this afternoon.
We will have more updates for you this afternoon. Until then, be safe, stay positive and dance to bring the rain! ❤️

— ShambhalaMusicFest (@shambhala_mf) August 12, 2017
Additional updates on the wildfire can be found on the BC Wildfire Service website. We'll update this article once more information arrives.
---
View the Current McCormick Creek Wild Fire Evacuation Alert and Order Map: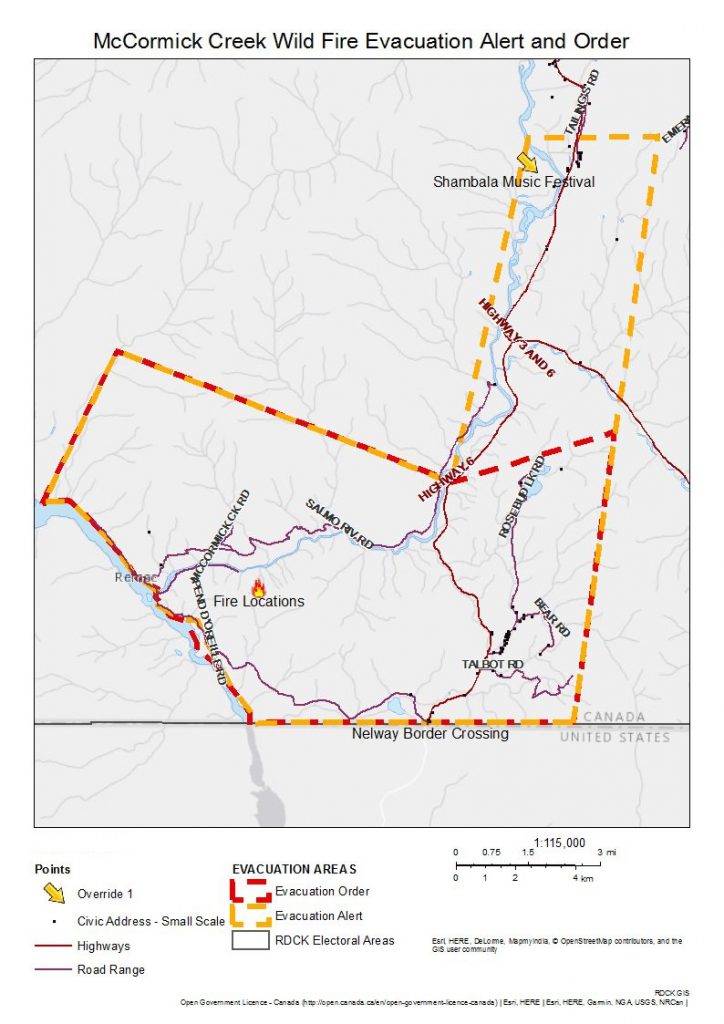 ---
About Shambhala:
Shambhala Music Festival was born from a vision as grassroots as it gets. On a sunny Labour Day weekend back 1998, some 500 people gathered at the Salmo River Ranch for a party that showcased local art and music. Since those early, heady days, the festival grew with enthusiasm by word of mouth, quickly becoming a staple event for the West Coast underground electronic music scene. Today it attracts world renowned DJs and artists and some of the most eclectic, energetic fans in the universe. The festival is built on Shambhalove which shines bright to this day.
---
Follow Shambhala on Social Media:
Website | Facebook | Twitter | Instagram | SoundCloud
Feature Photo Credit: Topher Fultz