Audien lovers rejoice: his new Some Ideas EP is now out!
---
His new three track EP is now available to stream on SoundCloud, Spotify, Tidal, and more. Short but sweet, the three tracks give us a modern twist on Audien's progressive sound that we know and love. He even goes a little bass-heavy in the second track, "Rampart." Some of these tunes were IDs from his EDC Las Vegas 2017 set that I've been praying to come out, so I couldn't be more excited for the new EP, Some Ideas!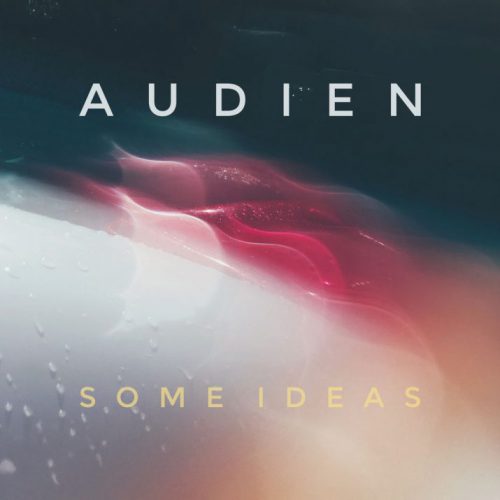 After a killer summer of festival performances, Audien is brightening up our Fall months with a new EP Some Ideas! The progressive house DJ has been putting out hits for almost a decade now, including some of my all-time favorite tracks "Leaving You," "Circles," and "Rooms."
His pop-oriented sound in many tracks like "Something Better" and his remix of "Kill The Lights" is loved by a huge mainstream audience, but his old progressive style is nostalgic and euphoric for those of us who truly live for that type of music. Recently, Audien has teamed up with his good friend 3lau for some mind-blowing b2b sets following the release of their collaboration, "Hot Water (ft. Victoria Zaro)."
Get to know Audien better by checking out our featured interview HERE! Purchase or Download Some Ideas EP here! 
Stream Audien – Some Ideas EP on Spotify:
---
Audien – Some Ideas EP, Track By Track:
01 – "Message"
"Message" has some beautiful high piano chords and similarly sweet females vocals. The heartfelt lyrics, "The message of my heart is too loud to stay apart" and joyous progressive drop make for an overall pleasing progression. This happy, upbeat track will get you smiling and dancing around in no time.
02 – "Rampart"
"Rampart" is definitely my favorite of the Some Ideas EP. It starts off in classic Audien fashion with some feel-good piano chords, seemingly going into another track similar to "Message." But, it builds faster and faster, and all the sudden he hits us with a dope heavy bass drop! Completely uncharacteristic, but I absolutely love it; it's executed perfectly. I'm a diehard for tracks that combine euphoric moments with crazy drops, and this one does just that. Move over for Audien bass artists!
 03 – "Resolve" 
The Some Minds EP culminates in the best possible way with the last track, "Resolve." While without lyrics, the song tells the powerful, inspiring story of coming to a realization or decision and the empowerment, happiness, and fulfillment that comes with that resolve. This track is truly impressive, showing that music alone can portray journey and emotion. 
Final Thoughts
As a huge fan of Audien's old music, I can say I'm thoroughly satisfied and even pleasantly surprised by this new EP! "Resolve" and "Message" are an amazing continuation of his signature progressive sound, and "Rampart" shows a whole new side of Audien that I'm obsessed with. Major props to him on this one, I'm so stoked on all these new tracks.
---
Audien Euphoria North American Tour Dates:
9/29/2017 @ Showbox — Seattle, WA
9/30/2017 @ EOS — Santa Barbara, CA
10/4/2017 @ Necto — Ann Arbor, MI
10/5/2017 @ Majestic Theater — Madison, WI
10/6/2017 @ Noto — Philadelphia, PA
10/10/2017 @ Shine — New London, CT
10/14/2017 @ El Rey Theater — Chico, CA
10/21/2017 @ The Ritz — Tampa, FL
10/27/2017 @ Prysm Nightclub — Chicago, IL
11/24/207 @ Vulcan — Austin,TX
11/30/2017 @ Output — Brooklyn, NY
12/2/2017 @ Gold Room — Atlanta, GA
12/16/2017 @ Park City Live — Park City, UT
---
Follow Audien on Social Media:
Website | Facebook | Twitter | SoundCloud | Instagram | YouTube