Anjuna Family rejoice, Above & Beyond announced a new album and tour!
---
Last night Above & Beyond dropped the amazing news. Anjuna Family from all over the globe is at  The Gorge Amphitheater embracing one another and taking in the amazing feels of #ABGT250. It's only fitting that the amazingly influential and touching trio choose this setting to announce their latest album, Common Ground.
The ambiance for this announcement was perfect. Right at the close of their second set of the day, The wildly popular We Are All We Need was winding down and the camera panned toward Jono Grant, Paavo Siljamäki, and Tony McGuinness on the stage. Their track, "The Power of Vulnerability" began playing and Paavo typed these words:
"WE COME FROM ALL CORNERS OF THIS BLUE PLANET

WE COME IN ALL COLOURS SHAPES AND SIZES

WE BELIEVE IN MANY DIFFERENT THINGS

SO IT MIGHT BE TOO EASY TO THINK WE ARE MORE DIVIDED THAN WE ACTUALLY ARE

WITH YOUR HEART AND MIND OPEN

YOU'LL REALISE WE SHARE MUCH MORE THAN WHAT DIVIDES US

JUST GO AND FIND THAT PLACE

THIS IS A PLACE WE CALL

COMMON GROUND"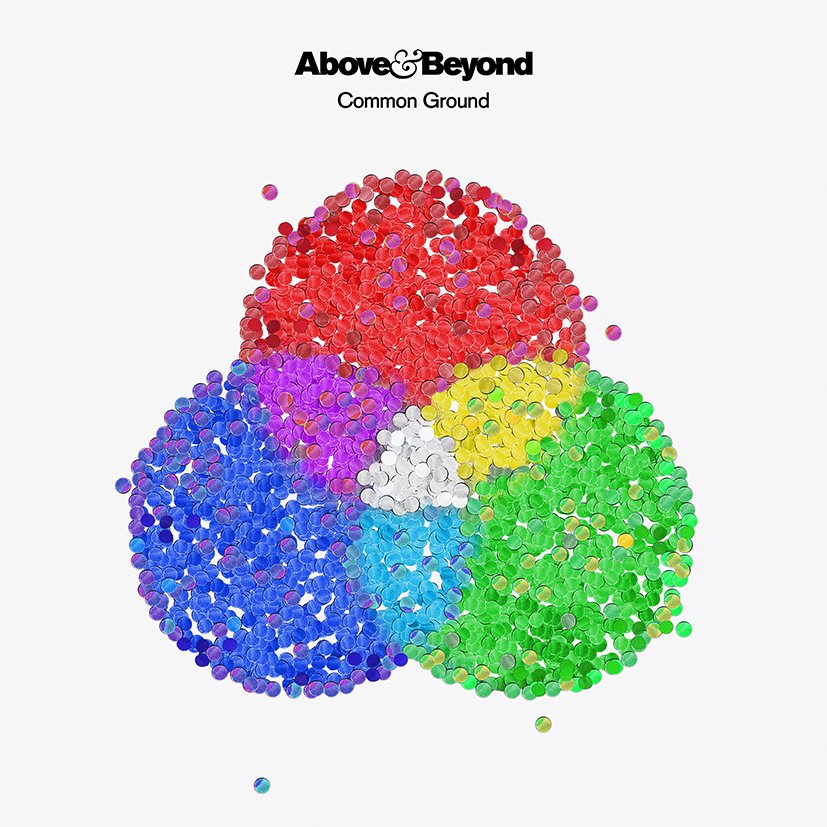 The words "Common Ground" stayed on the black screen, then was surrounded by an array of colors arranged in a Venn diagram. Confetti sprayed around the audience and the words and colors on screen were placed atop a white backdrop, with the group's name appearing as well. With that Tony, Jono and Paavo introduced their forthcoming album, Common Ground. You can pre-save the album on Spotify here.
Not only will Above & Beyond release a new album, they will also be going on tour. Only two stops have been announced as of yet. First stop will be Los Angeles, CA on December 29 followed by New York on January 27.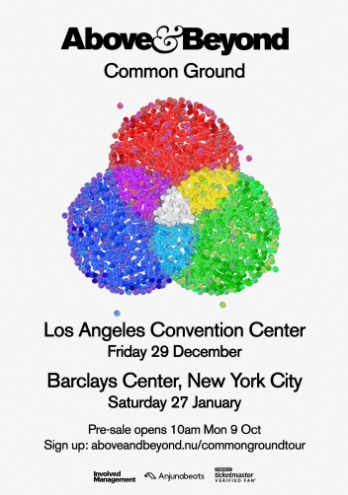 Above & Beyond Common Ground Tour Dates: 
December 29 – Los Angeles Convention Center, Los Angeles, CA
January 27 – Barclays Center, New York, New York
Pe-sale opens October 9 at 10 am.
Remember to sign up at aboveandbeyond.nu/commongroundtour for more up-to-date information as it's released. Lastly, while you're on the site, make sure to check out the photo booth to create your own #CommonGround album artwork and share your colours with the world.
Check out the lead singles from the Common Ground Album: Tightrope and My Own Hymn!
Watch the Above & Beyond Common Ground Album Tour Announcement Video via YouTube:
Don't delay! Snag your tickets and more information on the tour here!
---
Connect with Above & Beyond on Social Media:
Website | Facebook | Twitter | Instagram | SoundCloud | YouTube