Maya Jane Coles' long-awaited Take Flight takes listeners on a two-hour-long journey through her dark, expressive world.
---
Maya Jane Coles is a name that is synonymous with exceptionally crafted house music. Though still relatively young, the multi-talented Coles has already developed quite a reputation, and thus the expectations could not be higher for Take Flight, her latest album and longest work to date.
The follow-up to 2013's Comfort and 2015's Nocturnal Sunshine project, Take Flight has been a long time coming. Clocking in at just under two hours, the sheer length of the double LP feels like a gift in and of itself. With all that in mind, I couldn't wait to sink my teeth into the new album and see what Coles has been up to lately.
Stream Maya Jane Coles – Take Flight on Spotify:
Stream or purchase Take Flight via your favorite digital platform.
---
When listening through Take Flight, one of the things that struck me instantly was how cohesive the entire album was from start to finish – so much so that there weren't immediately many tracks that stuck out.
Some may look at that as a problem. With the way people listen to music these days, there is an expectation that any artist album will have a couple of standout tracks designed to become catchy singles that are destined for radio play or (god forbid) cell phone ringtones.
I'm of a different mind. I don't listen to albums looking for singles and discarding the rest. For me, an album is about a mood, a feeling, or a time and place. I want to be transported. I want to feel a certain way, and I want it to permeate me. Take Flight does just that. The album takes the listener on a journey through Maya Jane Coles' dark, moody world, allowing them to feel fully immersed in the real character of it.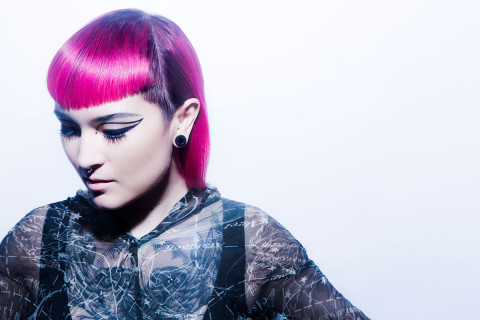 The entire album is brilliantly constructed. In typical Maya Jane Coles fashion, each track is a rich, multi-layered masterpiece, and with each listen you hear new elements that you hadn't noticed the first time. Rather than making the vocals the star of the show, each track incorporates them in a way that weaves them into the fabric of the overall production.
Several of the tracks feature her own vocals, too, and it is in these moments that she truly shines – the emotional qualities in her voice work to convey something that the music alone cannot.
Although there is not a single bad track on the album, some stood out as remarkable examples that illustrate exactly why Maya Jane Coles is one of the best in the game.
"Weak" leads off the album, and it sets the tone flawlessly for the rest of it. Beginning with an ominous vocal tone and stark, tribal-inspired instrumentation, the listener is immediately poised to hear something intriguing, deep, and more than a little dark. The rest of the track delivers, with a heavy bass groove that packs a serious punch.
A bit before the 1′ mark, Coles' own vocals begin, breathily, repetitiously imparting to the listener her anxieties about her relationship with someone who remains undefined. One can almost feel a part of the emotion, as though a gathering dark cloud had appeared to envelop anything and everything within auditory range.
The video for the track serves to underscore its melancholy, almost turbulent feel, with lighting and imagery that borders on downright creepy.
"Darkside" featuring Chelou is one of Take Flight's few collaborative works, and as one of its more downtempo jams has a laid back, groovy feeling. Chelou's vocals are of a piece with the tone of the album – breathy and at points soulful, at times in perfect harmony and at others strangely, disquietingly discordant, keeping the listener on edge. The occasional bursts of saxophone and a high-pitched, almost spooky organ melody are some of the few obvious textures in what is largely a delicately interwoven fabric of sounds.
While still adhering to the gloomy, somewhat somber feel of the rest of the album "Misty Morning" manages to set a slightly different tone in its own right, and has quickly become one of my most listend-to tracks. The rapid, repetitious instrumental lines convey a sense of urgency, building until Wendy Rae Fowler's soft, sweet vocal fades in, first alone, and then in a harmonious, golden chorus, calling to mind if for just a few moments a choir of angels or the rays of the sun.
Another one of my favorites was "Won't Let You Down", which features a restless, intentional groove interlaced with more of those off-center harmonies, the tones coming together just a bit too close for comfort. "Cherry Bomb", one of the early releases from the album as part of the Won't Let You Down EP, keeps a similarly frenetic pace, but loses some of the more sinister aspects of the earlier tracks, taking on a character that is almost upbeat, if a bit weird. "Trails", too, follows a similarly upbeat path, the energy and harmonies taking on a characteristic that might almost be described as curious.
Take Flight is a dark, mercurial masterpiece, and Maya Jane Coles' best work to date.
From the lush soundscapes to the ethereal vocals to the heavy, tribal grooves, everything about this album is impeccably constructed. Give it a listen, and you'll find that it leaves an indelible imprint upon you – that moody, expressive quality is just something that I can't shake, and leaves me constantly feeling as though I want to listen to it again.
What did you think of Maya Jane Coles' latest album? Let us know in the comments!
---
Maya Jane Coles – Take Flight – track list:
Weak
Bo & Wing
Old Jam
Take Flight
Darkside feat. Chelou
Lucky Charm
Blackout
Unholy
A Chemical Affair feat. Wendy Rae Fowler
Misty Morning feat. Wendy Rae Fowler
Keep Me Warm feat. Gaps
Let You Go
Won't Let You Down
On My Way
Go On And Make It Through
Cherry Bomb
Chasing Sunshine
Golden Days
Werk
Passing Me By
Trails
Stay
Pulse
Starlight
---
Follow Maya Jane Coles on Social Media:
Website | Facebook | Twitter | Instagram | SoundCloud | YouTube