The Meadows 2017 Set Times, Festival Map, & More!
---
We are less than thirty days away from one of the most promising festivals of the year: The Meadows. On Friday, September 15, Queens will host some of the scene's most promising artists of 2017 as well as some serious OG heavy hitters.
In its second year, The Meadows has one of the most stacked lineups I have seen, including Gorillaz, Jay-Z, Red Hot Chilli Peppers, Bassnectar, NAS, BIG WILD, and Lido just to name a few. The festival was founded by Founders Entertainment, the same producers who put on The Governors Ball, so you can guarantee that this festival will be one of the most talked about festivals of the year.
Tickets are going fast, so make sure you get yours soon and we will see you out in The Big Apple! 
The Meadows 2017 Essential Info:
Dates: Friday, September 15 –  Sunday, September 27
Show times: 11:45am – 10:00pm
Venue Address: Citi Field- Queens, New York City
Ages: All Ages
Tickets: Available here
Acceptable Forms of Identification for Entry
Drivers Licence
Offical Military Identification
Passport
---
The Meadows 2017 Set Times:
Friday: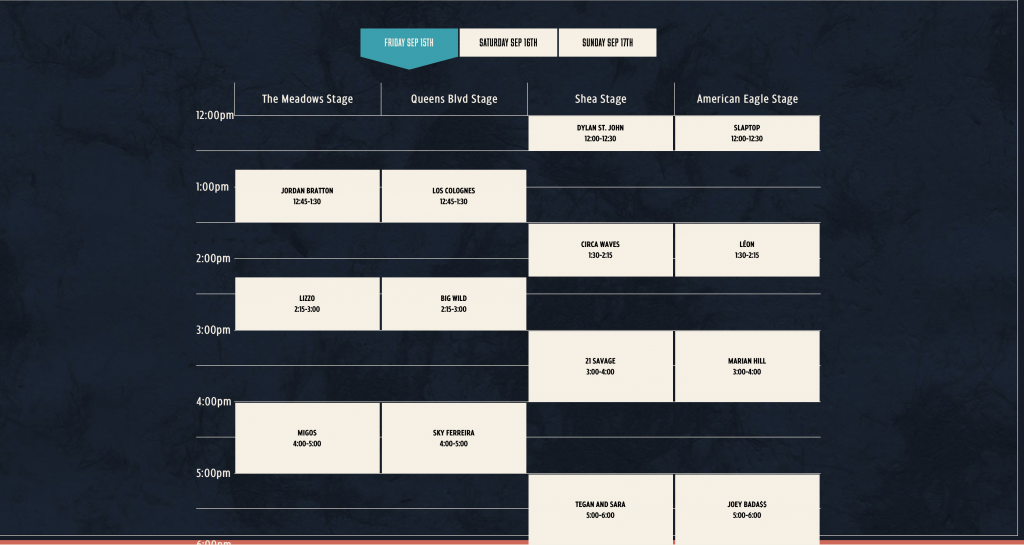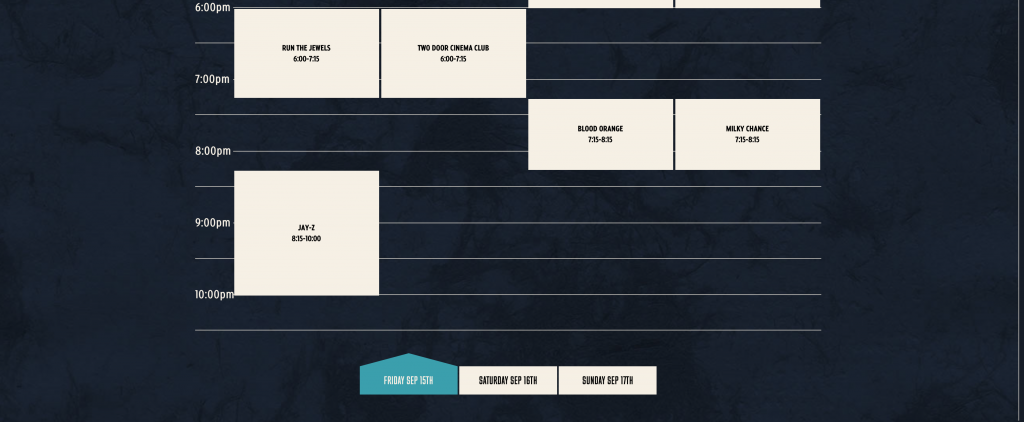 Saturday: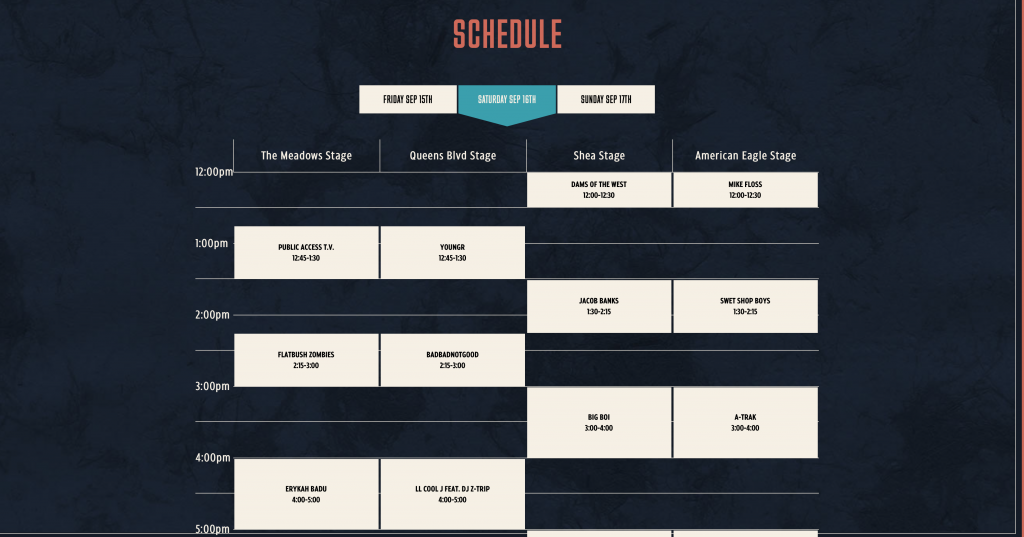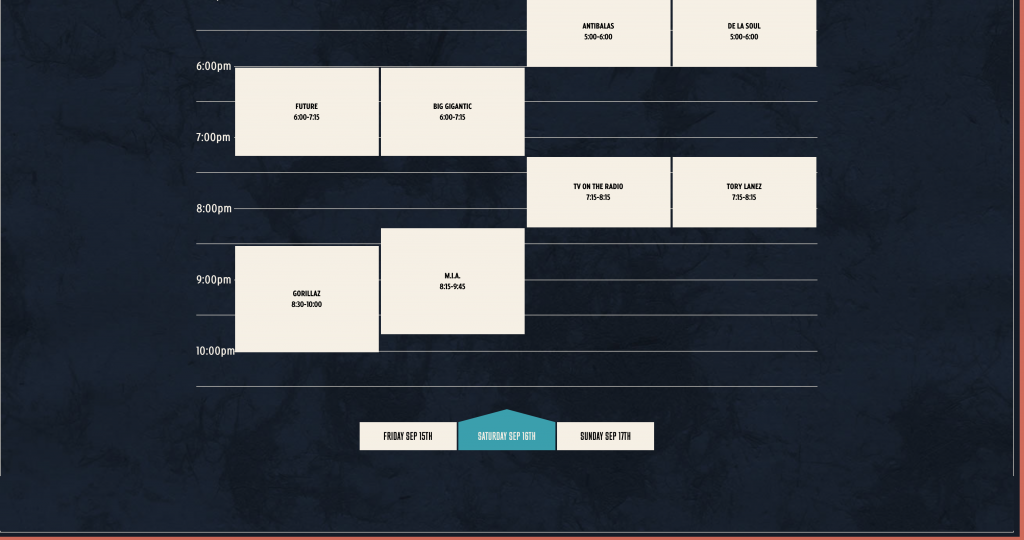 Sunday: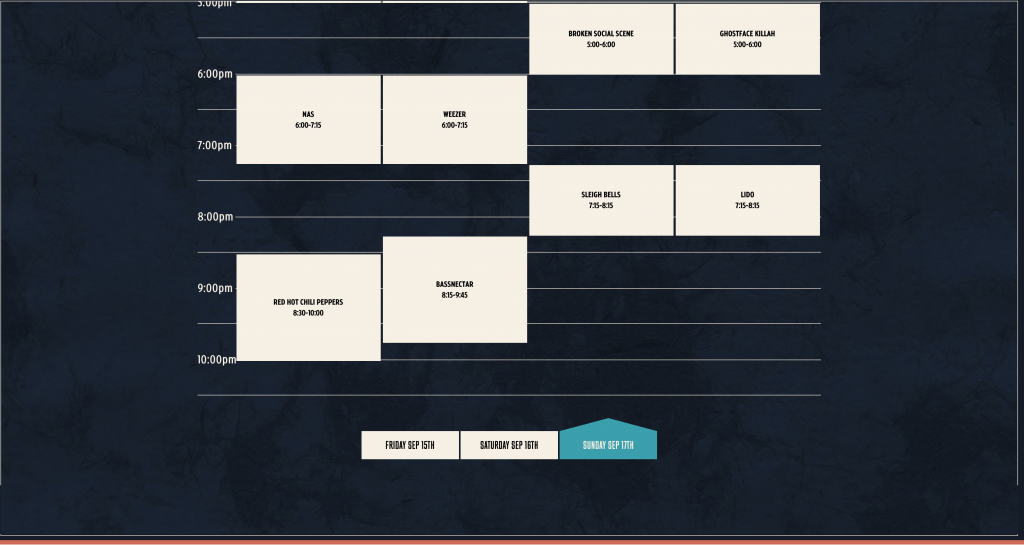 ---
The Meadows 2017 Festival and Parking Maps:
---
Reminder To Mind Your Belongings
Unfortunately, many people have reported pickpockets, bag slashings, and theft of wallets, smartphones, purses and other valuables during this festival season. While this small number of bad apples in the bunch doesn't define an entire crowd, there are opportunistic people who come to these events to take advantage of unsuspecting party goers and it's important to be mindful of your valuables while at The Meadows.
Pay attention to who's around you and what's going on around you. Keep your wallet and phone in your front pocket(s) if you can. Treat your phone the same way you would treat cash; don't set it down on a table or bar and look away. If a friend isn't standing behind you in a crowd, be careful of your backpack or purse, and don't put valuables in a pocket that could easily be unzipped by someone behind in a crowded spot without you realizing.
Festivals, in general, are a very densely populated place and are a well-known place where pick-pocketing of unsuspecting people occurs. It's easy to find yourself in a crowded environment in a line, at a stage in the festival, elevator, or even out on the street where someone could slip your wallet or phone our of your pocket or bag in a matter of seconds. Stay alert, be careful, and make sure to not carry more than what you need!
---
The Meadows 2017 Do's & Don'ts
Don't litter, drink water, be kind to one another, mind your valuables, be safe, eat a healthy breakfast, bring found items to Lost & Found, charge your phones, do your chores, pace yourselves, high five a stranger, dress to impress, drink water, shake hands with a stranger using your ∗left∗ hand, don't litter, take photos, don't litter, be smart!

The Meadows
WHAT NOT TO BRING
Weapons of ANY kind
Fireworks/explosives
Illegal Substances
Large or hard sided coolers
Picnic Baskets
Pets
Glass containers of any kind
Alcohol (alcohol will be sold at the Festival)
Outside Food – A personal sized food item is allowed with a doctor's note only.
Instruments
Chains/Chain Wallets
Nunchucks
Large backpacks
Selfie Sticks (too intrusive, too unsightly, too ridiculous)
Laser pointers
Professional still camera equipment (no detachable lenses, no tripods, big zooms, or commercial use rigs)
Audio/video recording equipment
Drones and hover cameras
Emotional baggage
No illegal vending is permitted. No unauthorized/unlicensed vendors allowed.
Hover boards
WHAT TO BRING
Sunscreen
Hats
Sunglasses
Earplugs
Hilarious gifs to send in response to your friends' texts
Non-professional film and digital cameras
(2) Factory sealed bottles of water (non-glass containers) or better yet, bring an empty refillable bottle.
Phone charger/charging case
An outfit that makes people impressed and/or mystified
Small backpacks or bags
Beach towels
Valid Driver's License for will-call and/or to drink alcohol
Comfortable shoes
An optimistic outlook on life and a cool ass demeanor
Weather appropriate weather/gear (rain jacket, umbrella, poncho, etc.
COSTUMES WELCOME!
---
Connect with The Meadows on Social Media:
Website | Facebook | Twitter | Instagram | Facebook Event Page