The hotly-anticipated Humanz is a change in direction for Gorillaz, with a more hip-hop, mainstream feel.
---
2017 has already been a year of great music with many artists releasing unprecedented tracks. Last month, Kendrick Lamar's DAMN set records with every track landing on the Billboard Top 100. Now, one of the most anticipated album releases is upon us: Gorillaz dropped their fifth studio album entitled Humanz. Damon Albarn and Jamie Hewlett created Gorillaz in 1998 and the band consists of the duo's four alter egos: 2-D, Murdoc Jones, Noodle, and Russel Hobbs. It's been seven long years since they last released an album, so fans were more than ready.
In early March, Gorillaz thought it would be fun to tease us by releasing four songs off the album and giving us a taste of what was to come. After listening, I was VERY excited about the full release and eagerly awaited the rest of the album. The songs definitely felt different than their last album, Plastic Beach, but still maintained Gorillaz sound we have come to appreciate. There were more hip-hop undertones than usual, but as a hip-hop lover, I didn't mind at all. 
Overall fan reception to the teaser was mixed – there were good responses to the four tracks, but some fans questioned whether it contained the only songs on the album worth a listen. When release day finally came, we got 20 songs plus six bonus tracks in the digital download. Overall, the album was not a classic Gorillaz album, and it has not outdone Plastic Beach or Demon Dayz, but it stands on it own two feet.
After listening, I asked myself if Humanz hit the mark. I've gone back and forth about it in my mind – was it a success, or did they sell out? It seems simple for us to say that artists should stick to their roots: build upon how you got started and never sell out to "The Man." I personally find it to be a conundrum because when an artist starts off playing in the back rooms of poorly lit bars, the goal is to leave that behind. You have to appeal to popular culture to gain wealth and notoriety. With that in mind, will this fifth album be lost in the crowded field of popular music, or will this be another grand achievement for Gorillaz?
Stream Gorillaz – Humanz on Spotify:
---
Humanz is a musical journey with many more featured vocalists than is typical of Gorillaz.
Gorillaz opens with a controversial track entitled "Ascension," which features rapper Vince Staples accompanied by an upbeat indie sound. Vince spits a verse about "people trying to dinosaur us." He may be referring to the fact that Gorillaz hasn't released an album in seven years, and people may have come to consider them a dinosaur in the music business. I find the usage of the disaster siren as an effect interesting; is it a warning of the magnitude of what's to come on the album? The track has all the usual components of a hip-hop track: controversial lyrics about equality and the "come up." It isn't my favorite track on the album, but it's a solid start with some cool foreshadowing.
Check out the video for "Ascension" (Feat. Vince Staples) on YouTube:
The party begins with the groovy, feel-good track "Strobelite." I loved this track right off the bat. As I listen to it, I imagine an old jazz club. There is quiet chatter going on amongst the attendees, then the lights dim, and a smooth, bouncy drum beat begins alongside a synthesizer piano and cello. Featured vocalist Peven Everett appears under a beam of light and the track takes off. The combination of dance and soul complimented one another very well, and Gorillaz reminded us why we have come to love their production.
"Saturnz Barz" is hands down my favorite track on Humanz. Maybe it's my hip-hop roots, the insane feature of Jamaican dancehall star Popcaan rapping in patois, or the downright grimy beat, but whatever it is, this track speaks to me. This is also the first time on the album we get a good dose of Damon Albarn, the lead singer of Gorillaz (or 2-D, in character). 2-D's catchy hook about being a degenerate is something everyone can relate to. We have all had those days where we end up in a bar doing some stuff we definitely don't need to be doing, acting like a debaser or heart breaker. This track makes you want to light one up. For me, half the fun of this song is in the video, which you can check out below.
Check out the video for "Saturnz Barz" on YouTube:
For "Momentz," hip-hop trio De La Soul team up with Gorillaz for a fast-talking, New York-style hip-hop dance fusion track. They tell a story about the old 80's hip-hop and jazz artists in New York, and if I am not mistaken, we also get our first sample from Noodle. I vibe hard with the little KKK pun at the end of the track as De La Soul mention the "Cool Clown Clan." Here, we start to see that there are a lot more vocal features than a typical Gorillaz album where David Albarn takes on the majority.
"Submission," featuring the vocals of Kelela and hip hop rapper Danny Brown, is just what it says: a sexy, sensual submission. Kelela serenades us with her seductive voice, which works very well with the witty lyrics of Danny Brown. The track has an EDM/reggae/dancehall vibe to it, which strays away from Gorillaz' usual psychedelic indie vibe. This is a trend overall for the vibe of Humanz, and some may like it, and some may not.
"Andromeda" returns us to that familiar dance psychedelic sound. Albarn takes the lead and enlists Virginia singer D.R.A.M. to help create an emotional but danceable track about the heart and its capacity for love. Lyrics like "When the case is out and tired and sodden, take it in your heart" and "back when it was cool, 'cause there's no substitute" resonate. Isn't that the truth, that no one can seem to replace that one person who was the peanut butter to your jelly? This track has been huge and has been remixed several times by artist like Claptone and ZHU. This is another great dance track that will surely have you bouncing and wiggling around your black lit room.
Check out the video for "Andromeda" (Feat D.R.A.M.) on YouTube:
"Busted and Blue" was the first track on the album that pulled at my heartstrings. There is always one track Gorillaz release that transports me back to a time period or rustles up memories of a person. 2-D takes us on a quiet, relaxing journey into our minds, remembering all those special people who helped us, influenced us, and sometimes inspired us to be where we are now. It is a heartfelt song, its ambient tone inspiring a nostalgic, almost dream-like state of mind. The song starts off with the sound of a satellite beep that fades into 2-D's vocals, and the metaphors between the journey of love and losing that person cause you to wander aimlessly like a satellite in space. "I am a satellite and I can't get back without you," strikes a chord, for we have all been busted and blue. The song ends as it began, with the satellite fading out.
"Let Me Out" continues with that heavier, 808-hip-hop-meets-electronic sound. This was my second favorite track, and I believe most would agree. Gorillaz enlisted titan Pusha T who pulled out some serious stops with this one. However, the all-star voice that carried this track was definitely Mavis Staples. Her soulful, southern blues voice is a guiding light throughout this whole track. I was amazed by the interplay of 2-D's psychedelic voice, Pusha T's bold raps and Mavis's blues melodies. They have the best chemistry of any of the collaborations on this album by far.
As went through the album, I was trying to figure out the pattern between these interludes. My hypothesis is that each interlude and then each part of this album is a representation of one of the four animated characters of Gorillaz. Lightbulb! There is certainly some kind of underlying pattern in the way this story is unfolding. If that is the case, I believe this is where Murdoc enters the scene. This is about to get very interesting – booze, cheap cigarettes, and even cheaper company. This is the point where I felt Gorillaz' David Albarn dominated the album.
"Sex Murder Party" takes listeners into a dark, synthesized cavern of sound where 2-D's voice is your only guide. I imagine a forest like the one from Alice and Wonderland where 2-D is like the White Rabbit trying to lead you, but then producer Jamie Principle and rapper Zebra Kats come in as the Cheshire Cat. Regardless what you think at this point reading this, go give it a listen…. while also possibly engaging in some decisions Murdoc might approve of.
"She's My Collar" continues the night inside the smoky lounge, while 2-D takes the lead for a more typical Gorillaz feel. The lyrics of this track have a certain sexy yet dismissive feel to them that remind you of that person you just can't have. Up-and-coming Columbian-American singer Kali Uchis was a very good choice to duet with 2-D on this track. Her voice has a delicate quality with an underlying strength and the seductive tones of a vixen.
"Hallelujah Money" demonstrates how Albarn artistically produces lyrics with themes that parallel everyday life. The track begins with a glitchy, wompy sound, and then the voice of Benjamin Clementine enters with the passion and power of a southern baptist church praying for glory. I love this track. It is the perfect way to wind down this sermon.
"We Got The Power" undoubtedly reminded Gorillaz' fanbase that they have the power to produce some amazing sounds and bring together a wide range of talents and style on one album. Jehnny Beth sings on this track, and she was another excellent feature for the final track on Humanz. This track has also received the remix treatment by the masked crusader himself, Claptone, further reminding fans that Gorillaz can command some serious talent to put their own spin on their albums.
Check out the video for "We Got The Power" (Feat. Jenny Beth) on YouTube:
---
The Deluxe tracks aren't explicitly part of the journey, but they represent some solid collaborations.
"The Apprentice" featuring Rag 'n' Bone Man, Zebra Katz, and RAY BLK, gives us more New York gangster lyrics mixed with 2-D's soulful, sensual chorus over funky, blues-dominated tones. The track makes great use of RAY BLK's seductive voice in the second chorus. She has a beautiful R&B sound to her that compliments Rag 'n' Bone Man's thuggish lyrics. Gorillaz returned to their British roots on his track.
"Halfway To The Halfway House" featuring Peven Everett gives us more electronic sound mixed with this incredibly weird gospel sermon feel. If the chorus of a southern baptist church were to go to a circus and preach while descending into a weird psychedelic hell, this would be the song everyone would sing on the ride down.
"Out of Body" is so chic in sound – I imagine French boutiques, tiny white poodles, and girls with British-style bangs. This would be the theme song of a girl getting ready with her girlfriends for Coachella. I get into it more towards the end when the poppy lyrics stop and 2-D takes over with some groovy disco tunes and lyrics.
If you can get American Top 40's artist Carly Simon on a track with Gorillaz you know good things are about to happen. "Ticker Tape" plays well – it reminds you of a come down from a psychedelic trip. The trio of Carly Simon, Kali Uchis, and 2-D on this track together tell a sweet, relaxing story. I listened to this song as the sun came up and it was a perfect compliment.
"Circle of Friendz" features singer and Broadway star Brandon Markell Holmes, giving the album its final send-off. I can't even call it a track so much as a lyrical closing of the final act. Either way is was a proper ending to a "proper" album, as the British say.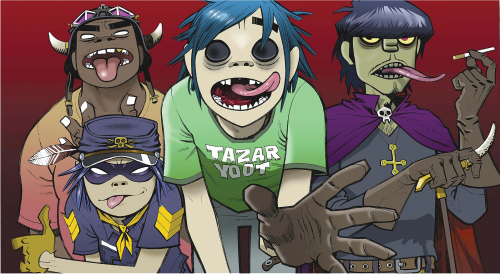 Case closed: Humanz was long awaited and well received. I will not argue that the direction has not changed for Gorillaz. This album tends more toward modern trends in hip-hop and electronica, but with that being said it is still a solid record. I enjoyed the way Gorillaz have pieced together all the features on Humanz. They did not just create an album, they created a story for our four beloved degenerates, and I am here for that. I am looking forward to catching their Humanz tour at III Points Festival in Miami – will you be there?
---
About Gorillaz:
Damon Albarn and Jamie Hewlett created Gorillaz in 1998. The band consists of the duo's four alter egos: 2-D, Murdoc Jones, Noodle, and Russel Hobbs. 2-D is the lead singer and my personal favorite of the animated characters – he is a sort of hipster degenerate with one hell of a psychedelic look in his eyes. Next, we have the drummer and rapper Russel Hobbs, most well-known for his track "Clint Eastwood" where he was possessed by a hip-hop ghost who resurrected an army of gorillas. Then, you have the ever adorable, anime-loving, nerdy Noodle. She loves electronic music and for a while wasn't known to many as a girl as she was very tomboyish, but later blossomed into the psychedelic, EDM-looking kitty we see on this album cover. Lastly, you have the John Lennon-esque, cigarette-smoking degenerate Murdoc Jones. He gets all the ladies but always seems to be in a cloud of smoke and has some wicked teeth.
---
Follow Gorillaz on Social Media:
Website | Facebook | Twitter | SoundCloud | YouTube