Enjoy amazing live graffiti art and underground music at 6th Pointz stage of Electric Zoo coming this Labor Day Weekend.
---
As summer comes to a close, Electric Zoo has ramped up their announcements for this year's edition this month with sneak previews of their stages. Today came the announcement of the artists performing at the newly renamed, 6 Pointz Stage.
Unlike other festivals, Electric Zoo devotes an entire stage to new artists to showcase their talents and musical style. Experience the New York art scene with live graffiti art taking place at the stage. You won't be listening to a handful of New York up-and-coming musicians, you'll be listening to over 30 of them. Electric Zoo added at the end of their 6 Pointz lineup that there will be special guests and more yet to be announced. Hopefully, you are ready for some surprises if you are attending EZoo this year.
Need some recommendations? Check out the special house set by Wingtip b2b Spencer Brown or Alec English + Hiyawatha + Dali, who were Webster Hall regulars. Other buzzworthy talents you can listen to are Rally Chopper or Black Caviar. With so many artists, it'll hard to pick out who to see but don't miss out on the handpicked talent selected for this stage. Who knows, you might even find more artists or new music to enjoy!
Tickets for Electric Zoo: the 6th Boro are still available at Electric Zoo Festival Tickets! Get your tickets today and we'll see you there!
Listen to the 6 Pointz Guest List on Spotify:
https://open.spotify.com/user/spotify/playlist/37i9dQZF1DWUXB9WG4IN1E
---
The 6th Pointz 2017 Lineup: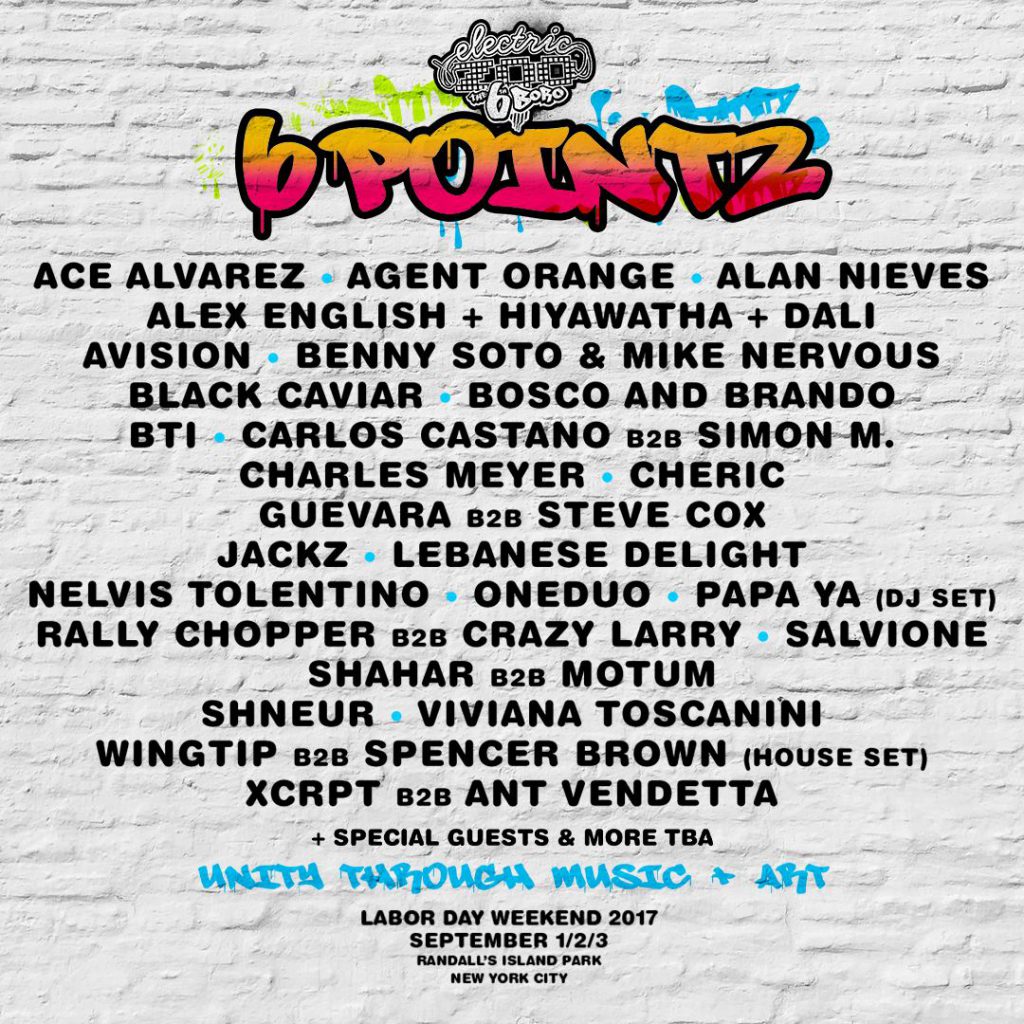 ---
The 6 POINTZ Lineup by Artist:
ACE ALVAREZ
AGENT ORANGE
ALAN NIEVES
ALEX ENGLISH + HIYAWATHA +DALI
AVISION
BENNY SOTO & MIKE NERVOUS
BLACK CAVIAR
BOSCO AND BRANDO
BTI
CARLOS CASTANO b2b SIMON M.
CHARLES MEYER
CHERIC
GUEVARA b2b STEVE COX
JACKZ
LEBANESE DELIGHT
NELVIS TOLENTINO
ONEDUO
PAPA YA (DJ Set)
RALLY CHOPPER b2b CRAZY LARRY
SALVIONE
SHAHAR b2b MOTUM
SHNEUR
VIVIANA TOSCANINI
WINGTIP b2b SPENCER BROWN (House Set)
XCRPT b2b ANT VENDETTA
+Special  Guests & MORE TBA
---
Connect with Electric Zoo on Social Media:
Website | Facebook | Twitter | Instagram | SoundCloud