Splash House 2017 August Set Times, Info, & More!
---
Are you ready for an epic weekend of music and partying in Palm Springs? The EDM Identity Team is! We'll be heading out to the desert soon to kick off the end of summer at Splash House with sets from artists like Big Gigantic, Kaytranada, Le Youth, and more.
Need a soundtrack for your trip out to Palm Springs? Check out our Splash House 2017 August Playlist now!
Below is all the information you'll need to have a fantastic time with us, so scroll down to get the essential information regarding set times, maps of the venues, and what NOT to bring with you to the pool this weekend!
---
Splash House 2017 August – Essential Info:
Dates: August 11 – 13, 2017
Show times: After Hours begin at 9pm on Friday, Pools open each day at 12pm
Ages: 21+
Venue Addresses:
The Renaissance: 888 E Tahquitz Canyon Way, Palm Springs, CA 92262
The Riviera: 1600 N Indian Canyon Dr, Palm Springs, CA 92262
The Saguaro: 1800 E Palm Canyon Dr, Palm Springs, CA 92264
After Hours Air Museum: 745 N. Gene Autry Trail, Palm Springs, CA 92262
Valid ID Required:
This is a 21+ event. Your Driver's License or Passport will be required to pick up your wristband. You may not pick up additional wristbands with your order unless that guest is present. Please make sure to keep your ID on you at all times as any venue may ask for proof of age.
Please note we are unable to accept ANY other form of ID, so please ensure you have one of these prior to the festival.
Free parking is available near the Renaissance Hotel. Free water will be provided at all shuttle stops to keep you hydrated. Water will also be sold inside the venues.
Locker rentals will be available at our three venues so you can store your belongings and have access to it all weekend. Make sure to pick up your belongings by Sunday before the end of the festival to retrieve your items.
---
Set Times:
---
Activity Times: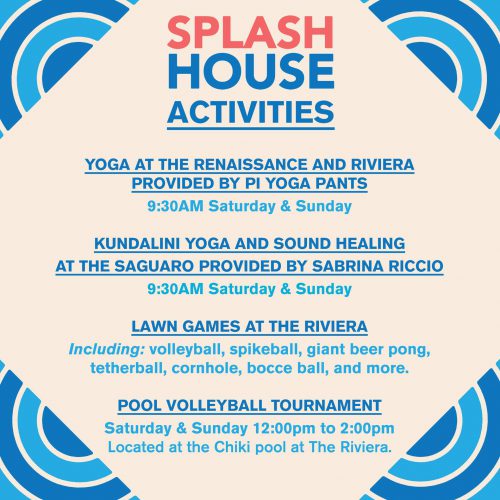 ---
Venue Maps:
---
Reminder To Mind Your Belongings:
Unfortunately, many people have reported pickpockets, bag slashings, and theft of wallets, smartphones, purses and other valuables during this festival season. While this small number of bad apples in the bunch doesn't define an entire crowd, there are opportunistic people who come to these events to take advantage of unsuspecting party goers and it's important to be mindful of your valuables while at Splash House.
Pay attention to who's around you and what's going on around you. Keep your wallet and phone in your front pocket(s) if you can. Treat your phone the same way you would treat cash; don't set it down on a table or bar and look away. If a friend isn't standing behind you in a crowd, be careful of your backpack or purse, and don't put valuables in a pocket that could easily be unzipped by someone behind in a crowded spot without you realizing.
Festivals, in general, are a very densely populated place and are a well-known place where pick-pocketing of unsuspecting people occurs. It's easy to find yourself in a crowded environment in a line, at a stage in the festival, elevator, or even out on the street where someone could slip your wallet or phone our of your pocket or bag in a matter of seconds. Stay alert, be careful, and make sure to not carry more than what you need!
---
Do's & Don'ts:
Bring:
Sunscreen
Sunglasses
Pool towels
Cash/Credit Card
Valid 21+ Photo ID every day and night
Floaties
Costumes
Balcony Decorations
Do NOT Bring:
Narcotics
Alcohol
Weapons
Glass
Animals
Merchandise for Sale
Promotional banners
Water Balloons
Explosives
Pool phobia
Outside alcohol is not allowed inside the venues.
---
Connect with Splash House on Social Media:
Website | Facebook | Twitter | Instagram | Spotify
Featured Photo Credit: Jose Negrete (@_josenegrete)