Earlier this week, we discovered an amazing, creative, and detailed perler inspired by the Lost Lands Music Festival. After being awestruck, we immediately wanted to know who was behind such a massive art piece.
---
Since posting his latest creation in the Facebook group "Excision's Headbangers", Richard Hoffmann earned himself a free ticket to see any Excision show in the future. Better known as the PerlerKing, Richard passionately creates massive perler designs inspired by rave culture from his home in Florida.
---
You're known as the PerlerKing. How did you get the nickname?
I was actually given my name by my friends. It was after I created my epic perler that was a tribute to Armin van Buuren and used his face and his logo. It was 11,303 beads, took me over a week, and was my very first detailed perler because I tried to get the perler to be as photo-realistic as possible. I posted it on Facebook and Instagram and after a while, one of my friends had commented on it that I was no longer a Kandiman (which was my first rave name), but that I was now a perler king. So I just took the two words and combined them to the now famous PerlerKing.
Excision has commented on the Lost Lands Music Festival perler and he loved it. Do you have any plans to bring it to the festival?
I don't have any plans as of right now to bring it up to Ohio for Lost Lands. The dates of the festival conflict with my Dad's birthday, and I always put family time before a festival. And plus, I'm not able to afford a plane ticket (or the car trip) up to Ohio for the festival.
For the Lost Lands perler, what are some facts those unfamiliar with the creation process would find interesting?
The creation process for this perler (well any of my epic perlers) was labor intensive. I always make each pattern by hand using a program called BeadTool 4. It's an awesome program that I use for ALL of my pattern making (the folder of which has 595 custom patterns) and is really easy to use. The making of the pattern took me around 7 or 8 hours because of not only the size of the pattern but also because of the intricacy of the tree. Even though I made the pattern extremely big, it was still difficult to get the tiny nuances in the design. The dots by the limbs, the green lines in the tree, and the close proximity of some of the limbs all gave me trouble in the creation. I took some artistic liberty and changed the widths and locations of some of the limbs.
In addition to Excision, who else do you listen to and have you created any perlers showing your passion for those artists?
Besides listening to Excision, I also listen to trance, hardstyle, deep house, and melbourne bounce. But in regards to my epic perlers, I have created one epic perler for Armin van Buuren, one epic perler for EDC (which I used as a totem for EDC Orlando 2014, was photographed and used on the EDC Facebook page, and retweeted by Pasquale himself), and 4 epic perlers for hardstyle. My first two epic perlers in regards to hardstyle were actually created within a week apart of each other. After that, I have created an epic perler using the new logo for the Defqon.1 festival in the Netherlands.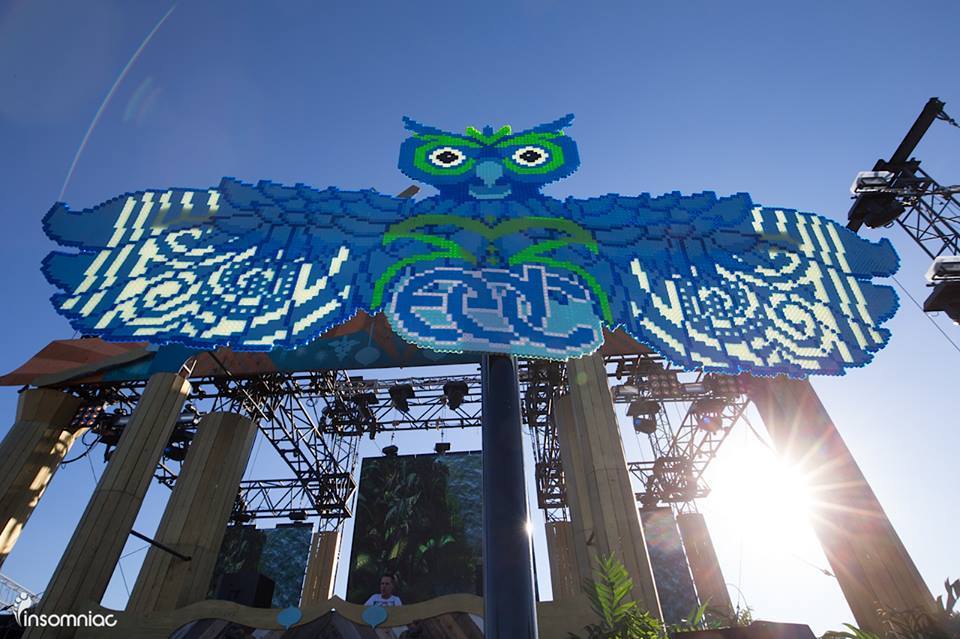 How did you get involved with kandi and rave culture?
I've been making kandi since 2011. I went to my first event in 2011 at the UCF arena. The event was called Dayglow, which is now known as Life in Color. I made my first kandi singles to trade with people there and then started moving up the kandi ladder, if you will. After that, I started making masks and cuffs and also making each piece that more complicated and detailed. It was the very next year that a friend of mine showed me how to use perler beads and the rest is history.
Do you think being a kandi kid has had a positive influence on your social life inside and outside of raves?
You know, I always think about how different my life would be if I never moved to Orlando and went to Dayglow, or if I never started listening to EDM, or if I never got in to making kandi and perler. It's difficult to even think about that subject, mainly because of the wonderful people that I have met and the joyous experiences that have happened to me. If I never got in to "raving", I would not have the amazing friends I have now, some of which I call my family because of how close we are. I wouldn't be the happy go-lucky and usually always positive guy that I am now, I wouldn't have seen the country when I took a bus trip from Florida to Nevada for EDC Las Vegas in 2014 (Which, by the way, do not take a bus across the country. Trust me.) or I wouldn't have made the epic perlers that now sit on my wall and sit in everyone's hearts.
And who knows? Maybe one of my perlers sparked the creativity in some beginner raver and is the driving force in them to make bigger pieces too.

What tips would you give to someone new to the scene who wants to get involved in kandi culture, perler creation, and raves?
Take your time. Don't rush in to making perlers or kandi. If something doesn't go right or if something messes up, just take a step back, breathe, and calm down. Don't get frustrated because something isn't working out. Making really difficult kandi pieces, whether it be using pony beads or perler beads, takes time and patience.
How has your formal graphic design training at college influenced your art creation?
It's made me look at almost every picture and envision it being a perler. I'm also able to take a flat pattern and add shading to it because of the art classes I took which taught me about light sources and how to create depth using shadows. But after that, all of my learning from my art classes can't compare to what my father taught me about art. He's the one who taught me how to draw and really kickstarted my artistic hobby.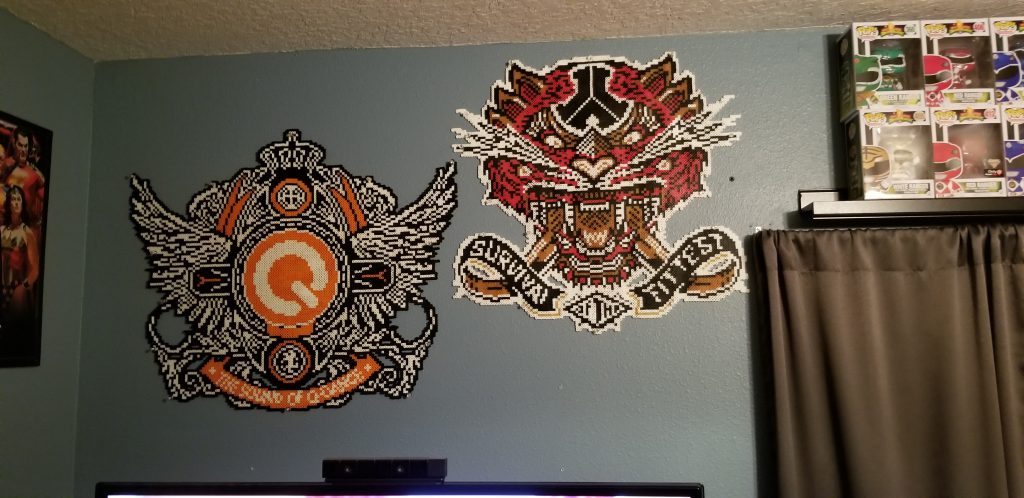 It looks like you're a fellow Funko Pop! collector. What is your favorite Funko Pop! that you own and what is a grail you want to own?
Ah yes. My Funko Pop collection. The bane of my wallet. The bane of my bank account. I have a few favorite pops: my first pop was Harry Potter 01, which I got as a birthday present from my parents; my first Batman pop was Heroes 152, which is Batman from The Animated Series and was basically my childhood; and Heroes 146, which was a New York Comic Con exclusive and is based off of The Joker from the infamous story, The Killing Joke.
There's a few grails that I am in search of right now: Toy Tokyo's Blue Chrome Batman from this year's San Diego Comic Con; Zur En Arrh Batman from Target in 2016; and there's a Pop Batman Speaker that I've been wanting recently but have not found yet.
---
Follow Richard Hoffmann on Social Media:
Facebook | Twitter | Instagram | Snapchat
Follow Lost Lands Music Festival on Social Media: