Life In Color's Paul Reed reflects on their 10 Year Anniversary!
---
We sat down to chat with Paul Reed, Marketing Manager for Life In Color, about the touring paint party's 10th Anniversary, how much paint they use, and their festival venue change in Miami this year. Paul is in charge of both social and digital marketing for Life In Color; he manages a total marketing budget of over $250,000 for the domestic US tour and festival in Miami. Originally starting as Director of Promotions in 2013, he has helped grow the Life in Color social media accounts immensely with their Facebook Likes totaling now over 1.2 million. The EDM Identity Team attended both the Life In Color Miami Festival and Lincoln stop for the "X Tour" this year and had an absolute blast. Read on for the full interview and find out more about this global brand!
You can catch the tour on its next stop in Seattle on Saturday, May 20 featuring RL Grime, 3LAU, and What So Not. Get your tickets here!
Watch "This is Life In Color" on YouTube:
---
For many, Life in Color is their first introduction to the EDM scene. Why do you think your events are attractive to newcomers?
I think LIC appeals to people who have never been to an EDM show because it offers so much more than just music. LIC is a party even if you're not an EDM fan, the paint, the lights, the production is all next level.
Over the past years, what were some of the major milestones that played a key role transforming into the world's largest paint party?
There are so many moments that have gotten us to where we are today. I think a few of them that really stick out over the years was selling out our first arena in Orlando, FL all those years ago. That set the stage for our first USA tour, which helped grow the brand to a national level. After a few successful tours we took on our first festival in 2013 here in Miami, that festival really solidified our place as a major EDM brand drawing over 20k fans. This past year we did our first international festival in Istanbul, Turkey. It's been amazing to watch the brand grow over the past 10 years from a small club show to a global brand.
Shows like Life In Color and Armin Only have integrated theatrics, like incorporating live acrobatic performers and spectacular costumes in their tours, offering a Cirque du Soleil-like experience. Do you think expanding EDM shows in the artistic performance direction is important?
I think fans are moving in a direction where they expect more from the shows they attend. This is one of the reasons that the live performance angle like Porter or Illenium has picked up so much momentum. Fans want to see something visually pleasing and interesting which that provides.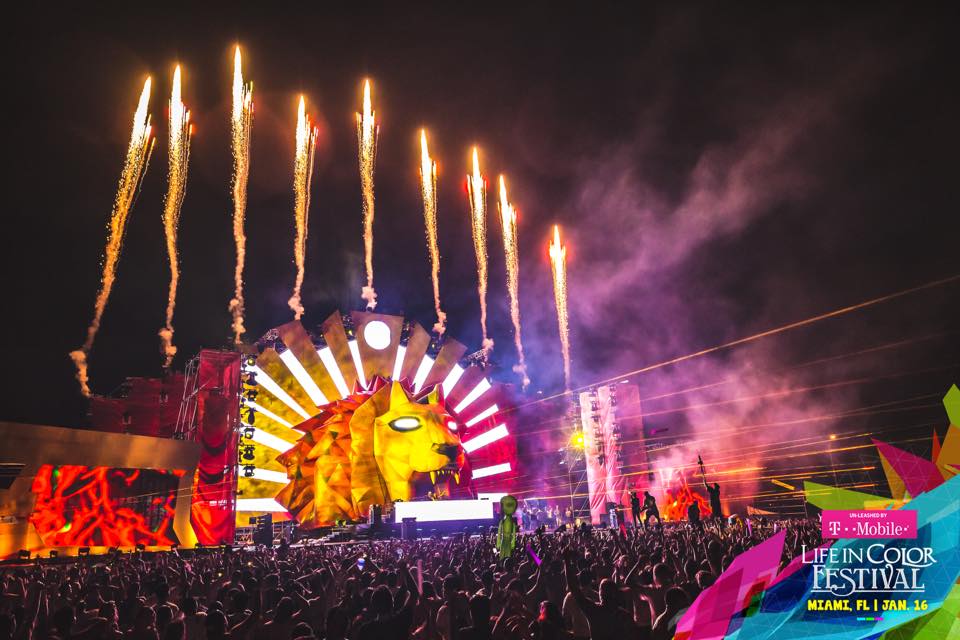 We've praised the 2016 Kingdom Tour and 2017 X Tour themes, what goes into deciding a theme to use for a world tour?
The tour is decided upon by our marketing team. We pull influences from all over when considering what direction we want to go in. For this year it was pretty easy since we are celebrating 10 years and we had been toying with the Tron style theming for a while now. It works perfect and the fans have loved it. We are working on the 2018 tour right now so stay tuned 😉
This year's Life In Color Festival changed venues from SunLife Stadium to Mana Wynwood & RC Cola Plant. What sparked the change and was the new venue a welcomed change?
The stadium is nice and we had a few successful years there but it never really felt like home to us. Wynwood is the perfect backdrop for a paint party since it is Miami's art district. Our team loves the flavor of the neighborhood and its artist influence. We are looking forward to many more years at our current location in Wynwood.
The Life In Color tour expanded internationally a few years ago. What countries do you want to expand to that the tour hasn't reached yet?
For us right now we are still growing all over internationally. I think the next big area is Asia though. We have done a few shows over there but super excited to take LIC all over Asia soon.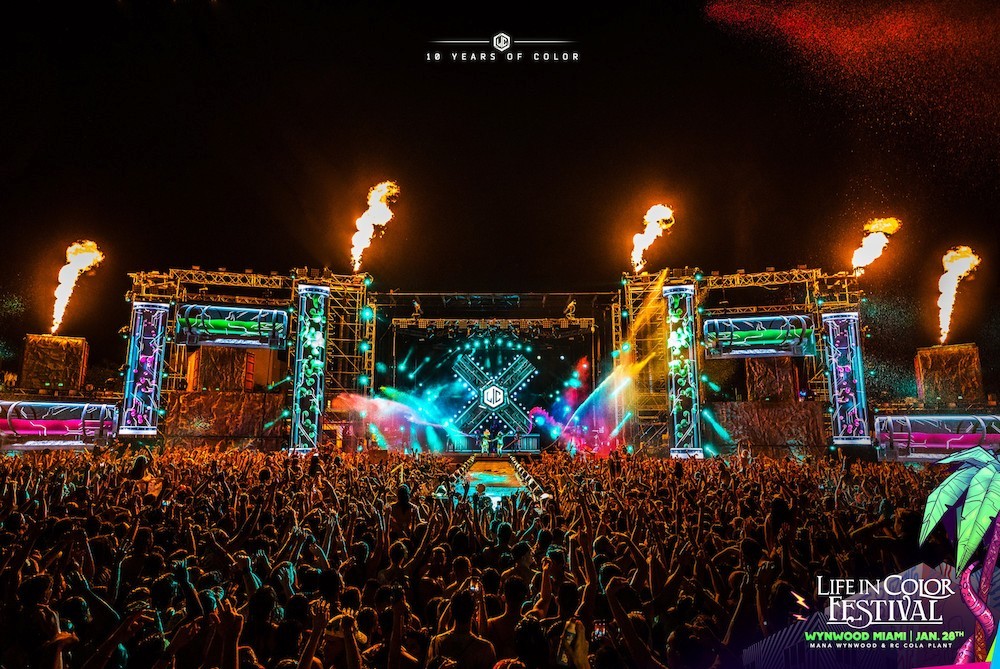 Outside of the US, what tour spots have been your favorite? In the US, what colleges go the hardest?
Wow, that's a tough one, so many dope shows and cities outside of the USA. I think the Paraguay show is my favorite, the fans their go nuts for LIC and they pull out all the stops with our sponsor Brahma. Who goes the hardest in the USA…. Miami obviously, outside of that I think Philly is my #2 stop.
With the rise and fall of certain genres of music, how have artist bookings changed over the past 10 years?
It's been crazy to watch artist come and go over the years. From tour to tour and even city to city, we see so much variation in what is hot. We work really hard to book acts that are hot and our fans will enjoy seeing.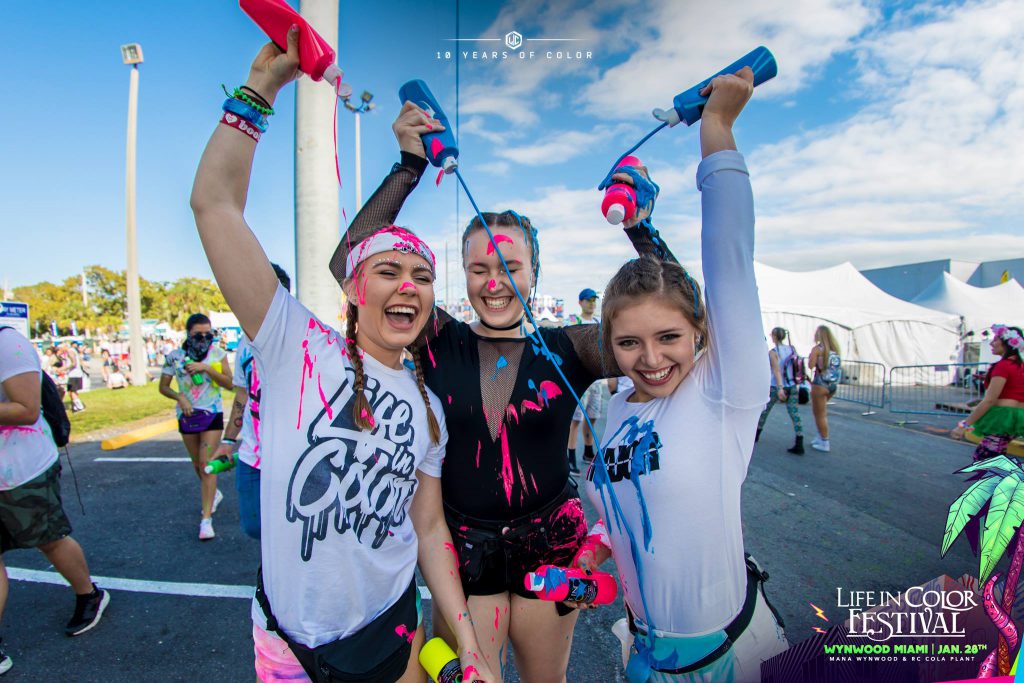 On average, how much paint is used per show? Have you ever calculated how much paint the show has used over the past ten years?
For an average show, we use around 1000 gallons of paint, varies tho by show size. We tried to calculate it one time for all 10 years but we were all over with the numbers since we were trying to figure the exact amount from orders. Ill tell you this much… IT WAS A LOT OF PAINT!
If you could bring one message to the world with Life In Color, what would it be?
We want to bring people together through music to create lifelong memories. Music transcends race, gender, social class, whatever it is that separates us, set all that aside and enjoy the music, everyone is equal out there on the dance floor enjoying themselves in a judgment-free zone of self-expression.
---
Connect with Life In Color on Social Media: