Dirtybird's Sacha Robotti is set to embark on his greatest trip yet with the announcement of his SlothAcid North American tour!
---
Sacha Robotti is one of the fastest-rising stars on the Dirtybird label. With the recent release of his Dirtybird debut Melato Nina EP, he showed off the range of his musical talents, from the upbeat "Melato Nina" to the dark, gritty "Low Key Goddess." Both tracks are poised to be staples during his SlothAcid tour, announced today.
Robotti's tour will commence with several shows in Kelowna, Edmonton, and Boston in support of tech house DJ/producer Chris Lake. After that, he will embark on a host of festival dates, including Southern California's Nocturnal Wonderland and the label's own Dirtybird Campout.
The bulk of his tour will then meander through some of the hottest nightclubs across the country, including Chicago's Spybar, Denver's Vinyl, and Seattle's Q Nightclub. Pals J Worra, Kevin Knapp, Pezzner, Fancy Fux, and Rybo will join him for the final leg, all but guaranteeing a party of epic proportions.
Don't see your city on the schedule? Have no fear – there are still more dates to be announced, so stay tuned!
Sacha Robotti is a self-proclaimed sloth aficionado, but perhaps it's best to let him explain why he chose the name of the tour himself:
"Since I've used a sloth logo for my parties in LA this past year, the sloth has become a spirit animal that has been increasingly associated with my artist persona.  Sloths are an endangered species and are friendly, chill creatures who like to sleep a lot and seem to live happily in the moment—qualities I can relate to, especially today in our performance-driven society. The legend goes that magic sloth candy blew minds during my set at Desert Hearts Festival 2017, after which I started using the term 'SlothAcid' to describe the style of electronic music that I like to play out at festivals and clubs: a mix of groovy, emotional, weird, psychedelic music with tough beats that hopefully will take you on a journey through spacetime."
Don't miss out! Check the SlothAcid tour website for further tour information and tickets!
Stream Sacha Robotti's Melato Nina EP on SoundCloud:
---
Sacha Robotti SlothAcid Tour Flyer: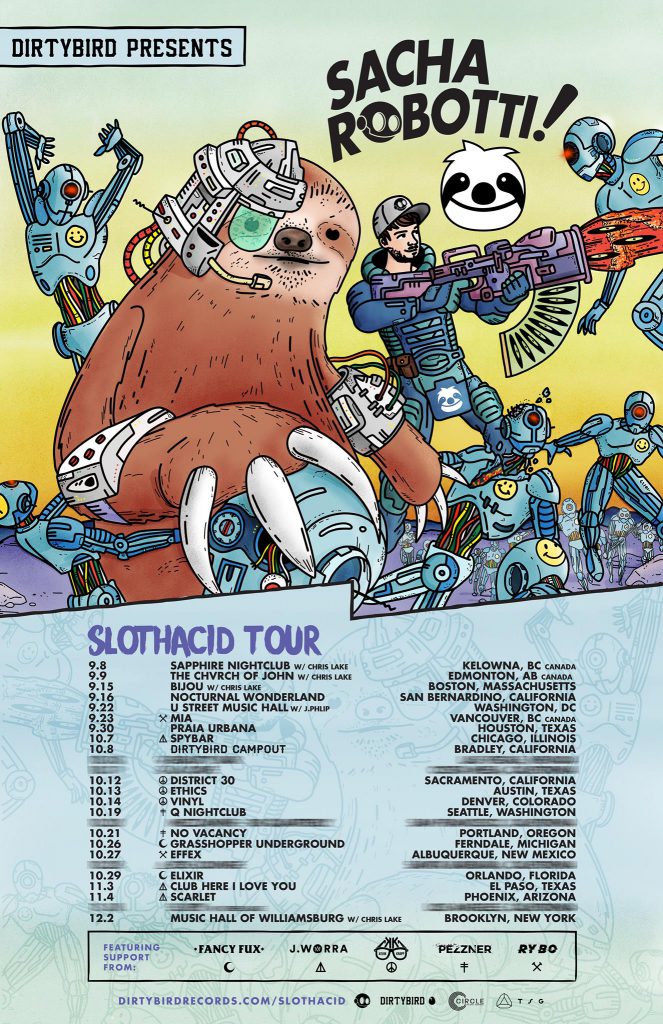 ---
Sacha Robotti SlothAcid Tour Dates: 
September 8th – Kelowna, BC, Canada @ Sapphire w/ Chris Lake

September 9th – Edmonton, BC, Canada @ Church of John w/ Chris Lake

September 15th – Boston, MA @ Bijou w/ Chris Lake

September 16th – San Bernadino, CA @ Nocturnal Wonderland Festival

September 30th – Houston, TX @ Praia Urbana

October 7th – Chicago, IL @ Spybar w/ J Worra

October 8th – Bradley, CA @ Dirtybird Campout

October 12th – Sacramento, CA @ District 30 w/ Kevin Knapp

October 13th – Austin, TX @ Ethics w/ Kevin Knapp

October 14th – Denver, CO @ Vinyl w/ Kevin Knapp

October 19th – Seattle, WA @ Q Nightclub w/ Pezzner

October 21st – Portland, OR @ No Vacancy w/ Pezzner

October 26th – Detroit, MI @ Grasshopper Underground w/ Fancy Fux

October 27th – Albuquerque, NM @ Effex w/ Rybo

October 29th – Orlando, FL @ Elixir w/ Fancy Fux

November 3rd – El Paso, TX @ Club Here I Love You w/ J Worra

November 4th – Phoenix, AZ @ Scarlet w/ J Worra
---
Connect with Sacha Robotti on Social Media:
Facebook | Twitter | Instagram | SoundCloud
Connect with Dirtybird on Social Media:
Website | Facebook | Twitter | Instagram | SoundCloud