Dirtybird Campout is back and better than ever in 2017, with a lineup featuring Claude VonStroke, Eats Everything, Shiba San, and more!
---
In just two short years, Dirtybird Campout has quickly become one of the most hotly-anticipated festivals of the season. Put on by Dirtybird Records in concert with the DoLaB, it is one part music festival, one part summer camp, and promises a festival experience unlike any other. Featuring camp games, nature hikes, and some incredible performances by Dirtybird artists and friends, the Campout has more than earned its bona fides: it is now a can't-miss event for anybody who loves house music, camping, and fun.
2017's edition of Dirtybird Campout will take place at a brand new venue in its new home in Bradley, California, and with today's phase one lineup release, it promises to be the best edition of the festival to date. This year's lineup features label head Claude VonStroke who will be joined by the likes of Cut Snake, Sacha Robotti, Bleep Bloop, Justin Martin, Shiba San, Eats Everything, and more. Of course, there will be some epic b2b sets too, with sets from the likes of Mikey Lion & Porkchop, Ardalan & Worthy, and Kill Frenzy & Will Clarke will really get the festival going. One of the unique additions this year would be the inclusion of Mija, who is hosting a takeover with Netsky and Ryan Forever.
Don't forget that the party with these artists doesn't stop when their sets end, as many of them will be hanging out, dancing the night away, or even participating in the events during the day! From archery with J.Phlip, to volleyball with Ardalan, sack racing with Christian Martin, arts and crafts with Worthy, dodgeball with Kill Frenzy, Justin Martin's Wheel of Pizza Party or catching VonStroke cracking up at the late night comedy stage, there is always a fun activity going on. Make sure you join a color team to represent when you arrive so you can compete for the Iron Bird Championship!
What are you waiting for? Grab your tickets and join us for what is sure to be one of the best weekends of 2017!
The only thing that could make this lineup even better is one very lucky Dirtybird super-fan DJ. By submitting a mix to the DIRTYBIRD CAMPOUT DJ Competition, you could win a chance to open The Birdhouse Stage, meet Claude during the festival and receive two Backstage Party Passes, plus hear your mix air on an episode of VonStroke's weekly BIRDHOUSE radio show! More details about the competition can be found here!
Stream the playlist below, and scroll down for the full lineup for this year's edition of Dirtybird Campout!
---
Dirtybird Campout 2017 Official Playlist:
---
Dirtybird Campout 2017 Lineup: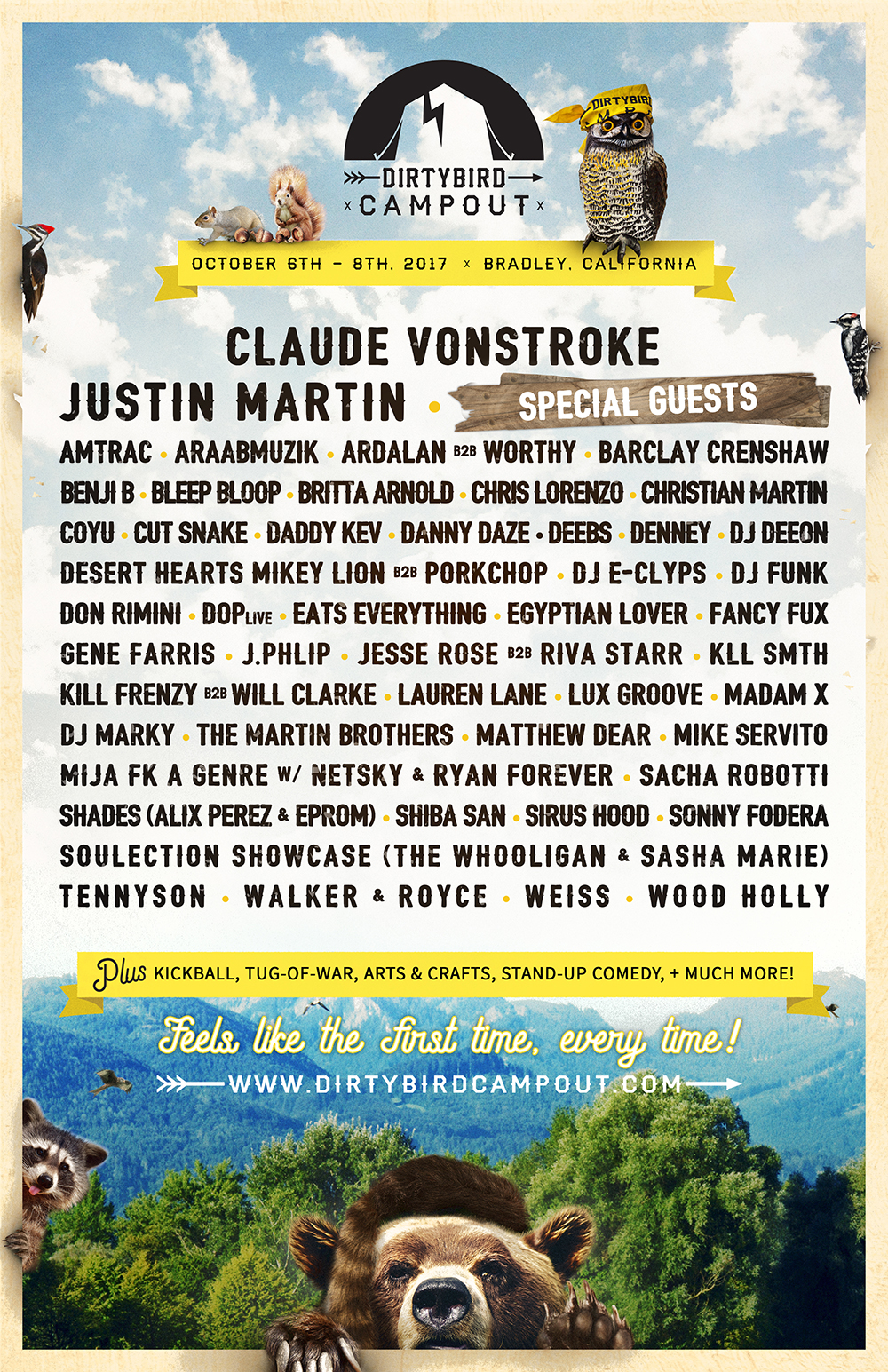 ---
Dirtybird Campout 2017 – Lineup By Artist:
Amtrac
araabMUZIK
Ardalan B2B Worthy
Barclay Crenshaw
Benji B
Bleep Bloop
Britta Arnold
Chris Lorenzo
Christian Martin
Claude VonStroke
Coyu
Cut Snake
Danny Daze
Daddy Kev
Deebs
Denney
Desert Hearts Mikey Lion B2B Porkchop
DJ Deeon
DJ E-Clyps
DJ Funk
DJ Marky
Don Rimini
dOP (Live)
Eats Everything
Egyptian Lover
Fancy Fux
Gene Farris
J. Phlip
Jesse Rose B2B Riva Starr
Justin Martin
Kill Frenzy B2B Will Clarke
kll smth
Lauren Lane
Lux Groove
Madam X
The Martin Brothers
Matthew Dear
Mike Servito
Mija's FK A GENRE Takeover (with Netsky & Ryan Forever)
Sacha Robotti
Shades (Alix Perez + EPROM)Shiba San
Sirus Hood
Sonny FoderaSoulection Showcase (The Whooligan & Sasha Marie)
Tennyson
Walker & Royce
Weiss
Wood Holly
---
Dirtybird Campout 2017 Teaser Trailer:
---
About Dirtybird:
Dirtybird has been dropping basslines and creating smiles on the dance-floor since January of 2005. The iconic bird logo was derived from a drawing Barclay Crenshaw (aka Claude VonStroke) used to draw when he was a kid to make his little brother laugh. Since creating it, VonStroke has A&R'd some of the most influential house music producers in the world. A short list includes Justin Martin, Catz 'n Dogz, Julio Bashmore, Riva Starr, Breach, Shiba San, Eats Everything, J Phlip, Style of Eye, Kill Frenzy, and many more – most of whom had their very first records and even created their artist names for the label.
Today, Dirtybird has offices in San Francisco and Los Angeles and has expanded into events and tour production. As it grows, the brand continues to expand beyond music into merchandising, licensing and artist management. In 2013, dirtybird won "underground label of the year" at the International Dance Music Awards.
---
Follow Dirtybird Campout on Social Media:
Facebook | Twitter | Instagram | Website
Featured Photo Credit: Get Tiny Photography