Tonight's episode of Night Owl Radio is set to be an epic one as Pasquale Rotella takes you back through memorable tracks and interviews from past editions.
---
It seems like just yesterday that Night Owl Radio debuted on Sirius XM with Pasquale Rotella at the helm bringing you quality beats, some insight about the scene, and the future of Insomniac Events. Over the past two years, there have been loads of quality guest mixes, chats with artists, soundbites from headliners at festivals, and megamixes to get listeners hyped, and now the show is celebrating Episode 100.
This milestone episode will hit on all the nostalgic heartstrings you have, as Pasquale has selected 30 tracks that have been played out the most over the run of the show. Whether they are tunes from Dusky or Sub Focus, deadmau5 or any other artist featured, we're sure that this show is going to be an exploration of a variety of genres played throughout.
Additionally, there will be his chats with legendary artists like Kaskade, Above & Beyond, Eric Prydz, and more artists who have been featured in their "Up All Night" interview series. This series goes in-depth with artists as they discuss their past performances and new projects in the works. It will be a great opportunity to see if they met their goals, and look back at the experiences they've created.
Tune in tonight for Night Owl Radio Episode 100 at 6PM PT on Sirius XM Electric Area, Channel 52. The full show will be available online as a free download via Night Owl Radio on iTunes, and streaming via Insomniac's SoundCloud at 8 PM PT.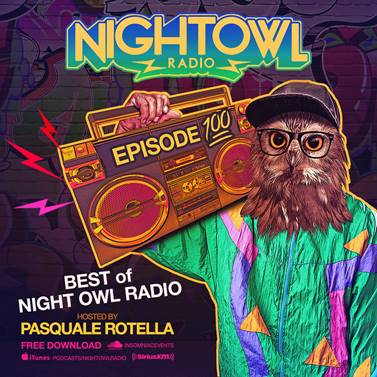 Stream the Night Owl Radio Playlist on SoundCloud:
---
About Night Owl Radio:
Direct from the Insomniac HQ in Los Angeles, Night Owl Radio is a weekly show presented by the Night Owl aka Pasquale Rotella. With special guest mixes, exclusive info on @insomniacevents, competitions and lots of interaction with you, the Headliners! Get involved on Twitter @PasqualeRotella and use the hashtag #NightOwlRadio.
---
Connect with Night Owl Radio:
Website | Facebook | Twitter | SoundCloud | iTunes