And those who were seen dancing were thought to be insane by those who could not hear the music…
---
I have been a fan of Duke Dumont for a few years now, the story of coming to enjoy his music is one near to my heart. He was shown to me by one of my closest friends who has a love for trance and nu-disco that is not easily rivaled. He referred Duke to me in anticipation of us heading to Sunset Music Festival a few years back.
Personally, nu-disco and tech house artists and tracks bring my mind back to the age of disco, or at least what I have imagined it to be. Those are the tracks I really enjoy dancing to the most: the music of La Bouche and Everything But The Girl, songs like "Missing" and "Be My Lover." That's the music that brings my heart to that perfect beat.
Naturally, an artist like Duke Dumont spoke to a deeper part of my soul. Since seeing him at Sunset, I also caught Duke back at Ultra 2016 when he played the World Wide Stage, but I only caught a snippet of that set. I went into this set with anticipation, where the first two times I did not. I do not usually go into sets with any hopes or concerns, but with venues in Orlando… let's just say my expectations have dropped. Without going into too much detail, I feel that a revelation is needed in the Orlando music scene. But by the time the confetti dropped for "Ocean Drive," I was pleasantly content with what I had experienced.
First, let me highlight a part of the event that for me makes up a big part of my personal experience at any show, festival or venue: the crowd.
Shooting photos in a crowd and being a participant in the crowd are two totally different experiences for me. Shooting photos in a crowd offers a perspective of the experience that is unique; simply put, it is nice to be in a crowd where the attendees respect the fact you have a $1000+ camera and let you do your job. I have always found the crowds within the genres of trance, nu-disco, and deep house to be more accommodating.
I must give a round of applause to the attendees. This was one of the most fun crowds I have ever gotten to dance with and photograph. As I made my way deeper into the venue I saw a lot of people not only dancing but singing every word to every song with lyrics, dancing and shuffling around with every drum kick, and smiles filling faces with every transition as favorite songs were played.
I will definitely give it up for The Beacham as a venue. In my opinion, it is the last good venue in Downtown Orlando.
The Beacham has gotten better and better over the years at accommodating large numbers of people. Their sound system seems to have gotten better, too. "What makes this guy think he can talk about sound systems," you ask? Well, since I get to get right up in that pit in front of the stage, I get a front row seat to getting absolutely blasted with sound. I jammed my little heart out in between shots, and when I left the venue two hours later, my ears were not ringing. So either it is tinnitus or applause to The Beacham's sound team.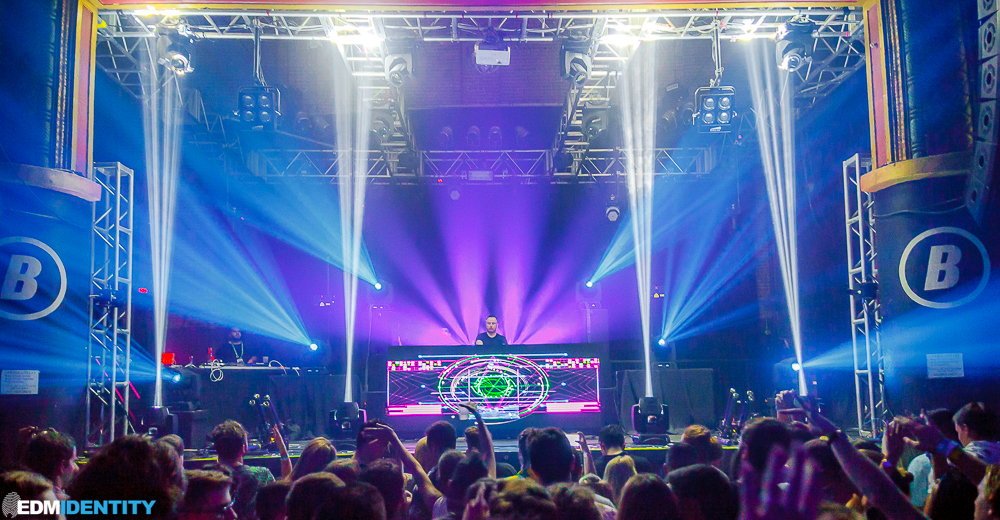 Duke Dumont's set had a unique vibe and energy to it.
As for the set itself, each time I have seen Duke Dumont now I have walked away really enjoying the music he played. I like the way he cycles from his older bouncy industrial hits like "The Giver" into his newer synthesized tracks like "Worship." I could close my eyes while he was playing and clearly imagine myself in a warehouse: dark, with floors of people dancing around me, the air thick with heat and energy, the most minimal and effective strobe lighting pulsing with the beats.
I have always enjoyed watching Duke himself perform. Something about the way he uses lighting shining from behind him so as to cast a darkness in front of him always made him seem so villainous to me. That, coupled with the way he seems to always have a cigarette burning just enough for you to see it, never seeming to get smaller or new, is just epic. Duke Dumont's set at The Beacham in Orlando was definitely one that resonated with me on a deeper level. It was a great vibe and awesome time.
Check out the rest of the photos on Facebook!
---
Connect with Duke Dumont on social media:
Facebook | Twitter | Instagram | Soundcloud
Connect with The Beacham on social media:
Facebook | Twitter | Instagram
Featured Photo Credit: Christopher Rivera