Seven Lions fans are rejoicing with the release of his newest single, "Where I Won't Be Found"!
---
Once again, Seven Lions has created another amazing track where all the vocals, music, and lyrics fit together to make it a memorable one. The latest track from Seven Lions starts with NÉONHÈART's entrancing voice within nanoseconds of the song starting. Instead of the usual build, the quick jump into NÉONHÈART's breathy vocals in the intro was a welcome change in song structure. The sounds of drums building up in the intro lead into Seven Lions' amazing euphoric bass sounds and drops as the song nears the chorus. The drum beats featured throughout the track and emphasize the drops in the song as well.
Stream Seven Lions – Where I Won't Be Found on SoundCloud:
"Where I Won't Be Found" is just a taste of all the releases coming out from Seven Lions this month.
His song "Cold Skin", that was released last year, will receive a remix pack on June 13 featuring artists such as Intercom, Koven, Mitis, MR FIJIWJI, Stonebank, and Virtu. Following the release of the "Cold Skin" remix pack is Seven Lions' remix of Myon's "Omen in the Rain" featuring Alissa Feudo, out on June 23. Of course, the date we're most looking forward to is the release of his newest EP also called Where I Won't Be Found which is dropping on June 26.
For those who are eager to get the EP, can preorder it on iTunes and Amazon! Check out our interview with Seven Lions here!
Having just wrapped up his There & Back Again international tour, be sure to check out Seven Lions coming to a festival near you as he heads to EDC Las Vegas, Paradiso, Tomorrowland Weekend One, Electric Zoo, and more.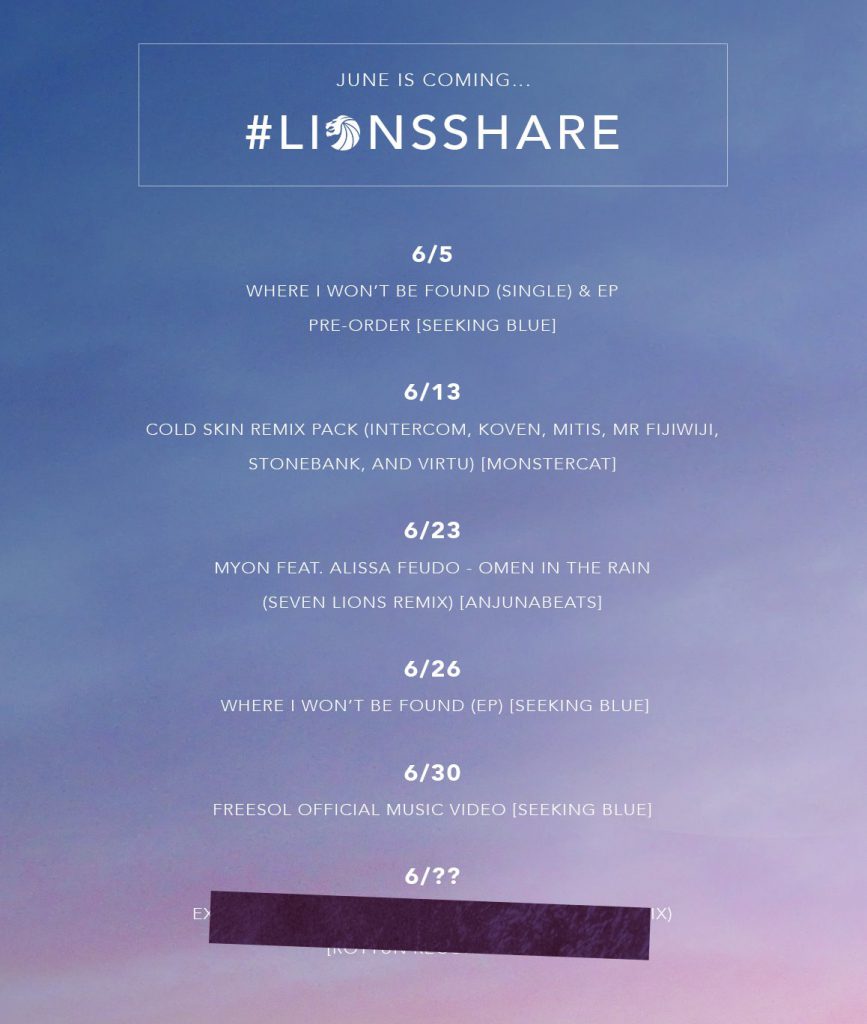 ---
Catch Seven Lions at these upcoming shows:
6/16-6/18 – EDC Las Vegas at the Las Vegas Speedway
6/18 – Audiotistic Pool Party featuring K?D, Madeon, Seven Lions, and Trippy Turtle at Rehab Beach Club
6/23-6/24 – Paradiso at the Gorge
7/21 –Tomorrowland Weekend One at Boom, Belgium
8/11-8/13 – Summer Set Music & Camping Festival at Somerset
9/1 – Electric Zoo at Randalls and Wards Islands
9/14 – Above & Beyond with Seven Lions at the Red Rocks
9/22-9/24 – Imagine Music Festival at Atlanta
---
Follow Seven Lions on Social Media:
Website| Facebook | Twitter | SoundCloud | Instagram |YouTube