deadmau5's new tour lived up to the high expectations with Cube 2.1 on his stop to Aragon Ballroom in Chicago
---
Unless you've been living under a rock, you've heard about Cube 2.1, the brainchild and passion project of Joel Zimmerman, better known to the masses as deadmau5. 42 panels, 281 trillion colors, using 386,031 frames of video running at 60 frames per second, at a price tag of a whopping $700,000 per side – the math is astronomical, and as a result, so were the expectations of his new tour.
Being a longtime fan of literally everything deadmau5 does, I was fascinated by this new development. He is among the few acts that I will always make a point to see whenever I can make it happen, so going to Aragon Ballroom in Chicago for his "lots of a shows in a row" tour was important to me.
My last deadmau5 experience was at Decadence 2015, which has been seared into my memory forever. Having just traveled to LA to see Eric Prydz at Factory 93, the next most obvious choice for shows was to head back to my old stomping grounds in Chicago where I first saw deadmau5 and got hooked.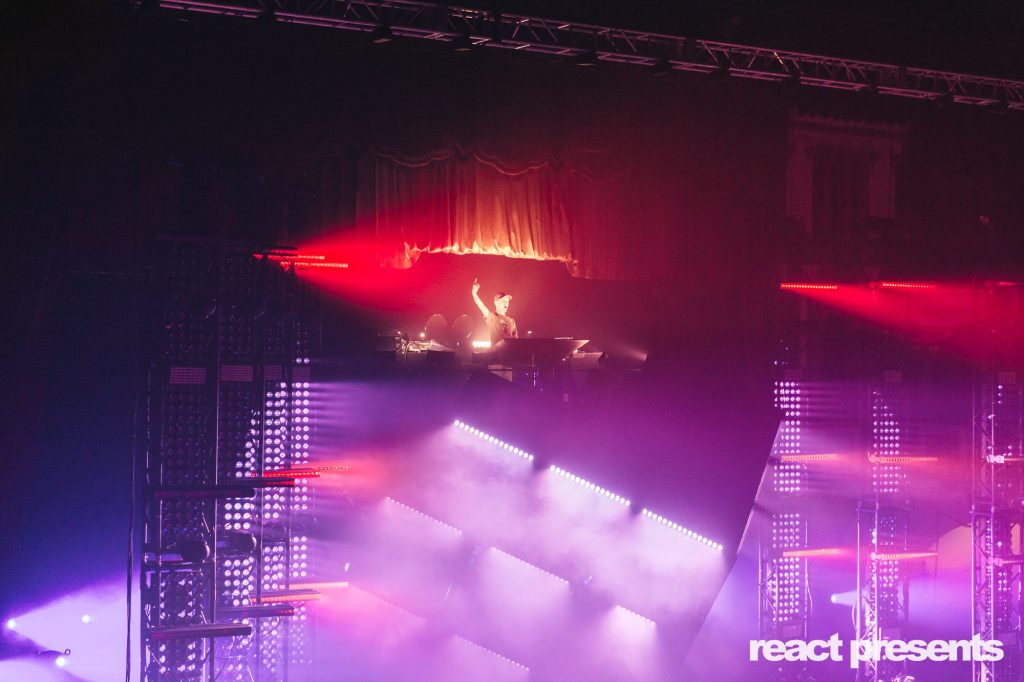 deadmau5 played his two-night run at The Aragon Ballroom, a stunning venue located in the Uptown neighborhood of Chicago.
The Uptown neighborhood has gotten a lot of bad press over the last few years as a result of the increase in crime that has plagued the entire city. In fact, when the girl at the check-in desk at our hotel asked us what we were there for we told she told us, "Be careful!" Being former denizens of Chicago, we weren't all that worried about heading up there, but it's worth noting for out-of-town visitors that the area can be a little spotty at night if you're not sure where you're going. Either way, we opted to catch a Lyft so we could be dropped off right at the door.
Once we got to The Aragon, we hopped in what appeared to be an absolutely massive line. My friend Tim assured us the line had moved rapidly the previous day, and he was absolutely right. I have been in some truly gnarly lines at this venue so I have to give the staff at the venue serious props for getting that situation worked out and expediting the flow of traffic. Since the Aragon is an older venue, there are definitely some choke points inside, and seeing the improvements that they've made since the last time I was there was really heartening.
As soon as we got inside, Tim and I saw the tail end of Feed Me's set. I hadn't seen Feed Me since the last time he toured "With Teeth" and it's always a real treat to see what he has to offer. Feed Me's set was no grand production – he was literally playing off of what appeared to be a small pedestal on the stage, but the crowd couldn't have cared less and was going wild. Even though we only caught about ten or so minutes, we enjoyed what we did see. If anything, I wish we'd been a bit more on top of our timetable to see more of it.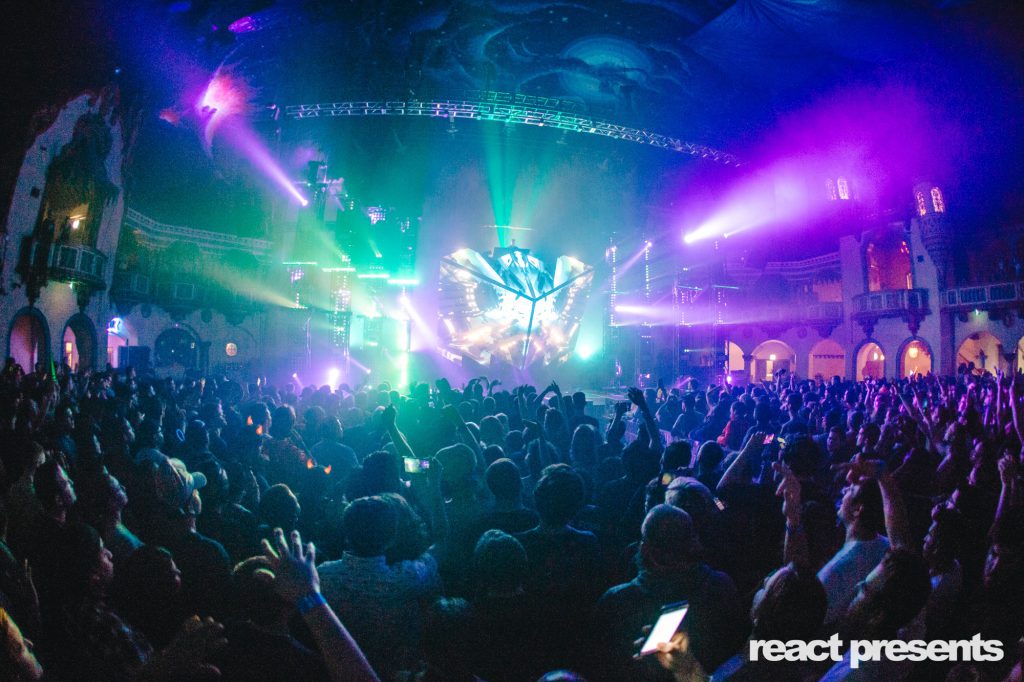 While the venue was stunning, it lacked many of the amenities electronic music fans have come to expect.
Sadly, despite its picturesque interior, there are a number of things that make The Aragon Ballroom a less-than-ideal place to see a show, especially one where you are going to be dancing and sweating a lot. For one thing, there is not a lot of ventilation in the Aragon, so it can get extremely hot in the main room as the show wears on. In addition, the main exit is on the bottom floor along with the only set of bathrooms is also downstairs. The staircase leading to the bottom floor can become a serious choke point, especially at the end of the night when the 5,000-person crowd is trying to leave the building or in between sets during the changeover.
The main floor was absolutely packed, perhaps in part due to the layout of the venue. Not being a stranger to sold-out shows in venues, I rarely feel it's too packed to dance. After spending the first quarter of the show jammed onto the main floor with scarcely any room to breathe or move, we opted to move to the back under the balcony and next to the bar. We were much happier having done so, even though we were standing in a lighted area. By the end of the show, dozens of people had joined us, so clearly we weren't the only people who felt the venue was too crowded. Deadmau5 commands a large audience and should have played in a larger space. Electronic music is for dancing, not standing with some dude's elbow in your literal face.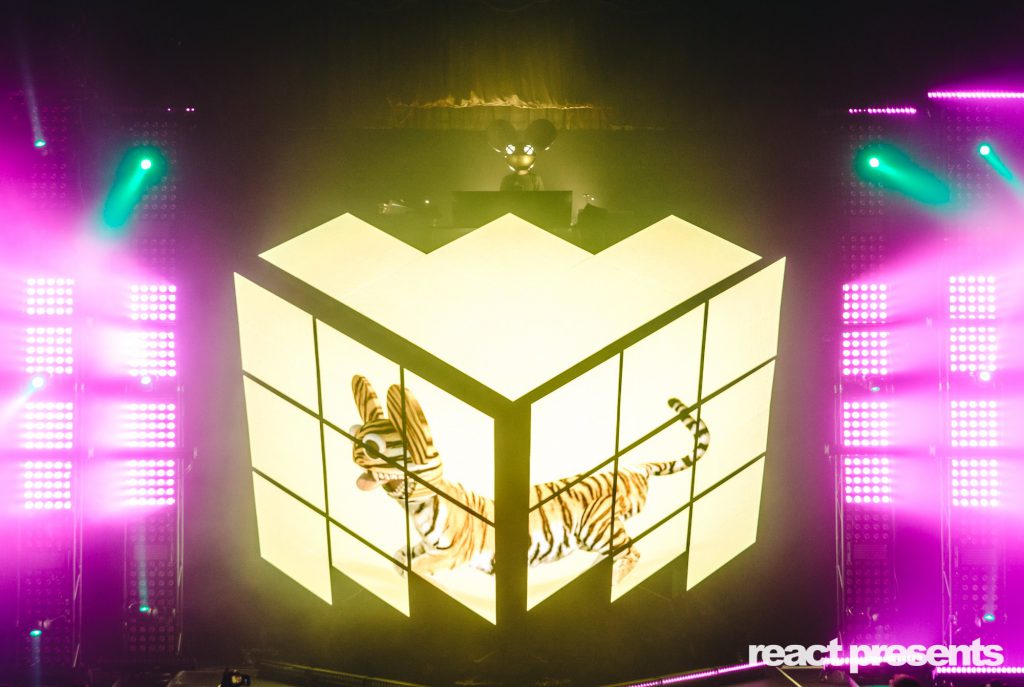 Despite the venue being packed, the production and music was impressive and left me amazed.
deadmau5's set was a good mix of older favorites like Ghosts 'N' Stuff, Maths, and Strobe; new tracks like Snowcone, 2448, and Imaginary Friends from his W:/2016ALBUM. When he dropped the truly filthy Noisia remix of Raise Your Weapon, it brought the house down – every person in the place was getting down.
Joel Zimmerman has said many times that he does not really consider himself to be a DJ; his show felt more like seeing deadmau5 in concert. I was thrilled to be able to hear two solid hours of basically nothing but deadmau5. What speaks most to me about the quality of this particular set is that I have a hard time picking out any one highlight. All of the tracks were so expertly paired with the visual design that it elevated every single one of the productions to be something eye-catching, memorable, and special.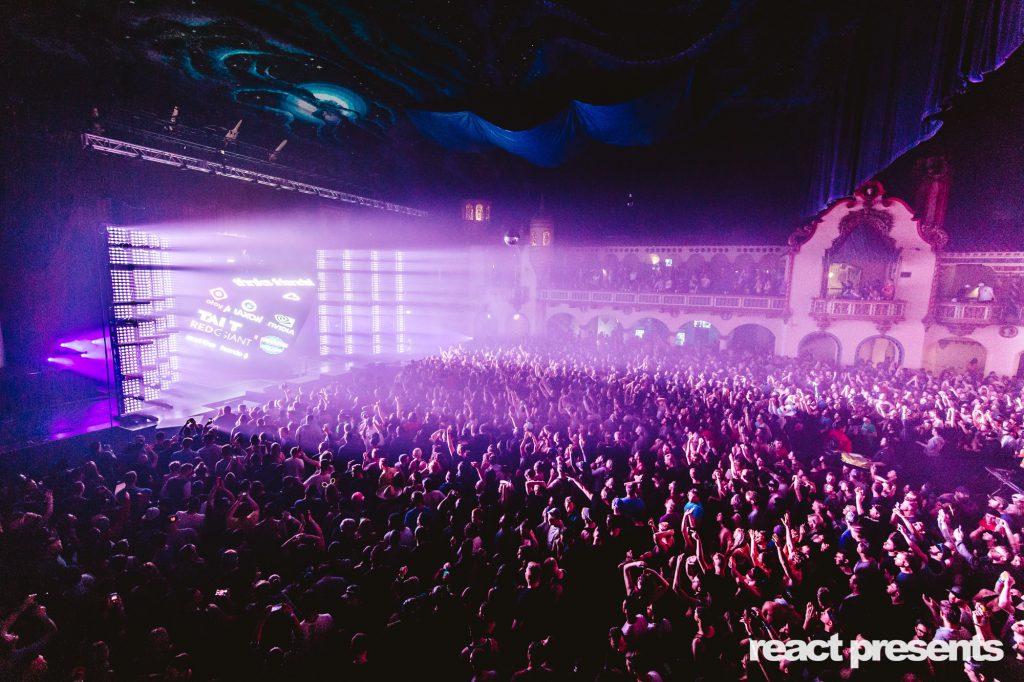 The new Cube 2.1 makes Cube 1.0 look like a Ford Fiesta compared to the now-infamous Purrari.
I was absolutely floored by the clarity of the graphics on this thing – some of them were so well-defined and designed that they popped off the screen and truly appeared to be 3D. When taken in combination with the lighting setups to the sides of the stage, the entire visual field aligned to produce a stunning effect, unlike anything I have ever seen before.
Considering the amount of time, money, and (I'm sure) blood, sweat, and tears put into the design and execution of this stage, I believe it has paid off. It's a true testament to the vision, devotion, and passion of its creator and the team behind it. deadmau5 has long been pushing the boundaries of what is realistic or possible in terms of stage and experience design, and his latest cube project is no exception. It was by all measures a home run, and I look forward to (hopefully) seeing it again many times in the future.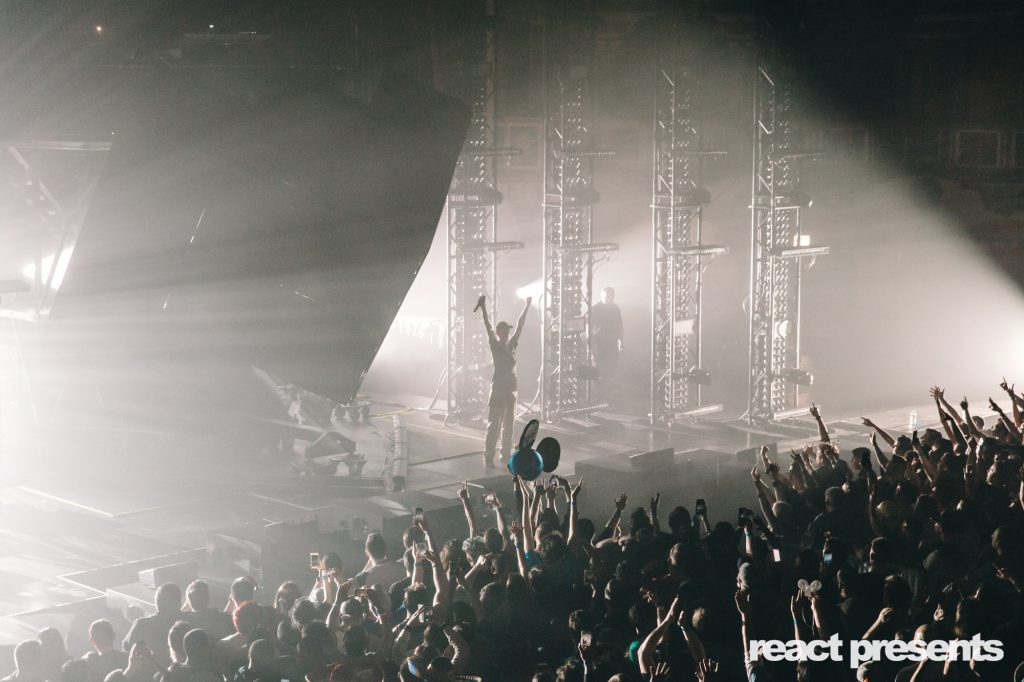 The thing that always sells me on deadmau5 is the way he infuses his personality into everything he touches.
From some of the truly ridiculous graphics he displayed on-screen, like the workout mouse with the googly eyes that will be haunting me in my nightmares for weeks to come, to the cheeky design and style of the merchandise for sale downstairs, every single aspect of the show experience was dripping with the very specific identity that he embodies. Even the few instances in which he actually took to the mic were unbelievably charming. "Thank you for supporting my cube addiction!" was one of the last things he said during the show, and I couldn't help but crack a smile.
It's so rare to come across an artist with such a strangely relatable persona. Something about the nerdiness and the way he throws his all into what he does just resonates, and it always reminds me of why it was that I wanted to be a part of the horde in the first place. It's always felt like coming home.
deadmau5 is and always has been one of my favorite artists, and I consider myself incredibly fortunate to have had the opportunity to see him play in so many different settings over the years. He is absolutely one of a kind.
---
deadmau5 Lots of Shows in a Row Tracklist:
deadmau5 – Imaginary Friends
deadmau5 – Three Pound Chicken Wing
deadmau5 & Kaskade feat. Skylar Grey – Beneath With Me (Acappella)
deadmau5 – Avaritia
deadmau5 – Deus Ex Machina
deadmau5 – Phantoms Ex Machina (deadmau5 Mashup)
deadmau5 – Phantoms Can't Hang
deadmau5 – Acedia
deadmau5 ft. Colleen D'Agostino – Stay (Acappella)
deadmau5 – My Pet Coelacanth
deadmau5 – Moar Ghosts N Stuff
Oliver $ – Doin Ya Thang
deadmau5 ft. Rob Swire – Ghosts 'N' Stuff
deadmau5 – Maths
deadmau5 – Maths (Cobra Effect Remix)
deadmau5 – 2448
deadmau5 – Cat Thruster
deadmau5 ft. Shotty Horroh – Legendary
deadmau5 – Snowcone
deadmau5 – No Problem
deadmau5 – Polaris
deadmau5 ft. Chris James – The Veldt
deadmau5 – Strobe (Piano Intro Edit)
deadmau5 ft. Greta Svabo Bech – Raise Your Weapon (Noisia Remix)
---
Connect with deadmau5 on Social Media:
Website | Facebook | Twitter | SoundCloud | YouTube
Featured Photo Credit: React Presents