The Essential Sasquatch! Music Festival 2017 Camping Guide
---
Sasquatch! Music Festival is just around the corner, and it's about that time when those of us who are not exactly the most seasoned of festival campers begin to panic. Especially with a camping-required event like Sasquatch!, it's easy to feel overwhelmed when considering what to pack. But have no fear, your friends here at EDM Identity are here to help. We've taken the liberty of making the ultimate list of camping essentials, so you don't have to. So stop stressing, whether you're a camping pro and are simply looking to perfect your pre-existing collection or are a complete and total newbie like I am, we've got you covered!
Hopefully, this guide helps alleviate some of the stress that unfortunately often accompanies camping festivals. No matter how experienced a festival camper you are, make sure not to forget the two most important things of all: have fun and be safe! And to all my fellow anti-campers out there, try not to drive yourself too crazy trying to remember all the essentials. Odds are, if you end up forgetting your toothpaste (or even a pillow), someone in your group or one nearby will have an extra one you can borrow.
Sasquatch! will take place May 26 – 28 at the Gorge Amphitheater in Washington. Get your tickets, HERE!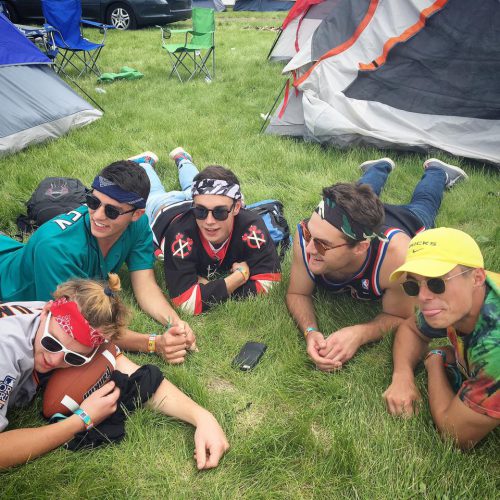 ---
From Camping To Straight-Up Glamping: Selecting Your Campsite at Sasquatch! Music Festival:
Sasquatch! offers four different types of campsites to choose from, with prices ranging from $99.50 for Standard to $499.00 for Terrace Camping. The price is per vehicle and each site has a six-person maximum, meaning if your festival squad is on the larger side, you're going to need to buy the appropriate number of camping passes. Campsites are also assigned according to vehicle entry, so if you're planning on camping next to your friends who happen to be in a different car, make sure to meet up prior to entering the campgrounds in order to ensure that you're able to drive in directly in front or behind one another. All campgrounds open at 1:00 PM on Thursday, May 25 and must be vacated by Noon on Monday, May 29.
Standard Camping ($99.50 per vehicle, 6 person max)

Includes: Comfort Stations with wash stand and Port-a-Johns, showers with a small fee, convenience store with ATM, food trucks and other vendors at the pivot and security patrols.

Premier Camping ($249.00 per vehicle, 6 person max)

Includes: Accommodation for all types of camping (tent, RV, etc.), a fenced-off area with restricted access for Premier guests only, superior views across the Gorge, private restrooms, free shower facilities and shuttle service to the Amphitheater.

Gold Camping ($359.00 per vehicle, 6 person max)

Includes: Oversized spaces (25'x50′), closer distance to the Amphitheater, located outside of the main campground, a shorter walk to the main gates, private restrooms, free shower facilities and NO RV hookups.

Terrace Camping ($499.00 per vehicle, 6 person max)

Includes: A private and quieter area, restricted access, separated from the main campground, spectacular views across the Gorge, private restrooms, free shower facilities, concierge, complimentary morning pastries/coffee and exclusive shuttle service to and from the Amphitheater.
Purchase your camping passes, HERE!
---
The Sasquatch! Music Festival Essentials: What to Bring:
Tents
Whether you'll be sleeping solo, with another person, or with a whole group, tent size is important. Make sure to take notice of the fine print when selecting your tent, because although many may say they sleep four, you're probably going to want to round-up to a six-person if you're actually going to be squeezing four bodies in one tent. For example, the Coleman Sundome 4 Person Tent (HERE) fits 4 people OR one queen airbed. I don't know about you, but I've never slept comfortably while sharing a queen with four other people. Listed below are some of Amazon's Best Sellers in Camping Tents, all under $100 with Amazon Prime:
Make sure to bring along some extra stakes and a rubber mallet as well, since the Gorge is known to get windy at night. THIS Coleman tent kit includes everything you need for a great price.
Straight-Leg Canopy for Shade
The beauty of Sasquatch! is the amount of leisure time you're given to just hang out with your friends and enjoy the views. Not to mention, this year's lineup won't have any overlapping sets on both the main stage and the Bigfoot stage, so there will be even more time to relax at your campsite. Unfortunately, the Gorge offers little to no shade on the campgrounds, so bringing along a canopy is essential. This10×10 canopy from Coleman is a great option, but if you're looking for something a little cheaper This Amazon Basics Best Seller is the way to go.
If you're looking for a fun way to illuminate your space, I recommend this lighted canopy from Coleman (HERE). However, if you're not planning on attending many camping festivals in the future and don't want to spend that much, check out THESE camping lights from Eno, which are a fun and easy alternative.
Some tips for when it gets windy at night:
STAKE DOWN YOUR CANOPIES. Please, please, please take the extra time to stake down your canopy. Rather than using your heavy items or sandbags to hold down the legs, take advantage of the holes at the feet made for reinforcing the fixture with stakes. Yes, it's more work but if you were already going to purchase a rubber mallet like we mentioned above, this extra step will be super easy and well worth the 10 minutes of your time.
ALSO, consider taking off the canopy top or lowering your canopy entirely before heading into the festival. This will entirely reduce your chances of coming back to a missing canopy since there will be nothing for the wind to blow away! Trust me, you'll be thanking us when you watch your neighbors running after their canopies from the comfort of your lawn chair because you were smart enough to stake down yours. Speaking of which, this brings me to the third essential…
Lawn Chairs for Comfortable Lounging
Friends don't let friends sit on the ground. Invest in a cheap beach or lawn chair or ask a friend if they have one you can borrow for the weekend. They're common enough that someone you know is bound to have one lying around if you don't already. If not, try this one from Coleman (HERE) or this cheaper option (HERE).
Sleeping Bag and Sleeping Pad or Air Mattress
The Gorge gets cold at night, so you're going to want to make sure you pick a sleeping bag that will keep you warm enough that your buddy doesn't have to wake up in the middle of the night with you spooning them (unless that's what you're aiming for, in which case feel free to ignore this essential entirely). The Coleman Palmetto Cool Weather sleeping bag offers warmth for temperatures as low as 30 degrees Fahrenheit (HERE) and is relatively cheap as far as sleeping bags go.
If you're like me and are confident that the Princess and the Pea could have been written about you, then I suggest springing for an air mattress or sleeping pad. This one by Intex (HERE) is waterproof and comes with a hand pump for inflation and TWO PILLOWS!! This air mattress already knows that you're going to forget your own, so it has done the liberty of including some for you. Say it with me, thank you Intex. If you opt for a different option, please, DON'T FORGET TO BRING A PILLOW. And if a sleeping pad is more your style, check out this awesome self-inflating one (HERE).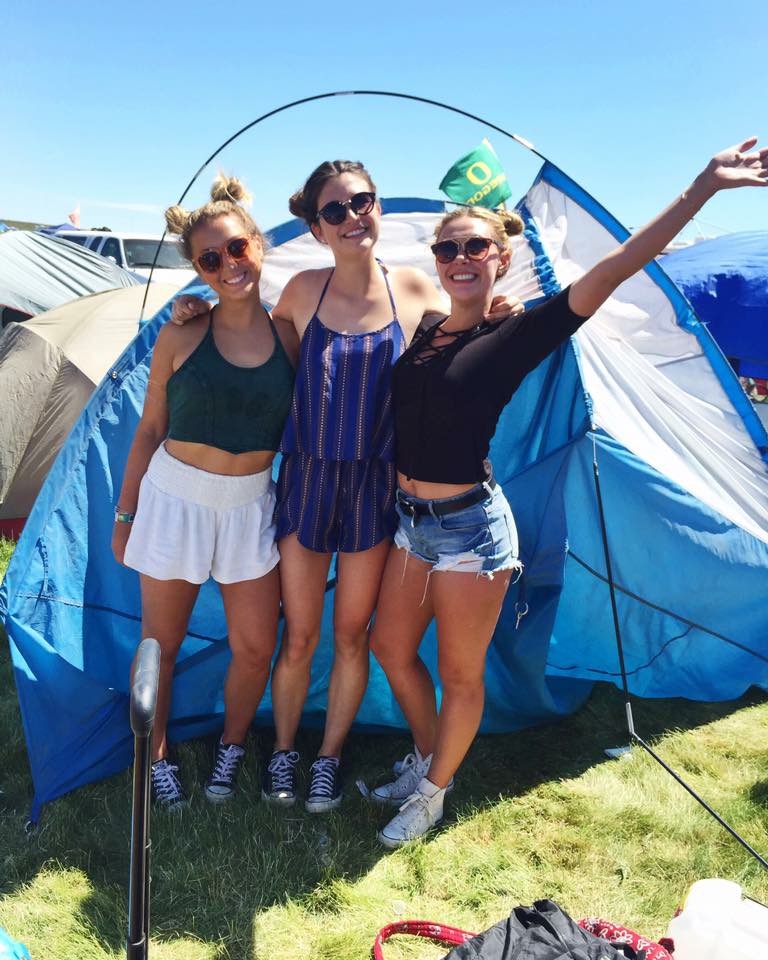 Folding Table
No one wants their food or drinks getting dirty, which is why the folding table is a particularly handy camping essential. If properly being able to assemble your freshly grilled burger isn't reason enough to bring one of these along, then may I remind you that they are the perfect surface for impromptu games of beer pong. If you don't already have one of these lying around, this portable camping table comes in three sizes and includes handles for your traveling convenience (HERE).
5-Day Cooler
Don't let your drinks go cold and your burger patties (veggie or otherwise) go bad! Splurge on a 5 Day cooler that will keep everything as cool on Sunday as when you first put it in on Thursday morning. This one from Coleman features four cup holders, wheels and handles for easy transport and can fit up to 160 cans (HERE). That's a lot of beer! (Or root beer for our younger readers.)

A Grill or Stove for Cooking
Before you skip past this essential in trying to save money, hear me out. Think about all the money you would be spending on food if you were to purchase it at the festival. In the end, you'd probably end up spending more than if you had split a grill with your group and brought your own. Coleman sells a great propane portable grill that may be a bit on the pricier side, but if split with all six members of a full campsite would only come out to $24 each (HERE)! If you're still not sold, they also have a basic propane 2-burner stove as a cheaper alternative (HERE). Be careful when storing the propane and make sure to ALWAYS turn off the grill/stove after you're done cooking.
Towels, Towels and More Towels
If there is anything I have learned in my 21 years of life, it is that you can never, under any circumstances, have enough towels or underwear. Ever. I'm going to assume that you will all remember to bring the latter, but as for towels, BRING THEM. Not only are you going to need one for showering, they're also great for cooling off, laying down in the grass, or cleaning up spills. Make sure you and your group bring plenty of these bad boys and if you don't want to bring along any that you already own in fear of losing/ruining them, I recommend THIS to help you live out your lifelong dream of literally becoming a human burrito.
---
Other Things Worthy of Bringing:
And of course, don't forget…
YOUR WALLET WITH CASH AND YOUR ID, clothes for day/night, baby wipes/TOILETPAPER, a toothbrush, toothpaste, sunglasses, sunscreen, bug spray, dry shampoo, Band-Aids, flip-flops (for the showers), hair brush, shampoo and soap, deodorant, chapstick, a hat, a backpack, vitamins/Emergen-c, 5 Hour Energy, hand sanitizer, plastic utensils, napkins and clear Ziplock bags.
---
Finally, some food recommendations:
If you're planning on cooking your own food or just want to make sure you have some things to snack on, I've come up with a short list of items I always like to have with me.
Water jugs
Ice (however there's also ice on the campgrounds)
Hotdogs
Hamburgers
Burger supplies (lettuce, tomato, etc.)
Mustard
Ketchup
BBQ Sauce
Ranch
Top Ramen
Easy Mac
Uncrustables
Gum
Granola/Energy/Protein Bars
Juice and Soda
Cereal
Cheese
Bagels
Cream Cheese
Peanut Butter
Jelly
Bread (buns and sliced)
Chips
Apples/other fruit
Pedialyte
---
Follow Sasquatch! Music Festival on Social Media: