It may not be his best album, but deadmau5 still shines brightly above others on W:/2016ALBUM/!
---
As a fan of deadmau5 and his previous work, and I honestly enjoyed W:/2016ALBUM/. That being said, I don't feel that it was his best work to date, and he clearly agrees with that sentiment as he has publicly stated that he wasn't very pleased with it. Feeling it was unfinished, it definitely is apparent it isn't the same start to finish story that people might be looking for.
Let's just start by saying that the entire album is disjointed, much like it's cover art. Perhaps that was the intention. Pulling from the depths of glitch, to epic, progressive house, and even some disco influences in the tracks, it could be said that perhaps there was too much freedom for Joel. There is a definite "Daft Punk" sort of feel to "2448", "Cat Thruster" and "No Problem", all of which feature elements that I attribute to the robots. It brings a more spacey, intergalactic vibe to them and I really love zoning out to these tunes. See for yourself on Spotify below, as the entiriety of W:/2016ALBUM/ is available for your streaming pleasure.
Stream deadmau5 – W:/2016ALBUM/ on Spotify:
As the track that starts the album off, I think that "4ware" is actually one of my favorite of the bunch. It's got a solid, driving beat that really hit home with me and I felt that this was going to be a great track to set the tone for the album. "2448" completely changed what I thought this album was going to turn into based off the lead in from "4ware", bringing more of an electronic rock feel to the album than anything. "Cat Thruster" continues on the entirely different course, with a slowed down melody from the previous track too. The track does have a funky disco vibe that reminds me of the Despacio Tent at Coachella this year for some reason.
One of the more interesting tunes on the album, "Deus Ex Machina" starts with a techno vibe that I could see getting played out in some dark, grimy warehouse. That leads into a brief moment of clarity, where you feel as if you're floating among the clouds before descending back into the heavier beat. As if the title isn't evident enough "Glish" is full of glitchy, bassy goodness. The shortest track on the album, it definitely brings something entirely different to the table and really shows off the range of production that deadmau5 can create. I wasn't expecting something like this at all from the mau5.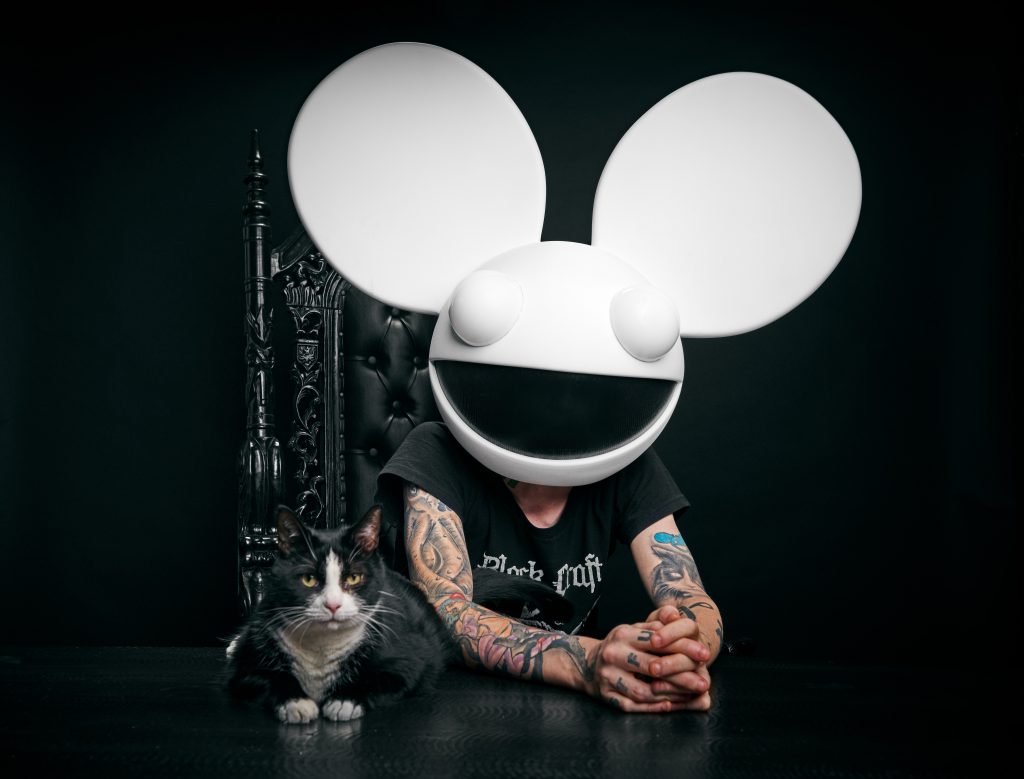 "Imaginary Friends" is a highlight for me on the album too. I love the heaviness to it and feel like it was a throwback to his older sound. The progression is fantastic, and I feel as if he is toying with my eardrums in the middle of the track. Featuring vocals from Grabbitz, "Let Go" has some lyrics that really hit the mark and bring some serious emotion to the tune. The track itself doesn't overtake his singing and complements it as it builds into the breakdown that is definitely going to get people moving on the dance floor. I actually prefer the closing track on the album, "Let Go" (Extended Edit) to this version, but I'm a sucker for extended tracks that have more room for a buildup and breakdown.
"No Problem" is a solid tune, but not exactly my favorite on W:/2016ALBUM/. The electronic rock ballad feel makes me imagine an anime space scene, maybe a cyberpunk, dystopian future full of glitches and problems. The following track, "Snowcone" is not your typical tune from Joel, but probably my favorite on the album. I love the hip hop beat and found myself getting lost in the track following around different sounds. The deadmau5 that many of us know and love can be found on "Three Pound Chicken Wing". A heavy hitting track that expands upon the already familiar, "Beneath With Me", he dropped a version of this at Ultra Miami back in March. Clearly, this track goes off live as well as through my speakers. Absolutely epic. The second to last track on the album, "Whelk Then" is a pretty complex track, and I love the way it drives forward. The song itself is eerie and otherworldly, with a pulsating tone that defines the experience. I'd say that this is one of the best tracks on the album overall.
W:/2016ALBUM/ is the first release for Joel without being constrained to a specific sound or vibe from an overarching label. Perhaps this is just his way of figuring out which direction to go next on the journey and how to deal with the freedom to produce whatever he'd like. Tracks like "Snowcone" and "Whelk Then" are really great in their own right, and perhaps with that, we are seeing a glimpse into the future of deadmau5 through these tunes.
Purchase or Download W:/2016ALBUM/ by clicking HERE!
What were your thoughts on deadmau5's latest album? Let us know in the comments!
---
Catch deadmau5 in a city near you!
12/30 Chandler, AZ Decadence
12/31 Dallas, TX Lights All Night
12/31 El Paso, TX Lights All Night
3/10-11 New Orleans, LA BUKU Music + Art Project
Sat 3/25 Bogota, Columbia Estereo Picnic
LOTS OF SHOWS IN A ROW TOUR: 
3/29 New York, NY Hammerstein Ballroom
3/30 New York, NY Hammerstein Ballroom
4/7 Camden, NJ BB&T Pavilion
4/8 Columbia, MD Merriweather Post Pavilion
4/10 Lowell, MA Tsongas Arena
4/13 Detroit, MI The Fillmore
4/14 Detroit, MI The Fillmore
4/21 Seattle, WA WaMu Theater
4/22 Seattle, WA WaMu Theater
4/24 Oakland, CA The Fox Theater
4/25 Oakland, CA The Fox Theater
4/26 Oakland, CA The Fox Theater
4/28 Los Angeles, CA The Shrine
4/29 Los Angeles, CA The Shrine
4/30 Los Angeles, CA The Shrine
5/4 Chicago, IL Aragon Ballroom
5/5 Chicago, IL Aragon Ballroom
Tickets to the 'lots of shows in a row' tour are available HERE!
---
Follow deadmau5 on Social Media:
Website | Facebook | Twitter | Instagram | SoundCloud | YouTube