After an amazing three days and over 200 artists for Ultra Music Festival 2017, their 20th-anniversary tickets are available to purchase today!
Purchase your ticket to Ultra Music Festival Miami 2018 HERE!
---
For almost 20 years, Ultra Music Festival has united over 100,000 music lovers across the globe in the city of Miami. Ultra Music Festival continues to treat fans with the very best electronic community has to offer. We've seen the biggest acts from Justice, Carl Cox, Armin Van Buuren, and many more major headliners and surprise guests playing on the Ultra Main Stage. One of the last performances by Swedish House Mafia took place at Ultra Music Festival 2013 and one of the best performances at UMF to date. The festival continues to expand worldwide in 2018 as festival makes its way to China, India, and Australia. The Ultra RESISTANCE brand continues to grow with its takeover in Ibiza this past summer and tour of ULTRA Latin America.
Since 1999, the festival audience has grown from 10,000 attendees to 165,000 in 2017. More and more travelers from all over the globe are making their journey to Miami. Catch a glimpse of the Ultra Music Festival experience with Charly Friedrichs AKA Final Kid 'ULTRA MIAMI MEMORIES 2017' video viewable in 4k on UMFTV with music from Paris and Simo's Keep Me Close.
Watch the Ultra Miami 2017 Official Memories Clip on YouTube:
Ultra Music Festival takes place at the Bayfront Park in Miami. The event features a variety of stages such as the Main Stage, the Live stage, the Megastructure, the Worldwide stage, the UMF Radio stage, the Resistance stage, and the Oasis stage. For those coming to Ultra for the first time, A State of Trance usually takes place on Sunday at the Megastructure and closed out by Armin Van Buuren. Enjoy the crazy spectacle which is the Arcadia Landing show at the Resistance stage. We're looking forward to seeing what amazing artists will appear on the Phase One of the Ultra Music Festival lineups to be released this coming fall. Combined with Miami Music Week, Ultra Music Festival will be the place to be in 2018.
If you are looking for a more in-depth experience about Ultra Music Festival 2017, read Grant and Cliff 's reviews to see what they experienced this year!
Tickets will start GA Tier 3 and Tier 4 tickets are $349.95** and $379.95** depending on availability as well as VIP Tier 2 Tickets for $1499.95**. Tickets are on sale now. Click HERE to purchase! Get them before they sell out! 
Payment Plans for GA 3-Day Tickets are $399.95.***
**Price Subject to Availability and does not include service charges, state taxes, and fees
*** Shipping and convenience charges added to the first payment.
---
Ultra Music Festival 2018 – Ticket Sale Information:
Limit 2 Tickets PER ORDER
Credit Cards Only
A single credit card may only be used once for one order
Cash, Paypal, money transfer are not accepted
Must be 18 years of age or older to attend
Must be 21 years of age or older to access VIP areas
Dates: March 23,24,25, 2018
Location: Bayfront Park
For further details and ticket information, head to ultramusicfestival.com.
---
Ultra Music Festival 2018 Ticket Sale Announcement Flyer: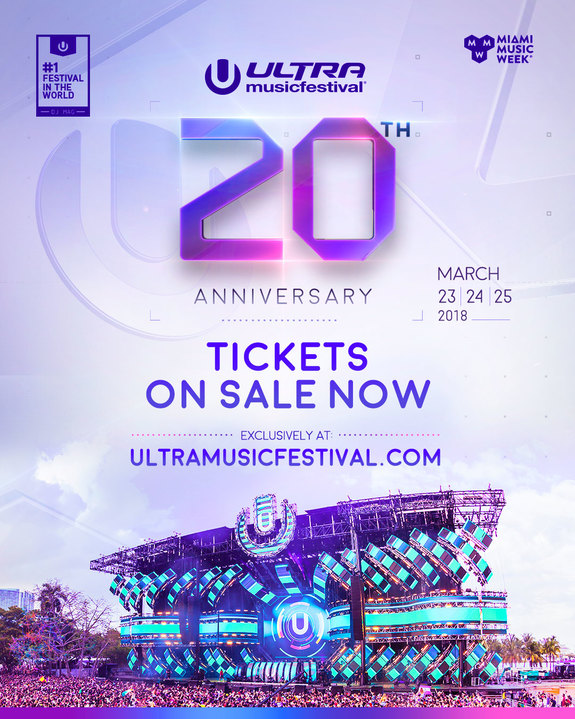 ---
Follow Ultra Music Festival on Social Media: