Are you ready for Ultra Music Festival's 20th Anniversary in Miami? Register for the pre-sale now!
---
Ladies and Gentlemen get your wallets ready because Ultra Music Festival Miami's 20th Anniversary pre-sale is set to begin on May 2 at 1pm EDT! After a stunning edition this year which featured artists ranging from Justice to The Prodigy, to Carl Cox, Above & Beyond, and more, it was clear this year that the Ultra team intends on bringing a stacked lineup once again for their upcoming celebration of 20 years. Looking back at past editions, it has been interesting to see how the lineups and attendees have changed over the years with the tides of electronic music genres, and we hope to see some names from the first editions of the festival return for their event next March.
Check our reviews of Ultra Music Festival from Grant and Cliff to see what they experienced this year!
Before you can access the sale though, you're going to need to register for the upcoming event online. Not only will this help with the insane amount of people who will be clamoring to grab tickets to this year's edition, but also will get you prepped for the Ultra Passport too. Registration for Ultra Miami 2018 closes on Sunday, April 30 at 11:59pm EDT, make sure to check out our guide below to get prepped for the sale!
Ultra Music Festival 2018 pre-sale ticket purchasers will receive a unique pre-registration code email to purchase tickets starting at  GA Tier 1 $299.95, GA Tier 2 $329.95, and VIP Tier 1 $1,249.95.
Ultra Music Festival 2018 – Ticket Sale Information:
Limit 2 Tickets PER ORDER
Credit Cards Only
A single credit card may only be used once for one order
Cash, Paypal, money transfer are not accepted
Must be 18 years of age or older to attend
Must be 21 years of age or older to access VIP areas
Dates: March 23,24,25, 2018
Location: Bayfront Park
Ultra Music Festival 2018 – Pre-Registration Guide
---
Step 1:
Click HERE for to register for Ultra Miami 2018!
Step 2:
Select Ultra Music Festival- Bayfront Park- Miami, United States (23,24,25 Mar. 2018) and select Register.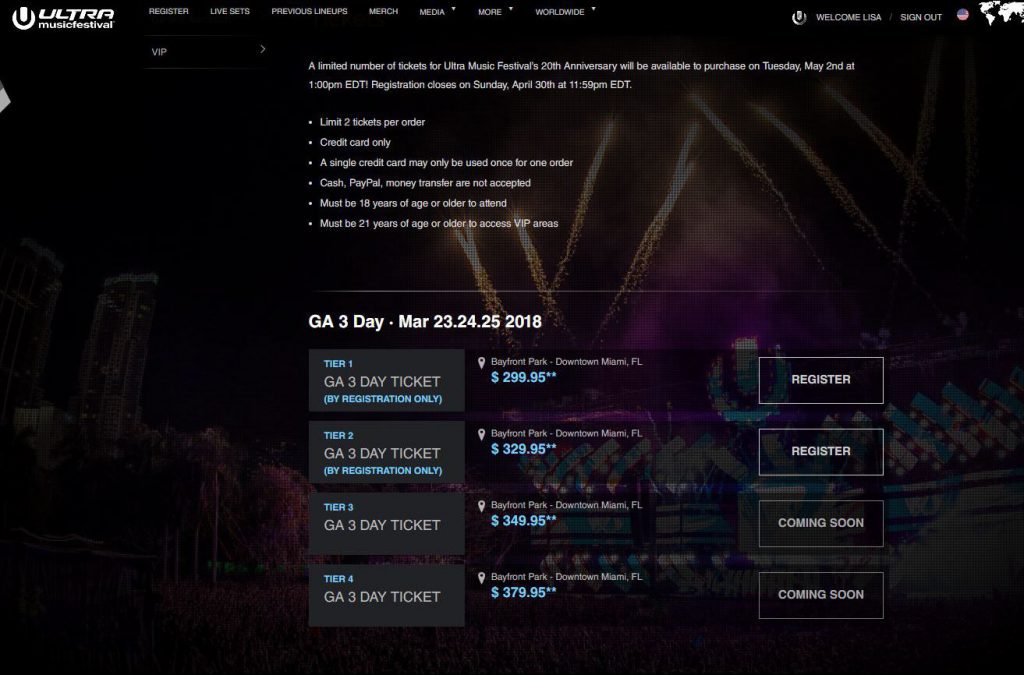 Step 3:
Sign Up on the Ultra Passport link and Create and Account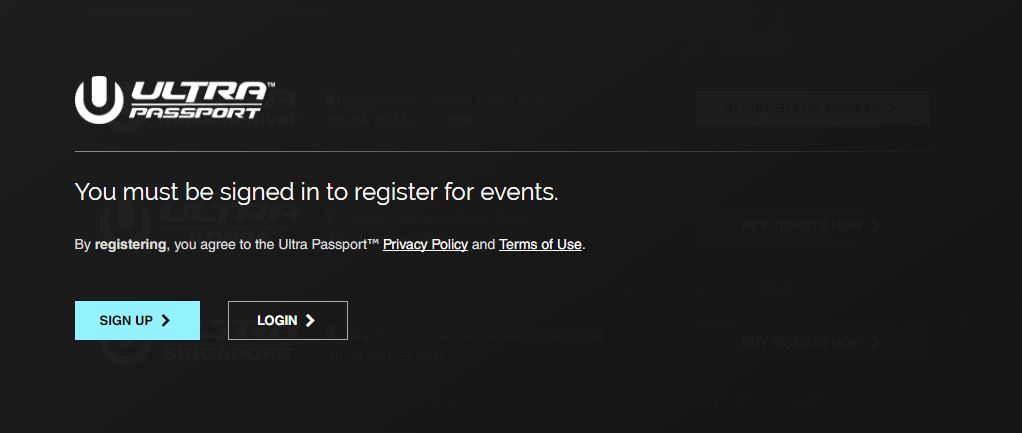 Step 4:
To activate your account, you MUST validate your email address by clicking the confirmation link sent by [email protected] If you have not received any email please check your spam folder and add [email protected] to your address book.

Step 5:
After activating, make sure to go back to the Ultra Passport/ Events Page and hit: Register for Tickets. Once the message: Ultra Miami 2018 Registration Successful is on your screen! You are registered! Look for the ticket purchase instructions email for May 2 sale!
---
Follow Ultra Music Festival on Social Media: