Ever wanted to see what a "rave" would like at the Happiest Place on Earth? You'll soon be able to experience Electroland at Disneyland Paris this summer on July 8 where magic meets music!
---
In celebration of their 25th Anniversary, Disneyland Paris is throwing a special one night only event, Electroland, with Steve Aoki, Nervo, Michael Calfan, and Richard Orlinski on the decks inside the park itself. The event takes place on the spectacular outdoor stage of the Production Courtyard, in the heart of the Walt Disney Studios Park. According to the website, get ready to be "immersed in a magical universe and surprised by spectacular mapping projections in front of The Twilight Zone Tower of Terror.
Check out the Electroland Announcement Tweet and Video below:
#Electroland arrive le 8 juillet 2017, préparez-vous pour un concert #électro événement au cœur du Parc Walt Disney Studios ! pic.twitter.com/687D3nsPT5

— Disneyland Paris (@DisneylandParis) April 24, 2017
Electroland Ticket Information:
If you are purchasing the Electroland Standard Ticket, you'll have access to Electroland even from 7pm to midnight, costing you only 68,00 €. If you select Electroland Privilege Ticket, you'll receive early entrance to both Disney Parks from 4pm, and access from 7pm to midnight to the Walt Disney Studios park, and the Privilege zone for the show. The ElectroLand Privilege ticket will run you 85,00 €.
You can purchase your tickets now by visiting the Disneyland Paris website HERE!
To access the evening festivities, a special bracelet will be given to valid ticket holders upon arrival at the Park entrance, starting at 7 pm. The evening festivities may be changed, postponed or canceled without prior notice, particularly in the event of inclement weather. Parking is not included in the ticket price (15€ per vehicle).
Will you be at Electroland this year? Let us know in the comments!
---
Wondering which rides are available for Electroland ticket holders? See the map below.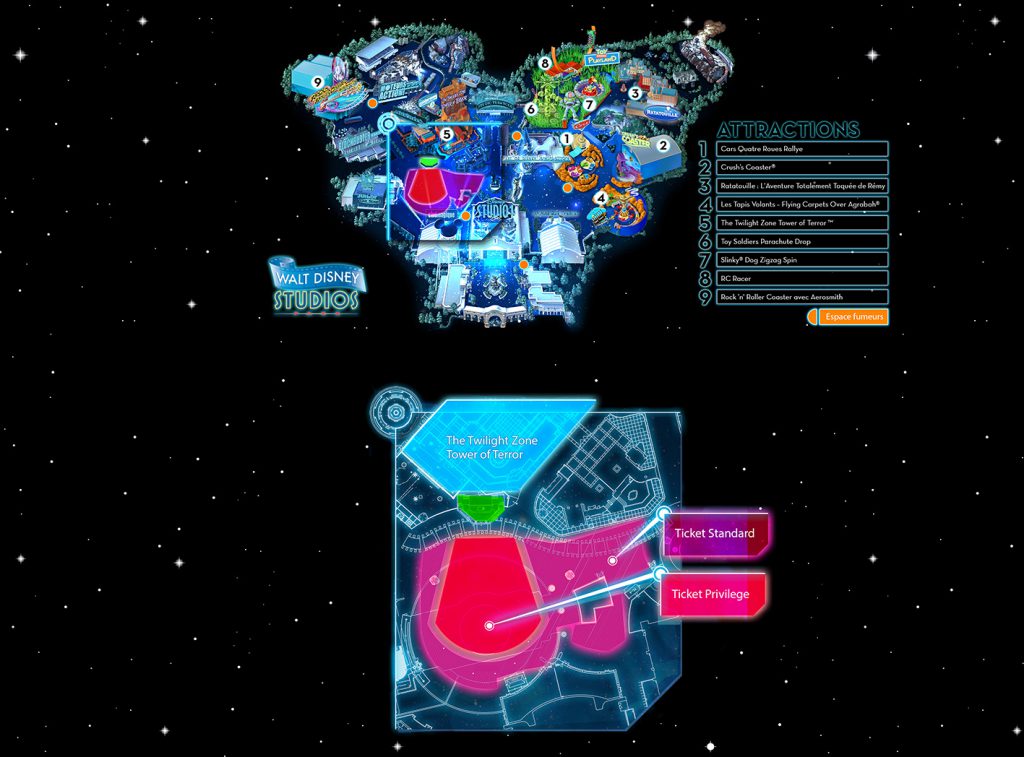 ---
Dance Event History with Disneyland California
Disneyland California has flirted with the idea of an "EDM" themed event for the last several years. It started with a small nighttime event on the Hollywood Picture Backlot section of Disneyland California Adventure called ElecTRONica. The event served as a tie –into the Tron: Legacy film, which ran from October 6, 2010, to April 15, 2012. Disneyland California guests enjoyed a night of electronic house music, dancing, special TRON themed beverages, and re-creation of Flynn's Arcade. The event was then replaced by Mad T Party.
After the success of ElecTRONica, Disneyland California created a new even called Mad T Party featuring six resident DJs: DJ Adam Auburn, VIND3R (formerly DJ Michael Paul, DJ Jason Jass, DJ Missy B, DJ David Bullock, and DJ Wendy Walker. Other than having resident DJs for this nighttime party, guests could enjoy live music from the Mad T Party Band, whose lead vocalist on a certain night could be an "Alice" or a "Mad Hatter" depending on the rotation. There was a Mad Arcade, Drink Me (a cocktail club), and the House of Cards' dancers and aerial acts. The Mad T Party opened on June 12, 2012, and had its final show on March 30, 2016.
Since then, Disneyland California has yet to announce the return of a dance party to its theme park.
---
Connect with Disneyland Paris on Social Media: