Cosmic Gate talks Groove Cruise, the Materia album, & more!
---
Cosmic Gate, the duo made up of Bossi and Nic Chagall, have been around since the late 1990's. With many hit tracks such as "Exploration of Space" and "Fire Wire" to name a few, the duo has continuously produced epic music throughout the years. Throughout the ever-changing electronic music scene, both Nic and Bossi have been able to stay true to themselves and to the music they create. They have been able to truly show their fans, inside and outside of the studio, that they are dedicated to the work that they do. Most recently, the duo has been hard at work in the studio and on January 20th, they released the first chapter in their unique albums series, Materia. Listen below to the album, and read on for our chat with this duo as they discuss their thoughts on Groove Cruise, their new album, and more.
Stream the tracks from Materia – Chapter.One on Spotify:
---
Welcome back to Groove Cruise, Bossi, you have been onboard multiple times. What is your favorite thing about Groove Cruise?
Bossi: Well it's that unique thing of…first of all, being on a huge cruise ship for a few days because we are not necessarily the guys to do that when we go on vacation. Then, well, it's all people coming together to party, hang out… you're very very close to the fans. You can party together like the whole, unique experience. Meanwhile, I'm friends with some of the guys who are running the whole thing, we basically meet all around the world because these guys go and search for new ideas and stuff. It's just a very, very cool thing to do.
Is there anything that you told Nic ahead of time to prepare him for what to expect of Groove Cruise?
Bossi: I don't think you can prepare. You have to see it with your own eyes and live it. I told him, "okay, let's do it", and he was in. I'm glad it's the two of us for this time.
What's the craziest thing that you can remember ever seeing on Groove Cruise?
Bossi: We've only been here 1 or 2 hours and we've seen a lot of crazy, crazy things. Everything. The people dressing up, to just the mood here. Everything is so natural and you start talking to people and in just a few seconds.. sometimes in these seconds, it's super interesting how people are and what they do. Again, how they dress up, what music they like, and how they go through these 4 days. It's super unique. Very, very unique.
You've been together as a duo since 1999. How do you feel the electronic music scene has changed since then?
Bossi: This is something we could talk about for a year.
Nic: It's really hard to answer this. Fortunately, a lot has changed.
Bossi: Things simply have to change. If it stays the same, it'll be no good. If the cars now in 2017 look the same as in 1999, something would be wrong. The biggest difference is simply the marketing. Back then, there were smaller independent labels rather than major companies. Now, the bigger artists can market themselves, they have millions of followers. Social media changed everything, the whole marketing thing. You know, we have a new album just out 3 days ago. Back then, we would have to get into magazines and things to let people know. Now, we use our social media. All the radio shows that play the tracks…boom there is the release date. Back then, we were releasing, maybe first in Germany, and until a track was coming out, maybe even in the UK just around the corner, but it took half a year to have to release in the UK, Australia…It took weeks and weeks until they got the vinyl delivered that we had.
Nic: Now we travel all over the world and people know the song already the second is released. Wherever you want to travel.
Bossi: On the recording side, things were analog back then, now everything is digital. We basically just have our Macbooks with everything on. Before, we were sitting in a huge room filled with synthesizers, drum computers. It's basically totally different world. Still, that passion of why we do it, for us, that's totally the same. Why we write music, the way we DJ…okay now it's on CDJs and not on vinyl anymore, but still, it's that same feel we have for it. As long as that will not change, that's as long as we gonna do it.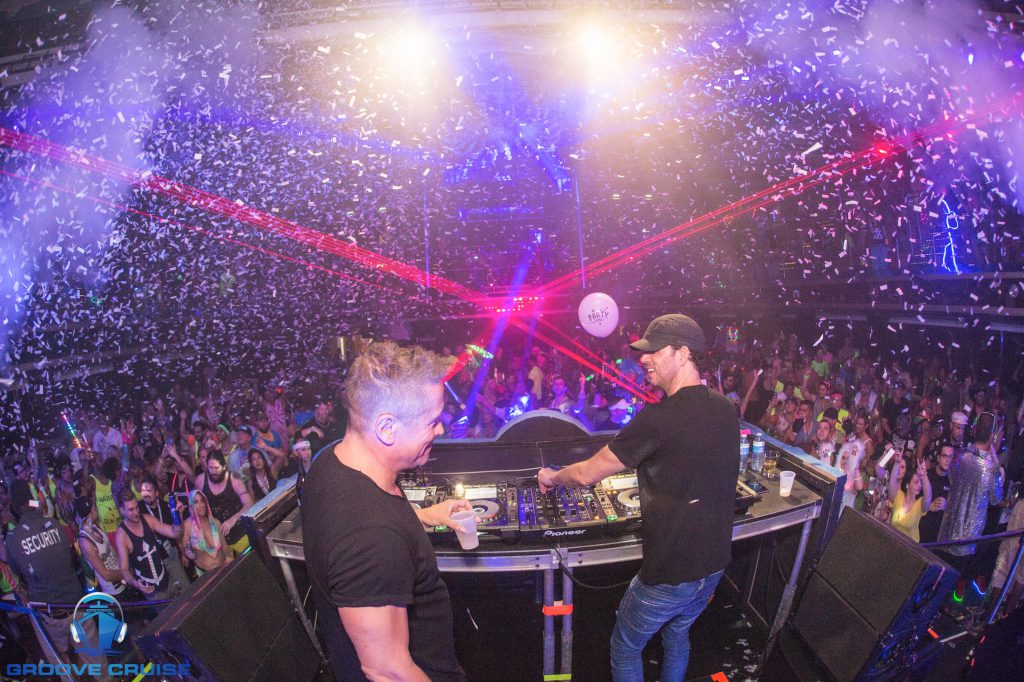 What made you choose the two-part album concept for Materia?
Nic: It was actually two things. In the beginning, we didn't plan it all, but we had so much material. At some point, we were like "wow it's so much". First of all, can we even finish it in time? Does it make sense to put it all out there? For example, the last album, Start to Feel, we have 17 tracks and after 4 weeks, not even, there were people asking "oh I love your album, when is new stuff coming out?" We were like, "what do you mean? We worked one year on this. Enjoy it. Take the time to really listen to the tracks." It was a combination of having so much material and we thought, "why don't we just split it in half and give the people a little fewer tracks and make them really listen to them?" Really enjoy them a little bit deeper, instead of just listening one week and then over it. That's basically the concept behind it, 2 or 3 months later we give them 9 more tracks to explore.
Is there a track on the first part of the album that was your favorite to produce?
Bossi: This is our least favorite question actually. We get it so often and we always try to give the answer: if you have like three or four siblings, of course, you have the one you maybe get along with more than the others. If you have 4 or 5 kids, you don't put one over the other. These tracks, they are all kind of our babies.
Nic: We don't put a track on the album that we are like "meh, it's okay." So we actually really like them all.
Bossi: Of course, there are moments where the mood changes. You know you're driving the car, there's one you like more, and then suddenly you're like "oh wow, this track is cool as well". But we won't put out one track and then pick one. We are like guys, listen, and make your mind up and hopefully pick one, two or three, or say "hey the whole album in itself is great"…but you will not get a name from us.
There are a lot of collaborations on the album. What went into choosing which artists you wanted to do collaborations with?
Nic: It's always a mix of guys that we play music with that we love that they produce. For example, if we played with them and we have a really great connection. Ilan Bluestone, obviously we did a tour with him and we love that guy. We were like, "you know what we love your sound, you're incredible, we have to work together." It was the same with Ferry…
Bossi: We've known Ferry so many years and quite so many of his people are asking "why did it take so long?"
Nic: Yeah, we have no idea. It's a very good question.
Bossi: And yes, actually that's very true. Now, we have two tracks out together within half a year. Sometimes things just happen. With some collaborations it just goes boom, you snap your finger, and it's done, and with others, we like to do something and we say how should it sound, ahh…let's just work…and boom you have a track. It's art. It's two groups of people working together, and in the end, if it really works out the way you think…you never know, maybe it works out better, maybe it doesn't work out. That's the interesting thing about collaborations. All these people in the end, when we release a track, then somehow there must be a connection that all the sides are happy with. Hopefully, the listener as well.
Are there any hints you can give fans for what to expect for Materia Chapter.Two ?
Nic: Well, we are still working on it. It's a lot of collaborations again. We can say that…
Bossi: We are not going to mention some names. Sometimes things happen, you start a track..and it might not happen. The collaboration partner suddenly starts something different and comes up with a side project which will not allow releasing other music or even music genres. Then, you basically have a track ready and it's not going to get released. So, to mention a name and then it's not on the album, people are more asking about that collaboration than what is actually out.
Nic: We have some exciting collaborations. We have some cool things lined up with people we haven't worked with yet.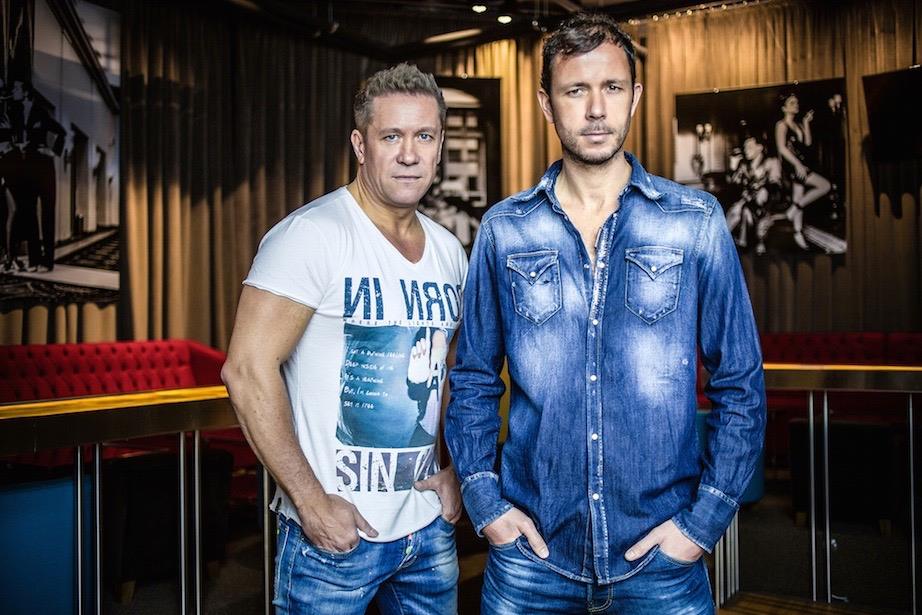 If you could go back to the very beginning, what kind of advice would you give to your future selves?
Nic: It's still the advice that we generally give. It's to be in it for the right reasons, do it because you love music, try to be original. Don't just copy or don't follow Trance because of a trend. It's a trend, it's going to fade…very soon. So when you start following it, it's already peaking probably. Do your own thing, focus a lot on that, to be different.
Bossi: Advice for us…sure there are things we would have done differently, but there isn't a major thing that we think that we went the wrong way. We always actually do music more with our guts, our stomach, our heart, then we do it with our head. We are just glad we ever did this and did not follow the EDM road… or back in Germany in 2001, after 2 years, we could have gone that hardstyle kind of pop music, kind of way. A lot of people said "why don't you go down that road? If you do that you're going to be big"… and we were like yeah maybe a year and we'd be bored and wouldn't like it anymore. All these guys who went down that road were forgotten in 2003. I think overall we took the right decisions by always just following our guts.
What is one goal you've set for yourselves, not music related, for 2017?
Nic: I thought Bossi would say I should be more organized.
Bossi: That's your own thing! I think we're both pretty comfortable with the skin that we're in. I couldn't come up with something. I could say something stupid like "I want to go and live more healthy and do cardio", but this is a little too stupid for an interview. For the rest, I just wish we would get the second part of the album done on time, with the deadline we have in mind. Things are going so well, we are getting so much love and support for the album, which is yeah…it's just fantastic actually. We just hope it stays like that because it feels really nice, what we're doing right now… Well, we didn't do something new, but we pushed the music forwards. The whole album for us feels like something very fundamentally Cosmic Gate. Album two is going to get hopefully received in the same way, and we are more than happy.
---
Check out Cosmic Gate on their Materia album tour this year: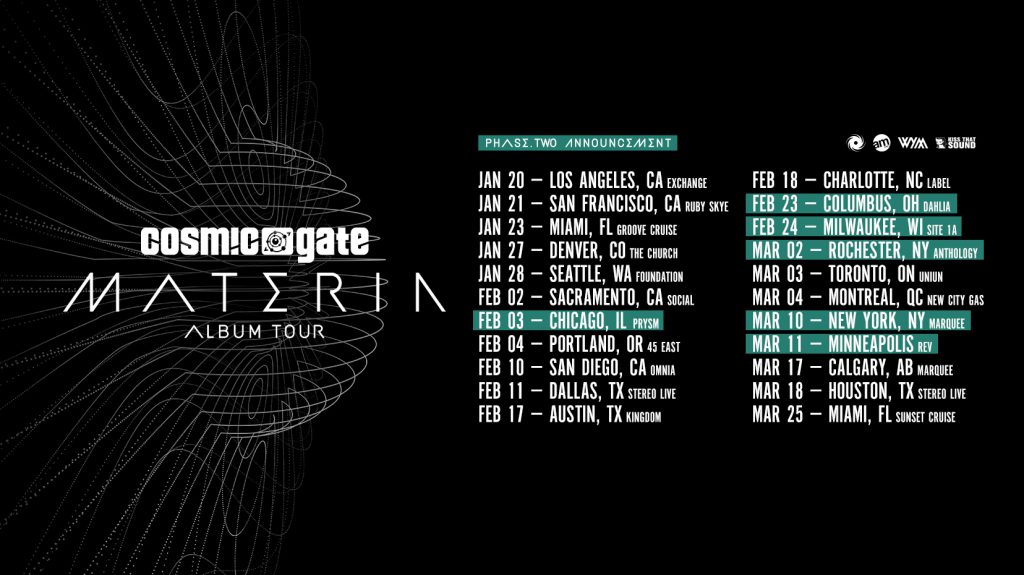 ---
Connect with Cosmic Gate on Social Media:
Website | Facebook | Twitter | Instagram | SoundCloud
Featured Photo Credit: Veramiky