This week's Throwback Thursday takes us all the way back to 2001 with a little trance tune that is still celebrated 16 years after its release!
---
It was the track that put trance duo Cosmic Gate on the map with its UK release back in 2001. Since then, Cosmic Gate has fast become one of the most adored and successful DJ/producer duo's to ever grace the scene. The track I am talking about of course is "Fire Wire"! Since its explosive beginning, "Fire Wire" has charted #9 on the UK Singles Chart, making "Fire Wire" Cosmic Gate's best-selling single for years to come. It was included on their 2001 album Rhythm & Drums as track #3 and was the 5th single released by this uber talented trance dream team.
Having been no stranger to the remix treatment "Fire Wire" has been the go-to track for reworks and remixes by Cosmic Gate with their Back 2 The Future remix, Rank 1, Wippenberg, Dimitri Vegas & Like Mike, Indecent Noise, and even DJ Delicious. Today, "Fire Wire", predominantly the Indecent Noise remix, remains strongly intact and present on the track lists of some of the biggest names in the industry and speaking from personal experience, whenever this track is dropped at an event, the crowd goes absolutely insane! So strap yourselves in for the wild ride that is….."Fire Wire"!
Stream the official music video for Cosmic Gate – "Fire Wire" on YouTube:
---
Check out Cosmic Gate on Tour!
In honor of their 7th artist album, 'Materia' that hit the airwaves on January 20, 2017, Cosmic Gate has set forth on a journey that will take them all over the planet as they celebrate the next chapter in their career. The album, comprised of nine recordings, includes tracks from Cosmic Gate alongside friends both established and new. In true form, Cosmic Gate wants nothing more than to share these brilliant collaborations with you at a slew of live events that began in Los Angeles, the next of which will take flight tomorrow January 27, at The Church in Denver, Colorado! This is a tour that you are not going to want to miss as trance's own power duo takes you on an ethereal journey into the cosmos.
Check out a couple tracks from Cosmic Gates 'Materia' by clicking here!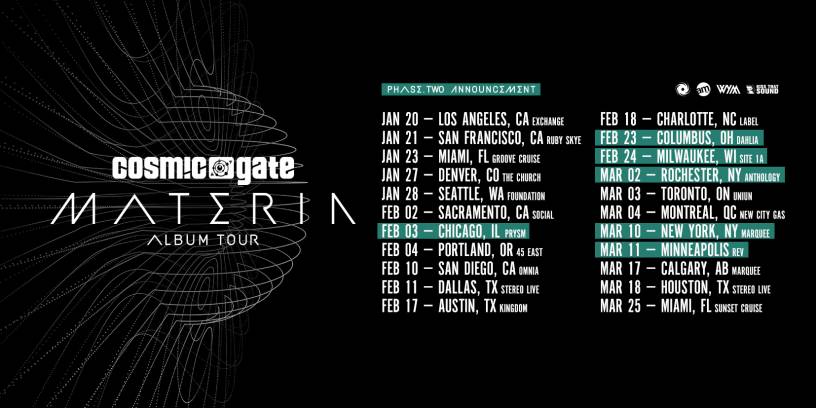 Cosmic Gate Materia Album Tour Dates:
Jan 20 – Exchange, Los Angeles, CA
Jan 21 – Ruby Skye, San Francisco, CA
Jan 23 – Groove Cruise, Miami, FL
Jan 27 – The Church, Denver, CO
Jan 28 – Foundation, Seattle, WA
Feb 02 – Social, Sacramento, CA
Feb 03 – Prysm, Chicago, IL
Feb 04 – 45 East, Portland, OR
Feb 10 – Omnia, San Diego, CA
Feb 11 – Stereo Live, Dallas, TX
Feb 17 – Kingdom, Austin, TX
Feb 18 – Label, Charlotte, NC
Feb 23 – Dahlia, Columbus, OH
Feb 24 – Site 1A, Milwaukee, WI
Mar 02 – Anthology, Rochester, NY
Mar 03 – Uniun, Toronto, ON
Mar 04 – New City Gas, Montreal, QC
Mar 10 – Marquee, New York, NY
Mar 11 – Rev, Minneapolis, MN
Mar 17 – Marquee, Calgary, AB
Mar 18 – Stereo Live, Houston, TX
Mar 25 – Sunset Cruise, Miami, FL
For more information on the tour or to purchase tickets click here!
---
Follow Cosmic Gate on social media:
Website | Facebook | Twitter | SoundCloud