Today, Dreamstate began releasing the artists who will be playing at the second edition of Dreamstate San Fransisco.
---
The second annual Dreamstate SF 2017 will once again take place at Bill Graham Civic Auditorium; however, this time the event is occurring over Memorial Day Weekend (May 27th and 28th). Similar to the style of Dreamstate SoCal announcements, the Dreamstate team will be releasing a series of artists over the next five days. We cannot wait to see who is added to the lineup and to learn more about the overall set up. We hope to see you all there as we celebrate another year of this amazing event! Last year's edition of Dreamstate San Francisco was one of my favorite events and I look forward to hearing more information about this year's events!
Check out Dreamstate SF 2016 reviews from Abisola, Christine, Grant, and Tamlyn!
Tickets start at $120 +fees and go on sale starting February 6. One-day tickets will be available for $80 +fees. Click HERE to purchase!
Anxiously waiting for your favorite artist to show up on the lineup? Relax with some livesets from Dreamstate SF 2016 and Dreamstate SoCal 2016!
Dreamstate SF 2017 Lineup: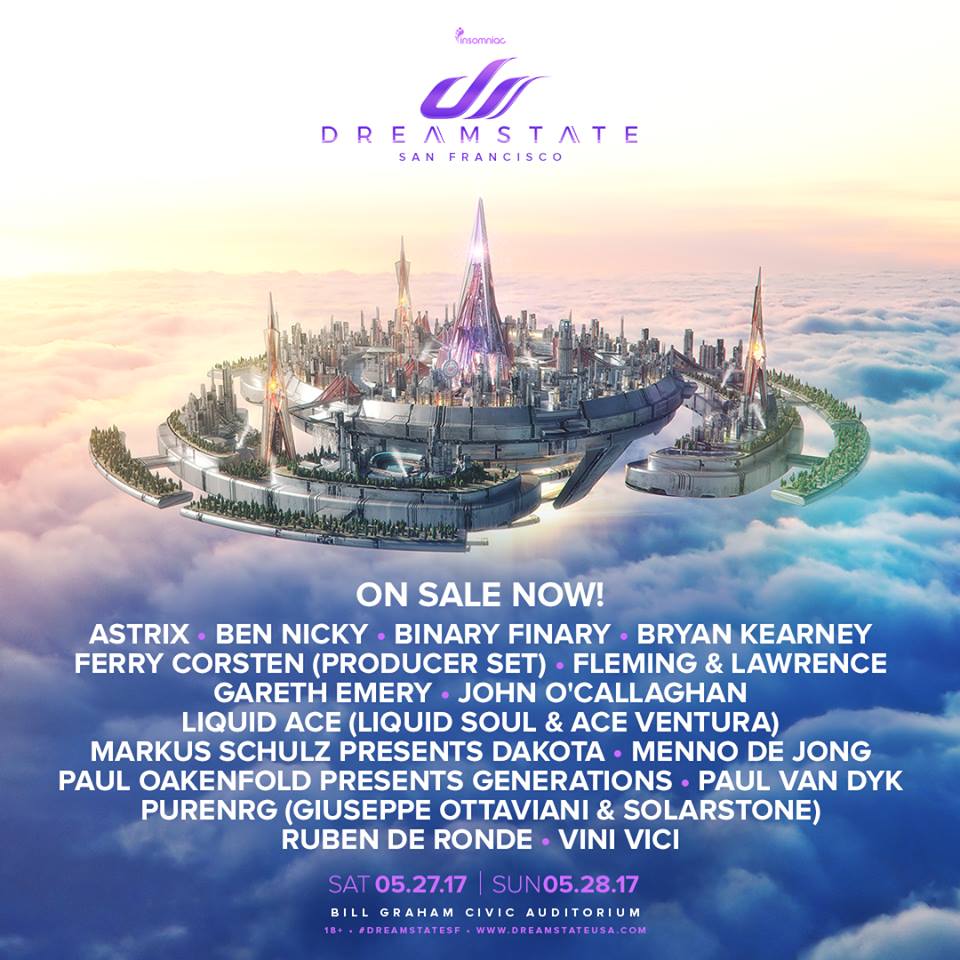 Dreamstate SF 2017 Artists announced so far (in order of announcement):
---
Dreamstate SF Event Information:
Date: Saturday, May 27, 2017 and Sunday, May 28, 2017
Ages: 18+
Hours: TBA
Venue Address:
 Bill Graham Auditorium 99 Grove St, San Francisco, CA 94102
Facebook Event Page:
HERE
---
About Dreamstate:
All trance, all the time. You're not living in reality anymore, you're living in Dreamstate. Envision a world where ethereal beats and timeless melodies abduct you from the everyday and take you to a higher state. Insomniac's brand-new, all-trance event brings that vision to life. This music has the power to connect, the power to soothe, and the power to heal. It's time to experience that power together.
Get your boarding passes and prepare to enter Dreamstate.
---
Follow Dreamstate on Social Media: