I woke up at 3 in the morning on Saturday to get ready and leave for the airport. Swearing to myself that I would never book a flight this early ever again, I passed through TSA and boarded my flight for San Francisco. It would be a lie to say that I was not excited for this adventure, and honestly I could also say that I was coming into this event fairly blind. Now, I have been to San Francisco a few times in the past. I have attended three editions of Beyond Wonderland Bay Area, and even attended Wobbleland in the past in nearby San Jose. The city itself is one of the most intriguing cities I've visited, and the amount of history on its streets is vast.
Part of the history of the city is Bill Graham Civic Auditorium, a venue in which I had never visited, and would be playing host Dreamstate SF 2016. The San Francisco edition of Dreamstate boasted of a lineup featuring some of the heaviest hitters in the trance community both domestically and internationally. Sure, it didn't include acts like Armin van Buuren, Above & Beyond, or Dash Berlin, but this event was about trance DJs and not DJs who have departed the genre in search of new fans. Instead, we were given a slightly more mainstream lineup than the SoCal Edition of Dreamstate and boy did they bring their best to the table.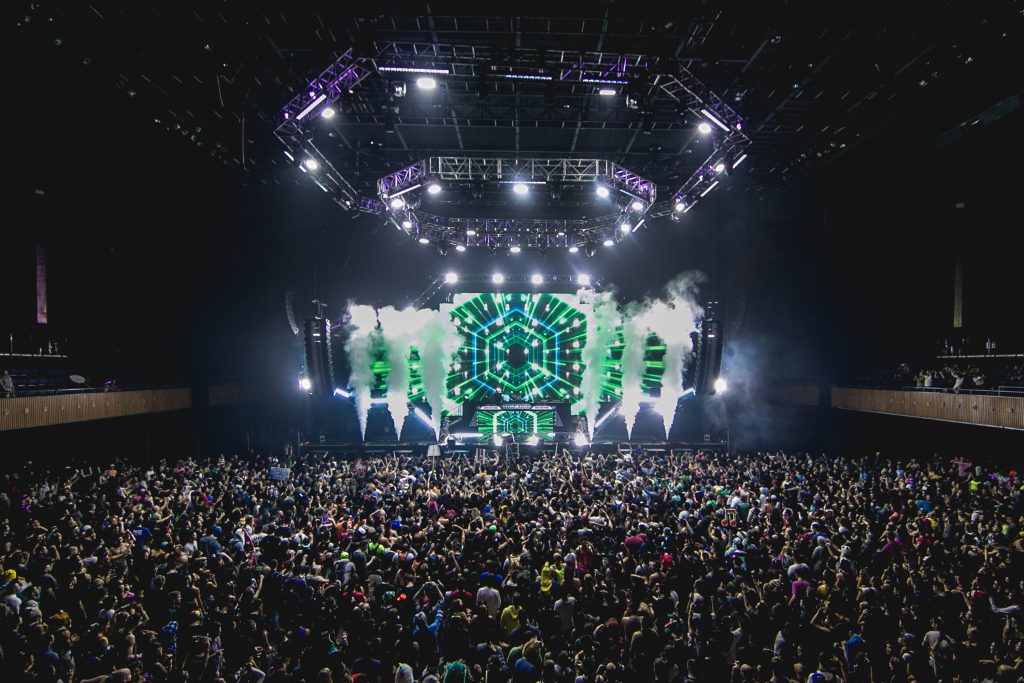 The venue itself is MASSIVE, and I was shocked to how large it actually was after entering. There was the entire main room that had two levels, and then two side rooms in which people could mix and mingle. The hallways were full of people checking out the plethora of bars and food stations, and surprisingly many places to sit down and relax if you needed a break from the music. The stage design was similar to SoCal's event, except instead of the main room being longer, it was all compacted into a smaller rig overall. One thing I was slightly disappointed in was the lack of merchandise at the event. I was hoping that Insomniac would release a snapback for Dreamstate or maybe bring more of their company branded merch with them.
The weather was pretty rainy all weekend, which left many people arriving at the venue with either umbrellas they had to check in or throw out. The remaining people went through security, which seemed fairly quicky and painless. Having a security coat check was a nice addition for the people who needed to use it, in case you brought something that was banned. While LED Gloves have been perpetually banned by Insomniac Events and the venues they host at, I did not see a single person get anything confiscated which entering or inside the venue. I will note though, that many of the security guards and people working at the event had no clue what was going on, not Insomniac's fault, but maybe a lot of these guys were rookies.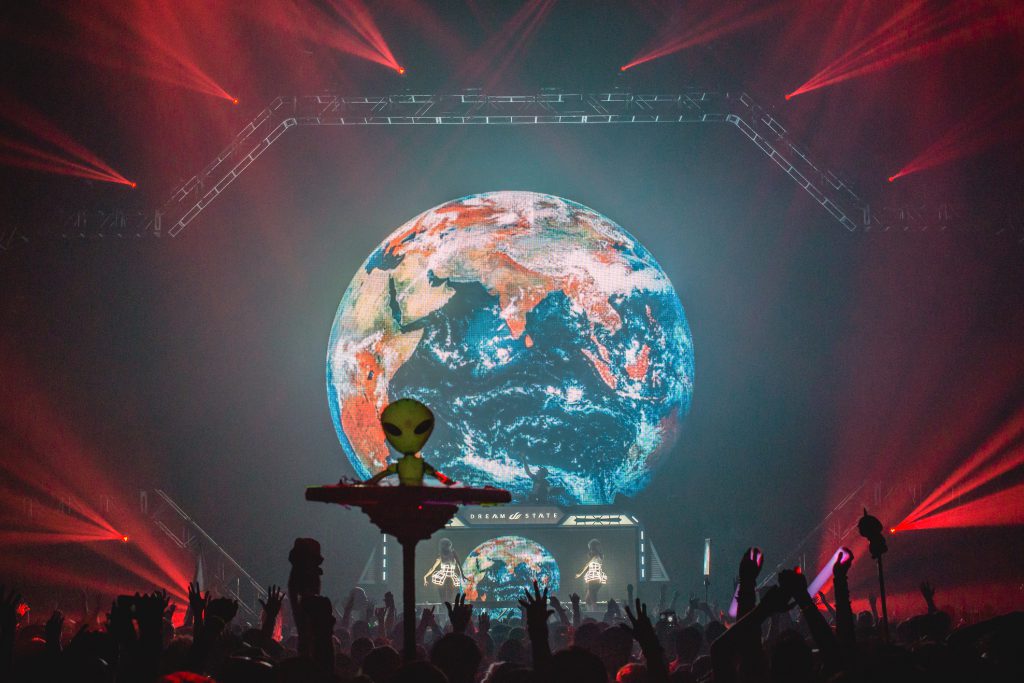 I was prepared to once again leave the planet and head to Dreamstate!
Much like the SoCal edition, the vibes of the crowd were filled with both excitement and intrigue. There is just something about the trance genre that seems to bring out the best in people. I didn't see or notice anything negative happen to anyone during the event, nor have I seen anything posted online after the event, so I'll definitely call that a success. I could tell though that this event was definitely sold out at points, as I looked down from the very full upper level to the ground below and saw a legitimate sea of people.
But enough about the vibes, let's talk about the artists that played. One thing that I seemed to miss, maybe it wasn't presented at this event, was the vocal introduction of the artist or artists about to play. The name would come up on the graphic but either I was distracted and missed it or it never happened entirely. Outside of that though, I was impressed by ever single artist that I saw. There were definitely a few DJs on the lineup that people prior to the event questioned, mainly due to their lack of recent trance releases or slight departure from the genre, but even they killed their sets. Of all the artists who played, I only missed RAM and Neptune Project, which sucks because I really wanted to see both. Luckily they released their sets on SoundCloud, and those can be found HERE.
Saturday brought some great sets with it, my favorite sets of the night being from Vini Vici and Jordan Suckley. I preferred their sets over the rest of the lineup that night, but that is not to say that the rest of the lineup did not kill it too. Paul Oakenfold played another great set, and Markus Schulz closed out the evening in massive fashion. As I left Bill Graham I thought to myself "Wow, if tonight was this good, tomorrow is sure going to be even more epic." My thoughts were true, and after entering the event on the second day, I was met with pure awesomeness.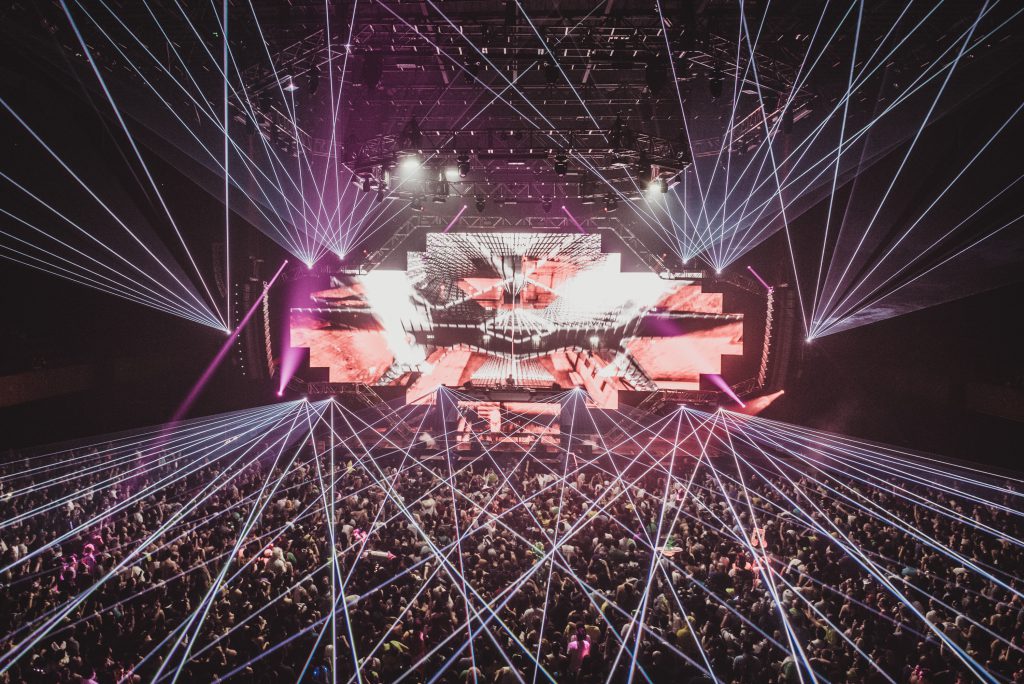 Let's talk about the second day of Dreamstate for a moment, because I think that this day had the best flow of set times I could have asked for. Entering late that day so I started with Solarstone, who brought the Pure Trance to our ears. This led into Fleming & Lawrence, a duo that I was excited to see play live perhaps played one of my favorite sets of the weekend. Bryan Kearney brought in some serious psytrance elements to take us to the next level, and my night peaked with John O'Callaghan who is one of my personal favorite trance acts. From there, Aly & Fila brought us a set that was full of exclusives and ID's that won't even be released until after their BBC Radio 1 Essential Mix, and Cosmic Gate spun a set full of both revamped classics and their original tunes that we know and love. Closing out the night was Gareth Emery, who was criticized by many when the lineup was released. Through Twitter he stated he would be playing a trance-heavy set and honestly, I felt impressed with his talents after seeing him.
It was almost just as hard to leave this event as the one in SoCal. The feels and vibes are so addictive and the music truly puts you in a Dreamstate. I spent an extra day in San Francisco to take in the city and check out some new places I had never been before, but I secretly wished there would be a third day of the magic that happened the two days prior. I cannot wait to see what Insomniac Events brings to the table with the Dreamstate Stage at future events such as EDC New York and Beyond Wonderland SoCal!
Grant's Top 4 Sets From Dreamstate SF:
Fleming & Lawrence
John O'Callaghan
Vini Vici
Bryan Kearney
Stay tuned for my interview with John 00 Fleming, which will be released Monday the 25th!