Bonnie X Clyde is a dynamic duo that is primed for superstardom in 2017, get to know them today!
---
Throw it all the way back to August, when I first heard about a rising new duo on the scene, Bonnie X Clyde. In my inbox was an email with their track "Tonight" which made me take notice of them immediately. Seeing them dot the lineups for Nocturnal Wonderland and EDC Orlando, it seemed as if everyone that caught their sets had nothing but great things to say too. So when they announced they would be moving to the West Coast in 2017, while also kicking off the year right at Countdown this past weekend, I knew that this duo would be one to watch this year.
For those of you who weren't in attendance at Insomniac's Countdown, Bonnie X Clyde packed a stage during their opening slot at 5pm, which is something I rarely see from acts that early. Their dynamic sets with live vocals really bring a new type of energy to the festivals they play. Check out the crowd below and read on for the interview with these two!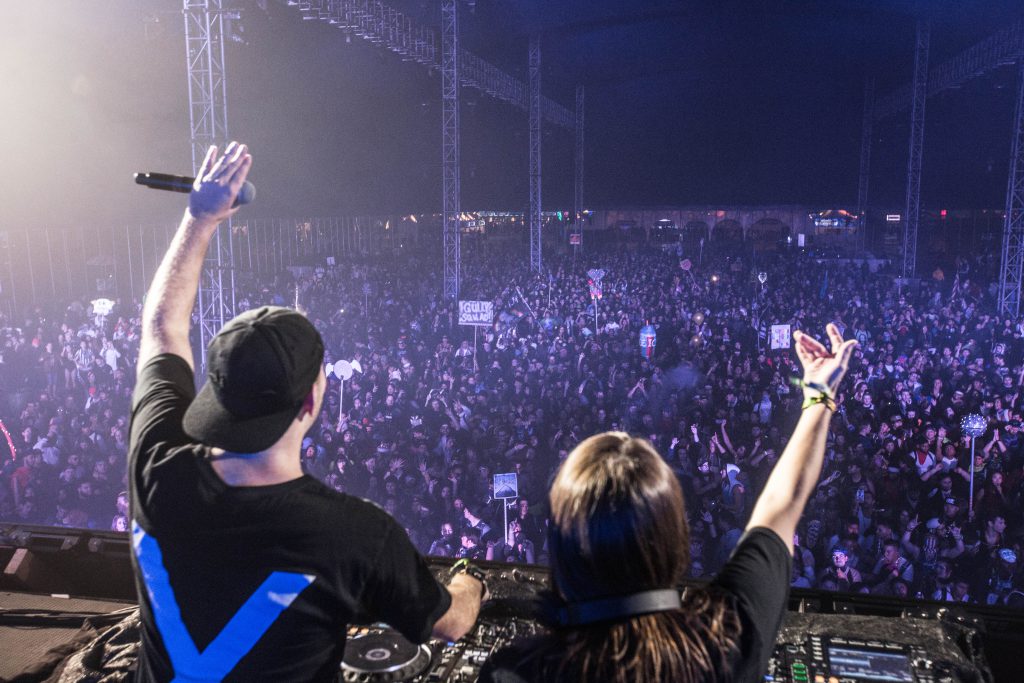 ---
Let's talk about how you two linked up, what's the backstory on how you guys decided to come together and start making music?
We first met in middle school but we really didn't start making music with each other until about our junior year of college. Our journey really started when we got into the studio to make a song and we really enjoyed the vibes from that session. The song ended up coming out great and that's how Bonnie X Clyde was born.
Who are some of your inspirations as artists?
Bonnie: Alison Wonderland, the fact that she sings on a lot of the music, she produces, as well as DJs is the main reason why she's one of the artists I look up to. Tove Lo is a huge inspiration to me as well! Her vocal style, in regards to her range and the style music she sings makes her definitely someone I can relate to and she inspires me on the daily.
Clyde: Marshmello, the way he controls crowds and works his branding is extremely smart & I love the energy his sets bring.
Both: Diplo is definitely both of our biggest inspirations, not only because he produces great music but he knows how to throw a really great party and at the end of the day we always want to throw a great party.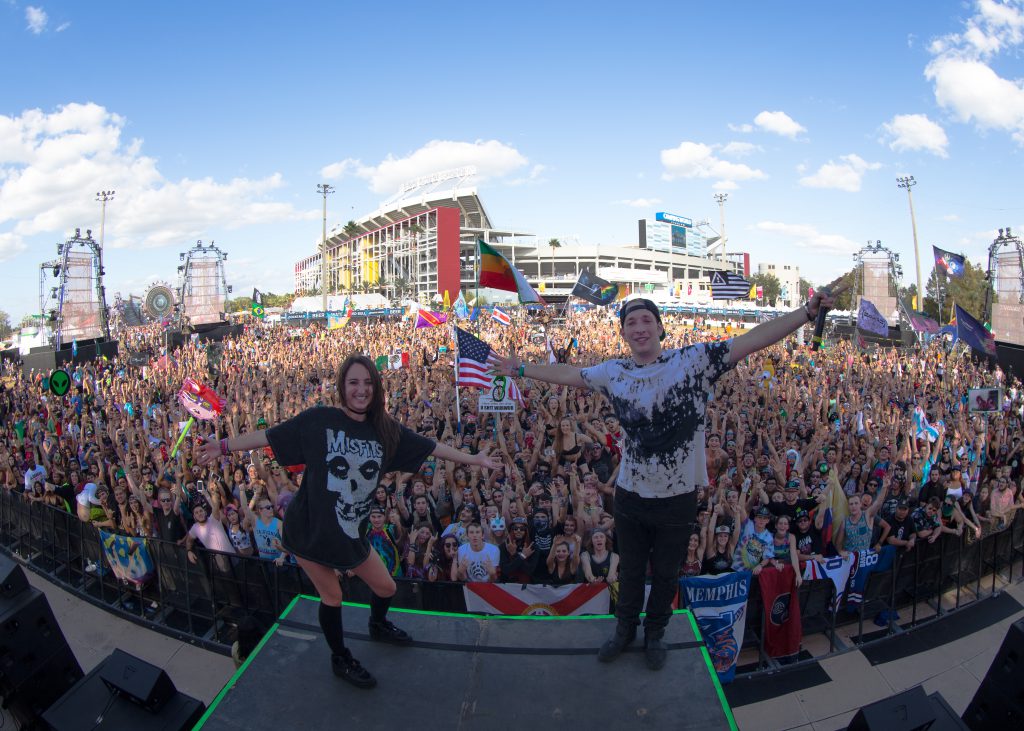 Coming from being fans of electronic music to producing it, what has it been like transitioning from one side of the decks to the other?
At the beginning, it was hard not being able to just run around the crowd and dance with everyone like the little raver in us but eventually it became amazing being able to connect with the crowd on stage & through our music. Honestly, we have had to give up many things now that we are working in the industry and behind the scenes. But the love from our fans and support from our friends and family has made the process much easier and well worth it. There isn't anything like hearing the crowd sing our music back to us, it's a surreal feeling that we wouldn't change for anything.
You partnered up with Insomniac to release "Tonight" back in August, what was it like working with them on the release?
We LOVE working with Insomniac. Not only do they know how to throw incredible shows with A++ stage production, they are also the sweetest people to work with. Some of my favorite moments so far in this industry has worked with them on our music & at their events. They are great people who strive for excellence and I truly appreciate everything they do for us.
https://soundcloud.com/discoveryproject/bonnie-x-clyde-tonight
What type of message do you bring with your music?
We aspire to inspire people to believe in themselves with our music.
How do you feel the scene in Florida differs from other places you've played?
Honestly, it doesn't feel different. Everywhere we go, we always make sure it's a lit party.
Everyone has been absolutely loving your set from EDC Orlando, what was it like playing that festival in your home state?
This show meant the world to us. We began Bonnie X Clyde in Florida so for us, Florida is home. We had our first tour all around Florida as well, so our Florida fans are our family. Before EDC we knew we had to make it an epic moment for everyone. When we heard the stage we were playing we literally screamed to each other. We were so stoked to finally get to play a big stage and to perform all our new music that is coming out soon. When we got on stage, we couldn't believe the turnout. Florida comes through for us every time and we are so thankful for that. The energy & love from that set was unlike anything we have experienced in our career so far. We have played several big venues in our past but nothing compared to that stage at EDC Orlando. It was infectious and beautiful. <3
You've officially finalized your move to the West Coast, what led to the decision to move out here?
We came out to the west coast for a new creative space and to expand our network. We are excited about all the opportunities out west and collaborating with new artists. When we started playing festivals, it really gave us an itch to move out west to get more involved in the scene.
Taking a road trip out to California must have been full of some interesting sights. Where was your favorite place to stop on the journey?
New Mexico was definitely one of our favorite stops! During our drive, we decided to take Polaroids entering each new state. New Mexico, in particular, was the one stop we made at night. Thankfully we did because the stars were unlike anything we had ever seen. Our Polaroid came out dark, but that memory we will cherish forever.
Congrats on getting booked for Life In Color's 10th Anniversary in January! Do you have anything special in store for your return to Florida?
Life in Color Miami was the first festival we ever played. We hold this festival close to our hearts. Each festival we try to have one or two things that are special and specific for that festival. Whether it's a dance, a unique throwback song, we always like to make it special. This year we will be playing all of our new music which we are extremely excited about! We may have some signed 2 dollar bills for those true ride or dies 😉
Get information about Life In Color Miami 2017 HERE and grab your tickets today HERE!

Are there any new releases planned in 2017 that you can share with fans?
Our WANTED EP is coming very soon. It comes from a very special place. We believe this will be our first package of music people will truly relate to and remember us by. We spent 8 months making this music and it truly comes from the heart. We have songs that will make you rage your face off as well as music that will capture your heart so we really hope it connects. So far, each event we played the music at we received a beautiful response so we are eager to release this soon!
What are your resolutions for the new year?
Living healthier, finding that next sound, and being able spread our message to the world.
Finally, what are your favorite flavors of ice cream?
Chocolate, ALL CHOCOLATE.
---
Follow Bonnie x Clyde on Social Media:
Facebook | Twitter | Instagram | SoundCloud