EDC Orlando has come and gone, bringing some love to the Sunshine State to start off this month!
---
Every year I attend Electric Daisy Carnival Orlando, it is more memorable than the last. This year was by far the best for me to date and the MOST memorable. This year I met so many amazing people and got to hang out in some of the best locations to experience EDC Orlando! My amazing weekend started out with being able to meet some of the Insomniac team and explore the grounds before the gates opened. Even though I wasn't able to be there for the entire tour, from what I was able to see, I already knew that this year was going to be absolutely memorable.
Looking for some live sets from EDC Orlando this year? Click HERE!
The layout of the venue this year was on point. It was much more open than previous years. One of the things I loved the most was that there were two entry and exit points to neonGARDEN this year. Insomniac also utilized the small lake that is at Tinker Field in a better way than previous editions. They actually turned it into an art installation and great chill spot, by adding inflated swans and daisy that had LED and changed colors. The additional exit/entry point was awesome to see lit up at night. Insomniac installed UV reflective PVC poles, creating an archway that you could walk through. It was pretty sweet. I wouldn't be able to fully explore the grounds until the gates opened at 1pm the next day.
Some additions that were new to EDC Orlando this year were the Smirnoff House, JagerHaus and the Corona Electric Beach.
The Smirnoff House featured additional sets from artists such as Throttle, NGHTMRE, CID, and CocoDrills. When you go inside the house, you can't even tell that your right next to kineticFIELD. The sound is absolutely awesome! I did not go in there because it was just too packed for my taste, but it was pretty cool to check out. Corona Electric Beach was fun as well. There was an actual pool on-site, which I jumped in for a quick dip on Friday to cool down. It was definitely refreshing! The creators of this area did an amazing job, Cyrus and the Corona Team definitely outdid themselves. They even had a photo booth set up where you could send and post your pictures to social media or email. I was unable to relax with a Corona in hand due to my hops allergy, but the Coronarita, which is Tequila and margarita mix with a Corona mixed in defintiely was still appealing.
There also was a stage at Corona Beach as well, and from what I understand 12th Planet killed it with his performance there on Friday night. I cannot wait to see what they have in store for Okeechobee Music and Arts Festival in March! The JagerHaus was pretty awesome as well. The design of the Haus was pretty cool and unique in it's own. Two enormous antlers rised up out of the ground and they had performers dressed as the deer walking around. Jager also had a kandi making station, a flower crown making station, temp tattoos, and free face painting. Their kandi making station was not just basic beads, but they had some fun and unique ones as well!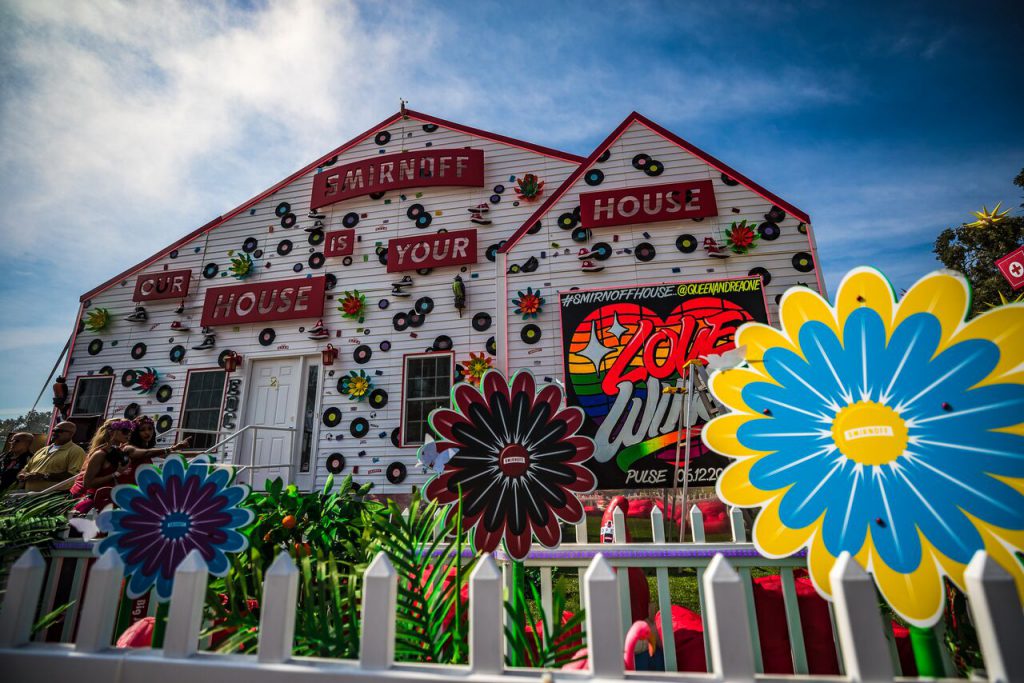 KineticFIELD this year was beyond amazing, I loved how they always try to bring a smaller, condensed version of the kineticFIELD from EDC Las Vegas.
I was initially a little disappointed that the stage was missing the big cup from the larger version, however, after talking to the Insomniac team, I completely understand why it wasn't brought along. The kineticTEMPLE itself consists of many LED panels and would have been far too expensive to ship here to Orlando. One of the major complaints from when it debuted at EDC Las Vegas was that it blocked the main screen, so it definitely pleased many. I must say that when they had it displayed on the main screen it looked like it was really there.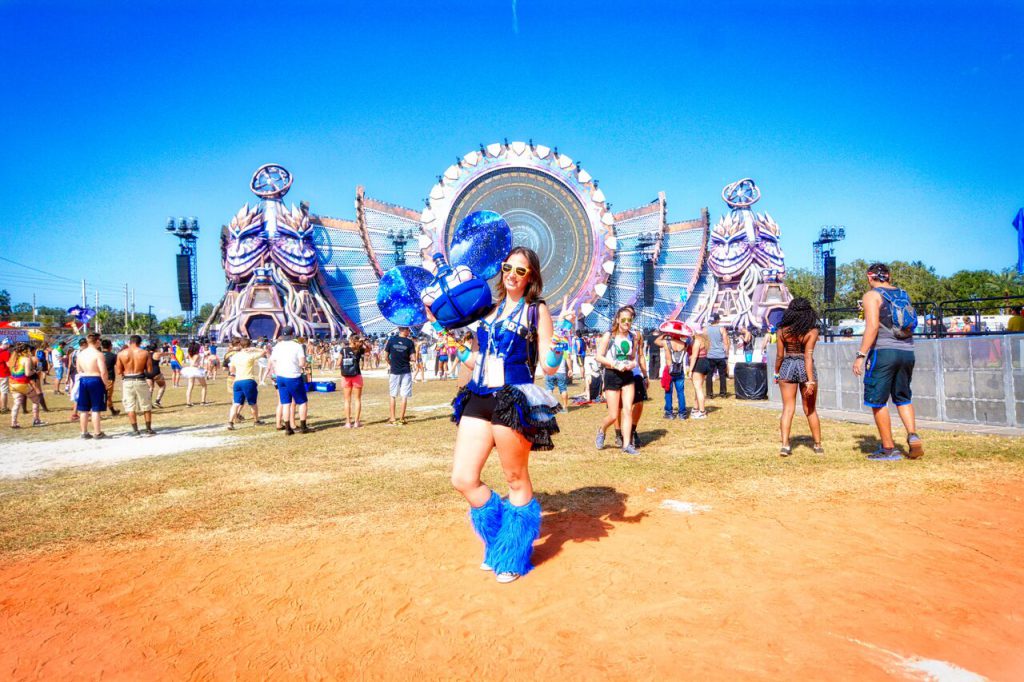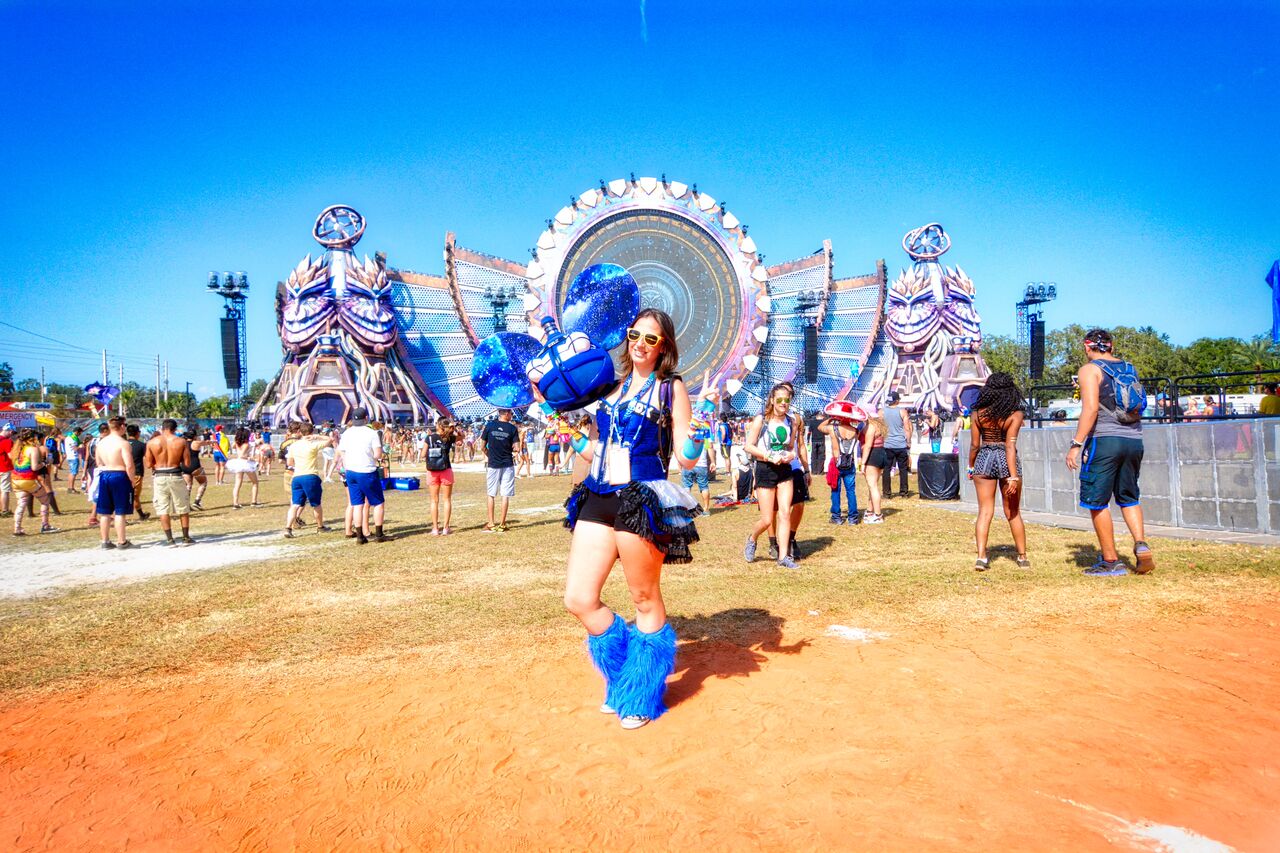 Like I stated earlier, the neonGARDEN was absolutely amazing and it was great they included two exit/entry ways. The only thing that I would suggest, is to have one or two extra free water stations be available. In order for those dancing at the neonGARDEN stage to get water, you would either need to pay or walk all the way to the circuitGROUNDS for a free water source. Other than that, the layout this year was very open and I loved it.
Once I arrived on those memorable festival grounds, I entered through VIP section and explored what VIP had to offer for attendees. Something that I absolutely loved was that Insomniac had included a free kandi making tent just for VIP guests too. I hung out here for a bit and met and chatted with some pretty amazing ravers both young and old. I also had wanted to experience what I have read and written about, Insomniac's VIP Ball Pit! This was a must do for me because it brought back those awesome memories of my childhood. Apart from the bathrooms, VIP offered free body painting as well and an elevated viewing area for guests. It was great to finally experience the Insomniac VIP services, and for those of you on the fence I'd suggest upgrading next year!
While exploring the grounds, I noticed that the vendor village was where the rides used to be located at. The vendor village was full of a plethora of clothing shops and merchandise shops for attendees to check out. One of my favorite shops, The Pop Icon, was there, selling their fashion lollipops that you can reuse by changing out to a new refill after you're done. Something you may not know, is that if Pop Icon is at a festival you are attending, they will provide unlimited refills to owners for the length of the festival. They are definitely one of my favorite companies and they are based out of Miami too.
Now, what can I say about the lineup this year other than that it was absolutely awesome!
Out of the weekend, my two favorite sets this year were Rabbit in the Moon and Vini Vici. Rabbit in the Moon was an indescribable experience. Bunny and David both performed a show that was a can't miss for me. Their show was a one of a kind creative piece that incorporated of the audience too, which is what sets them apart from the rest. While David is up on the decks playing the music, Bunny is bringing a one of a kind experience for the audience using different art forms, his signature LED suit, and an inflatable plastic ball which he actually gets in and rolls through the audience! I cannot wait to see them perform again.
Vini Vici was an act that I was able to catch during the Dreamstate Presents portion of the weekend at neonGARDEN. I have seen all the videos from Vini Vici leading up to EDC, and I must say that they definitely lived up to the hype. I was blown away by their set and totally into what they dished out. Throughout the weekend, I wanted to go out of my shell and voyage away from kineticFIELD to experience and listen to new artists. I feel that I accomplished that by experiencing Dreamstate Presents, seeing Above & Beyond for my third time, and also caught one of my new favorite artists perform too.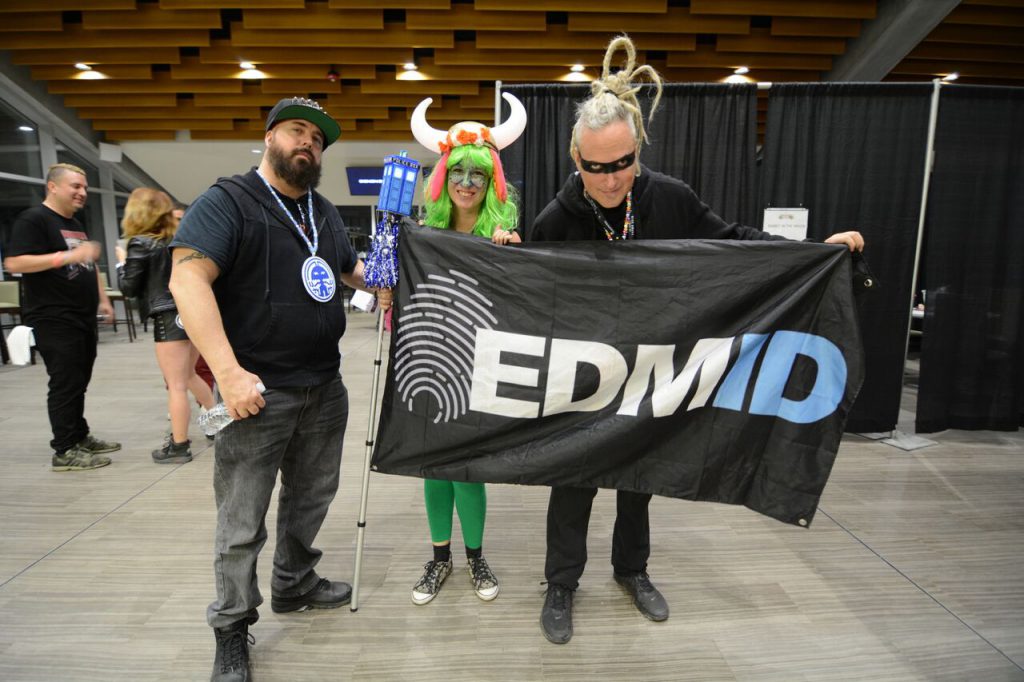 Overall, this year's EDC Orlando is my absolute favorite to date. Out of the last four that I have attended, 2016 is standing out as the most memorable.
Apart from getting to hang out with old friends, I met some pretty awesome new friends as well. I actually got the chance to meet Pasquale and Holly face to face while they were walking between stages. Also, I was able to meet artists like Throttle, who threw down a pretty awesome set, and even Hardwell as he walked off his closing set on Day 2 at kineticFIELD. I can't wait to dance under that electric sky once again! Electric Daisy Carnival Orlando will always have a special place in my heart. It was my very first Insomniac event and it will always remain one of my favorites. Until next year.
---
Connect with EDC Orlando 2016 on Social Media:
Website | Facebook | Twitter | Facebook Event Page | Instagram