Every year, the Life In Color brand finds new ways to reinvent itself. This year's edition of Life In Color Miami will be no different!
---
LIC has come a long way from its simple roots as a paint party, as it has grown to become a well-known festival brand, making tour stops all around the world. Each year it returns home to Miami to start off a new tour with new artists and a great theme. In 2016, LIC welcomed us into the Kingdom, with its trademark lion, which has made its way around the world. Now celebrating its 10th year, Life In Color Miami has relocated from SunLife Stadium to the historic art district of Miami, Wynwood, and will be taking place on January 28, 2017, at Mana Wynwood & RC Cola Plant during Martin Luther King Jr. weekend.
Check out our experience at Life In Color Miami last year HERE!
Following this announcement, my interest was piqued to see what Life In Color has in store for Miami this year. In the past, since LIC deals a lot with paint, the brand has incorporated artists to produce some amazing work each year. So it was only fitting that LIC to Wynwood. This makes me wonder if we can expect some creative artists to paint murals live during the DJ performances, that would be epic! It has also been revealed that there will be two stages at this year's event, SectorX and Rare Stage. Of course, the main attraction aside from the paint party would be the lineup. So without further ado here is the lineup for the 10th anniversary!
Life In Color Miami 2017 Lineup: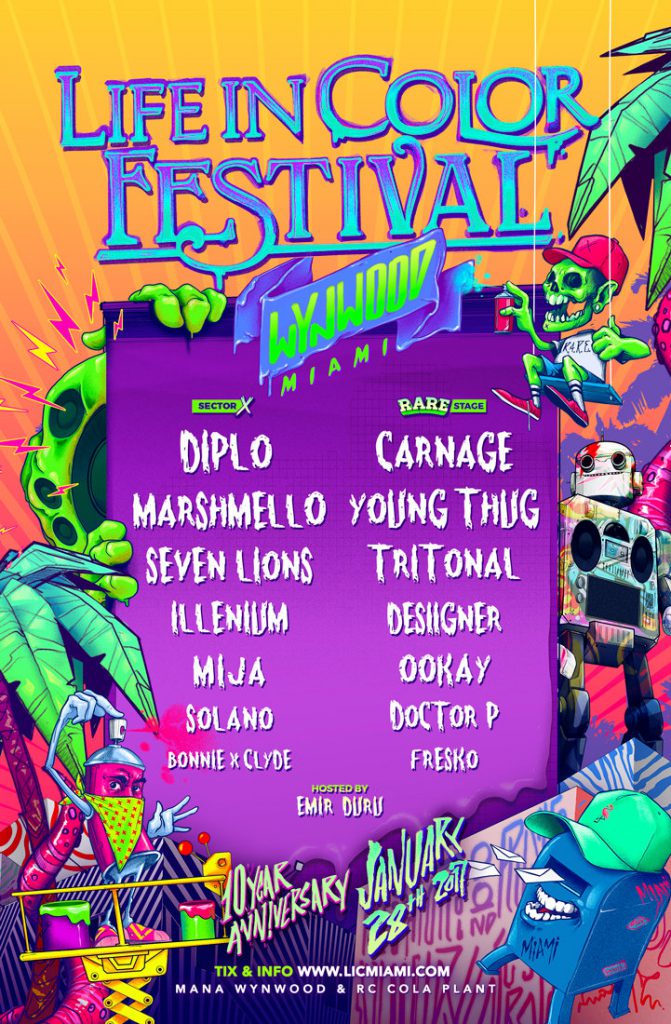 Life In Color Miami 2017 Lineup – Alphabetical:
Carnage
Desiigner
Diplo
Doctor P
Fresko
Illenium
Marshmello
Mija
Ookay
Solano
Young Thug
As you can see this will be one heck of a year for Life in Color, not only with the new venue but also celebrating its 10th year as well. I for sure am excited to see what this year's LIC Miami has in store!
---
Life In Color Miami 2017 Event Information:
Date: Saturday, January 28th, 2017
Ages: 16+
Hours: 2pm – 12am
Venue Address: Mana Wynwood – 2250 NW 2nd Ave, Miami, Florida 33127
Tickets: HERE
Facebook Event: HERE
---
About Life In Color:
LIFE IN COLOR, "The World's Largest Paint Party," began in 2007 on college campuses in Florida. Founded by Sebastian Solano, Paul Campbell, Lukasz Tracz and Patryk Tracz, LIFE IN COLOR, is a production and promotions company that tours internationally in addition to its annual flagship festival LIC Miami. Life in Colors tour annually visits 50+cities in over 30 countries selling upward of 250,000 tickets annually. Life In Color has hosted virtually every major DJ including JackU, Hardwell, Calvin Harris, Knife Party, Steve Aoki, Kaskade, Major Lazer, , Alesso, Sebastian Ingrosso, Diplo and more. SFX Entertainment acquired LIFE IN COLOR in 2012 and operates out of Miami, FL.
---
Connect with Life In Color on Social Media: