This past Saturday, Grotesque, Holland's leading party troupe, showcased their most extraordinary event yet!
---
This massive party was an impressive cirque-themed event that featured 15 DJs on 3 stages playing for 5,000+ clubbers all celebrating Grotesque's big 250. Three featured DJs have teamed up to resurrect the amazing night and release the 'Grotesque 250' triple-disc mix compilation. Prolific DJs, Sean Tyas, Vini Vici and Grotesque bossman himself, RAM, have mixed 48 tracks across 3.5 hours and are bringing fans one of the most epic compilations trance of the year. Listeners will find releases & reworks from a variety of revered and up-and-coming names such as  Andy Moor, Mark Sherry, Astrix, Robert Nickson, Ace Ventura and Ronski Speed, James Dymond, Allen Watts & Amir Hussain, Daniel Skyver, Matt Bukovski, Chris Metcalfe, Adam Ellis + dozens of others.
Stream RAM & Mark Sherry – "Nordic Nights" (Grotesque 250 Anthem) on SoundCloud:
RAM starts everything off with the beautiful and epic  "Nordic Nights" – his and Mark's Sherry's 250th show commemorating anthem. This is followed by "Heliosphere", courtesy of Robert Nickson, Ciaran McAuley's "In Memory Of You" and Simon O'Shine/Ahmed Romel collaboration "Erytheia" among multiple other uplifting and melodic tracks.
Sean Tyas's disc brings the heat with Liquid Soul & Neodyne's 'Believe' and "Clockwork" – the latest from Freedom Fighters' seizing the disc's opening minutes. The disc also includes more psytrance tracks including "Cyanosure" from Magnus and his own "Turbo" bury the mix's needle into the red.
Vini Vici's arrival on the decks brings out some hard-hitting psytrance tracks. The duo's rework of "Free Tibet" from Hilight Tribe, their Ace Ventura co-op 'The Calling' and Astrix's 'Deep Jungle Walk' together are powerful additions to the mix. The remainder of the disc continues the heavy psy-style with Captain Hook & Ace Ventura and 'Ambition' from Coming Soon!!! and the dazzling Static Movement/Off Limits remix of VV's 'Namaste' collectively bring the first mix-disc to a mighty conclusion.
As one of the many who watched the livestream via the Grotesque Facebook page, I am excited to return to the sounds of the trance carnival to end all carnivals!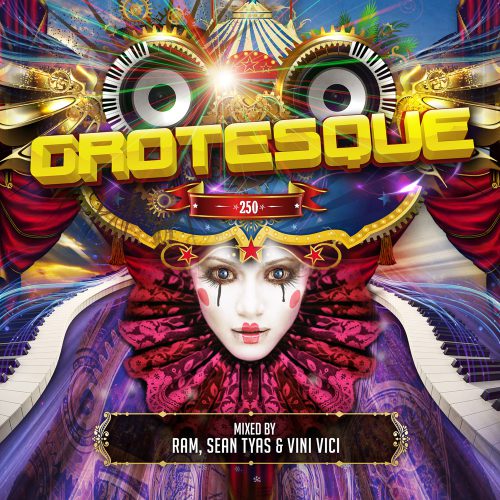 'Grotesque 250' is the first essential trance compilation of 2017. Purchase or stream it HERE!
Stream Grotesque 250 on Spotify:
---
Grotesque 250 Track List: 
Disc 1 – RAM
Mark Sherry & RAM – Nordic Nights [Grotesque 250 Anthem]
Robert Nickson – Heliosphere
Ciaran McAuley – In Memory Of You
Simon O'Shine & Ahmed Romel – Erytheia
Ahmed Romel – City of Life (RAM Remix)
Allen Watts & Amir Hussain  – Parallax
RAM & James Dymond featuring Aelyn – Paradise
Andres Sanchez & Katherine Amy – These Ties Are Binding
Daniel Skyver – Heatwave
Matt Bukovski – Energia
RAM featuring Stine Grove – Forever And A Day
Davey Asprey – Sunbreaker
Paul Denton – Yellow Leaf (Extended Mix)
TrancEye – Atum
Allen & Envy, Mhammed El Alami – Perception (Niko Zografos Remix)
UCast – Icy
Disc 2 – Sean Tyas
Liquid Soul & Neodyne – Believe
Freedom Fighters – Clockwork
Chris Metcalfe – Tesalia (Sean Tyas VIP)
TrancEye – Lost Soul (Extended Mix)
Sean Tyas featuring Victoriya – Perfect World (Extended Mix)
Sean Tyas featuring Cindy Zanotta – Start Over (Sean Tyas Remix)
Estigma – Ascension (Sean Tyas Dework)
Orla Feeney & Kristina Sky – Crestfallen
Ronski Speed presents Sun Decade – I'm Alone (Adam Ellis Remix)
Sean Tyas – Matter Of Time
Vlind & Magnetic Point – Inner Healer (Sean Tyas Dework)
Serjan – The Cyborgs Are Here
Sean Tyas – Swimming In Acid (Sean Tyas VIP)
Andy Moor & Somna – Look Back (Bjorn Akesson Remix)
Magnus – Cyanosure (Sean Tyas Dework)
Omega Drive – Do Not Be Late (John Askew Rework)
Sean Tyas – Turbo
Basic Dawn – Pure Thrust (Madwave Remix)
Disc 3 – Vini Vici
Hilight Tribe – Free Tibet (Vini Vici Remix)
Vini Vici & Ace Ventura – The Calling
Astrix – Deep Jungle Walk
Zentura – Sonic Masala (Lifeforms Remix)
Ranji & Mind Spin – Brain Capacity
Vini Vici & Bryan Kearney – We Are The Creators
Vini Vici & Liquid Soul – Universe Inside Me
Coming Soon!!! – Ambition
Vini Vici – Namaste (Static Movement & Off Limits Remix)
Ticon – Mirage
Off Limits – Electronic Soul
Morten Granau – Fuzzy Monkey
Captain Hook & Ace Ventura – E.B.E.
Grouch vs. Perfect Stranger – Ionic Defibulizer (Grouch Version)
---
Connect with RAM on Social Media:
Facebook | Twitter | Instagram | SoundCloud
Connect with Vini Vici on Social Media:
Facebook | Twitter | Instagram | SoundCloud | YouTube
Connect with Sean Tyas on Social Media:
Facebook | Twitter | Instagram | SoundCloud