Will you be counting down to 2017 at Resolution in Seattle?
---
USC Events is well known for bringing some amazing experiences and epic lineups to the Pacific Northwest. Whether you've experienced FreakNight or Paradiso, it is a great time no matter what. To end 2016 off with a bang, the USC Events team has brought a solid lineup for their New Year's Eve celebration. Hosted at the WaMu Theater in Seattle on December 31st, fans of all genres will be pleased to see their favorites represented as the clock ticks towards 12!
The sixth annual edition of Resolution will feature performances by Above & Beyond, Adventure Club, Yellow Claw, Tritonal, Delta Heavy and more. Check out the full lineup below and let us know if you plan on attending this epic party in the comments!
Tickets are available NOW, click HERE to purchase them!
Watch the trailer for Resolution 2017 on YouTube:
Resolution 2017 Lineup: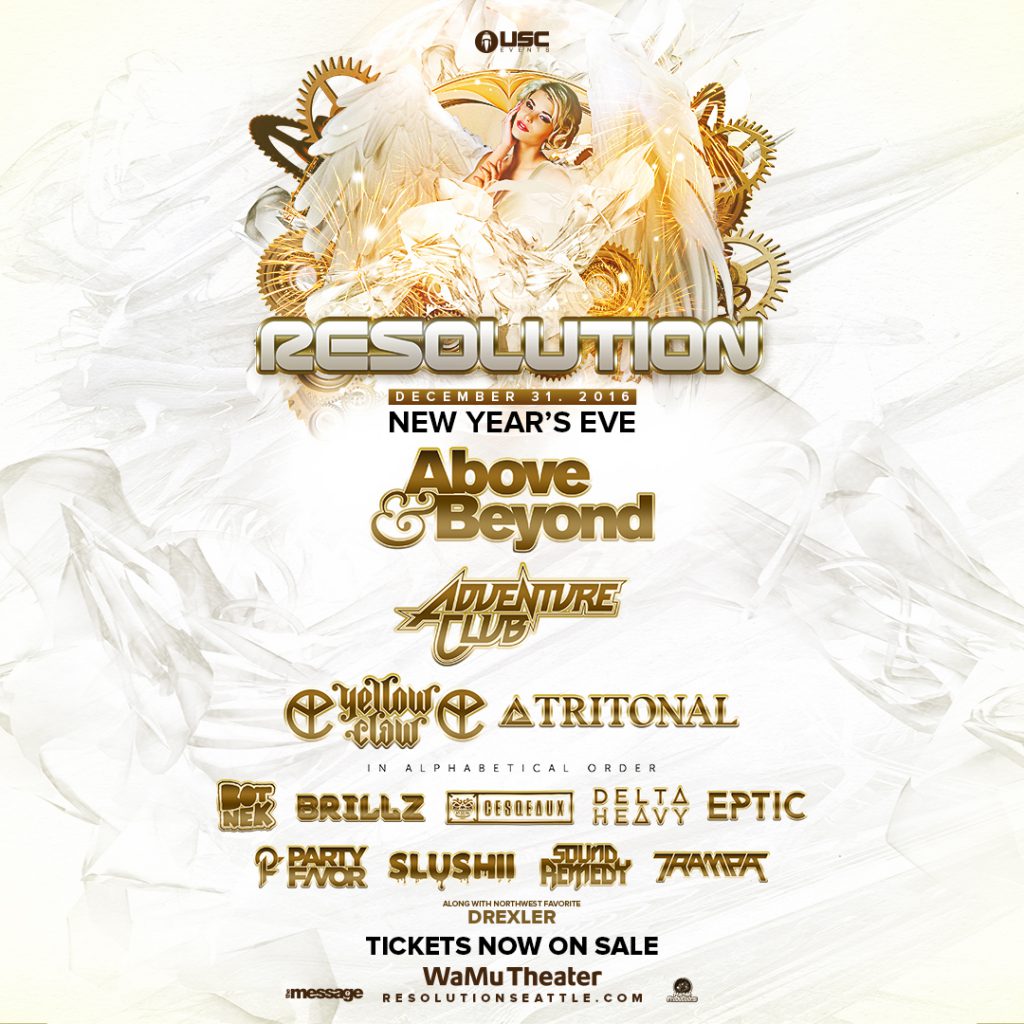 Resolution 2017 Event Information:
Date: December 31st, 2016
Ages: 18+
Festival Hours: 6:30PM to 1:30AM
Resolution 2017 Artists:
Adventure Club
Yellow Claw
Botnek
Cesqeaux
Eptic
Party Favor
Sound Remedy
Trampa
Drexler
---
About Resolution:
Life is a collection of experiences. As moments pass, memories remain. As time progresses, we learn, we grow, we ebb, and we flow. We change ourselves, and we change the world. Every year we gather under Seattle's winter sky to celebrate the closing of one door as we open a new one. Together we commemorate this year's passing by celebrating the discoveries, adventures and experiences that came with it. We also embrace the first glimpse of a New Year and the renewed clarity, inspiration and virtue it brings.
Last year's words belong to last year's language – and next year's words await another voice. To make an end is to make a beginning.
The final moments of 2016 are drawing near, and there is no better way to let our new voice be heard than at the Pacific Northwest's timeless New Year's Eve tradition; Resolution. On December 31st, 2016, we will gather with friends – old and new – and count down the last seconds of the year while enjoying performances from world renowned talent.
---
Connect with Resolution 2017 on Social Media: